Glyndwr's Way - North Section
Explore the northern stretch of Glyndŵr's Way on a shortened self-guided walking holiday. Accommodation, luggage transfer and custom holiday pack included.
Glyndwr's Way - North Section
https://www.contours.co.uk/glyndwrs-way-northern-section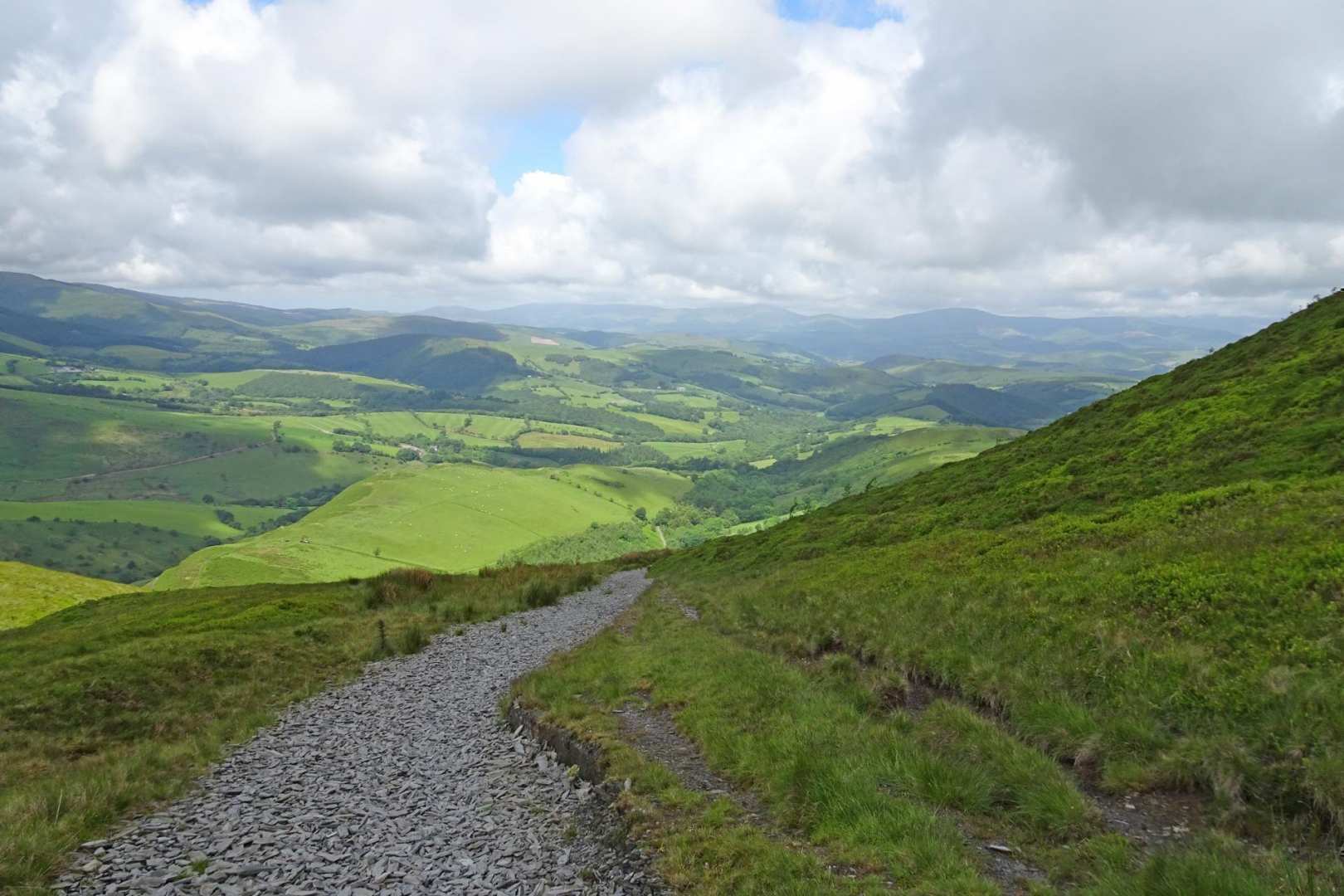 Glyndwr's Way - North Section
Machynlleth to Welshpool visiting the land associated with Welsh hero and rebel, Owain Glyndwr.
5 to 6 nights
60 miles
Moderate / Demanding to Demanding
From £535 per person
About this route
The North section of Glyndwr's Way starts in the historic town of Machynlleth and takes in the fine scenery and fascinating history of Mid Wales on the way to the border town of Welshpool.
The walk traverses open moorland, pretty forests and rolling hills, taking in wonderful mountain and valley views along the way. Wildlife and wildflowers are abundant along the route as well as fascinating historical landmarks, including the medieval Powis Castle and a centre dedicated to Owain Glyndwr in Machynlleth, offering something of interest to satisfy every walker.
Machynlleth to Welshpool
60 miles (96 km)
2nd January to 24th December
Admiring the views of the mountains in the Snowdonia National Park, including Cadair Idris.
Emerging at Lake Vyrynwy, with impressive views of the lake and its 33-arched dam.
Spotting the abundance of wildlife as you walk through the forests and farmland of Mid Wales.
| Code | Tour | Duration | Price per person | |
| --- | --- | --- | --- | --- |
| GLYWN1 | From Machynlleth to Welshpool(L) | 4 days walking | £535 | |
| GLYWN2 | From Machynlleth to Welshpool(L) | 5 days walking | £640 | |
Itinerary
What's included?
Extra nights?
Tour facts
Route profile
Travel info
Weather
Start
Travel to Machynlleth where your first night's accommodation has been booked
Day 1
Machynlleth to Llanbrynmair(L). 16 miles (25.5km) / 2949 ft (899 m) ascent
Day 2
Llanbrynmair(L) to Llanwddyn(L). 18 miles (29km) / 2979 ft (908 m) ascent
Day 3
Llanwddyn(L) to Meifod(L). 15 miles (24km) / 3612 ft (1101 m) ascent
Day 4
Meifod(L) to Welshpool(L). 11 miles (17.5km) / 423 ft (129 m) ascent
Finish
Depart from Welshpool(L) after breakfast
Your Itinerary
This itinerary lists our preferred overnight stops for this tour. Sometimes there may be a shortage of available accommodation in a preferred location, in which case we will transfer you from the trail to your accommodation and back again at no extra charge. Overnight stops marked with a (T) will always require transfers as standard.
Overnight stops marked with an (L) have very limited accommodation, and therefore more often than not will also require a transfer, particularly on bank holidays and weekends. We will use non-transfer accommodation wherever possible.
The daily mileages quoted are average trail miles only and do not include the distance from the trail to your accommodation. We do not expect you to have to travel more than a mile from the trail to your accommodation; should your accommodation be further than this, transfers will be provided as standard.
Below are the additional costs that may apply depending on your requirements. Dog-friendly tours are subject to a Daily Dog Charge, which will be listed below if applicable. Our standard prices per person are based upon two people sharing a room; if you are on your own, or are part of a group but require a room of your own, then the Solo Traveller or Single Supplements apply respectively:
A note about transfers
£50.00 per person / per night
£40.00 per person / per night
You can add rest days at any of the overnight stops:
£65.00 per person / per night
What's included?
5 nights' accommodation in en-suite rooms (where available) in selected B&B's, hotels, inns and guesthouses along the trail, or a short distance away via taxi provided at our expense.
Breakfast each day.
Door to door luggage transfer.
Maps with the route marked on and a guidebook or route notes describing the trail.
An information pack containing an itinerary, instructions on how to find your accommodation each night and a kit list.
Detailed travel instructions on how to get to the start of your holiday and back from the end of it.
Extra Nights & Rest Days
Taking an extra night is a wonderful way to extend your holiday and ensure that you have time to explore some of the most interesting locations along the trail.
Machynlleth is a popular choice for a rest day. It is a delightful town with a wide main street lined with brightly-painted shops, Glyndwr's Parliament House which houses an exhibition on his life, Plas Machynlleth, the 17th century mansion of the Marquess of Londonderry, which houses Celtica, an exhibition of all things Celtic; and the Wales Museum of Modern Art. The world famous Centre for Alternative Technology just outside the town provides a great day out.
You can add rest days at any of the overnight stops:
£65.00 per person / per night
Tour Facts
Total distance: 60 miles (96 km)
Duration: 5 nights, 4 days walking
Minimum daily distance: 11 miles (17.5 km)
Maximum daily distance: 18 miles (29 km)
Code: GLYWN1 Grade: Demanding
Season: 2nd January - 24th December
Start of holiday: Machynlleth
End of holiday: Welshpool(L)
Route Profile

Travel Information
Useful information and travel links that will assist you in your plans to travel to the start of the holiday and back from the end of it are sent to you with your full tour pack. A summary is given below:

By Air - The most convenient major city and international airports are Birmingham and Cardiff.

By Rail - There is a rail station at the start of the trail (Machynlleth) and also at the end of the trail (Welshpool).

By Bus - Various bus services run to Machynlleth and from Welshpool.

From London - Trains run from London Euston station to Machynlleth.

Return To The Start - The easiest way to return to the start of the trail, is to take the train from Welshpool to Machynlleth.
Weather Information
To find out more about the weather forecast for your chosen holiday's general location, please see the following websites:
MetCheck - This website allows you to look up detailed weather information for specific locations as far as six months in advance.
Met Office - This website shows regional area forecasts a few days in advance, with a general UK forecast description of up to 30 days in advance.
Mountain Forecast - This website shows what the forecast is like up on specific hills and fells, and offers forecasts a few days in advance.
Customer reviews from the Glyndwr's Way - North Section
"Definitely a hidden treasure! A wild and mysterious landscape. This northern section of Glyndwr's Way seems little used. Signposts are excellent. A wonderfully varied walk with great views, stiff climbs, magical forests, pretty villages. Couldn't have been better! Seamless service everyone! Many thanks!"

Mr Ball, UK
"Walked in a heatwave - never expected that in a million years! Everyone (apart from Kings Head) was very helpful, and we thoroughly enjoyed the holiday. Beautiful countryside, easy route to follow. A good mix of accommodation. It was all lovely as the scenery changes."

Mrs Clark, UK
"Countryside beautiful. Amazingly quiet, hardly met anyone on the walks. This is our 5th contours holiday. Each day was attractive."

Mr Colwill, UK
"The holiday went like clockwork. In every case, the breakfasts were tasty, the people running every inn and B&B were so friendly and helpful, the taxi firms were there to move me to the right place, and my bag was always at the next overnight stop when I got there. I know that it's difficult to organise things and I appreciate the efforts that Contours makes. I do and will continue to recommend Contours for walking holidays. There were few people on the trail - I met one other couple who booked through Contours, and one couple who were also on the trail at about the same time. There are virtually no day walkers so it's possible to walk the who day without meeting anyone. The scenery is breathtaking in places. In summary, hard work but really worth it."

Mr Henderson, UK
"Very quiet path, but well-signed and moderate effort required. A real hidden treat."

Mr Ratcliffe, UK
"I have now finished walking the northern section of Glyndwr's Way and it was a wonderful experience. Thank you for your help in organising my trip. Everything went smoothly, the weather was perfect, and all my accommodations were really excellent."

Mr Birch, Australia