by Mark Richards
"Do you want to come for a walk with me?"
"With the dog? No, I've got an essay to write."
"No," I said to my youngest son. "Not with the dog. Further than that. About 80 miles on the Pennine Way. It'll take us five days. In your summer holidays."
"Sure," he said. "Why not?" And then he turned to what's really important to a teenage boy. "What's for dinner?"
"Why?" my wife asked when Alex had gone back to his bedroom.
I sighed. My wife, the voice of reason and logic. She'd talk me out of it. "Because I want to do a physical challenge," I said. "Before I'm too old for a physical challenge. Before my left knee decides the only thing it's good for is a waiting list. I'm a middle-aged writer who's going grey. Who slumps over a keyboard all day. I want to do something about it before it's too late. And I want to spend some time with Alex before he goes to university."
As I said, she'd soon talk me out of it.
"I think it's a great idea," she said.
And that was it. I was committed. I went online and looked at pictures of hills. And more hills…
Five Months Later…
It was August 1st — almost five months to the day since I'd asked Alex to come with me. We'd eaten a full English, collected our packed lunch and now we were standing outside the River House B&B in Malham.
As a dad, very few things in my life have equalled that moment. We'd done the training and — at 9:00 on a Monday morning — here we were setting off, keeping a promise we'd made to ourselves and to each other.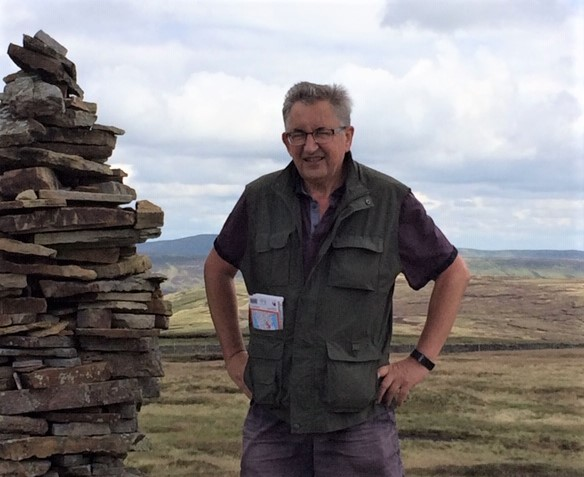 I wanted to make a speech. Say something significant. But 17-year-old boys are not big on emotional speeches — especially from their dad — so we turned left up the hill, walked past three disinterested cows and climbed up Malham Cove.
Father, Son and the Pennine Way was underway. Next stop Horton-in-Ribblesdale. Then Hawes, the Tan Hill Inn, Middleton-in-Teesdale and Dufton, where my wife would collect us.
As we left the limestone pavement at the top of Malham Cove and headed towards Malham Tarn, how much did I really know about walking? Not much, was the answer. Any 'serious walker' watching me set off would have said I hadn't done my homework and I wasn't properly prepared. And they'd have been right.
I'd done most of my training on the Cleveland Way: the Robin Hood's Bay to Scarborough section is conveniently close to our house. 'Cleveland Way, Pennine Way,' I thought to myself. 'How different can they be?'
As I hauled myself to the top of Fountains Fell — while my son waited patiently at the top — I was starting to realise the answer was 'very different.'
But I made it down the other side and up Pen y Ghent — and then I learned a fundamental Pennine Way truth. Just because you can see the village in the distance it doesn't mean you're nearly there!
A Foggy Roman Road
Our second day — Horton in Ribblesdale to Hawes — was relatively easy. I'd like to tell you that the views were spectacular as we walked through the sun-kissed Yorkshire Dales. If only…
The cloud came down, the mist closed in and Alex and I trudged along the old Roman road with visibility down to five yards on either side of us. It was, though, good practice for Wednesday…
This was the day I'd been most afraid of: Hawes to the Tan Hill Inn across Great Shunner Fell. I woke up in the B&B, looked out of the window and watched the water cascading down Hawes high street.
It was a tough, tough day. It was the day when my lack of preparation — and my lack of basic knowledge — was nearly my undoing. I'm not ashamed to say it was a day I wouldn't have got through without my son — and a day he wouldn't have got through without the skills he'd learned by doing the Duke of Edinburgh award at school.
Too Tired to Speak to my Wife
Seventeen miles of rain, hail, low cloud and fog. Soaked to the skin I stumbled from one set of paving slabs to the next, the path turning into a stream as the rain lashed down. It was August 3rd: 150 miles away people were sitting in shorts and t-shirts watching England play cricket. On top of Great Shunner Fell, I understood for the first time just how serious hill walking can be.
Hours behind schedule we finally made it to Tan Hill. My wife rang to see how we were. I was so tired I couldn't speak to her.
But Pennine Way lesson no. 2 — there is no day so hard that a shower, a pint and big bowl of Spag Bol can't put it right.
And the next morning the sun was shining, the hotel's hair dryer had worked its magic on our boots and we were off to Middleton in Teesdale.
One Bog, Two Falls, Two Broken Fingers
Friday was our last day: Middleton to Dufton — and, by any measure, it was spectacular. It was a long day — more than 20 miles — so we set off early (a shame, as I still think fondly about the breakfast at Brunswick House…)
Everything was going well. We were ahead of schedule. And as any married man will know, when your wife's driven 120 miles to pick you up that's a good place to be. And then… well, 'pear-shaped' would be an understatement.
We got lost. We missed a turning, climbed over a gate and found ourselves in boggy, waist-high grass. We fell out. Four days of the best father/son time of my life and tiredness and frustration got the better of me. I stormed off, looking for the path.
"Look out, Dad!" Alex yelled, but it was too late. I slipped and fell into a bog.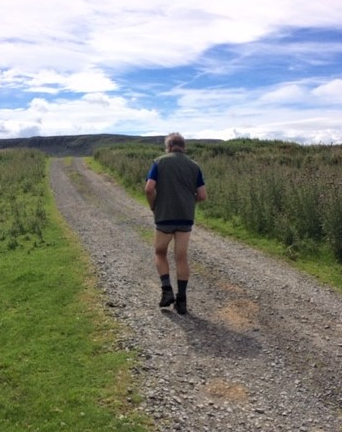 I was soaked — and there was only one way to dry out. That's how I became the first person to walk a mile of the Pennine Way in my underpants, as my shorts dried out in the wind.
And then we came to some rocks, sloping down towards the Tees…
"Take care, Dad, they look slippery."
"Alex, we live at the seaside. I've spent my entire life walking on rocks…"
Two seconds later I was flat on my back and sliding head first towards the Tees. I flung out a hand to stop myself. The result — as A&E confirmed a week later — was two broken fingers. That was inconvenient, as we were due to climb Cauldron Snout, England's longest waterfall…
We Made It
Eventually.
Three hours late — my wife wasn't best pleased — we walked up the final hill into Dufton. I sat on a bench outside the Post Office, eased my boots off and thought back over the five days.
I'd been frozen, soaked and terrified. I'd gone so far outside my comfort zone it was off the scale.
But it was simply the best five days of my life.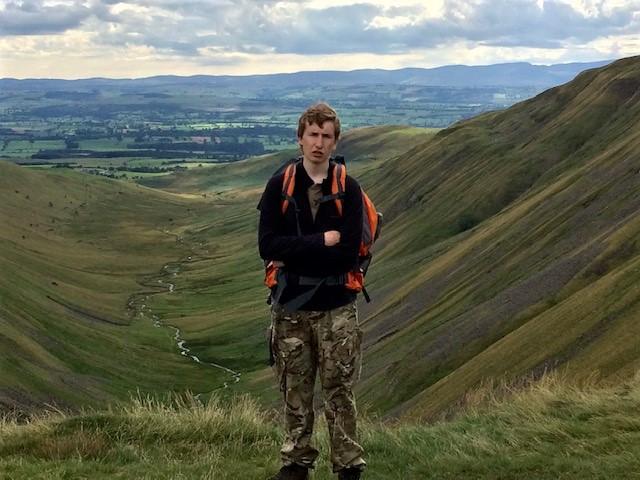 The Pennine Way was challenging and rewarding in equal measure. I learned more about myself in those five days than I'd learned in 50 years. I'd climbed Pen y Ghent, survived Hawes to Tan Hill and stood at the top of High Cup Nick with my son: moments that would stay with us both for ever.
And as we walked up that final hill into Dufton, we had a short conversation.
"Thank you," I said. "Thank you for coming with me. You have no idea how much I've enjoyed this."
"Yeah. Me too, Dad."
"We should do this again."
"Yeah. We should."
"Next year then. We just need to decide where to go…"
About the Author
Mark Richards is an author and freelance copywriter. In 2016 he suffered the latest in a long line of mid-life crises and — wanting to do a physical challenge before his 'left knee decided the only thing it was good for was a waiting list' — invited his youngest son to come for a walk. The result was 5 days and 90 miles on the Pennine Way and a subsequent book, 'Father, Son and the Pennine Way.'
Reviewed on Amazon as 'beautifully written, brutally honest and laugh out loud funny,' the book describes what Mark and his son learned about themselves and each other on the walk. And tells the sorry tale of how Mark became the first person to walk a mile of England's toughest national trial in his underpants…
Mark's Books
Father, Son and the Pennine Way
Father, Son and Return to the Pennine Way
Father, Son and the Kerry Way