Annual Photo Competition
Our photography competition has grown in popularity year on year since its commencement, and we never tire of looking through your impressive holiday snaps. If you return from a Contours Holiday and have some memories to share, send your photos to us for the chance to win up to £150 off your next Contours holiday!

We have four categories for you to enter your photos into, giving you plenty of opportunity to showcase your work. The categories are as follows:

Landscape
Classic photographs featuring an area of land or expanse of water, including mountains, valleys, forests, lakes and coastlines etc.

Structures
Pictures where interesting man-made features, such as signposts, bridges, churches, statues or villages etc. are the focal point of the shot.

Fun Times
Snaps of a light-hearted nature that show how fun your holiday was. Examples include cameraderie between travellers, a close encounter with wildlife or any other objects and occurrences that simply made you smile.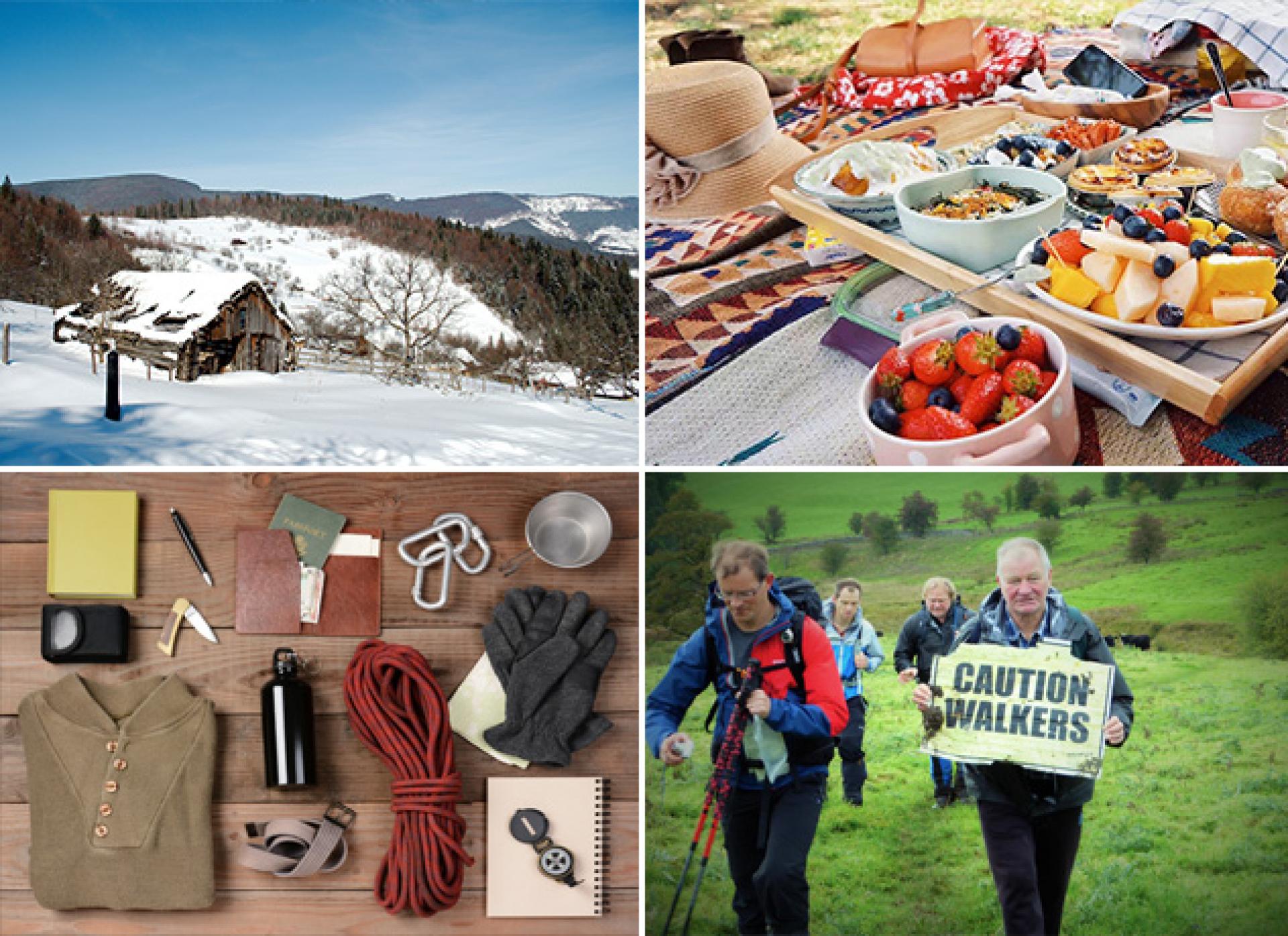 Special Objectives
Images specifically featuring one or more of the following aspects of your holiday:
In Good Company: Group shots of your companions in full gear, or 'selfies' if you're holidaying solo.
We Were Here: Snapshots of your group posing alongside trail signposts and waymarkers.
Finding Our Feet: photos of your group members navigating using maps, guidebooks, compasses or GPS devices.
Food, Glorious Food: Snaps of your group enjoying a well-earned meal, including picnics, pub lunches and hearty breakfasts.
We are looking for thoughtful, high-quality photographs that capture the essence of your holiday. Our favourite entries will be used on our blog, our social media accounts and our website, and you will receive a £15 Contours Holiday gift voucher per accepted entry as a way of saying thank you. Accepted entries in the Special Objectives category will receive £20 in gift vouchers each.
These entries will then be compared to others in the same category. The winner of each category will be awarded a further £50 voucher and the overall winner will receive an additional £100 off your next Contours Holiday. Note that the overall winner will be judged based on photographic skill, rather than the subject!
Looking for some inspiration? Check out our past winners!
How to enter:
To be eligible to enter, you must have been on a Contours Walking, Trail Running or Cycling Holiday, and your photographs must capture your time spent on our holidays during the years 2021 and 2022. Submissions can be serious or humorous, but should be thoughtful, original and clean. You may submit up to ten photos per holiday taken with us (not per category or per person; please agree amongst your group which photos to enter before submitting) and each photo must be accompanied by the following information:
Your name (and the name of the group leader if different)
Your booking ID and the name of your holiday trail
Your email address
A brief description of the photo, i.e. where and when it was taken
The category that you would like it to be judged in (you must pick one category only per photograph)
Please email your photos to competitions@contours.co.uk with the words 'Photo Competition' and your chosen category entered into the subject line. Each photo must be sent separately; they must also be your own work and be between 1MB and 10MB in size.
The closing date for entries is Friday 18th November 2022 at 14:30 British local time. A winner from each category will then be selected and awarded a £50 voucher each. The overall winner will then be selected from the four category winners and will win a further £100 Contours Holidays gift voucher.
Winners will receive notification no later than Friday 25th November 2021. The email will be sent to the email address provided by the entrant in the submission process.
By submitting your entries, you thereby agree to the Competition Terms and Conditions listed below.

---
Competition Terms and Conditions
This competition is open to anyone who has been on a Contours Walking, Trail Running or Cycling Holiday, excluding employees of Contours Holidays or anyone professionally connected with the promotion.
Entrants can be of any age, however those under 16 years of age must have parental consent to enter.
All entries must be submitted according to the instructions and with the above mentioned information included. Incomplete entries may be automatically rejected.
Each submission must be your own original work, created solely by you. Entries must not have been entered before, published elsewhere or have won a prize in any other competition. Entrants must warrant that the photograph they are submitting is their own work and that they own the copyright for it.
If any person appears in the image, you are solely responsible for obtaining consent prior to submitting your entry. Formal submission of your entry will represent any required clearances.
The entry must not contain or reference any names, products or services of any company, entity or any third party trademarks, logos, trade dress or promotion of any brand, product or service.
The submission must not contain any personally identifiable information of any person other than you. Should you include such information, you acknowledge and agree that such information will be disclosed publicly and you are solely responsible for any consequences.
Submissions that are lewd, obscene, sexually explicit, disparaging, defamatory or otherwise contain inappropriate content will be disqualified.
Contours Holidays reserves the right in its sole discretion to disqualify any submission that it believes violates or potentially violates any of the foregoing rules. Entrants agree to be bound by the decision of the judges.
By sharing any contribution (including any text, photographs, graphics, video or audio) with Contours Holidays, you agree to grant Contours, free of charge, permission to use the material in any way it sees fit (including modifying and adapting it for operational and editorial reasons).
The closing date for all competition entries is 18th November 2022 at 14:30 British local time. All entries must be received by the advertised closing time and date. Late, illegible or otherwise unusable entries will not be accepted. Contours Walking Holidays cannot accept any responsibility for lost entries.
Contours Walking Holidays will issue a £15 voucher to each entry that we choose to accept (£20 for accepted entries in the Special Objective category). A winner for each category, including an overall winner, will then be selected and the winners notified by email using the email address provided by the entrant in the submission process. If a winner is unable to be contacted after reasonable attempts have been made, Contours Holidays reserves the right to offer the prize to a runner-up or to re-offer the prize in a future competition.

A winning entry will be that that is judged to be the most appealing, original and representative of a Contours Holiday.
Each gift voucher offered in response to photo competition entries, including for both accepted entries and winners, will feature an expiry date that will be disclosed when the voucher is awarded. Failure to redeem the voucher before its expiry will result in the voucher being lost. Extensions to the expiry date or recovery of a voucher following expiry will not be granted.
If we choose to accept more than one of your entries, your gift vouchers will be combined into a single voucher code for ease of use.
Contours Holidays reserve the right to withdraw or amend this competition at any time without notice.
The decision of the judges is final and no correspondence will be entered into.
All information detailing how to enter this competition forms part of these terms and conditions. By submitting an entry, you accept that all rules are final and agree to abide by these rules. Submission of an entry will be taken to mean acceptance of these terms and conditions.
---