England Coast Path
Walk the England Coast Path, an ever-expanding series of coastal trails that ultimately seeks to cover the entire coast of England.
England Coast Path
https://www.contours.co.uk/england-coast-path
The England Coast Path
The England Coast Path is a new National Trail that seeks to cover the full coastline of England, linking together all the best coastal walks in the UK. Much like the Wales Coast Path, this long-distance route will allow walkers to circumnavigate the entire country along brilliant seaside trails.
Although it's still a work in progress, the trail is expanding all the time, with significant government investment to see it through. Once complete, the England Coast Path will encompass 3,000 miles of walking. That will make it one of the longest coastal paths on the planet. It's even more pivotal in access rights to the countryside because it guarantees access from the trail down to the waterfront on the vast majority of the walk. As the England Coast Path expands, a whole host of new beaches and heritage seafronts opens up for the enjoyment of us all.
How Much of the England Coast Path Can I Walk?
We offer self-guided walking holidays over several legs of the England Coast Path -- you can find the complete list below -- but the full route is not yet available.
As the trail becomes better established, we'll be sure to get out there, get each section tested, and offer them on our website. You can keep an eye on this page or subscribe to our newsletter for the latest updates.
Self-Guided Walking Holidays with Contours
As always, our holidays come complete with nightly accommodation, daily breakfast and luggage transfers, and all the maps and guidebooks you'll need to find your way along the trail at your own pace.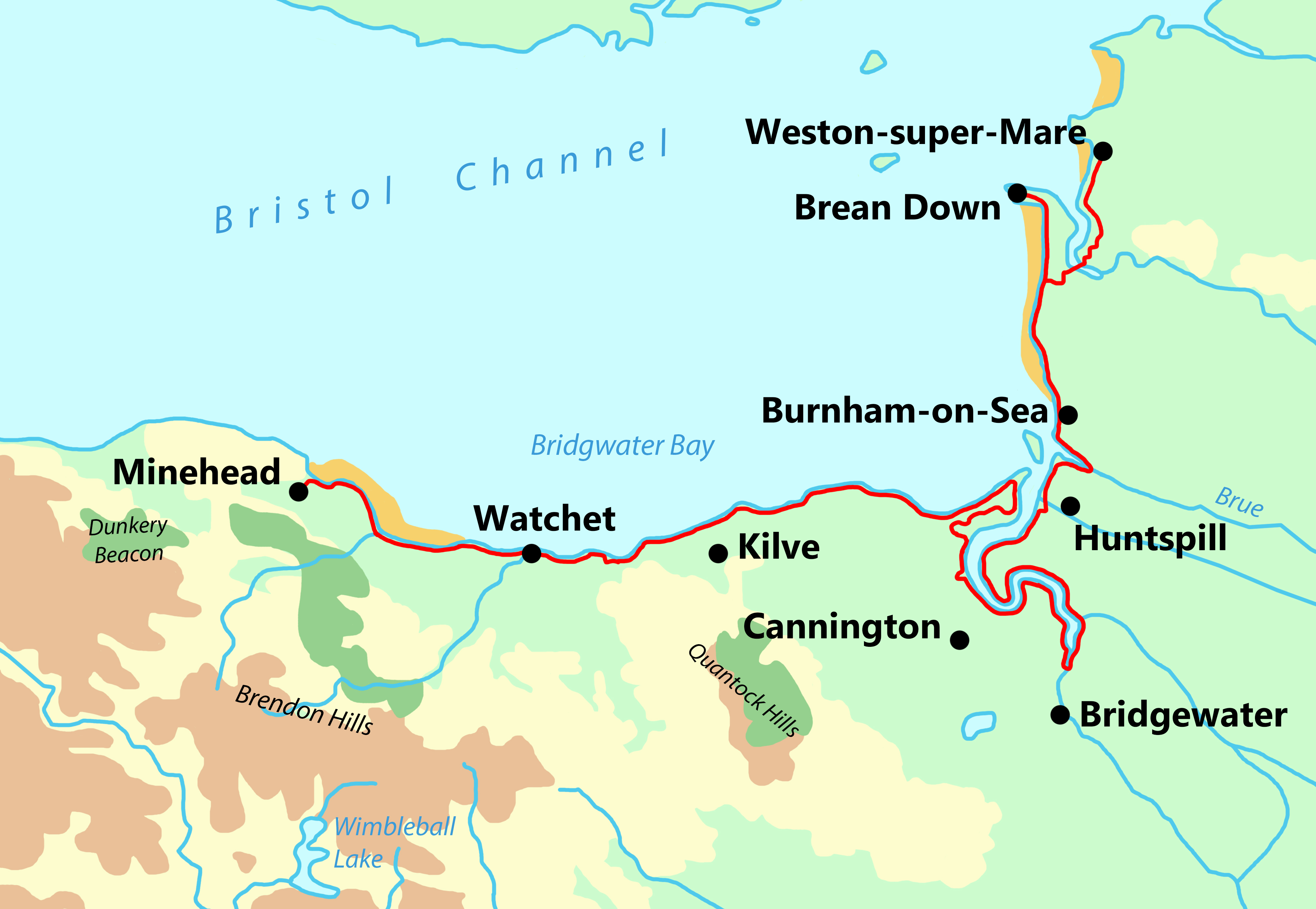 Somerset Coast Path
The Somerset Coast Path leads the way from Weston-super-Mare to the start of the famous South West Coast Path at Minehead. A largely low-level walk, the trail encompasses some of the longest sands in Europe, not to mention the fascinating fossil beaches of Somerset's Jurassic Coast.
Full-trail walking holidays available.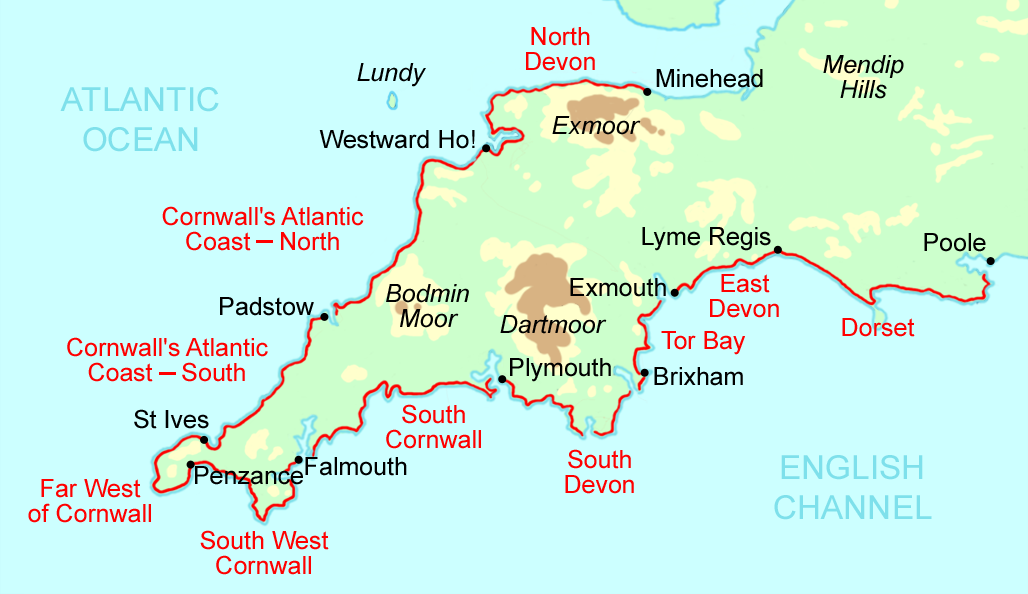 South West Coast Path
This epic coast path rises and falls over astonishing elevation through stunning terrain. As one route, it would take months to complete, so we've divided it into several shorter holidays, each with its own distinct character.
Full-trail walking holidays available.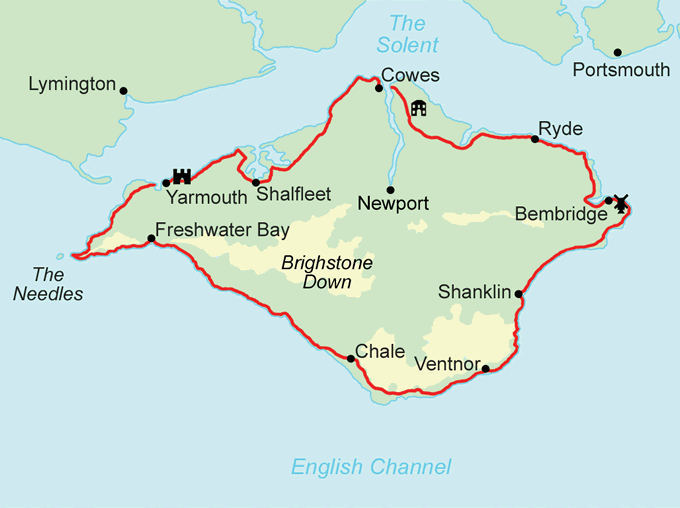 Isle of Wight Coast Path
This circular coastal walking holiday has a satisfying self-contained feel to it, with long sandy paths to follow and stunning geological to admire, including the stiff chalk spines of The Needles marching down into the waves.
Full-trail walking holidays and short break option available.
Kent Coast Path
Explore a little known stretch of coastline on the Kent Coast Path, roving through two wildlife reserves and alongside stunning chalk cliffs. This walk features several paved sections that can make it tougher on the joints than some, but taken slowly, it provides a wonderful tour between historic maritime sites.
Full-trail walking holidays available.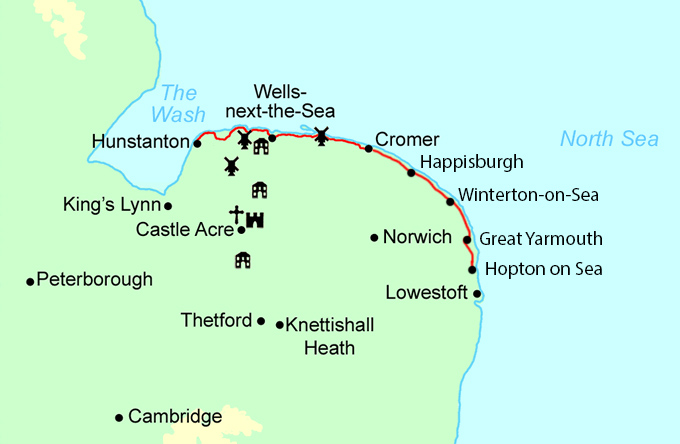 Norfolk Coast Path
Largely low-level but with a few stand-out climbs, the Norfolk Coast Path is a stunning wildlife walk, incorporating the nature reserve at Blakeney Point. The landscape here is spectacularly varied, with shale and sandy beaches, marshes and cliffs to explore, and each night promises a venture out into the characterful villages and ports that set Norfolk apart.
Full-trail walking holidays, highlights and short break options available.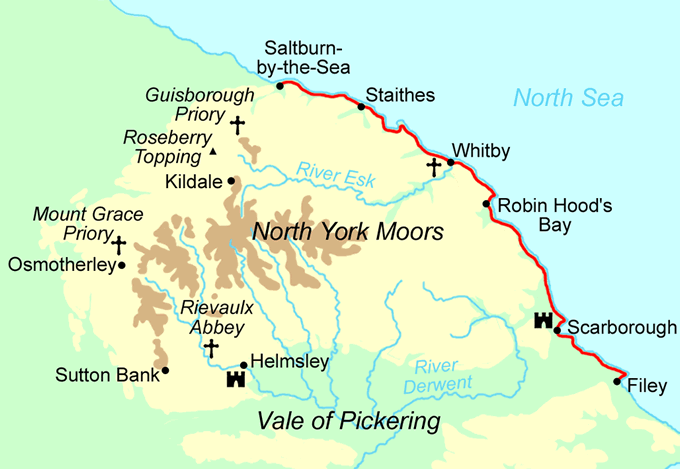 Cleveland Way Heritage Coast
Well-established long before the England Coast path initiative began, the Cleveland Heritage Coast threads along a coast dense with literary history and beautiful views. From the Victorian seaside town at its start to its end in Filey, complete with a fabulous beach, this walking holiday has plenty to enjoy.
Full-trail walking holidays available.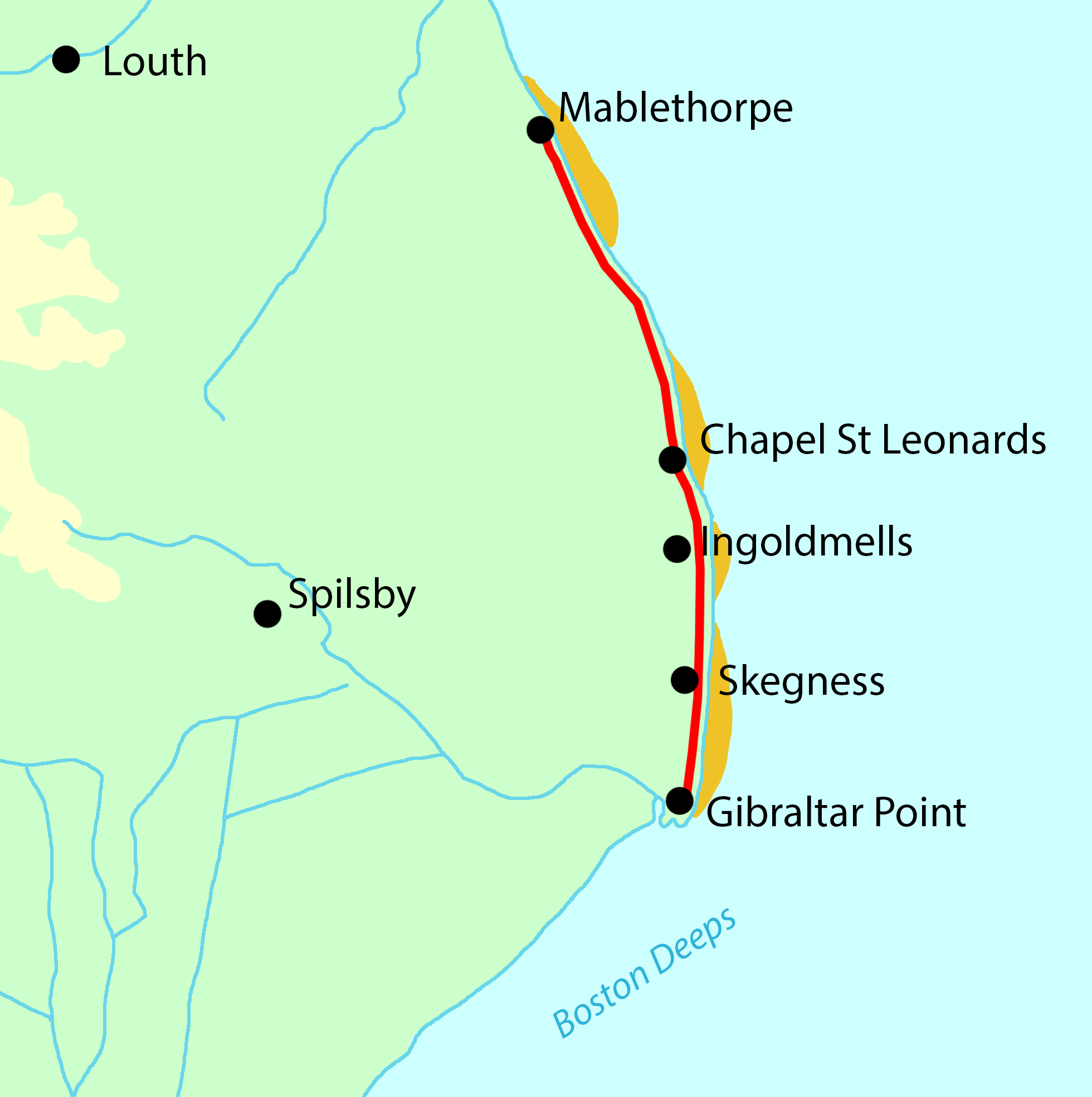 Lincolnshire Coast Path
This stile-free walk is perfect for beginner walkers, families and those with reduced mobility. The Lincolnshire Coast Path follows nice flat promenades and beaches, spanning twenty miles from the nature reserve at Gibraltar Point to the seaside resort at Mablethorpe.
Full-trail walking holidays available.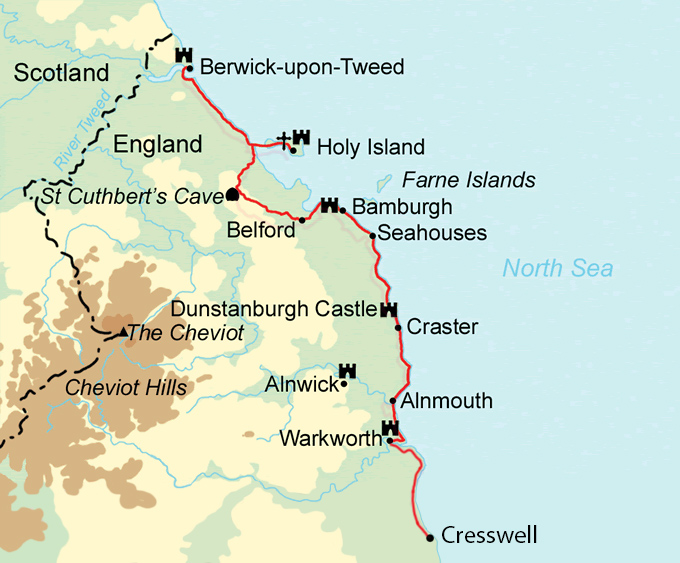 Northumberland Coast Path
One of our most popular coastal walks, the Northumberland Coast Path clings almost exclusively to the sandy Northumberland coastline, presided over by stunning castle ruins atop the headlands. It's a low-level walk that sticks predominately along sandy beaches, so it's the perfect gentle holiday route, and the causeway crossing to Holy Island is a real jewel in its crown.
Full-trail walking holidays and short break options available.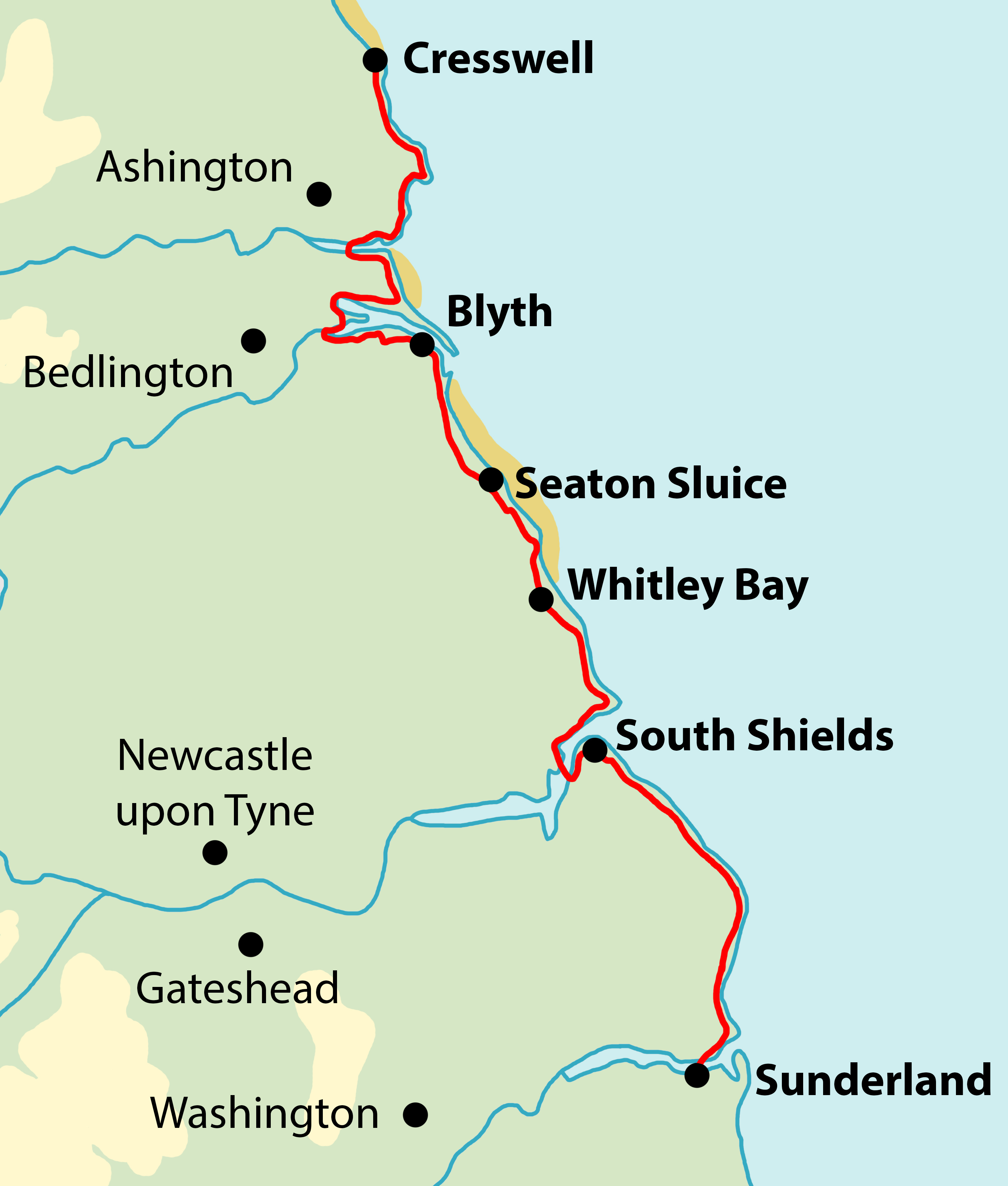 South Northumberland Coast Path
The South Northumberland Coast Path intersperses coastal beauty, including dramatic rock stacks and sea-carved caves, with urban landscapes. Look out to impressive lighthouses and follow seaside promenades between wide beaches and coastal villages. With plenty of dunes to explore and abundant wildlife to enjoy, this is a diverse and interesting, if not remote, coastal walking holiday.
Full-trail walking holidays available.