by Christine Saul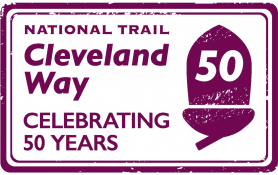 2019 marks the 50th anniversary of the Cleveland Way, which officially opened on 24 May 1969 as England's second National Trail. It's a varied walk, winding through the North York Moors and along the stunning North Yorkshire and Cleveland Heritage Coast.
The Cleveland Way holds special memories for me: it was the first trail I ever backpacked and camped along. Coincidentally, it was the first trail our company director, Karen, backpacked too.
To celebrate the landmark anniversary, I arranged for a team of 10 Contours staff to take part in a 24-mile team building challenge walk, the Castle to Abbey Coastal Challenge. Organised by Large Outdoors, this challenge involved walking the Heritage Coast from Scarborough Castle to Whitby Abbey. That's the coastal equivalent of climbing Snowdon or walking the Yorkshire Three Peaks — no mean feat.
Pre-walk preconceptions
Our team was split roughly 50:50 between seasoned, regular walkers and those who undertake only the occasional short walk. Whilst a few of us were used to walking over 20 miles in a day, the maximum walking distance others had clocked up previously in one go was around 10 or 11 miles. They had a real challenge ahead of them, both physically and mentally.
A few days before we were due to undertake the challenge, I asked each team member how they felt about the miles ahead. Everyone was very excited, feeling motivated and looking forward to the quality time together. But some were also a little nervous.
"I'm feeling terrified and excited! Motivated and curious! Each day leading to the walk is a fight between being rather worried that I will fail and being super motivated to just have a good time. And the good feelings always overshadow my worries. Let's do this!"
— Finn Walsh, Tour Pack Administrator
"I'm looking forward to the challenge — with a fair amount of anxiety! This will be much the furthest I've walked in a single day, and while I'm pretty confident in my fitness, my mental fortitude is a bit more of a worry."
— Alex Jenks, Marketing Manager
The challenge walk begins
We all stayed at YHA Whitby the night beforehand for an early 7:00 registration for the walk beside Whitby Abbey at Whitby Brewery. We then jumped on a coach with around 40 other walkers for the transfer to the start of our challenge in Scarborough. Free beers were promised later at the brewery once we'd completed the walk!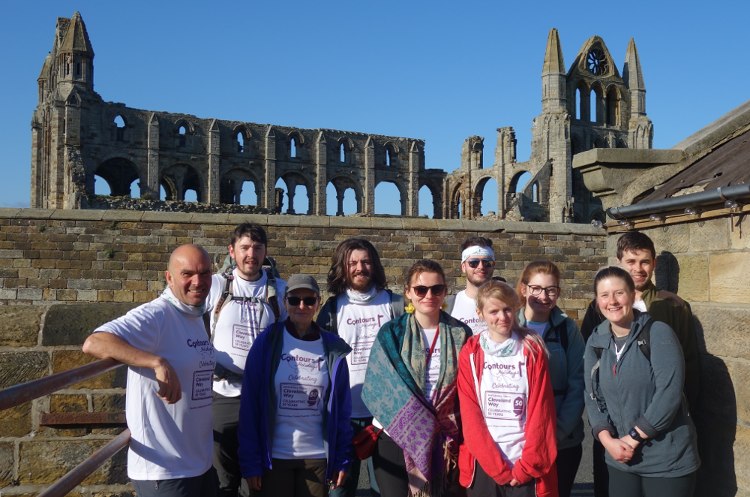 It was 9:00 by the time we set off from below Scarborough Castle. The most spectacular day blessed us weather-wise; we couldn't have asked for better walking weather. It was warm and sunny with a gentle sea breeze. This would have been a very different story on a wet day!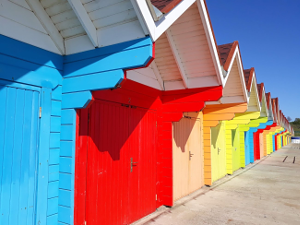 We all donned our Contours Holidays buffs and t-shirts and set off along Scarborough's North Bay promenade past pretty coloured beach huts, enjoying an easy first mile or so before climbing up onto the cliffs above the sea.
It wasn't long before Scarborough and its castle were a distant view behind us. We followed an undulating path along the cliff tops with spectacular sea views and past fields of bright yellow rape and flowering gorse.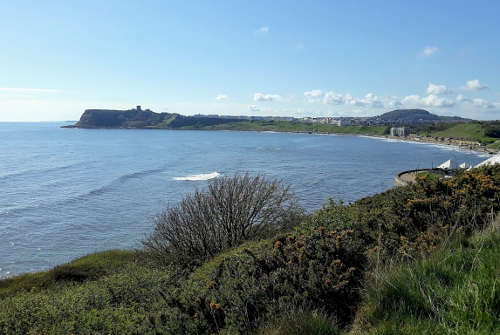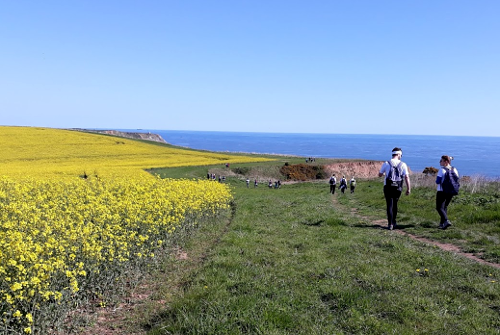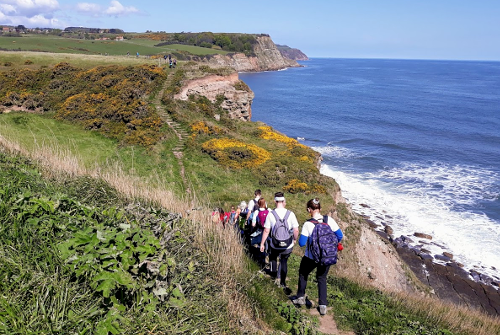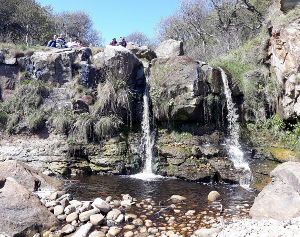 After about 2½ hours we took our first rest stop at the popular secluded cove, Hayburn Wyke, and sat in the sun above a waterfall that plummeted into a rock pool.
It was a steep climb out of Hayburn Wyke onto the undulating cliff tops. We passed an old World War II radar station before reaching our next destination, Ravenscar.
Pushing past half way
We had made it approximately halfway through the walk, so we stopped at Ravenscar Tea Rooms for a second break and basked in the sun at our picnic tables. I overheard people saying 'Contours Holidays' as they were trying to read our T-shirts! Here a couple of team members were starting to feel the effects of a longer walk, one starting to suffer with knee pain and one with blisters, but they both bravely continued on.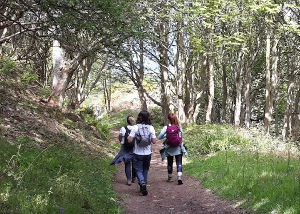 Just past Ravenscar we had our first glimpse of Robin Hood's Bay, about four miles away in the distance. The sight was great motivation for the team. From Ravenscar, the trail moved inland for about a mile through lovely woodland, which provided a nice contrast to the sea cliffs.
We passed through the old Peak Alum Works. Alum shale was quarried from the hillside on the Yorkshire Coast between 1650-1860 to produce the chemical alum used as a fixative in dyes, especially for dying and tanning leather.
There were signs claiming that this site was also home to England's only venomous snake, the adder. We didn't see any. I've never encountered an adder yet whilst out walking. They are small snakes and very shy.
The Cleveland Way takes its toll
We dropped back down to sea level just before YHA Boggle Hole. The tide was out, so for a nice change we opted to walk the mile along the beach to Robin Hood's Bay rather than up and over the clifftops again.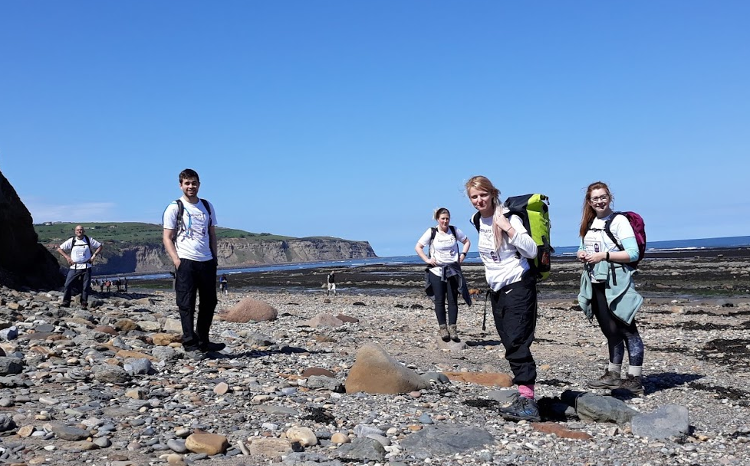 We all had a well-deserved treat at Robin Hood's Bay, delicious local ice cream, apart from Ben who had chips and scraps (not his favourite deep-fried black pudding!)
"Ravenscar to Robin Hood's Bay is one of my favourite walks, especially as I always treat myself to a deep-fried black pudding at the chippy in Robin Hood's Bay, and always like a quick walk on the beach in search of fossils and rock pools."
— Benjamin Roughton, Customer Services Supervisor
At Robin Hood's Bay, after about 16 miles of walking, our group dropped from ten to nine when we lost one member to knee pain. It was still a great achievement for someone who'd only ever walked a maximum of 11 miles in the past. They caught the bus back to Whitby.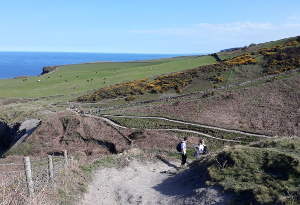 The rest of us continued on the final leg to Whitby. It was a steep climb through Robin Hood's Bay to get back onto the cliff tops. The trail undulated again high above the sea as we followed, in reverse, the final three miles of Wainwright's Coast to Coast Walk. We passed Hawsker Bottoms where the Coast to Coast Walk meets the Cleveland Way.
Here, sadly, we lost two more members who had slowed greatly due to blisters and leg pain. Although they got a taxi back to Whitby, both should be very proud of their achievements having never walked that distance before. The rest of us continued on, passing by Whitby's old Fog Horn Station and Lighthouse, both now private residences.
The final stretch
For two or three team members the last few miles were a real mental and physical battle. The remaining group of seven split for the last couple of miles. Three continued on as two suffering with leg pain didn't want to stop for fear of their legs cramping up. They just wanted to get to the end!
Ben and I waited past the lighthouse for the last two team members to catch up. One was suffering from blisters but fought on courageously through the pain.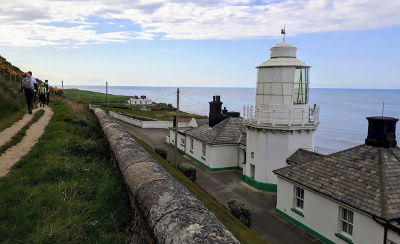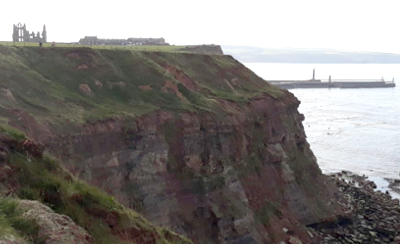 We viewed an old shipwreck down in Saltwick Bay — and then Whitby Abbey was in sight! Just 20 more minutes and we arrived at Whitby Abbey to be rewarded with a well-earned beer (or soft drink for non-drinkers) courtesy of Whitby Brewery.
Closing thoughts from the team
Immediately after the walk and again the following morning, I asked how everyone felt. There were mixed feelings but overall everyone had a fantastic and memorable day with great company, despite a few injuries. There was a real buzz in the office on Monday morning with everyone talking about the day.
"It was incredible! Sign me up for the next one. I felt great at the end and loved every minute of it. I felt we were very lucky to get a super fantastically sunny day."
— Vikki Butcher, Booking Team Administrator.
"The last bit was never ending, I wanted to lie down and be air lifted to Whitby. My thoughts the following day: 'It really wasn't that bad!'"
— Hayley Paling, Tour Pack Administrator.
"I'm so happy that I made it to the end. I really enjoyed the day (if you ignore the last stretch when the abbey came into view and my legs started to feel the miles!) My highlights were taking a break by the waterfall at Hayburn Wyke and meeting the beach before Robin Hood's Bay."
— Alec Phillips, Database Team Administrator.
"I felt great after the walk, especially having mountain biked 27 miles the day before, I was glad of the beer at the end though!"
— Richard Jones, Customer Services Advisor
The three that didn't complete the entire trail were disappointed not to have finished but also, quite rightly, very proud of their achievements as they'd all walked further than they'd ever walked in a single day. The following day, after a good night's sleep, they all said they felt much better and would like to do another walk again.
Myself and our director, Karen, were very proud of everyone for taking part. I have already signed some staff up for another walk in August!