Downs Link
Contours Walking Holidays
Downs Link
https://www.contours.co.uk/downs-link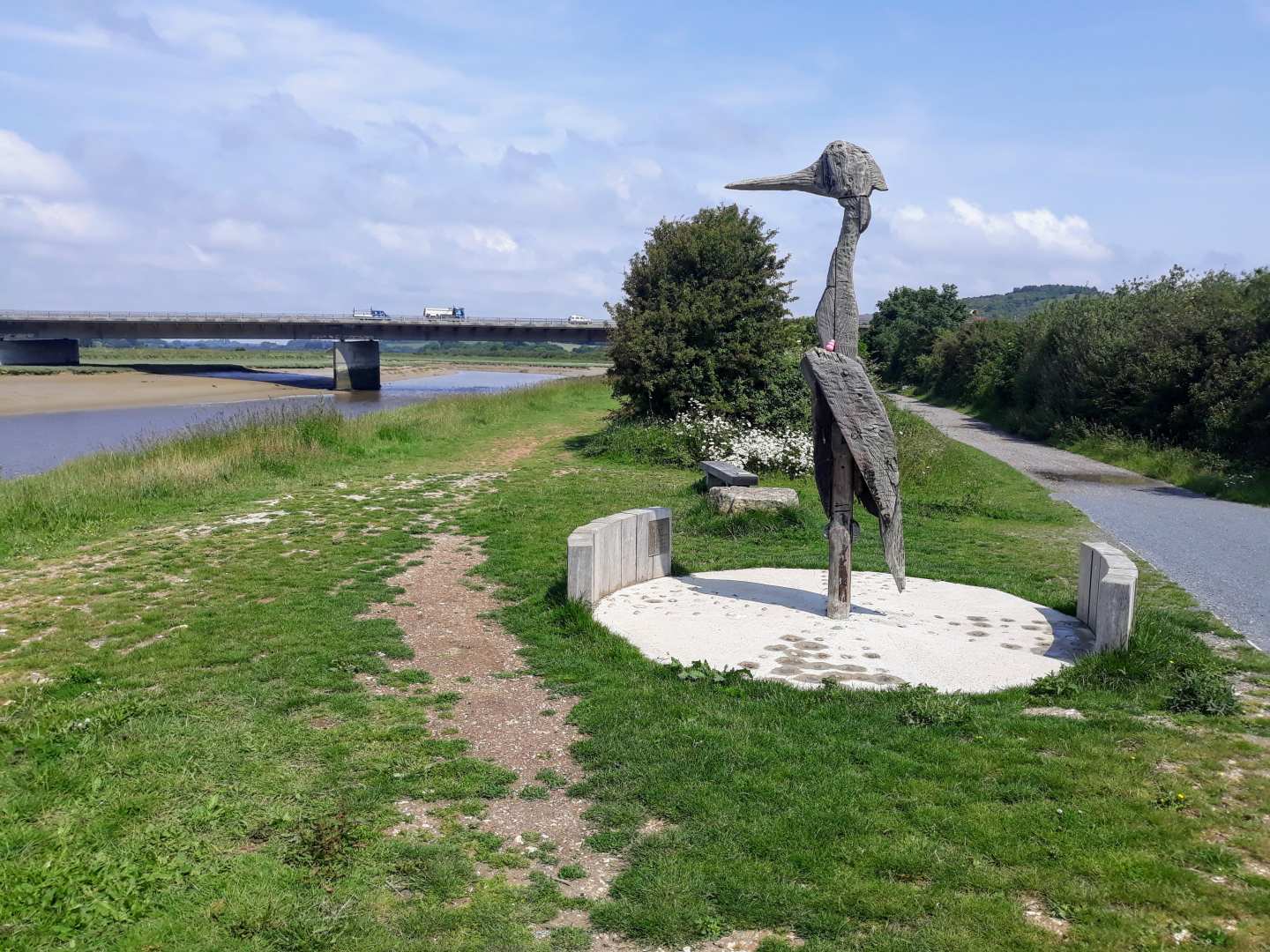 Downs Link
A low-level walk between Guildford and Shoreham-by-Sea via the charming countryside of Surrey and West Sussex.
4 to 7 nights
36-41 miles
Easy / Moderate to Moderate
From £535 per person
The Downs Link is named because of the way it joins the North Downs Way and South Downs Way National Trails. This well-connected walking trail is easy to navigate and mostly level throughout. Setting off from Guildford, the path leads through the wildlife-filled woodlands of Surrey and West Sussex. The route then gives way to coastal plains frequented by birds, before arriving at the seaside port of Shoreham-by-Sea.
There are two route options for the first leg of this walk between Guildford and Bramley. The main option (DLM) follows the North Downs Way over St Martha's Hill, where the Downs Link Trail officially begins. Alternatively, the more accessible option (DLA) bypasses this in favour of a more relaxed walk, free from obstacles and sharp climbs.
Choose your route
Downs Link

Downs Link - Stile-Free
About this route
4 to 6 nights
41 miles
Easy / Moderate to Moderate / Demanding
2nd January to 24th December
From £535 per person
Downs Link
This is the main walking route along the beautiful Downs Link trail. This route option visits St Martha's Hill, a fabulous viewpoint standing 175m above sea level and the official starting point of the Downs Link path. It also passes the Surrey heathland of Blackheath, with its impressive War Memorial atop Rosemary Hill. Some parts of Blackheath are designated Sites of Special Scientific Interest, to protect the plants and animals that live there.
You will encounter all of this during the first stage of the Downs Link between Guildford and Bramley. Upon reaching Bramley, this route is identical to our Stile-Free option. You can then expect a relaxed amble through glorious woodland, with plenty of chances to spot a variety of wildlife.
| Code | Tour | Duration | Price per person | |
| --- | --- | --- | --- | --- |
| DLM1 | From Guildford(L) to Shoreham-by-Sea(T) | 3 days walking | £535 | |
| DLM2 | From Guildford(L) to Shoreham-by-Sea(T) | 4 days walking | £670 | |
| DLM3 | From Guildford(L) to Shoreham-by-Sea(T) | 5 days walking | £800 | |
Itinerary
What's included?
Extra nights?
Tour facts
Route profile
Travel info
Weather
Holiday Highlights
Start
Travel to Guildford(L) where your first night's accommodation will be booked
Day 1
Guildford(L) to Rudgwick(T). 16.5 miles (26.5km)
Day 2
Rudgwick(T) to Henfield(L). 15 miles (24km)
Day 3
Henfield(L) to Shoreham-by-Sea(T). 9 miles (14.5km)
Finish
Depart from Shoreham-by-Sea(T) after breakfast
Your Itinerary
This itinerary lists our preferred overnight stops for this tour. Sometimes there may be a shortage of available accommodation in a preferred location, in which case we will transfer you from the trail to your accommodation and back again at no extra charge. Overnight stops marked with a (T) will always require transfers as standard.
Overnight stops marked with an (L) have very limited accommodation, and therefore more often than not will also require a transfer, particularly on bank holidays and weekends. We will use non-transfer accommodation wherever possible.
The daily mileages quoted are average trail miles only and do not include the distance from the trail to your accommodation. We do not expect you to have to travel more than a mile from the trail to your accommodation in most cases; should your accommodation be further than this, transfers will be provided as standard if practical. A very limited number of stops will require you to travel on foot up to two miles off the trail, however these instances will be clearly communicated to you if applicable.
Further transfers may also be required due to some accommodations having a two-night minimum booking policy, especially at weekends.
Below are the additional costs that may apply depending on your requirements. Dog-friendly tours are subject to a Daily Dog Charge, which will be listed below if applicable. Our standard prices per person are based upon two people sharing a room; if you are on your own, or are part of a group but require a room of your own, then the Solo Traveller or Single Supplements apply respectively:
A note about transfers
£65.00 per person / per night
£45.00 per person / per night
You can add rest days at any of the overnight stops:
£65.00 per person / per night
Guildford/Shoreham By Sea
41 miles (65 km)
2nd January to 24th December
Holiday highlights
Admiring the views from St Martha's Hill, as well as discovering the Norman Church and ancient earthworks also sited here.
Seeing the scenery change as you traverse the Weald, the naturally-formed basin that separates the North and South Downs.
Visiting a range of intriguing historic landmarks, including Guildford Boathouse, Baynard's Station, West Grinstead Station, Bramber Castle and Shoreham Airport.
What's included?
4 nights' accommodation in en-suite rooms (where available) in selected B&B's, hotels, inns and guesthouses along the trail, or a short distance away via taxi provided at our expense.
Breakfast each day.
Door to door luggage transfer.
Maps with the route marked on and a guidebook or route notes describing the trail.
An information pack containing an itinerary, instructions on how to find your accommodation each night and a kit list.
Detailed travel instructions on how to get to the start of your holiday and back from the end of it.
Extra Nights & Rest Days
The Downs Link Trail visits a variety of wonderful location on its journey, offering plenty to see and do along the way. If you want to explore some specific areas more thoroughly, you can extend your holiday by adding extra night stays at any of your overnight stops.
The bustling town of Guildford is a great choice for an extra night's stay due to its fascinating array of historic attractions. These include a medieval undercroft on Guildford high street, the former courtroom of the Guildhall, Guildford Museum, and the wonderful Guildford Castle, where there are panoramic views over the surrounding countryside. In terms of more modern features, the town boasts a contemporary cathedral, a university, world-class sports facilities and plenty of shops and eateries to enjoy. The areas around Guildford are also filled with gorgeous landscapes ripe for exploration, including the preserved sections of waterfront that showcase the history of the Wey Navigations that once occupied the river.
Henfield is yet another friendly, thriving market village that is worth further exploration. Its criss-crossing network of streets present a selection of unique shops, old inns and historic buildings, so you could easily spend an afternoon leisurely wandering and discovering something new around each corner. More notable features include the 13th century Church of St Peters, which can be found at the highest point in the village; though perhaps the most famous attraction in Henfield is the Cat House, a unique and quirky thatched property with an unusual tale to tell.
You can add rest days at any of the overnight stops:
£65.00 per person / per night
Tour Facts
Total distance: 40.5 miles (65 km)
Duration: 4 nights, 3 days walking
Minimum daily distance: 9 miles (14.5 km)
Maximum daily distance: 16.5 miles (26.5 km)
Code: DLM1 Grade: Moderate / Demanding
Season: 2nd January - 24th December
Start of holiday: Guildford(L)
End of holiday: Shoreham-by-Sea(T)
Route Profile

Travel Information
Useful information and travel links that will assist you in your plans to travel to the start of the holiday and back from the end of it are sent to you with your full tour pack. A summary is given below:

By Air - The most convenient major city and international airports are London Gatwick and London Heathrow and London Stanstead.

By Rail - There are train stations at the start of the trail (Guildford) and at the end of the trail (Shoreham-By-Sea).

By Bus - Various bus services run to Guildford and from Shoreham-By-Sea.

From London - Trains run from London Waterloo Station to Guildford.

Return To The Start - The easiest way to return to the start is to take a taxi from Shoreham-By-Sea to Guildford. You can take the train, but it will take much longer.
Weather Information
To find out more about the weather forecast for your chosen holiday's general location, please see the following websites:
MetCheck - This website allows you to look up detailed weather information for specific locations as far as six months in advance.
Met Office - This website shows regional area forecasts a few days in advance, with a general UK forecast description of up to 30 days in advance.
Mountain Forecast - This website shows what the forecast is like up on specific hills and fells, and offers forecasts a few days in advance.