By Christine Saul
During very hot spells, you need to plan ahead and be extra prepared with what you carry with you on your walk. When temperatures soar, the last thing you want is to find out that you have run out of drinking water when you still have miles of your walk left to to go under the hot sun. Your usual litre bottles of water or water bladder will not hold sufficient water to last you the whole day when temperatures rise into the high 20 degrees Celsius (70+ degrees Fahrenheit). You will probably require at least double your usual water intake – 3 litres minimum. If you know that you will be passing places to fill up en route, this should not cause you a problem, however if you are walking a remote trail where there are no facilities to top up your drinking water throughout the day, you do need to be prepared for this by carrying sufficient water with you to last the day. It would be wise to always pack a spare water bottle or two so that, if you need to, you can carry an extra litre or two of water if necessary. You can buy soft bottles in various sizes that are flat and roll up to take up very little room, e.g. Platypus SoftBottle or Salomon Soft Flask.

Another option, and I always carry one when walking long distance trails, is to carry a light-weight water filter; again the mini versions are very small and light and you won't know you are carrying one, but these can be a lifesaver. These filters clean the water, removing water-borne bacteria, protozoa and sediment. LifeStraw make a personal water filter - a large straw-shaped design that you place one end into a stream or lake and suck water through to drink directly from the stream. You can also fill a wide-brimmed water bottle and use the straw filter to drink the contaminated water from your bottle. Just remember to clean your bottle properly before adding clean drinking water and drinking straight from it again.
My personal favourite is the Sawyer Mini Filter; it is very small, weighs next to nothing and comes with a collapsible soft bottle and a drinking straw. I personally never use the straw, as the pouch and filter are sufficient. You collect stream water in the pouch, attach the filter and then squeeze/filter the clean water into your usual water bottle(s).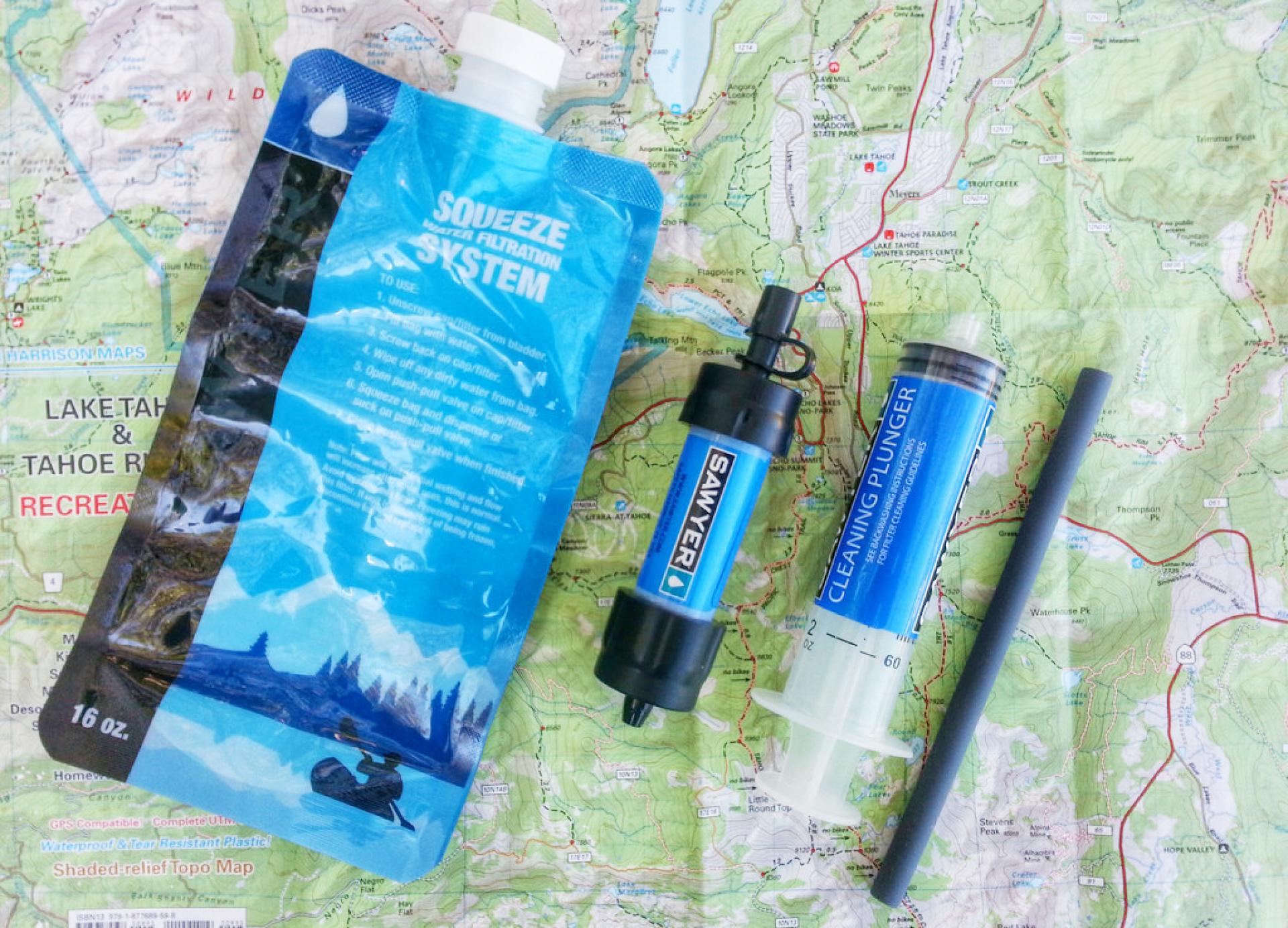 With this method, you do not contaminate your clean drinking water bottles so long as you always keep the Sawyer Squeeze pouch for collecting contaminated water. You can also drink straight from the filter when attached to the pouch. The filter also fits onto most standard soda bottles. If you do use filters, always collect water from a running water source and not from still or stagnant water supplies. Brown, fast-flowing peaty water may not look great but is fine to filter.
Some trendier water bottles now come with built in water filters; beware of these as most of these are designed for filtering and reducing the chlorine taste and odour found in tap water, and will not kill protozoa or bacteria.
You could also carry emergency water purifying tablets, e.g. iodine or chlorine tablets, which are very cheap but don't taste great, however you can buy neutralising tablets to help remove the aftertaste. The downside is they usually need to be left a long time to work effectively and although they kill water-borne organisms, they don't actually clean the water or remove sediment.
Never drink water directly from a stream or river; it may look clean but you never know what is contaminating it further up stream!
If you are running short on water and have no back up, be prepared to detour off-route to find water in a nearby village or town. With the growing trend in reducing single-use plastics to help save the environment, many places now offer free water top ups. See see www.refill.org.uk to find our more.