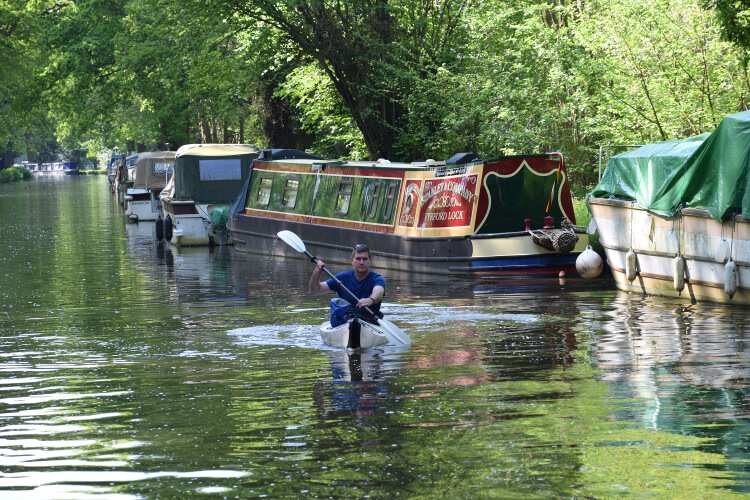 Weybridge in Surrey is home to over 15,000 people, 120 of whom are multi-millionaires. This affluent town was even once home to John Lennon and Ringo Starr. The town has the highest number of gated communities in Britain, and boasts golf clubs, tennis courts, and no fewer than three rowing clubs.
To get a feel for this wealthy town, the best way to see it is on foot. You can make Weybridge part of your walking holiday or weekend away, enjoying the museums, shops, and beautiful walks along the river.
Weybridge Station to Brooklands Motor Museum
Brooklands Museum, dubbed the "Birthplace of British Motorsport," was once an active racing circuit.
The racetrack originally opened in 1907, and during its heyday, hosted over a quarter of a million spectators. The first ever 24-hour racing event was held at Brooklands. Racing only stopped at Brooklands at the start of World War II, and the site was used for producing military aircraft.
Brooklands Museum is now a tribute to the world of racing, and you can learn how the sport has changed over the years. These days, the organisation of Formula 1 and the logistics of racing are big business. Each race involves moving more than 1,000 tonnes of cargo around the world. Back at Brooklands, although racing logistics were easier, the sport was still just as exciting.
You can walk to the museum easily from Weybridge Station by following the cycle and pedestrian route, before crossing over the River Wey.
Broadwater Lake
If you want to experience a little bit of nature, then a new path was built in 2017 around the beautiful Broadwater Lake, perfect for an afternoon stroll.
To get to this, you will need to walk from the centre of Weybridge down Grenside Road. When you get to the St George's School Barrier, turn right, and you will be at the lake. The trail around the lake itself takes you through Cowey Sale, or you can even extend the circular walk for another three miles by returning from Cowey along the Thames towpath.
A feel for Weybridge
There are many circular routes that you can easily take around the centre of Weybridge. The Weybridge Society has even produced a booklet with suggested routes, called "Aspects of Weybridge," to help you.
There are plenty of pubs in town you can stop at for a delicious lunch, including The Minnow and The Flintgate.
If you want to see some of the grander houses, make sure you take a route along St George's Hill, where many of the more affluent homes are located. From the town centre, you can easily walk to the most prestigious house of all - Oatlands Park Hotel. It stands where Oatlands Palace once was, built by King Henry VIII for his new wife, Anne of Cleves.
Weybridge is a fascinating town that is steeped in history. Walking around Weybridge, you can get a real feel for the area and enjoy seeing some beautiful homes and buildings.