by Matt Usherwood
Your waterproofs may have a dirty secret.
They potentially use harmful chemicals to keep the rain effortlessly beading from their surface.
This harmful chemical is fluorocarbon, and it is used in a variety of applications where a non-stick surface is required. For example, non-stick cookware and cupcake wrappers.
The dangers of perfluorocarbons
Perfluorocarbons (PFCs) are the type of fluorocarbon used within the outdoor industry, and they come in the form of a Durable Water Repellent (DWR) coating. Despite this chemical being stuck to the outside of your jacket in the fabric mills, it will eventually escape into the atmosphere through washing and use in wet conditions.
But so what if it escapes into our atmosphere, right?
Well, here's the worrying thing. PFCs have contaminated every environment on our small planet. And even at a concentration as low as one part per trillion, that may be a health risk.
We have actually known about PFCs for a while, but after a string of exposes and published scientific data, it became obvious that there was an issue. The health risk posed by PFCs is linked to kidney damage, reproductive issues in rats, and some cancers. With a rising amount of PFCs in our water, it's certainly a concern to long-term human and animal life.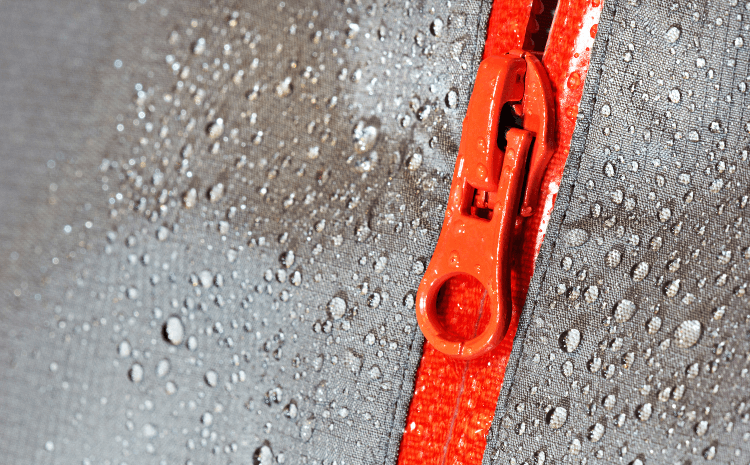 The movement away from PFCs
With the science in, a number of brands have started moving towards PFC-free fabrics.
In addition, brands are pairing up recycled fabrics with these PFCs, making some very interesting environmentally friendly products.
Let's take a look at a few of the leading PFC-free and environmentally friendly waterproofs suitable for long distance hiking.
I made sure to look at three important factors when putting this gear guide together. All products listed tick the following criteria:
They must of course be PFC-free.
They must also be brands who adhere to some form of corporate social responsibility.
The products must be lightweight and actually suited for long-distance hiking.
Finally, the products must be designed to last.
Haglofs Buteo Jacket
Many of Haglofs' waterproofs are manufactured with GoreTex Fabric, which has yet to move away from Durable Water Repellents (DWR).
In the absence of an environmentally friendly GoreTex fabric, Haglofs use PROOF™ — a two-layer, fluorocarbon-free fabric, which uses recycled materials. What's more, PROOF™ is very waterproof. To be classified as waterproof, a garment needs a water column of 2000mm, but these garments have a water column of 10,000–20,000mm.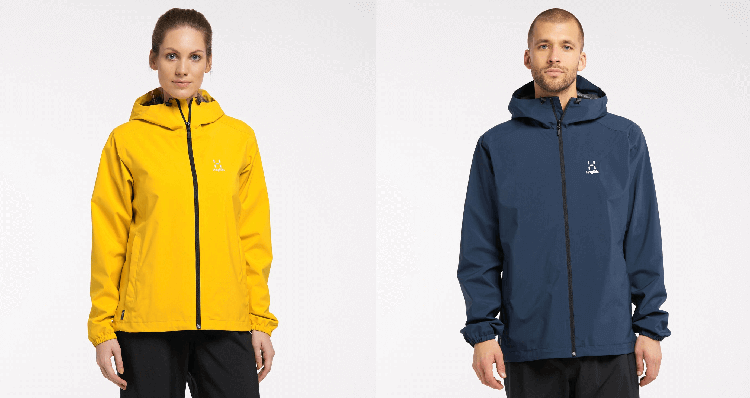 From haglofs.com
The Buteo jacket, available in men's and women's styles, weighs around 400–450g and has been designed specifically for hiking. It has a water-resistant main front zip, and is made up of recycled fabrics.
What's great about these jackets is the minimalist design. There's no faff, meaning less to go wrong.
Finisterre Rainbird Waterproof Jacket
Finisterre is a B-Corp taking the outdoor world by storm. This environmentally conscious company has instinctively worked hard to produce high-quality products that are good for the planet and designed to last.
Finisterre has now eliminated fluorocarbons from the majority of its range. However, as many of their products are significantly more 'lifestyle' than the other, more technical brands mentioned, it's probably been an easier transition for Finisterre.
That being said, the Rainbird waterproof jacket, available in men's and women's styles, is designed to be a performance waterproof. It's made out of Global Recycled Standard certified recycled fabrics, and is made using lightweight materials with minimal features.
Paramo Velez Jacket
Paramo is a well-known British brand who are a bit like marmite. You either love their products or hate them.
The reason is that their waterproof fabrics use a slightly different system to any other outdoor brand.
Instead of using laminate fabrics, such as GoreTex, they use their patented Nikwax Analogy fabric. GoreTex allows air to pass outward through its pores, which are too small to allow water droplets through the other way. Nikwax Analogy, however, imitates animal fur. It pushes water to the outer surface of the coat to protect you from the rain, combined with a directional microfibre outer to repel the majority of rain droplets and wind.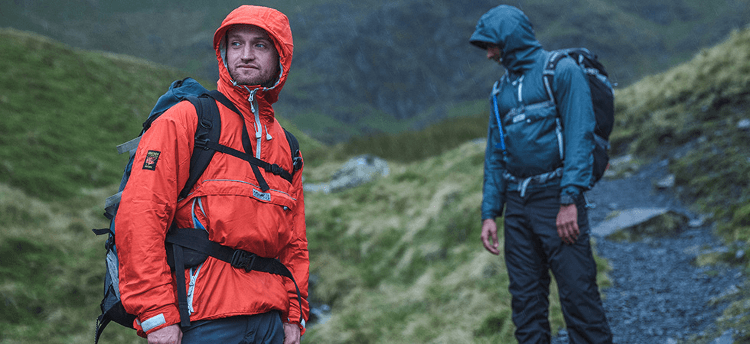 From paramo-clothing.com
Paramo has totally eliminated PFCs from its range. The Paramo Valez Adventure Light Smock is an ideal choice for those hikers looking to travel light, while benefiting from Paramo's tried and tested waterproof system.
The jacket isn't the lightest you will find, at about 584g on average, but it's well-featured for long-distance hikers. It features two front vents, a large zipped pocket suitable for an OS map, and articulated shoulders and elbows.
Overall, this is a fantastic lightweight non-membraned jacket for long distance walkers. The jacket is available in women's and men's.
Alpkit Balance
Alpkit, a small outdoor brand from Derbyshire, committed to going fluorocarbon free by spring 2021. They have achieved this across their whole product range. After extensive testing pitting PFC-free products against products with PFCs, Alpkit was satisfied enough with the performance to finally make the switch. They are now the first technical outdoor brand in the UK to be a 100% PFC-free company.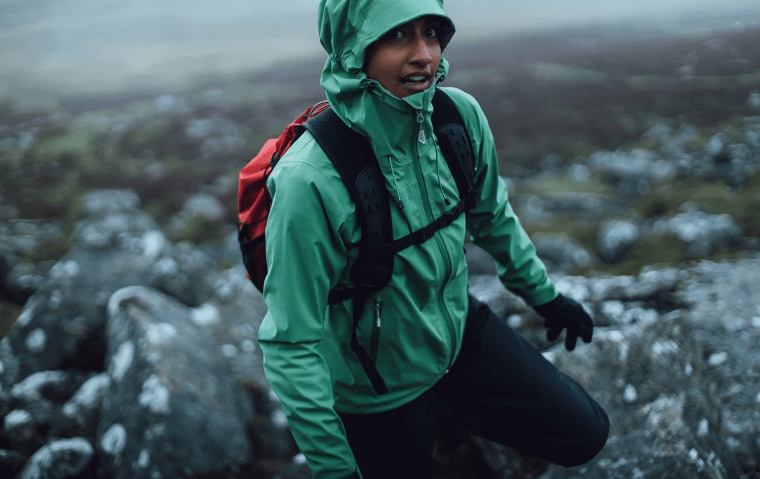 From alpkit.com
The Alpkit Balance waterproof shell weighs under 300g and is designed as an all-round jacket for lightweight mountain sports. It's part of Alpkit's spring/summer '21 range, which no-longer includes PFCs. The jacket features great waterproof credentials too, with a hydrostatic head of 20,000. In addition, it has a soft polyester backing fabric which does not feel crinkly against the skin like many other waterproof fabrics.
Overall, for a high-performance lightweight shell, the Alpkit Balance is a really good choice. Available in men's and women's styles.
Patagonia Quandary Jacket
Patagonia needs no introduction. The environmentally conscious company is known globally for pushing the envelope in what corporate and social responsibility looks like. The founder, Yvon Chouinard, also co-founded 1% for the Planet, a profit sacrifice scheme which has been hugely successful since its inception.
But with such a complex supply chain, Patagonia has struggled to eliminate PFCs from its range as of yet. They have invested in various technologies to move the process on further; however, they have some way to go.
The Patagonia Quandary Jacket certainly is not the lightest jacket at 714g in total. However, this fair-trade jacket features a comfortable drop-inside liner along with all the pockets and features you would expect from a non-technical waterproof hiking jacket. The jacket is available in women's and men's styles.