I visited Fountains Abbey and Studley Royal on a grey day in October. An early sprinkle of rain had no hope of dampening my spirits, not at a site like this.
With its Georgian water gardens, Cistercian ruin and deer park, Studley Royal is counted amongst UNESCO's World Heritage Sites, and that honour is well-earned. It's a fascinating place to visit, perhaps en route to a walk on the Nidderdale Way.
Fountains Abbey
Approach from the visitor centre car park and you'll descend to the abbey from a hill, looking down into the huge site.
Approach from the deer park, through the water gardens, and your first glimpse will be from afar. The ruin rises above the river, doubled by its reflection in the water.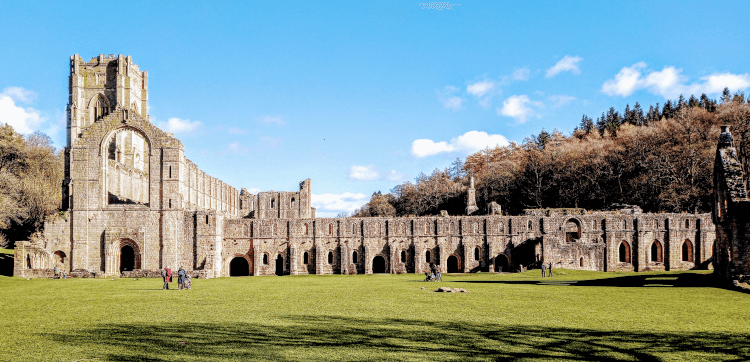 From either direction, Fountains Abbey is breathtaking. Founded in 1132, the ruin has been eroded by time, the Dissolution of the Monasteries in 1539 and raging flood waters in 2007, yet it remains one of the best-preserved and largest Cistercian monasteries in England.
Despite this prestigious title, none of the abbey is cordoned off. Visitors are welcome to step inside the ruin and experience the vaulted ceilings and long halls.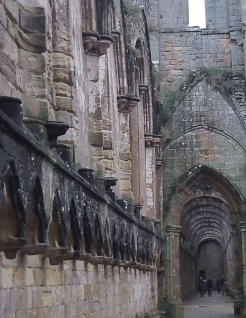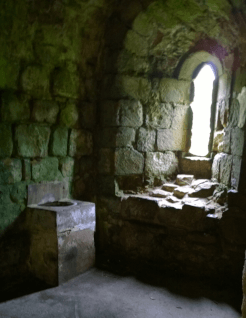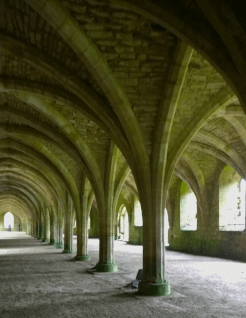 Stairs lead up to the higher levels, where windows look out over the abbey's courtyard. Utilitarian rooms like the lavatories are open for exploration too. To the modern eye, they're no less grand, accessed through stone archways.
I was most awed by the tower: tall from afar but truly looming when you're standing right there in its shadow. Step through the enormous archway and the stonework opens up overhead. The upper floors are long gone, guiding your eye all the way up over lost doorways to a square of sky far above.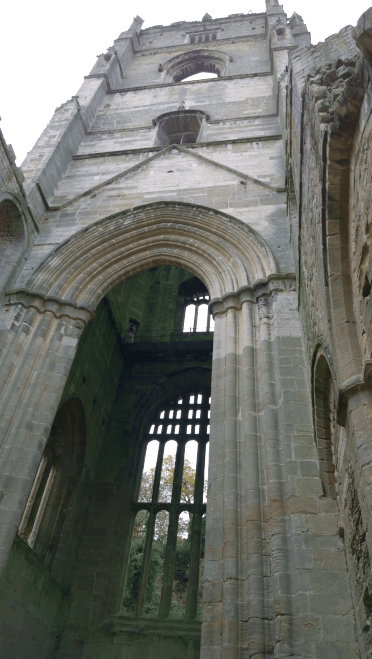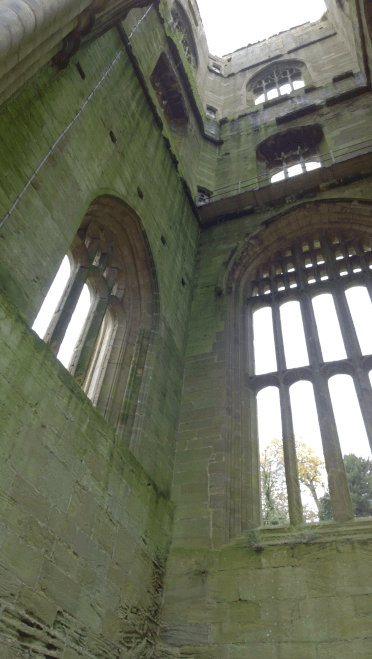 On the weekends, the ruin is lit in rainbow colours by colossal floodlights. If this appeals, double-check the National Trust's schedule to time your visit just right.
Studley Royal Water Gardens
Studley Royal's park is most famous for its Georgian water gardens. Framed with neat lawns and topiary, the ponds and rivers are elegantly formed. Marble statues, a gothic folly and a tiny temple further adorn the site, while pheasants stroll the grounds brazenly.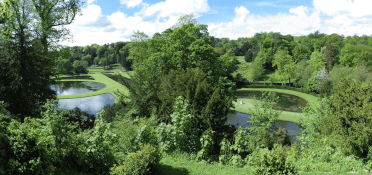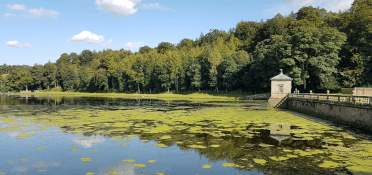 The garden was the work of John Aislabie. Exiled to Yorkshire when the South Sea Bubble burst and took his success with it, Aislabie committed all his energy to perfecting this masterpiece of rivers, ponds and plants.
He hoped, of course, that he'd be pardoned and allowed to return to London, which was normal for landed gentry like him.
But pardon never came. The family crest, mounted here and there on gates and grand doorways, suggests how Aislabie felt about that snub. Squint above the shield with its three triangles and lions' heads and you should glimpse the devil's head mounted there, sneering down with all his scorn.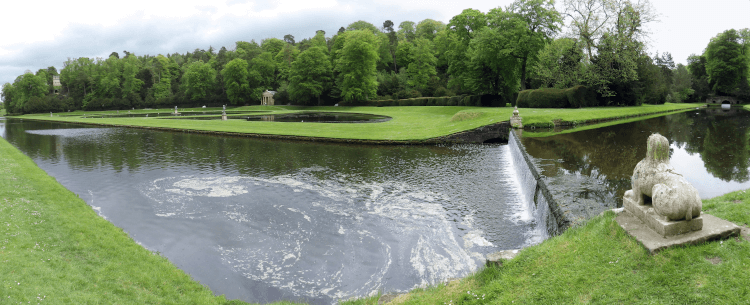 Refreshments
A site like Studley Royal, well-equipped to keep you busy for a full day, requires a good place to rest up and get a bite to eat.
We're glad to report that Studley Tearoom is ready to provide. It augments scones, sandwiches and hot drinks with outdoor seating and views to the lake and deer park through the stone balusters. There's no better place to sit and prop up your feet.
Visit Fountains Abbey and Studley Royal
If you're staying in Pateley Bridge on our Nidderdale Way walking holiday, you could always use the bus service that runs from town to Studley Royal every summer Sunday and bank holiday.
That's a little restrictive, so you may be better off dropping in as you drive to or from your holiday, or on the more regular 139 bus service from Ripon.
Fountains Abbey and Studley Royal will be well worth the extra step!
Contours Holidays pride ourselves on our expert knowledge of the UK's trails. We regularly set out to check our routes and directions and to make improvements on the holidays we offer. You can find several write-ups of staff expeditions in our Trail Diaries.