Isle of Wight Short Break
Try the Isle of Wight Coast Path on a self-guided walking holiday: the perfect weekend getaway. Accommodation, luggage transfer and custom holiday pack included
Isle of Wight Short Break
https://www.contours.co.uk/isle-of-wight-short-break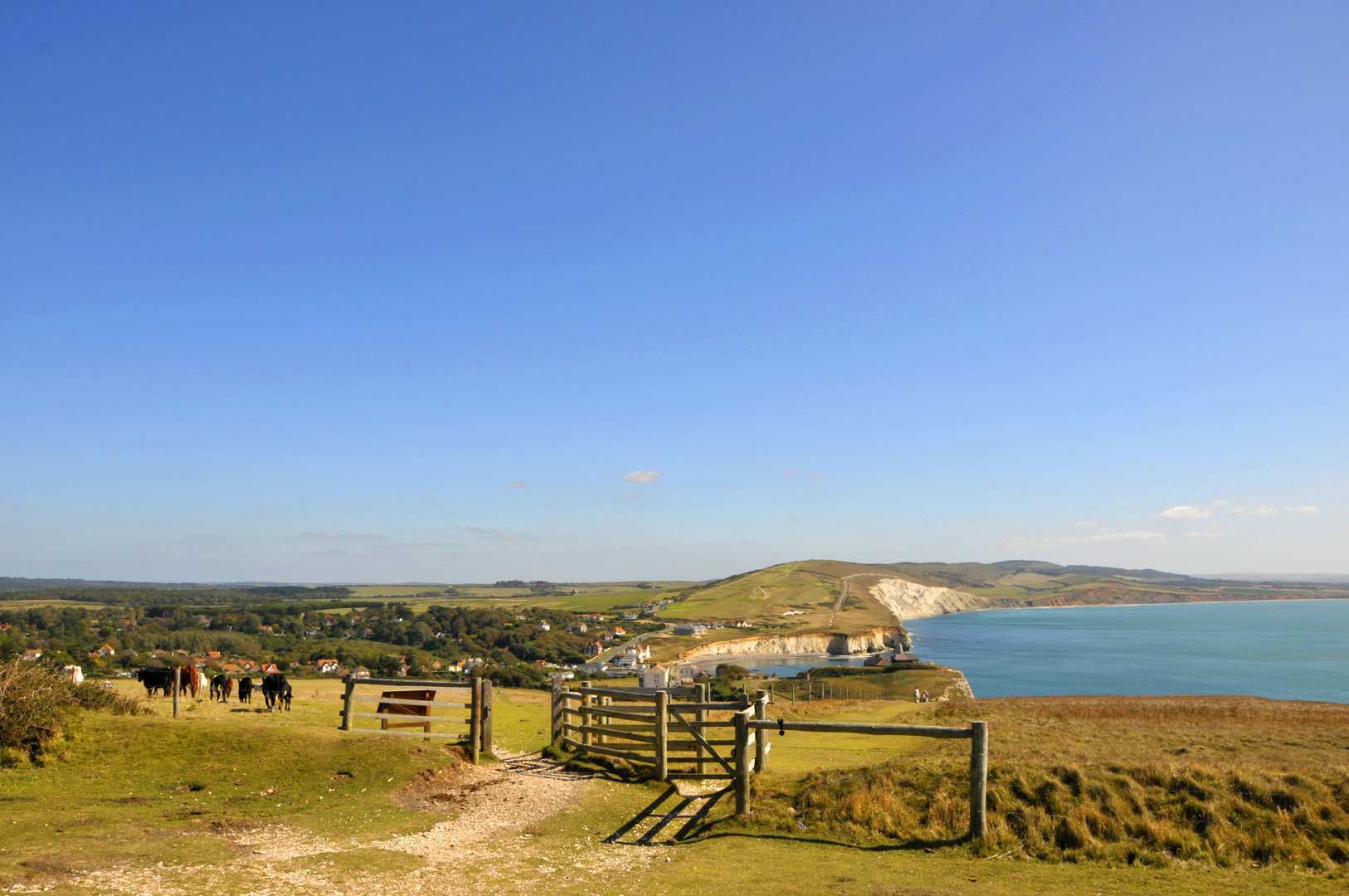 Isle of Wight Short Break
A short walking holiday from Yarmouth to Shanklin along the Isle of Wight Coast Path.
3 to 4 nights
33 miles
Moderate to Demanding
From £330 per person
About this route
This short break option begins in Yarmouth and explores the southern coast of the island before reaching Shanklin. This introduction to the Isle of Wight is ideal for those with less time. This walk sets off from the natural harbour in Yarmouth and passes the cliffs of Alum Bay, the Needles and the Lighthouse.
The trail then follows a series of 'chines' and clifftop paths before visiting the town of Ventnor. The final leg of this journey then leads to Shanklin, where the cottages and tea rooms of the Old Town provide an idyllic place to celebrate the completion of your walk.
Yarmouth to Shanklin
33 miles (52 km)
1st April to 31st October
Admiring the amazing views from Tennyson Down, named after the poet Alfred Lord Tennyson.
Visiting the many picturesque towns and villages, including Ventnor, with its Mediterranean feel.
Arriving in Yarmouth and enjoying the coastal scenery and relaxing atmosphere.
| Code | Tour | Duration | Price per person | |
| --- | --- | --- | --- | --- |
| IOWSB1 | From Yarmouth(L) to Shanklin | 2 days walking | £330 | |
| IOWSB2 | From Yarmouth(L) to Shanklin | 3 days walking | £440 | |
Itinerary
What's included?
Extra nights?
Tour facts
Route profile
Travel info
Weather
Start
Travel to Yarmouth(L) where your first night's accommodation has been booked
Day 1
Yarmouth(L) to Brighstone(L). 16.5 miles (26.5km) / 1699 ft (518 m) ascent
Day 2
Brighstone(L) to Shanklin. 16 miles (25.5km) / 1683 ft (513 m) ascent
Finish
Depart from Shanklin after breakfast
Your Itinerary
This itinerary lists our preferred overnight stops for this tour. Sometimes there may be a shortage of available accommodation in a preferred location, in which case we will transfer you from the trail to your accommodation and back again at no extra charge. Overnight stops marked with a (T) will always require transfers as standard.
Overnight stops marked with an (L) have very limited accommodation, and therefore more often than not will also require a transfer, particularly on bank holidays and weekends. We will use non-transfer accommodation wherever possible.
The daily mileages quoted are average trail miles only and do not include the distance from the trail to your accommodation. We do not expect you to have to travel more than a mile from the trail to your accommodation; should your accommodation be further than this, transfers will be provided as standard.
Below are the additional costs that may apply depending on your requirements. Dog-friendly tours are subject to a Daily Dog Charge, which will be listed below if applicable. Our standard prices per person are based upon two people sharing a room; if you are on your own, or are part of a group but require a room of your own, then the Solo Traveller or Single Supplements apply respectively:
A note about transfers
£50.00 per person / per night
£40.00 per person / per night
You can add rest days at any of the overnight stops:
£60.00 per person / per night
What's included?
3 nights' accommodation in en-suite rooms (where available) in selected B&B's, hotels, inns and guesthouses along the trail, or a short distance away via taxi provided at our expense.
Breakfast each day.
Door to door luggage transfer.
Maps with the route marked on and a guidebook or route notes describing the trail.
An information pack containing an itinerary, instructions on how to find your accommodation each night and a kit list.
Detailed travel instructions on how to get to the start of your holiday and back from the end of it.
Extra Nights & Rest Days
An extra night gives you the perfect opportunity to spend some more time exploring the sights and sounds of the Isle of Wight.
Yarmouth is a good choice for a rest day. It is a delightful village port with narrow lanes, stone quays, a timber pier and historic castle.
If you fancy somewhere quieter, consider Brighstone. It is a beautiful little village set amid flower-strewn fields between forest and sea.
If you would like to enjoy one of the finest beaches in the south of England consider Shanklin for an extra night.
You can add rest days at any of the overnight stops:
£60.00 per person / per night
Tour Facts
Total distance: 32.5 miles (52 km)
Duration: 3 nights, 2 days walking
Minimum daily distance: 16 miles (25.5 km)
Maximum daily distance: 16.5 miles (26.5 km)
Code: IOWSB1 Grade: Demanding
Season: 1st April - 31st October
Start of holiday: Yarmouth(L)
End of holiday: Shanklin
Route Profile

Travel Information
Useful information and travel links that will assist you in your plans to travel to the start of the holiday and back from the end of it are sent to you with your full tour pack. A summary is given below:

By Air - The most convenient major cities and international airports are Southampton and Bournemouth.

By Rail - There is a choice of rail stations at Lymington - Lymington Pier or Lymington Town.

By Bus - Various bus services run to and from Lymington.

From London - Trains run from London Waterloo station to Lymington Pier. From there a ferry will be required to Yarmouth.

By Ferry - Ferries run between Lymington and Yarmouth (suitable for both passengers and cars). To avoid disappointment, we advise that you book in advance. See website:
https://www.wightlink.co.uk/

Return To The Start - The easiest way to return to the start of the trail is to take a taxi from Shanklin to Yarmouth (the public transport option involves catching two buses and takes much longer). From there, take the ferry to Lymington.
Weather Information
To find out more about the weather forecast for your chosen holiday's general location, please see the following websites:
MetCheck - This website allows you to look up detailed weather information for specific locations as far as six months in advance.
Met Office - This website shows regional area forecasts a few days in advance, with a general UK forecast description of up to 30 days in advance.
Mountain Forecast - This website shows what the forecast is like up on specific hills and fells, and offers forecasts a few days in advance.
Routes on this trail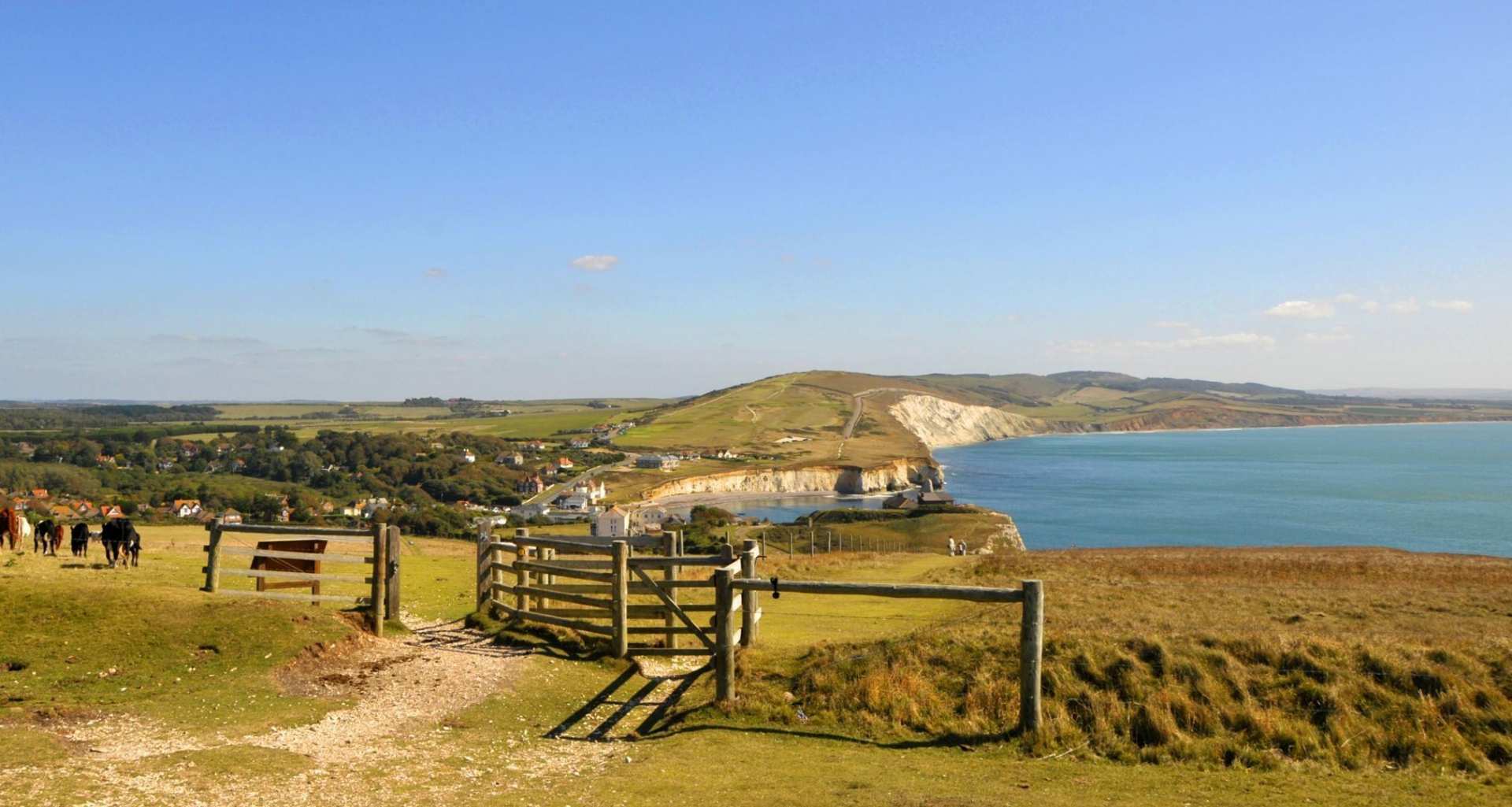 A self-guided walking holiday beginning at Ryde and circumnavigating the Isle of Wight.
Find Out More
Customer reviews from the Isle of Wight Short Break
"It was our first time visiting the Isle of Wight. We benefitted from good weather and as we were following the coast, navigation was easy. We were surprised to only meet one other person doing the coastal walk in July. In many parts, we had the trail to ourselves. There were lovely views over the water and the island. We also managed to find some good swimming spots. I loved the swimming at Freshwater Bay and Shanklin. The countryside around Ventnor was beautiful. Our luggage was always there waiting for us at the end of the day. Can't wait to book another holiday with you ????"

Mrs Ezekial, UK
"The dog friendly nature of your holidays is probably one of the things that ensures you have repeat customers. All of it was nice, with good variety."

Ms Thomas, UK
"We had a great time, good directions, beautiful walking, met lots of nice people, Thank you!"

Mrs Hood, UK
"Wonderful Island. A well-marked coastal path. Helpful people."

Mrs Taylor, Norway