Lakeland Round
Circle the Lake District's major valleys at your own pace on a self-guided walking holiday.
Lakeland Round
https://www.contours.co.uk/lakeland-round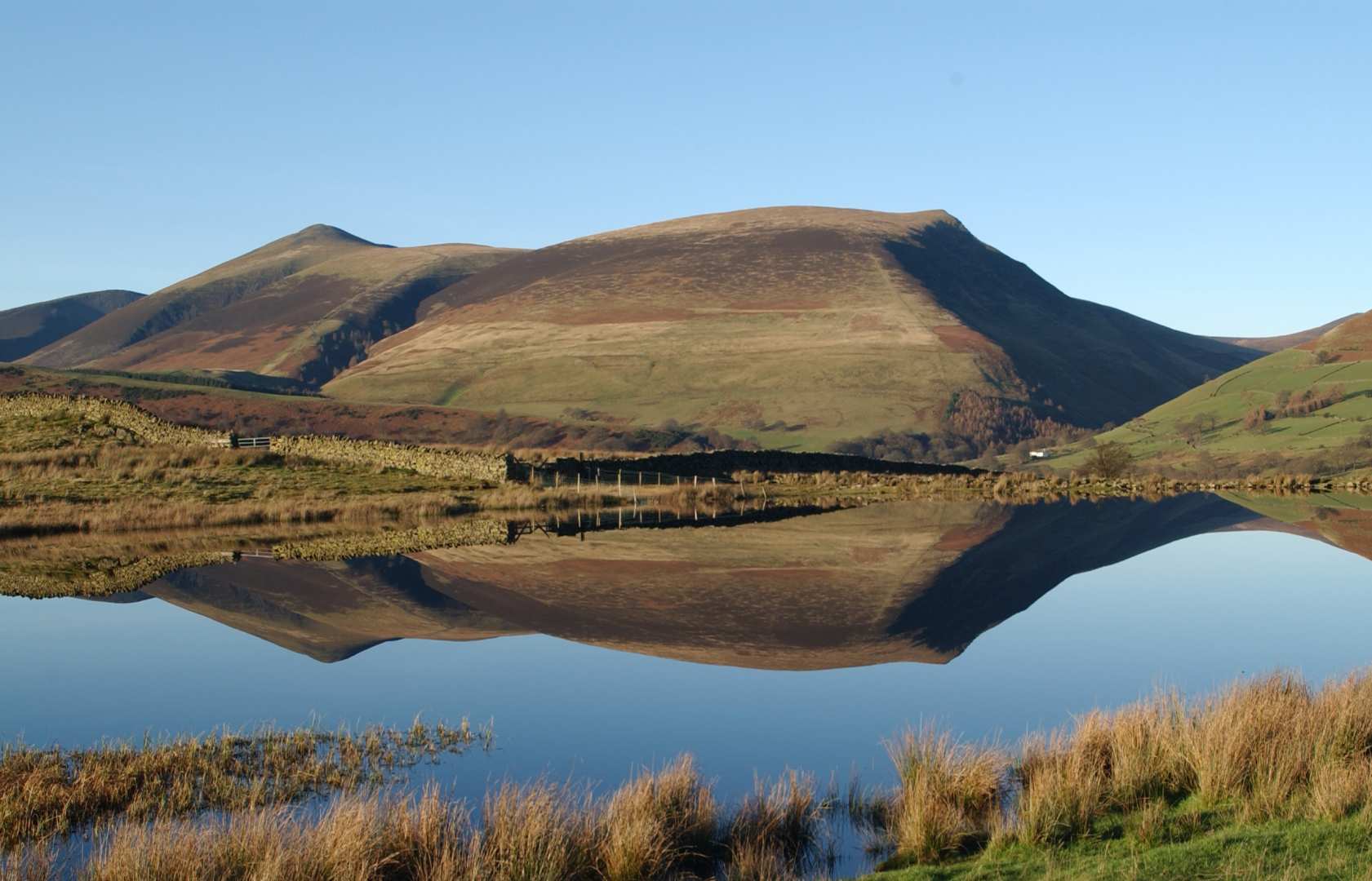 Lake District Circular Walks
A collection of circular walking holidays visiting the lakes and mountains of the Lake District National Park.
3 to 13 nights
12-74 miles
Easy / Moderate to Easy
From £360 per person
Book your self-guided walking holiday in the Lake District. This UNESCO World Heritage site is England's only true mountain region and contains some of the most beautiful scenery in the world. It provides an enchanting mix of rugged mountains, deep valleys, shimmering lakes, powerful waterfalls and attractive stone-built villages.
Our selection of circular walking trails in the Lake District National Park provide an enticing mixture of scenery, terrain and challenge. Whether you are looking for fabulous views, picturesque settlements, fascinating history or literary inspiration, each of these walks offers something different, and are ideal for an active but tranquil retreat into the Great British countryside.
Choose your route
North Lakes Short Break

South Lakes Short Break

Lakeland Round

Lakeland Three Passes Walk

Derwentwater Round
About this route
6 to 13 nights
74 miles
Moderate to Demanding
27th March to 31st October
Includes Dog-Friendly Tours
From £815 per person
Lakeland Round
The Lake District National Park is a magical mix of rocky mountains, tumbling waterfalls, lush valleys, shimmering lakes, tranquil woodland, sturdy stone-built villages and dry-stone walls. This delightful circular walk explores the heart of the UNESCO World Heritage-listed Lake District, following ancient tracks and taking in all of the major valleys in the Lake District.
Along the way, the trail crosses eight mountain passes, visits twelve lakes and explores several attractive Lakeland villages and towns. This is an ideal walk for first time visitors to the Lake District, as it visits many of the most famous beauty-spots as well as a few little-known gems.
| Code | Tour | Duration | Price per person | |
| --- | --- | --- | --- | --- |
| LAKR1 | A circular trail beginning at Ambleside | 5 days walking | £815 | |
| LAKR2 | A circular trail beginning at Ambleside | 6 days walking | £935 | |
| LAKR3 | A circular trail beginning at Ambleside | 12 days walking | £1720 | |
| Code | Tour | Duration | Price per person | |
| --- | --- | --- | --- | --- |
| NLSB | A circular trail beginning at Keswick | 3 days walking | £525 | |
Itinerary
What's included?
Extra nights?
Tour facts
Route profile
Travel info
Weather
Holiday Highlights
Start
Travel to Ambleside where your first night's accommodation will be booked
Day 1
Ambleside to Seathwaite/Dunnerdale(T). 16.5 miles (26.5km)
Day 2
Seathwaite/Dunnerdale(T) to Buttermere. 19 miles (30.5km)
Day 3
Buttermere to Keswick. 14 miles (22.5km)
Day 4
Keswick to Glenridding. 12 miles (19.5km)
Day 5
Glenridding to Ambleside. 11.5 miles (18.5km)
Finish
Depart from Ambleside after breakfast
Your Itinerary
This itinerary lists our preferred overnight stops for this tour. Sometimes there may be a shortage of available accommodation in a preferred location, in which case we will transfer you from the trail to your accommodation and back again at no extra charge. Overnight stops marked with a (T) will always require transfers as standard.
Overnight stops marked with an (L) have very limited accommodation, and therefore more often than not will also require a transfer, particularly on bank holidays and weekends. We will use non-transfer accommodation wherever possible.
The daily mileages quoted are average trail miles only and do not include the distance from the trail to your accommodation. We do not expect you to have to travel more than a mile from the trail to your accommodation in most cases; should your accommodation be further than this, transfers will be provided as standard if practical. A very limited number of stops will require you to travel on foot up to two miles off the trail, however these instances will be clearly communicated to you if applicable.
Further transfers may also be required due to some accommodations having a two-night minimum booking policy, especially at weekends.
Below are the additional costs that may apply depending on your requirements. Dog-friendly tours are subject to a Daily Dog Charge, which will be listed below if applicable. Our standard prices per person are based upon two people sharing a room; if you are on your own, or are part of a group but require a room of your own, then the Solo Traveller or Single Supplements apply respectively:
A note about transfers
£80.00 per person / per night
£55.00 per person / per night
You can add rest days at any of the overnight stops:
£65.00 per person / per night
£70.00 per person / per night
Circular trail beginning at Ambleside
74 miles (118 km)
27th March to 31st October
Holiday highlights
Experiencing the highlights of the Lake District, including its dramatic mountain scenery and beautiful villages, including Coniston, Buttermere and Keswick.
Visiting twelve of Lakeland's iconic lakes, including Ullswater, Derwentwater, Coniston Water and Windermere.
Discovering a landscape that has inspired literary greats, from Wordsworth's 'Daffodils' to Arthur Ransome's 'Swallows and Amazons.'
What's included?
6 nights' accommodation in en-suite rooms (where available) in selected B&B's, hotels, inns and guesthouses along the trail, or a short distance away via taxi provided at our expense.
Breakfast each day.
Door to door luggage transfer.
Maps with the route marked on and a guidebook or route notes describing the trail.
An information pack containing an itinerary, instructions on how to find your accommodation each night and a kit list.
Detailed travel instructions on how to get to the start of your holiday and back from the end of it.
Extra Nights & Rest Days
If you fancy somewhere quiet, consider Buttermere. It is a lovely little village in a beautiful valley.
The lively little market town of Keswick is an ideal choice for a rest day. It has plenty of interesting shops, a couple of award-winning museums and a lovely theatre by the lake. There are boat trips on Derwentwater, or you could walk to the mystical Castlerigg Stone Circle, the fine viewpoint of Friar's Crag or climb Skiddaw, the fourth highest mountain in England. There are many of good walks from the town and it is possible to explore Borrowdale by taking a boat trip on the lake.
You can add rest days at any of the overnight stops:
£65.00 per person / per night
£70.00 per person / per night
Tour Facts
Total distance: 73.5 miles (117.5 km)
Duration: 6 nights, 5 days walking
Minimum daily distance: 11.5 miles (18.5 km)
Maximum daily distance: 19 miles (30.5 km)
Code: LAKR1 Grade: Demanding
Season: 27th March - 31st October
Start of holiday: Ambleside
End of holiday: Ambleside
Route Profile

Travel Information
Useful information and travel links that will assist you in your plans to travel to the start of the holiday and back from the end of it are sent to you with your full tour pack. A summary is given below:

By Air - The most convenient major city and international airports are Manchester, Newcastle and Leeds.

By Rail - The nearest rail station to Ambleside is at Windermere (about 5 miles away).

By Bus - Buses run between Windermere Station and Ambleside.

From London - Trains run from London Euston station to Windermere. From there a bus/taxi will be required to Ambleside.

Return To The Start - The Lakeland Round is a circular tour beginning and ending in Ambleside.
Weather Information
To find out more about the weather forecast for your chosen holiday's general location, please see the following websites:
MetCheck - This website allows you to look up detailed weather information for specific locations as far as six months in advance.
Met Office - This website shows regional area forecasts a few days in advance, with a general UK forecast description of up to 30 days in advance.
Mountain Forecast - This website shows what the forecast is like up on specific hills and fells, and offers forecasts a few days in advance.
Customer reviews from the Lakeland Round
"You are organized with accommodation and transport of luggage."

Mrs Cober, Canada
"Overall a good experience. This was our third walking holiday with Contours."

Mrs Burke, UK
"The walking was excellent."

Dr Paerlman, UK
"Very hospitable and comfortable accommodation. Excellent choice of route. Clear instructions."

Mr Borin, UK
"Absolutely wonderful hikes and outstanding response by Christine Saul when my husband had knee problems. She arranged our continuation of our Lake District trip."

Ms Vaughn, USA
"Lake District was beautiful."

Mr Hamity, USA
"Excellent walk for dogs with good dog friendly accommodation and very stress free."

Mr Jackson, Scotland
"Overall it went very well. Good job Contours! Overall, the accommodation was very good for a walking holiday with a dog in tow. All of the places were warm and everyone was helpful and considerate, very important after a strenuous walking day. No problems anywhere having the dog with us. We enjoyed much of the walk, especially the fantastic views The Lakes have to offer."

Mr Young, UK