By Beth Pipe
The Coast to Coast route is such a challenge that it's tempting to plough on through in order to get the job done, but there are some wonderfully interesting places to pause at along the way, like Haweswater for example. It's one of our favourite spots to visit in the Lake District, and over the years we've been lucky enough to learn more about it and enjoy some wonderful experiences there.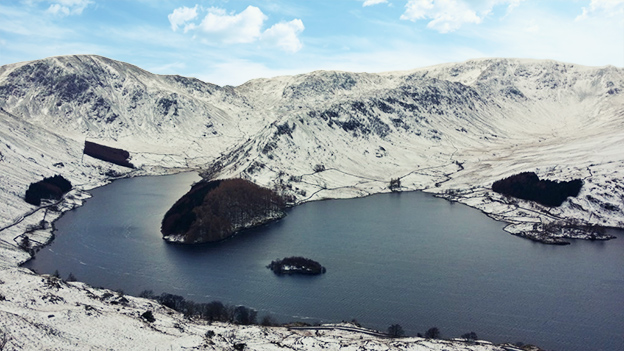 On one of the first occasions we visited we underestimated the Cumbrian weather. We set out with the intention of walking a lap of the lake (technically a reservoir but more on that later); the sun was blazing down from a clear blue sky and, as we weren't planning on going up high, we left the waterproofs in the car. It's a well known fact that the best way to ensure a clear dry walk is to take all your waterproofs with you, and the quickest way to guarantee rain is to leave them behind. We only got as far as Riggindale Valley before the heavens opened, and half an hour later we were back at the car dripping wet and trying to wring out what we could so we didn't get the seats soggy on the way home.
On another occasion we visited during a drought and were lucky enough to walk along some of the old streets of Mardale Green, as the water levels had dropped well below normal. The valley was flooded in 1935 to create the reservoir and the people of Mardale Green were moved away – this wonderful but very brief video from British Pathè News gives a tiny glimpse of the last service to be held in the church. If you have time, be sure to take a visit to Burnbanks, the "temporary" village built to house the workers who built the dam.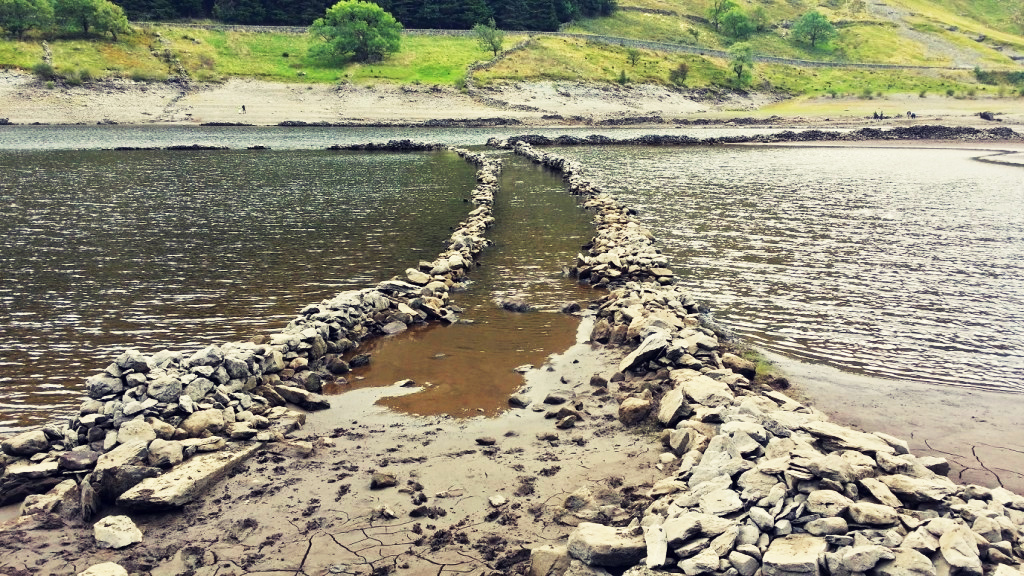 The names of the local fells tell the story of the history of the area: High Street was once a main route for the Romans from Ambleside to Penrith, and Racecourse Hill got its name from the horse races that were held there up until the late 19th Century. Castle Crag is the site of an Iron Age Fort and Hugh's Cave is supposedly where Hugh Holme hid out when fleeing from King John – from him came the Kings of Mardale, the last of whom died in 1885 and is buried in Shap.
It's with a huge amount of sadness that I write about one of the valley's most well known residents – the golden eagle of Riggindale. Over the years many golden eagles fledged here, but our bachelor eagle was on his own from 2003 when his partner died but could regularly be seen displaying and hunting over the valley and the lake.

We were very lucky in 2014 to spend a warm sunny afternoon up on Short Stile, watching him as he hunted to and fro across the valley. We spent over an hour in the late afternoon sunshine with our flask of tea and our sarnies, taking some photos but mainly just watching in awe. As I write this, the news is that he's not been sighted this year and there are fears that he may have died – the very last golden eagle in England now gone. So very sad.

On a brighter note, we don't always make do with a flask of tea and a few sarnies; earlier this year, just for the hell of it, we took afternoon tea on the top of Harter Fell. If you want unbeatable views along Haweswater then this is the spot to come to, and if you want to do it properly, take afternoon tea with you.

We packed smoked salmon sandwiches, scones, homemade jam and clotted cream and took a proper teapot and china mugs up with us. There's a perfect spot just before the summit where we spread our table cloth and enjoyed a proper feast in the early spring sunshine. We certainly took a few other hikers by surprise, but you know what? If something is worth doing then surely it's worth overdoing, and a view like this is definitely worth the effort (and yes, we had packed our waterproofs this time, just in case!)