Llyn Coast Path
Experience the Llŷn Coastal Path at your own pace on a full-route self-guided walking holiday. Accommodation, luggage transfer and custom holiday pack included.
Llyn Coast Path
https://www.contours.co.uk/llyn-coast-path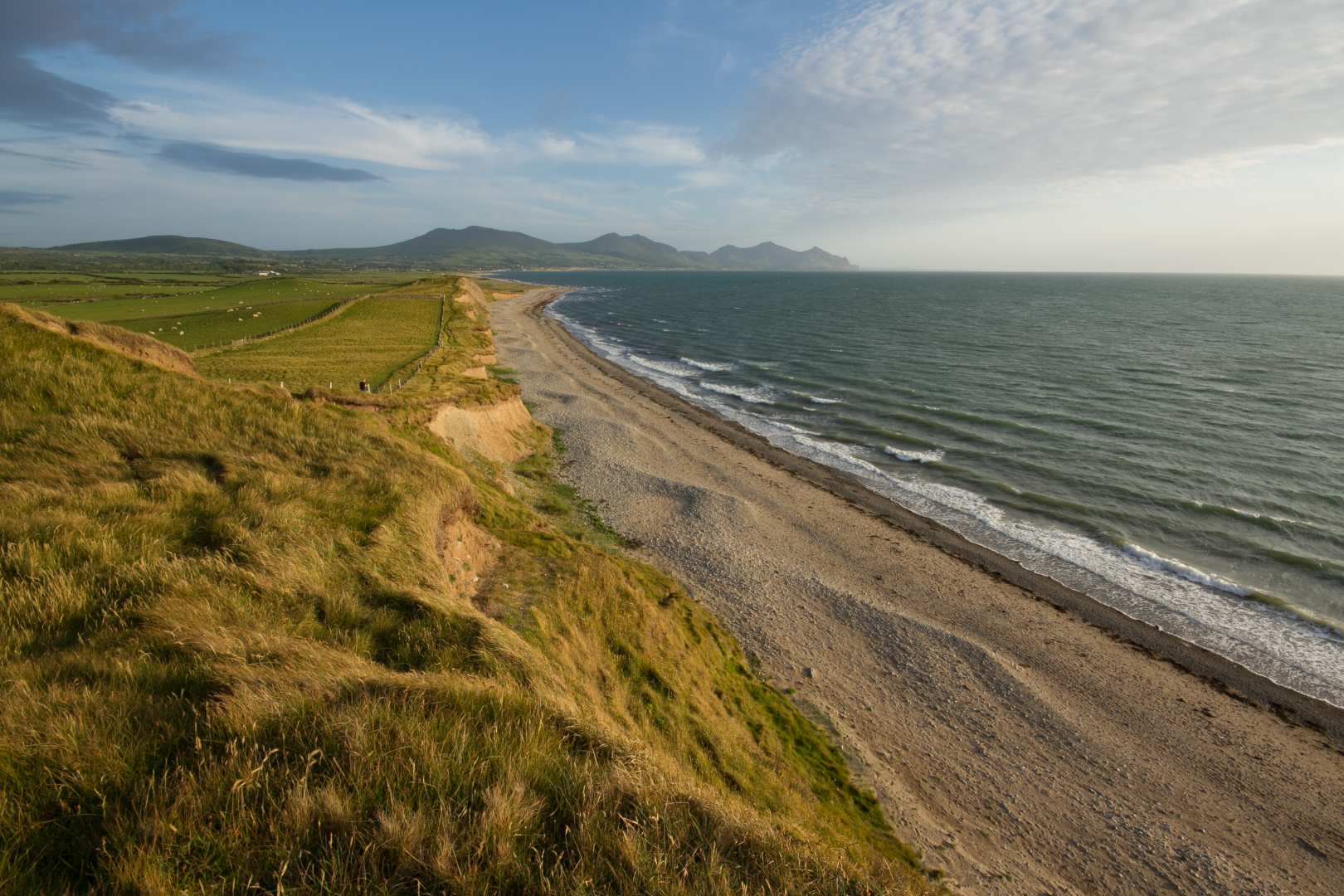 Llŷn Coast Path
A self-guided walking holiday around the Llŷn Peninsula along the Wales Coast Path.
5 to 13 nights
48-113 miles
Moderate to Demanding
From £675 per person
The Llŷn Coast Path explores one of the most remote and beautiful corners of Wales: the Llŷn Peninsula. It's an ancient landscape of tiny hedge-lined fields and gnarled oak woodlands, surrounded by a coastline of rugged cliffs, isolated coves and wide, sandy bays.
The path connects the many ancient sites once visited by pilgrims on their way out to Ynys Enlli, or Bardsey Island, at the very tip of the peninsula, including abbey ruins and outstanding churches. This rich history is rivalled only by the trail's complete tranquillity, as well as breath-taking views from Yr Eifl back along the entirety of the peninsula from coast to coast. A spiritual leg of the Wales Coast Path.
We offer multiple holiday options along this trail. If you wish to experience the entire trail, simply select the first option from the list below.
Choose your route
Llyn Coast Path

Llyn Coast Path - North Section

Llyn Coast Path - South Section
About this route
10 to 13 nights
113 miles
Moderate to Demanding
2nd January to 24th December
From £1255 per person
Llyn Coast Path
Our complete Llŷn Coast Path walking holiday journeys 111 miles around the spectacular Llŷn Peninsula from Bangor to Porthmadog. The trail follows in the footsteps of ancient pilgrims on the trek out to Bardsey Island as it skirts around the shoreline of the peninsula on winding trails through wild and remote scenery.
This quiet corner of Wales features ancient woodlands, rugged clifftops and sandy beaches, as well as several intriguing historic sites and plenty of wonderful towns and villages, all surrounded by fantastic views, making this section of the Wales Coast Path a truly memorable walking adventure.
| Code | Tour | Duration | Price per person | |
| --- | --- | --- | --- | --- |
| LPP1 | From Bangor to Porthmadog | 9 days walking | £1255 | |
| LPP2 | From Bangor to Porthmadog | 12 days walking | £1635 | |
Itinerary
What's included?
Extra nights?
Tour facts
Route profile
Travel info
Weather
Holiday Highlights
Start
Travel to Bangor where your first night's accommodation will be booked
Day 1
Bangor to Caernarfon. 11.5 miles (18.5km)
Day 2
Caernarfon to Clynnog Fawr(T). 14 miles (22.5km)
Day 3
Clynnog Fawr(T) to Nefyn/Morfa Nefyn. 13 miles (20.5km)
Day 4
Nefyn/Morfa Nefyn to Tudweiliog (L). 8.5 miles (13.5km)
Day 5
Tudweiliog (L) to Aberdaron. 18 miles (29km)
Day 6
Aberdaron to Llanengan(T). 10.5 miles (16.5km)
Day 7
Llanengan(T) to Llanbedrog (L). 14.5 miles (23km)
Day 8
Llanbedrog (L) to Llanystumdwy(T). 13 miles (21km)
Day 9
Llanystumdwy(T) to Porthmadog. 9.5 miles (15.5km)
Finish
Depart from Porthmadog after breakfast
Your Itinerary
This itinerary lists our preferred overnight stops for this tour. Sometimes there may be a shortage of available accommodation in a preferred location, in which case we will transfer you from the trail to your accommodation and back again at no extra charge. Overnight stops marked with a (T) will always require transfers as standard.
Overnight stops marked with an (L) have very limited accommodation, and therefore more often than not will also require a transfer, particularly on bank holidays and weekends. We will use non-transfer accommodation wherever possible.
The daily mileages quoted are average trail miles only and do not include the distance from the trail to your accommodation. We do not expect you to have to travel more than a mile from the trail to your accommodation in most cases; should your accommodation be further than this, transfers will be provided as standard if practical. A very limited number of stops will require you to travel on foot up to two miles off the trail, however these instances will be clearly communicated to you if applicable.
Further transfers may also be required due to some accommodations having a two-night minimum booking policy, especially at weekends.
Below are the additional costs that may apply depending on your requirements. Dog-friendly tours are subject to a Daily Dog Charge, which will be listed below if applicable. Our standard prices per person are based upon two people sharing a room; if you are on your own, or are part of a group but require a room of your own, then the Solo Traveller or Single Supplements apply respectively:
A note about transfers
£70.00 per person / per night
£55.00 per person / per night
You can add rest days at any of the overnight stops:
£65.00 per person / per night
Bangor to Porthmadog
113 miles (180 km)
2nd January to 24th December
Holiday highlights
Visiting proud Caernarfon Castle and its more battle-worn counterpart, Criccieth Castle.
Walking into the lime-washed fishing village of Aberdaron, where pilgrims once rested before crossing the treacherous waters of the Bardse Sound to the Isle of 20,000 Saints.
Seeking out St Mary's Well, which is covered twice daily by the sea but emerges, brimming with crystal clear water, from the ebbing tide.
What's included?
10 nights' accommodation in en-suite rooms (where available) in selected B&B's, hotels, inns and guesthouses along the trail, or a short distance away via taxi provided at our expense.
Breakfast each day.
Door to door luggage transfer.
Maps with the route marked on and a guidebook or route notes describing the trail.
An information pack containing an itinerary, instructions on how to find your accommodation each night and a kit list.
Detailed travel instructions on how to get to the start of your holiday and back from the end of it.
Extra Nights & Rest Days
Consider booking an extra night in Caernarfon if you wish to explore the town and its formidable late 13th - century castle that was built to pacify the Welsh. Nefyn is a good choice if you want to enjoy some of wonderful beaches that this delightful corner of Wales is famous for. If you want to visit the 'Isle of 20,000 Saints', book an extra night in the lovely little village of Aberdaron.
You can add rest days at any of the overnight stops:
£65.00 per person / per night
Tour Facts
Total distance: 112.5 miles (180 km)
Duration: 10 nights, 9 days walking
Minimum daily distance: 8.5 miles (13.5 km)
Maximum daily distance: 18 miles (29 km)
Code: LPP1 Grade: Demanding
Season: 2nd January - 24th December
Start of holiday: Bangor
End of holiday: Porthmadog
Route Profile

Travel Information
Useful information and travel links that will assist you in your plans to travel to the start of the holiday and back from the end of it are sent to you with your full tour pack. A summary is given below:

By Air - The most convenient major city and international airports are Liverpool John Lennon and Manchester.

By Rail - There is a station at the start of the trail (Bangor) and also at the end of the trail (Porthmadog).

By Bus - Various bus services run to Bangor and from Porthmadog.

From London - Trains run from London Euston station to Bangor.

Return To The Start - The easiest way to return to the start of the trail, is to take the bus from Porthmadog to Bangor, although this is an infrequent service, so a taxi may be a better option at certain times.
Weather Information
To find out more about the weather forecast for your chosen holiday's general location, please see the following websites:
MetCheck - This website allows you to look up detailed weather information for specific locations as far as six months in advance.
Met Office - This website shows regional area forecasts a few days in advance, with a general UK forecast description of up to 30 days in advance.
Mountain Forecast - This website shows what the forecast is like up on specific hills and fells, and offers forecasts a few days in advance.
Customer reviews from the Llyn Coast Path
"Amazing landscapes, perfect weather, well organised support by Contours."

Mrs Tillotson, UK
"An amazing holiday on the Llyn Peninsula, we had great weather, great scenery and views, great accommodation and all expertly organised, as ever, by Contours! A wonderful and varied coastal walk! And we already have some booked for the rest of this year!"

Mrs Parker, UK
"Fantastic scenery and challenging walking."

Mr Farr, UK
"The scenery and the accommodations were first class. No negative comments to raise here."

Mr Gunn, UK
"Another very successful holiday - thank you. I always enjoy my Contours holidays. I often tell others how satisfied I am with your holidays."

Mr Duthoit, UK
"Fantastic views. Moderately difficult walk. Bags always arrived on time. Already planning the next trip."

Mr Harmey, UK
"Fabulous trip with excellent scenery, well waymarked."

Mr Anderson, UK
"This was a fantastic walk across stunning scenery of long, deserted beaches, interesting little coves, major castles and historic towns. I loved it! Really enjoyed exploring an area I hadn't been to before. Everything worked perfectly and the weather held out as well! It was a great holiday in a fantastic part of the world which is well worth exploring and has not yet become as busy as many other coastal areas such as the SWCP. Booked quite a few so far so will probably book another one... or two maybe next year."

Mr Madge, UK
"A superb peninsular walk with a wide variety of stunning scenery, in a quiet area that still feels a bit off the beaten track. Reminded me a lot of Cornwall, but not nearly as "touristy". The route has a lovely mix of cliffs, beaches, hills and marshland. All the accommodation was excellent (as it usually is!). Lots of wildlife, including quite a few seals in the sheltered bays."

Mr Julyan, UK