We count ourselves very lucky here at Contours that our office is based on the edge of the beautiful Peak District National Park; the oldest and one of the most popular National Parks in the UK. The popularity of the park does mean however that some visitors do not follow the 'leave no trace' principles and sadly discard litter. This litter not only looks unsightly, spoiling the beauty of the National Park, it can also be dangerous to wildlife and farm animals.

When we heard that the Peak Park Conservation Volunteers (who organised our corporate volunteer day back in March) were partnering with Peak Mountaineering to organise a 'Pick and Play' day, we were keen to get a group of staff volunteers together to join in. The day's event was based at Surprise View car park, just outside Hathersage and on the edge of the National Trust-owned Longshaw Estate. Eight staff members and Bella the dog attended the event, which invited volunteers to help clear up this popular area of litter for half a day and then try out a choice of outdoor activities, courtesy of Peak Mountaineering, for the other half of the day. A choice of activities was offered e.g. climbing, abseiling, bushcraft, orienteering and weaselling; we all opted for a guided ranger nature walk.
The event, which has been growing in popularity year on year, also enjoyed support from the British Mountaineering Council (BMC) Peak Region and the Peak Park Rangers, and was also generously helped by donations from several local outdoor gear businesses. To our surprise and delight, everyone who attended received an amazing goodie bag which contained a free beanie from local clothing specialists Rab, a Low Alpine dry bag and some cleaning products from Nikwax, together with some Haribos and a large supply of bananas and flapjacks to keep up our energy levels. There was also an excellent free raffle with many larger outdoor gear prizes; one of our team members, Laura, was delighted to win an Osprey backpack.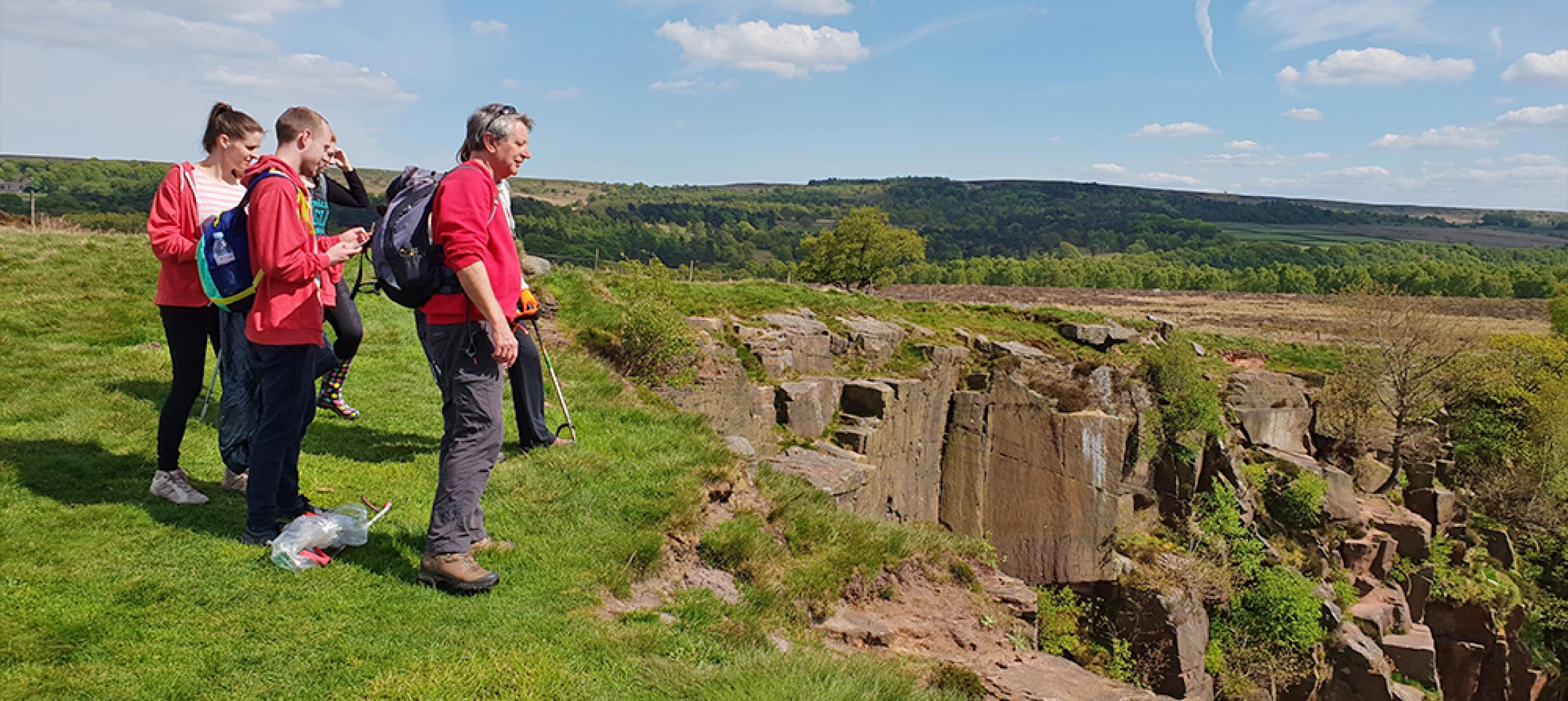 All of the volunteers were split into smaller groups; our group had our guided nature walk activity in the morning and spent the afternoon litter picking - coincidently in the same location of our nature walk. We had amazing weather for the event; it was a beautiful, warm and sunny day. We had two rangers to guide us, Jim and Emily. Our walk and litter pick took us over Lawrence Field, which is now moorland but was once a medieval farming settlement site, and then down through Yarncliff Wood to Padley Gorge, a deep narrow wooded gorge. Yarncliff Wood is a designated Site of Special Scientific Interest (SSSI) for being "the best example of the remnant oak-birch woodland that once covered much of the edges of the gritstone uplands of the Peak District". Our guide Emily was a bird expert; Yarncliff Wood is renowned for its rich birdlife as it has many visiting summer birds. We heard many different songbirds, which Emily pointed out to us – actually spotting them was more difficult however! We also passed the 'Coin Tree'; popular with children, it is adorned with hundreds of old coins.
From here we headed into Bolehill Wood and the old site of Bolehill Quarry. For over 600 years, during medieval times, it was a thriving super quarry, producing stone for building Derwent and Howden Dams and highly sought-after gritstone millstones used to grind flour, which were exported to Scandinavia. Apart from a few remnants of stone buildings, the base of a winding drum which operated an inclined railway, the millstone graveyard and the flooded quarry, there is little evidence left of the past industrial site; nature has taken hold and the area is now filled with beautiful silver birch woodland teaming with wildlife. Ranger Jim braved an attack of biting wood ants to demonstrate to us how, by angering the ants, they produce formic acid that turns bluebells pink. The flooded quarry was full tadpoles and many fish and newts.
On the way back to the car park, we were also shown how to easily identity three common moorland berries; Bilberry, Cowberry and Crowberry and three types of heather, Ling being the most widespread type of moorland heather (and the only name I can remember!)

Back at the car park after all of the teams had returned, we were able to admire the huge pile of rubbish that had been collected by everyone. Peak Park Conservation Volunteers confirmed afterwards that this event, which was their 6th Pick & Play day, was officially the busiest and best yet, with 143 people collecting by far the most rubbish they have ever managed to collect so far, which they acknowledged was an amazing effort by all concerned. We had collected so much rubbish between us that they struggled to fit it all in their van to take it away! We all had a fantastic and very rewarding day and we'll definitely be back again next year with another team of volunteers.