by Catherine Sempill
The Zeigarnik Effect sounds like a made-up concept until you uncover its meaning and realise it applies to you. It refers to the brain's need to finish what we started, and it applies perfectly to my two-stage walk along the Ridgeway.
I wrote about completing the western half of the Ridgeway. At the time I was content with walking just under half the route. But as the year passed and I completed more lovely walks over the summer, I felt a rising niggle at not having completed the full Ridgeway Trail. The Zeigarnik Effect had kicked in.
It became clear that I had to finish the route.
Day One: In Praise of Churches & Cake
Nearly a year later to the day, my walking partner and I got off the train at Goring & Streatley and headed out to complete the eastern Ridgeway. Once again, the weather played ball in a remarkable fashion, and we headed out of the village under cloudless sunny skies.
I had big plans for the first day. Twenty-two kilometres kind of big, from Goring to Wallingford. Thanks to the gentle undulations of the Ridgeway it was an easily achievable goal, but the rare spurt of warm May weather did bring with it some challenges. It was very hot, made hotter by the fact that we were walking uphill a lot of the time with heavy packs on our backs.
We set off from Goring along the Thames, passing in and out of the pretty riverside villages. Much of this section was exposed, but with pleasant scenery and zero inclination, it made for a very nice stroll in the morning sunshine.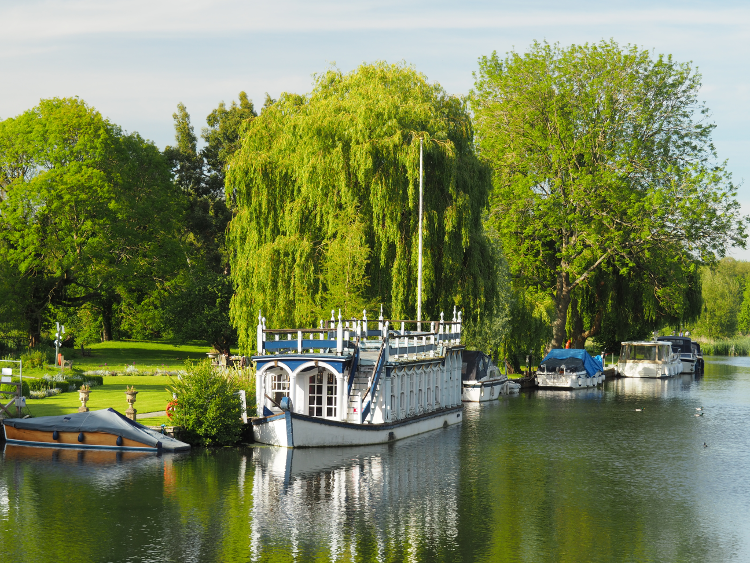 By lunchtime things were heating up a bit, so we paused alongside the path in a patch of shade and treated ourselves to some cheese and biscuits, an excellent snack I omitted from this list of hiking snacks. After the break, we joined the stream of Saturday Ridgeway users — dog walkers, mountain bikers and ramblers — and I was reminded of what a friendly trail it is.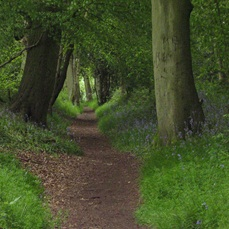 After an hour or two (maybe less — time blends into one when I'm walking) we were met by a large hill. As with anything in life, there was a silver lining. Although quite a steep inclination by Ridgeway standards, the entire path was shrouded in greenery. Subsequently the temperature was lower and we had protection from the sun. Apparently this section of the trail runs along Grim's Ditch, itself not an incredible sight (I hardly noticed it) but a nice reminder of just how much history there is in southern England.
I quite enjoyed the uphill exertion, not least because I knew what was waiting for me at the top.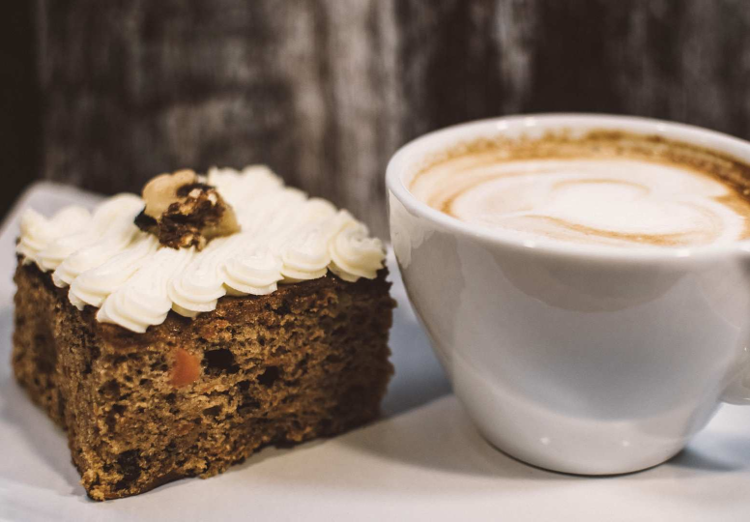 Nuffield church is an institution on the Ridgeway, not only as an official water point: the church community also keeps the doors open to walkers with a sweet tooth.
We popped in and were treated to delicious cake and a cup of tea each. Given the balmy afternoon, the cool of the church was extremely welcome, and cake is a pick-me-up under any circumstances!
After chatting to the church ladies, we filled our water bottles, used the free loo and continued onwards, reflecting on the loveliness of the Nuffield church community. Come rain or shine, walkers are welcome there, and if no-one's about but there's cake to be had, there is an honesty system in place.
The rest of our afternoon took us across a golf course, straight through the middle of some fields and up another hill through some lively woodlands. Cake en route was a strong contender for the day's highlight, but walking through those woods, hearing nothing but birds chirping and branches cracking, was definitely memorable too.
Day Two: Celebrating a Gruelling Climb
The trail on the second day was pretty — more woodland, more fields, and a brief splash of rain. A good chunk of our morning walking was along the Icknield Way — perfectly green and bushy with a nice texture underfoot. I noticed the scenery changing and the friendly faces along the path, but I experienced it all in a dream-like state. That's because on day two I found my stride and entered a semi-meditative space as I strolled.
It was perfect contentment — no jumping for joy, but equally no frustration, even as the afternoon drizzle became a full-on downpour. Rather it was all part of the experience, which was turning out to be "just right".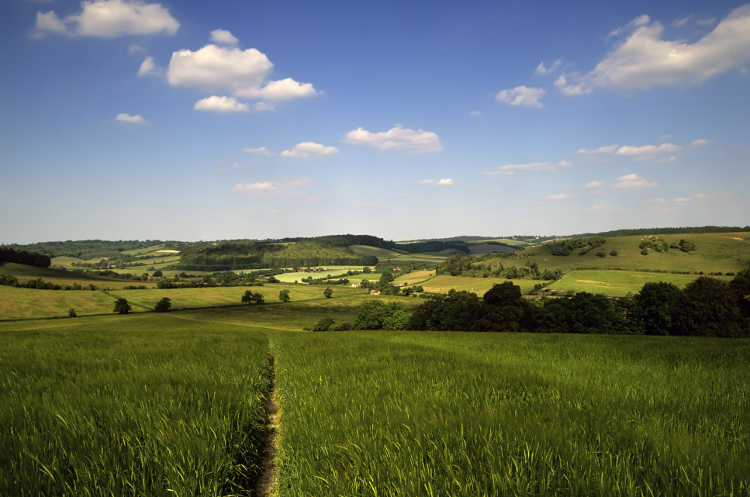 Towards the end of the day, the rain cleared and I was jolted back to reality by a quick trip into Princes Risborough in search of crisps and wine. The evening forecast was looking great and we had one more giant hill to climb. We figured a little party at the top would be in order.
The walk up Brush Hill was gruelling. By the time we made it up, we indeed felt like celebrating. We found a bench and settled in to enjoy the sunset and reflect on another successful day on the Ridgeway.
Day Three: And Suddenly it was Over
Due to commitments back home, I plotted our final day's walk to end in Wendover. My logic was that, after two days over twenty kilometres long, we'd want to end on a high note with a short, gentle stroll.
As it turned out, we woke up very early, raring to go, and hit the trail before seven. Even if we walked the last section backwards we would have made good time.
As it was, we set off through one of my favourite sections of the Ridgeway Trail. Down the other side of Brush Hill, through the hamlet of Cadsden and straight into a small protected area.
I loved this section as it had plenty of ups and downs. Plants and shrubs growing at random, as opposed to the organised rows of agricultural fields, and the sun was shining on us once again. We also encountered a number of sprightly trail runners who were delighted that we were walking such a large section of the Ridgeway.
At the other end of some woods, we popped out and were greeted by police warnings. We were on Chequers land. Once again my imagination had a little wonder about what it must feel like being holed up in there with the political elite, but before too long we had crossed the property and were climbing another hill into the woods.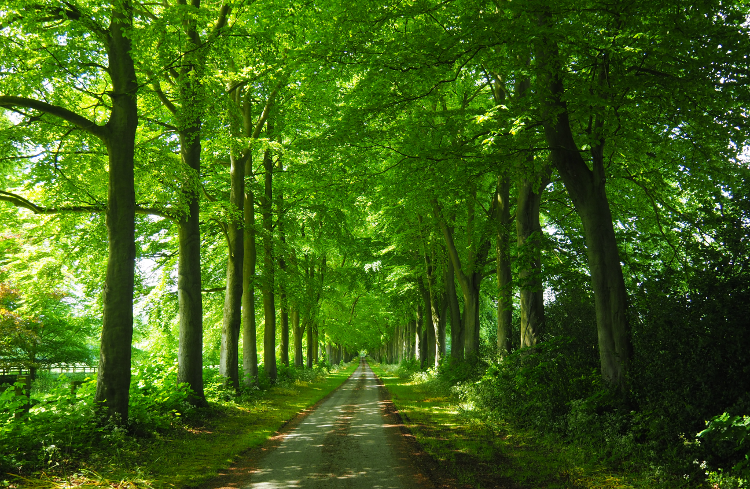 We emerged at Coombe Hill, an evidently popular site just outside Wendover. The throngs of visitors and the surprising nearness of the town were a jolt back to reality. We really were about to end our days of Ridgeway walking.
Within 20 minutes we had descended the other side of Coombe Hill and conveniently rambled right into the train station. The time was just before eleven.
Technically I have still not finished the Ridgeway. The trail ends at Ivinghoe Beacon near Tring, a not-very-long walk away from Wendover and, based on photos I've seen of this final section of the trail, I think I've walked the best bits already. Apart from the sudden change of gears — from walking alone in the woods to sitting on a busy train back to London — I felt happy with the decision to end in Wendover.
As I now know though, the Zeigarnik Effect is a real thing. I may yet be lured back to complete those final few kilometres of the Ridgeway National Trail.