By Damian Hall
We test the best fleeces for spring, summer and autumn hiking.



Every now and then outdoor clobber breaks into the mainstream and becomes street fashion of sorts. We've seen it in the last few years with certain brands and especially with down jackets, but back in the 1990s fleeces were cool – or at least they were in my sixth form (well, I thought they were – I had a fleece the colour of a particularly spectacular shade of vomit, so there's a chance I was deceiving myself).

But since then, other fabrics – specifically down jackets and other insulation options – have become clever and lighter, and nowadays fleeces are seen as a bit passé, or perhaps more likely seen on the senior hiker. But that needn't be the case; the fleece has reinvented itself as a more versatile, stylish and functional garment.

Fleeces used to be big, chunky-looking and heavy to cart about, but not anymore. Materials are now softer, lighter, warmer and better looking. They can be eco-friendly too, and some are even made from recycled materials, including plastics. Historically they've been good at deterring water, though not so good at letting sweat escape, but that's changed too.

Like a soft-shell or down/insulation jacket, a fleece can often be used as a mid-layer in winter and an outer layer in spring and autumn – hopefully acting only as a picnic blanket in summer, depending on the weather. But the same truth remains; few things are as reassuring or as comforting as the simple act of wearing a fleece.
What to look for
Weight/warmth
Broadly speaking, there are three main categories of fleece: a heavyweight or textured fleece (a winter-friendly, old-school, big thick thing that will keep you warm in most conditions, but you wouldn't want to lug around all day in your pack); a mid-weight fleece (more versatile, and more useful to the walker); and a lightweight or microfleece (more for a windy fell-top in summer, as an emergency option or suitable for winter running). This difference is important, because when I was living in Australia and trying to persuade my future wife to come with me, I told her she'd be plenty warm enough in the Sydney winter with a fleece. It turned out that her idea of a fleece (lightweight) was quite different to mine (heavyweight). By the time she realised the significant difference, she had already arrived. She got a bit cold and grumpy, but forgave me. Eventually.
Features
Do you want a hood (I personally rarely use this and prefer a hat), pockets (perfect for warming hands) or thumb loops (not to be sniffed at)?
Fit
Do you prefer a loose fit, or a more athletic look?
Protection
As fleeces get more advanced, they're increasingly claiming higher levels of water and wind resistance. While I don't necessarily look for a fleece for those things, the collar or chin guard is worth looking at. Do you want enough fabric to protect your chin from the wind?
Style
Is it something you'd happily wear to the pub, or is that even important to you?
---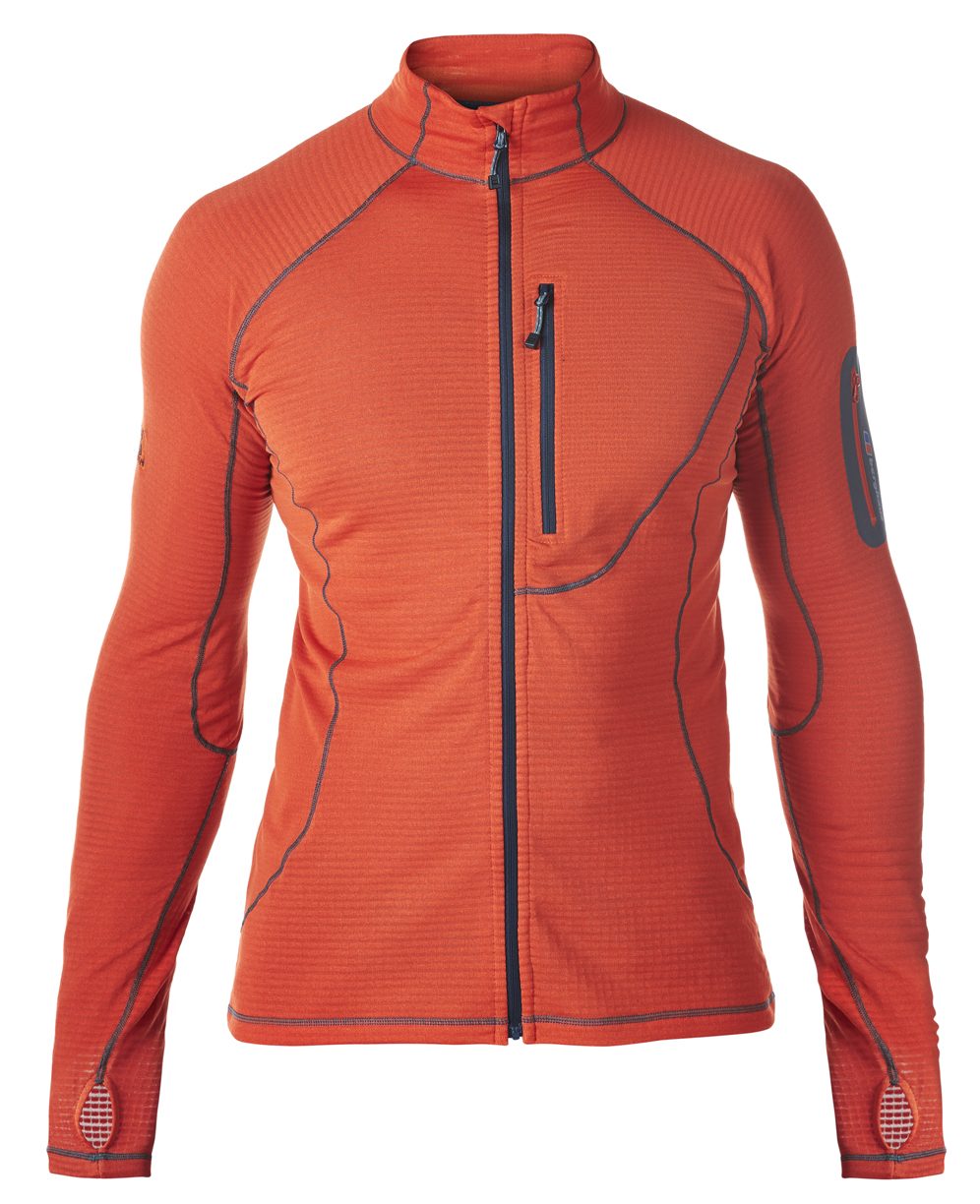 1. Berghaus Smoulder Light fleece

Price: £90


Weight: 315g
www.berghaus.com


Women's version? Yes





I'll be totally honest and admit I was drawn to this for aesthetic reasons initially. Sure, I was on the lookout for something lightweight, but I just loved the look of this.
At 315g, it's lightweight – stretch it when held close to the face and you can see through the material, though that isn't necessarily a bad thing; that means it's breathable. It's designed for being active in the warmer months. As well as its stylish appearance and lightweight warmth, its main benefits are wicking and breathability. It's also body-mapped, which means that rather than blanket warmth, it's designed to warm the parts of your body that suffer more – and let places such as pongy armpits breathe a little more.
Because it's lightweight, the pockets are limited to a small chest option and an even smaller one on the arm. The welcome addition of thumb loops means it can keep hands mostly warm on those frosty mornings where you left the gloves in the house or car.
It does lack a little robustness though. A seatbelt cushion has snagged it up slightly and it's started piling a little – albeit after 18 months' use, which is fair performance.




Pros: Pleasingly light, functional and super-stylish.
Cons: There are warmer and more robust options.
Verdict: Light and stylish, perfect for throwing in the backpack as back-up.
Rating: 8/10










---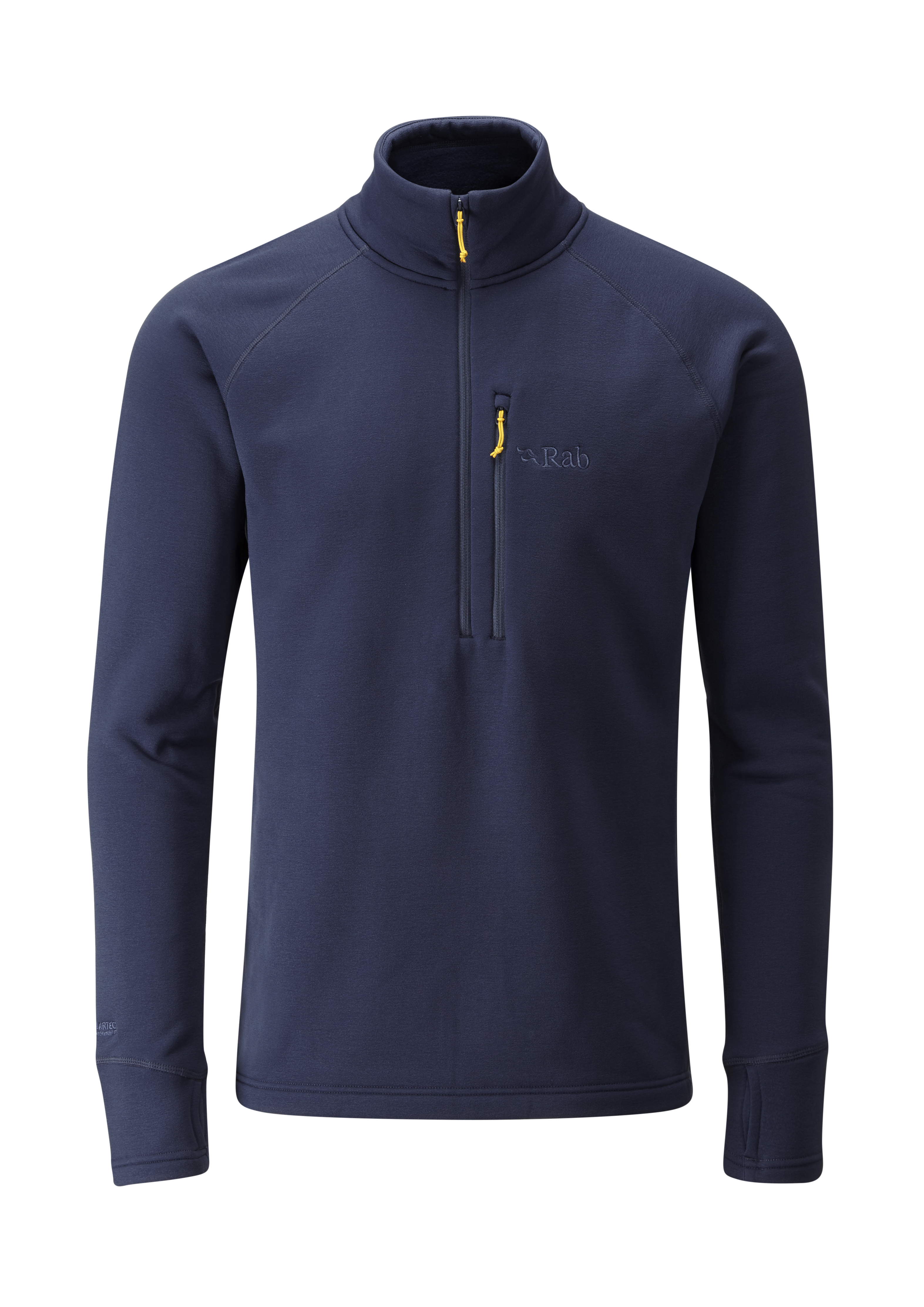 2. Rab Power Stretch Pull-On

Price: £75


Weight: 340g (large)
www.rab.equipment


Women's version? Yes





Again aimed at active use, and designed as a year-round mid-layer, this feels twice as thick and warm as the Berghaus option – yet it's a similar weight. However it's not a jacket as such and it isn't an item you'd naturally carry in your pack and stick on when the wind announces itself. Instead it's something to wear from the off, most likely in cooler months. But the clever thing is that it works equally well as a base layer or a mid-layer. Another big asset is the four-way stretch material; a code-word for super comfort. In a nutshell, it moves with your body and in that respect is just plain lovely to wear.
It's ageing really well, too. After two years of use it's still in almost-new condition. Thumb loops are another plus.




Pros: Warm and very comfy.
Cons: Lacks pockets and full zip. Not a jacket as such.
Verdict: An excellent mid-layer option for cooler months.
Rating: 8/10










---
3. Fj?llr?ven Keb Fleece Jacket

Price: £150


Weight: 418g
www.fjallraven.co.uk


Women's version? Yes





Swedish brand Fj?llr?ven call this a fleece sweater, but it's styled like a hoodie. Indeed the first thing you notice is its undeniable stylishness: it's not just made for the hills. Recycled polyester is mixed with wool for good warmth and temperature regulation. It's lovely and stretchy, soft against the skin and just feels great to wear. It boasts features such as a hood, a lovely comforting collar and a protective flap over the zip – with great attention to detail – which really help this top to shine. Even leather zip attachments are enjoyable to touch, rather than the usual cold metal. A zipped chest pocket is complemented by sizeable hand warmer pockets and thumb loops. The shoulders are even reinforced to aid durability when worn with a pack.
Some products I review get dispensed with or forgotten as soon a review is written. Not this one.




Pros: Super-comfy and stylish, with good protection and durability.
Cons: A hood makes it heavier for your pack.
Verdict: Just plain excellent.
Rating: 9/10










---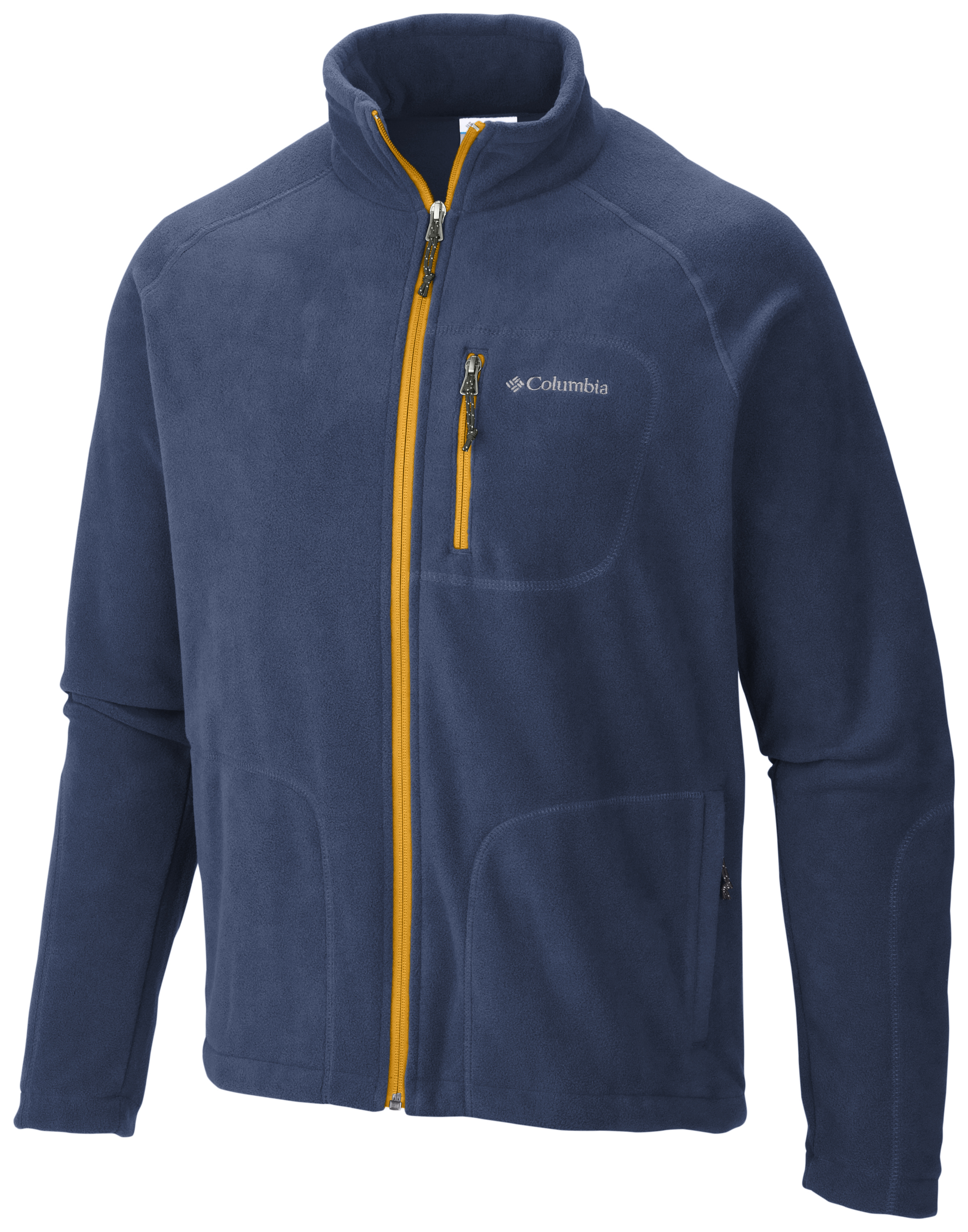 4. Columbia Fast Trek II Fleece

Price: £45


Weight: N/A (but heaviest on test)
www.cotswoldoutdoor.com


Women's version? Yes





This is the closest thing in the test to an old-school fleece: big and heavy but warm and comforting. Some may find the fit a little unflattering or roomy, but that means it'll easily go on over several layers. It's an uncomplicated design, lacking the subtleties and features of the Fj?llr?ven option (though the two side pockets are zipped). But then look at the price in comparison; this is great value for money.




Pros: Reassuring warmth and old-school comfort.
Cons: Simple design and bulky aesthetic.
Verdict: Great value for money option.
Rating: 7/10










---
5. SmartWool Men's Corbet 120 Jacket

Price: £145


Weight: N/A (approx 300g)
www.smartwool.com


Women's version? Yes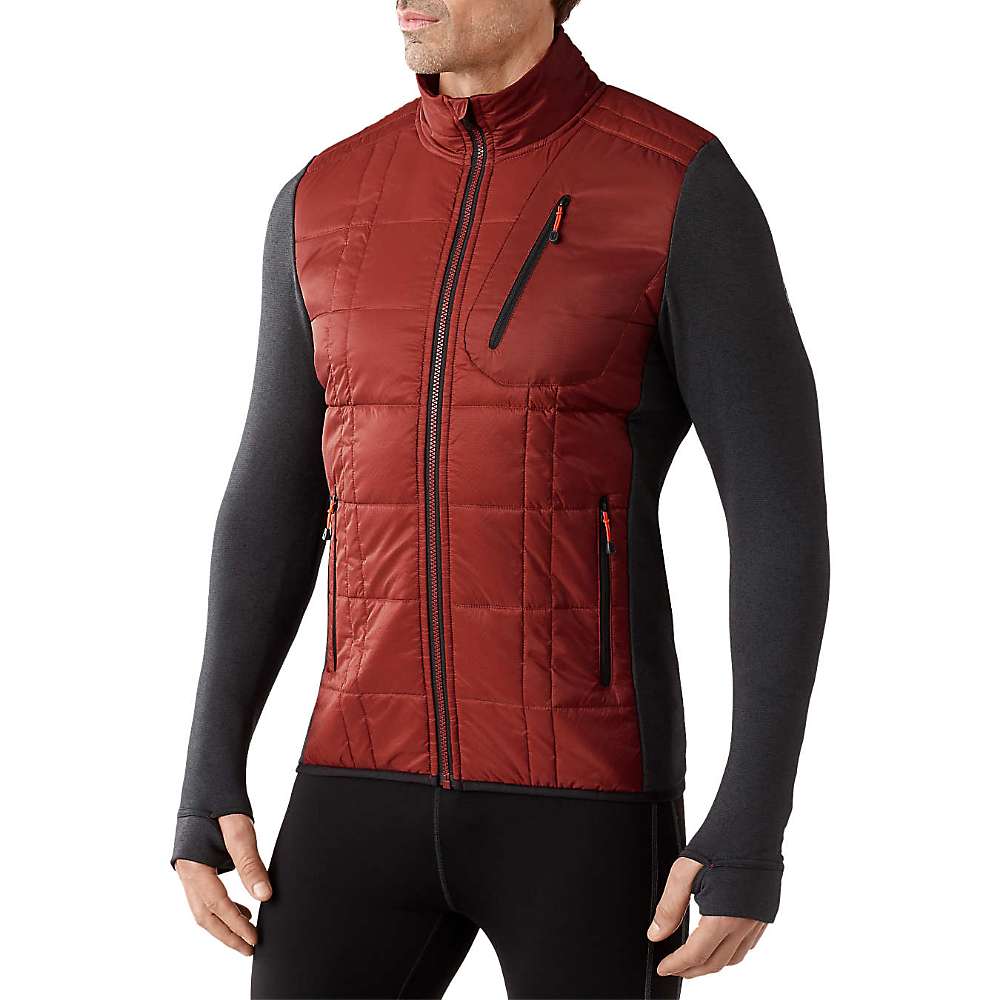 I thought this looked kind of sci-fi in appearance. My wife said it looks like something Michael Jackson would have worn.
Merino wool goes next to the skin, with 120g of SmartLoft insulation on the front of the torso for extra warmth, topped off with a DWR-finished nylon to combat the wind. Features include thumb loops, three zipped pockets and even a media cord outing for the chest one (it's dead trendy like).
I do really like this and have been wearing it for two years plus, but find I'm instinctively much more likely to wear it for social occasions than for the hills.
Pros: It's comfy, uber-stylish and attracts attention (maybe that's a con?)
Cons: It attracts attention and costs a lot.
Verdict: Maybe one for the younger hiker.
Rating: 8/10
---


Damian Hall is an outdoor journalist who's completed many of the world's famous and not-so-famous long-distance walks, including Everest Base Camp trek for his honeymoon. The tea-loving hillbilly is author of the official Pennine Way guide and his newest book, Long Distance Walking in Britain, is out now. There's plenty more self-aggrandising hogwash on Twitter (@damo_hall) and at www.damianhall.info.