by Melody Evans
Trying something new is always a little daunting. You may want to try a self-guided walking holiday, but once you've done enough training and gathered all of the right equipment, your next concern will likely be selecting the right trail to embark on.
There are a lot of things to consider when choosing a walking trail: will you be able to manage the terrain, including the ascents and descents? Is it well-signposted with plenty of landmarks to help you navigate? Are there enough towns and villages on the way with ample facilities? Is it easy to get to and from the start and finish points? Is it popular enough that other walkers will be around to help you if necessary? And of course, will you enjoy the sights and scenery along the way?
With all of this in mind, here are our recommendations for the best trails for your first self-guided walking holiday. With all of the below trails, we offer a selection of itineraries that can be customised to suit your requirements.

The Yorkshire Wolds Way is a wonderful trail that makes a tempting option for a first long-distance walk. As it's a National Trail, the path is signposted throughout, and the terrain is gentle enough to help new walkers feel at ease.
The Yorkshire Wolds are scenic and quiet, offering a tranquil atmosphere and the chance to take a break from the hustle and bustle of everyday life. Along the trail, you will find a range of wonderful landscapes and sights to see, including rolling hills, colourful woodland and charming villages, all of which help to keep walkers motivated to continue along the trail.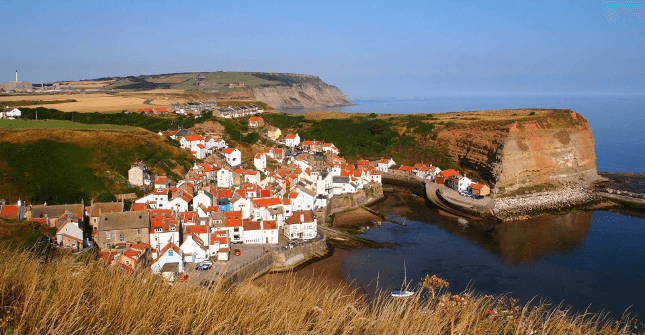 The coastal section of the Cleveland Way National Trail stretches from Saltburn-by-the-Sea to Filey along the dramatic Cleveland Heritage Coast. While the terrain can be challenging at times, the trail is well-signposted throughout, reducing any concerns about getting lost. Coastal walks are generally good for new walkers with basic navigation skills; if you keep the sea on the same side throughout your walk, you can be confident that you're going the right way!
There are also plenty of little fishing villages on the way, along with other recognisable landmarks such as the famous Whitby Abbey, meaning you will never be too far away from civilisation while walking this beautiful coastline.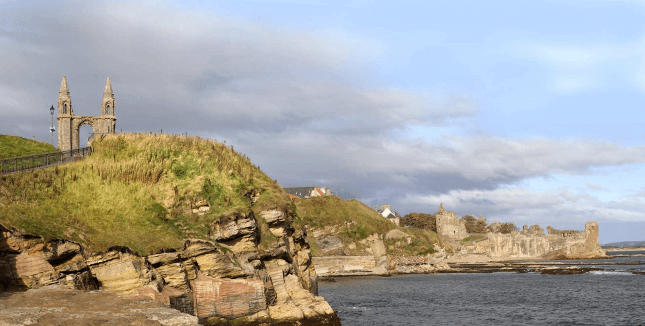 For those eager to explore the beautiful landscapes of Scotland, but are concerned about the country's remoteness, will find that the Fife Coastal Path is quite easy to get to and from via public transport, as it begins near Edinburgh and ends near Dundee.
The terrain along the Fife Coastal Path presents enough of a challenge to help build confidence in new long-distance walkers, while still being an accessible and pleasant trail to follow. Fife is the ancestral home of the Scottish monarchy, so expect lots of impressive castles along its dramatic coastline, along with plenty of welcoming fishing villages and fresh, locally-caught seafood to sample!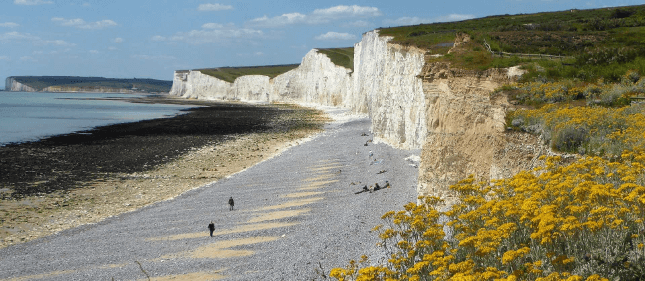 Those looking for a trail within easy reach of London could consider a walking holiday along the South Downs Way. The start and end points both have excellent transport links, making it easy to travel to and from the trail, and is clearly signposted throughout due to its National Trail status. This trail is also one of our top five walks in terms of popularity, so you will likely encounter other walkers who can help you if you need assistance.
The South Downs Way is packed with things to see, including the ancient town of Winchester and the iconic Seven Sisters cliffs, meaning there is plenty to keep you occupied along the way.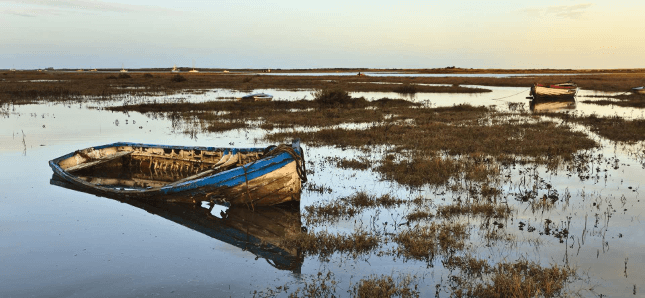 As with the previous coastal trails on this list, the Norfolk Coast Path is a good choice for walkers who are still developing confidence in their navigation skills. Being a National Trail and part of the England Coast Path, there are plenty of well-maintained way markers to keep you on track, along with a selection of friendly villages and other familiar landmarks to offer further reassurance.
Wildlife lovers in particular would enjoy this coastal walk; a vast variety of seabirds can be seen flying off the shoreline and dolphins are often spotted out to sea, while Blakeney Point is renowned for being a popular breeding ground for grey seals.

This fantastic trail runs through the heart of lowland Scotland, taking in a wealth of classic Scottish scenery while avoiding the daunting highland ranges. The John Muir Way is a multi-user trail, which means the paths are well-maintained and approachable throughout, and the undulations of the terrain are fairly low-level in difficulty.
As well as walking alongside sparkling lochs, through rolling fields and down by the bracing coast, the John Muir Way encounters such impressive landmarks as the Falkirk Wheel and the Glengoyne Distillery, as well as a plethora of castles and other ancient monuments, meaning there is plenty to look forward to on each leg of your walk.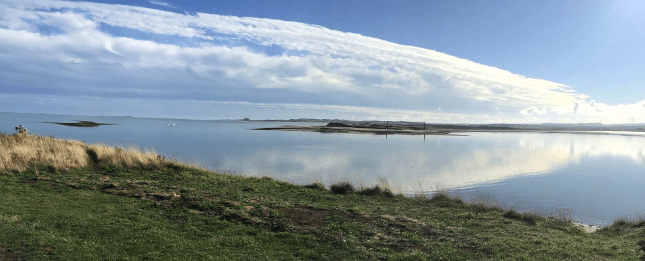 The Northumberland Coast Path is another excellent coastal trail with plenty of good signage along the path to steer you in the right direction. The trail is dotted with reassuring landmarks, including charming villages and impressive castles, which serve as additional navigation aids as well as contributing to the amazing scenery.
The terrain along the Northumberland Coast Path is quite flat throughout, with the exception of one prolonged ascent that rewards walkers with spectacular, far-reaching views. The range of sights to see along this trail – including an excursion to world-famous Holy Island – ensures that there is always something new to admire at every turn.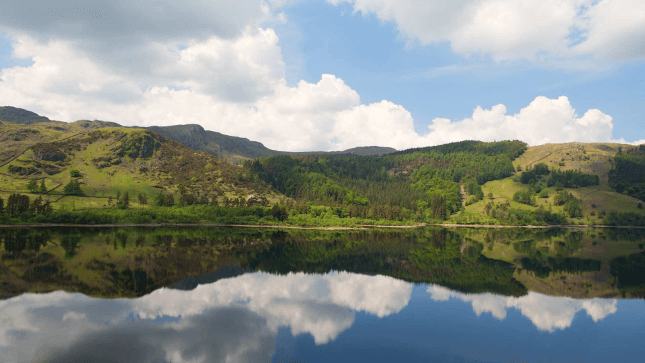 The Lake District National Park is known world-wide for its impressive mountains, which can deter new walkers from venturing into this area. If you wish to try a walking holiday in the Lake District however, you could consider our South Lakes Short Break, which offers a great introduction to hiking in this breath-taking region.
This circular walking route begins and ends in Windermere, and follows clear paths along accessible terrain without too many hills. The towns and villages along the way help to keep you motivated and confident, knowing that civilization is never far away, despite the quiet atmosphere that this National Park is known for. Walkers who complete this hugely rewarding walk will probably feel more confident in trying more challenging walks in the future.

The Far West of Cornwall route is perhaps one of the most accessible sections of the South West Coast Path, yet also offers a good level of challenge to keep you engaged. The trail is signposted with National Trail way markers, but is also smattered with landmarks and attractions to keep you on track; and if you keep the sea on your right, you won't go far wrong!
This part of the South West Coast Path is particularly good for those wanting to experience more than just a pure walking holiday. St Ives and Penzance are both packed with museums and attractions, while along the trail you can find evidence of the peninsula's mining heritage mixed in with ancient history and local culture, so there is plenty to keep you occupied throughout.

Arguably the most well-known long-distance trail in Britain, the Hadrian's Wall Path National Trail is one of the best walking routes for new walkers. Not only does the trail feature plenty of clear landmarks and signposts to keep you going in the right direction, but its popularity means that there will be at least a few other people out on the trail, in case you need extra guidance. It is also very easy to get to and from the start and finish points of the trail, thanks to good transport links in both Wallsend and Newcastle.
In addition to all of the practical aspects of the walk, Hadrian's Wall Path has plenty of amazing things to see along its route, and new walkers will undoubtedly enjoy the thrill of hiking from coast to coast along the longest Roman frontier in northern Europe!