Ceredigion Coast Path
Experience the Ceredigion Coast Path at your own pace on a full self-guided walking holiday. Accommodation, luggage transfer and custom holiday pack included.
Ceredigion Coast Path
https://www.contours.co.uk/ceredigion-coast-path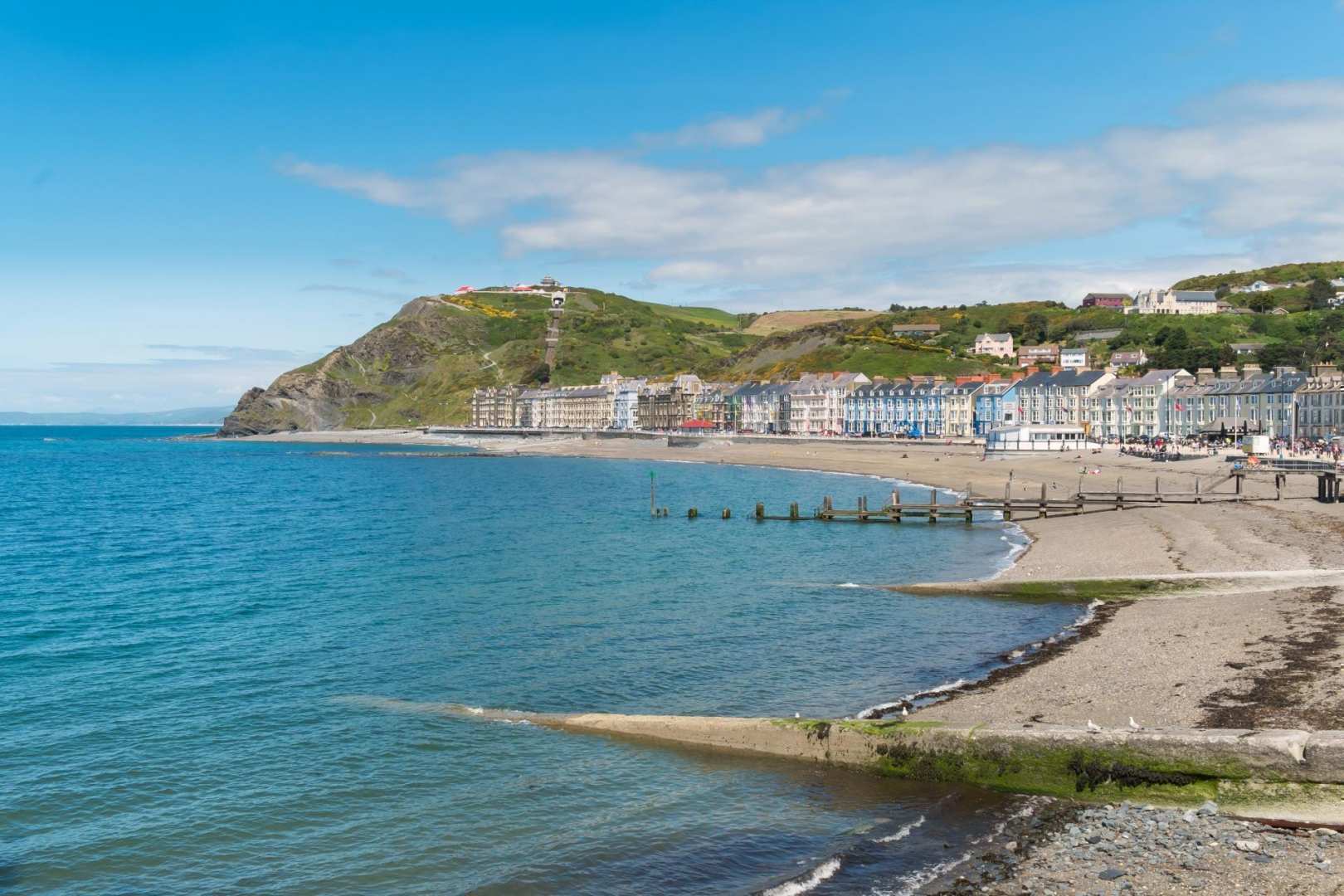 Ceredigion Coast Path
Follow the Ceredigion coast from Machynlleth in the north to St Dogmaels in the south.
6 to 10 nights
74 miles
Moderate to Demanding
From £645 per person
About this route
This holiday option takes in the whole Ceredigion coastline from Machynlleth to St Dogmaels along 73 miles of stunning landscapes. Let woodland tracks draw you from Machynlleth to the undulating Ceredigion coastline, bordering Cardigan Bay, before meandering along imposing clifftops and sandy beaches.
With a variety of wildlife to spot, views to admire and coastal towns to explore, the Ceredigion Coast Path offers plenty of attractions to engage walkers of all tastes and interests.
Machynlleth to St Dogmaels
74 miles (118 km)
1st February to 28th October
Exploring the coastline of Cardigan Bay, which boasts the highest number of dolphin sightings in the UK.
Visiting the remains of St Dogmaels Abbey, founded in 1120 by Tironian monks, and Cardigan's 12th century castle.
Discovering secluded coves and gorgeous sandy beaches, such as Cwmtydu and Tresaith.
| Code | Tour | Duration | Price per person | |
| --- | --- | --- | --- | --- |
| CDGP1 | From Machynlleth to St Dogmaels(L) | 5 days walking | £645 | |
| CDGP2 | From Machynlleth to St Dogmaels(L) | 6 days walking | £750 | |
| CDGP3 | From Machynlleth to St Dogmaels(L) | 7 days walking | £855 | |
| CDGP4 | From Machynlleth to St Dogmaels(L) | 8 days walking | £960 | |
| CDGP5 | From Machynlleth to St Dogmaels(L) | 9 days walking | £1065 | |
Itinerary
What's included?
Extra nights?
Tour facts
Travel info
Weather
Start
Travel to Machynlleth where your first night's accommodation has been booked
Day 1
Machynlleth to Borth(L). 15 miles (24km)
Day 2
Borth(L) to Llanrhystud. 16.5 miles (26.5km)
Day 3
Llanrhystud to New Quay. 14.5 miles (23km)
Day 4
New Quay to Aberporth(L). 13.5 miles (21.5km)
Day 5
Aberporth(L) to St Dogmaels(L). 14 miles (22.5km)
Finish
Depart from St Dogmaels(L) after breakfast
Your Itinerary
This itinerary lists our preferred overnight stops for this tour. Sometimes there may be a shortage of available accommodation in a preferred location, in which case we will transfer you from the trail to your accommodation and back again at no extra charge. Overnight stops marked with a (T) will always require transfers as standard.
Overnight stops marked with an (L) have very limited accommodation, and therefore more often than not will also require a transfer, particularly on bank holidays and weekends. We will use non-transfer accommodation wherever possible.
The daily mileages quoted are average trail miles only and do not include the distance from the trail to your accommodation. We do not expect you to have to travel more than a mile from the trail to your accommodation; should your accommodation be further than this, transfers will be provided as standard.
Below are the additional costs that may apply depending on your requirements. Dog-friendly tours are subject to a Daily Dog Charge, which will be listed below if applicable. Our standard prices per person are based upon two people sharing a room; if you are on your own, or are part of a group but require a room of your own, then the Solo Traveller or Single Supplements apply respectively:
A note about transfers
£55.00 per person / per night
£40.00 per person / per night
You can add rest days at any of the overnight stops:
£60.00 per person / per night
£65.00 per person / per night
£65.00 per person / per night
What's included?
6 nights' accommodation in en-suite rooms (where available) in selected B&B's, hotels, inns and guesthouses along the trail, or a short distance away via taxi provided at our expense.
Breakfast each day.
Door to door luggage transfer.
Maps with the route marked on and a guidebook or route notes describing the trail.
An information pack containing an itinerary, instructions on how to find your accommodation each night and a kit list.
Detailed travel instructions on how to get to the start of your holiday and back from the end of it.
Extra Nights & Rest Days
A rest day can extend your holiday and let you soak in your surroundings at a particular spot.
Picturesque Machynlleth is a popular place to take one. Its wide main street is lined with brightly-painted shops, and it was here that Owain Glyndwr set up his government. His Parliament building hosts a museum dedicated to him. Plas Machynlleth, the 17th century mansion of the Marquess of Londonberry, houses Celtica, an exhibition of all things Celtic, while the Centre for Alternative Technology and the Wales Museum of Modern Art both promise a full day out.
The old fishing village of Borth, meanwhile, offers a wealth of things to see and do, from the Cors Goch Fochno peat bog and the sand dunes at Ynyslas, to the extraordinary stumps of ancient forests that emerge from the sand at low tide. With a sandy beach perfect for a day stretched out in the sun, this can be a relaxing rest day option.
You can add rest days at any of the overnight stops:
£60.00 per person / per night
£65.00 per person / per night
£65.00 per person / per night
Tour Facts
Total distance: 73.5 miles (117.5 km)
Duration: 6 nights, 5 days walking
Minimum daily distance: 13.5 miles (21.5 km)
Maximum daily distance: 16.5 miles (26.5 km)
Code: CDGP1 Grade: Demanding
Season: 1st February - 28th October
Start of holiday: Machynlleth
End of holiday: St Dogmaels(L)
Travel Information
Useful information and travel links that will assist you in your plans to travel to the start of the holiday and back from the end of it are sent to you with your full tour pack. A summary is given below:

By Air - The most convenient major city and international airports are Bristol, Cardiff, Liverpool John Lennon and Manchester.

By Rail - There is a rail station at the start of the trail (Machynlleth). The nearest rail stations to the end of the trail (St Dogmaels) are either Fishguard & Goodwick (about 20 miles away) or Carmarthen (about 30 miles away).

By Bus - Various bus services run to Machynlleth. There are bus services to both Fishguard & Goodwick and Carmarthen (only Monday to Saturday from Carmarthen) rail stations from St Dogmaels, but these are somewhat lengthly journeys, so a taxi would be the best option.

From London - Trains run from London Euston station to Machynlleth.

Return To The Start - The easiest way to return to the start of the trail, is to take a taxi from St Dogmaels to Cardigan. From here, take a bus to Aberystwyth *, from where another bus or train will take you to Machynlleth.
* This bus only runs Monday to Saturday. Regardless of which day you are travelling, public transport options are rather lengthly, so a taxi may be the best option for any day/time.
Weather Information
To find out more about the weather forecast for your chosen holiday's general location, please see the following websites:
MetCheck - This website allows you to look up detailed weather information for specific locations as far as six months in advance.
Met Office - This website shows regional area forecasts a few days in advance, with a general UK forecast description of up to 30 days in advance.
Mountain Forecast - This website shows what the forecast is like up on specific hills and fells, and offers forecasts a few days in advance.
Routes on this trail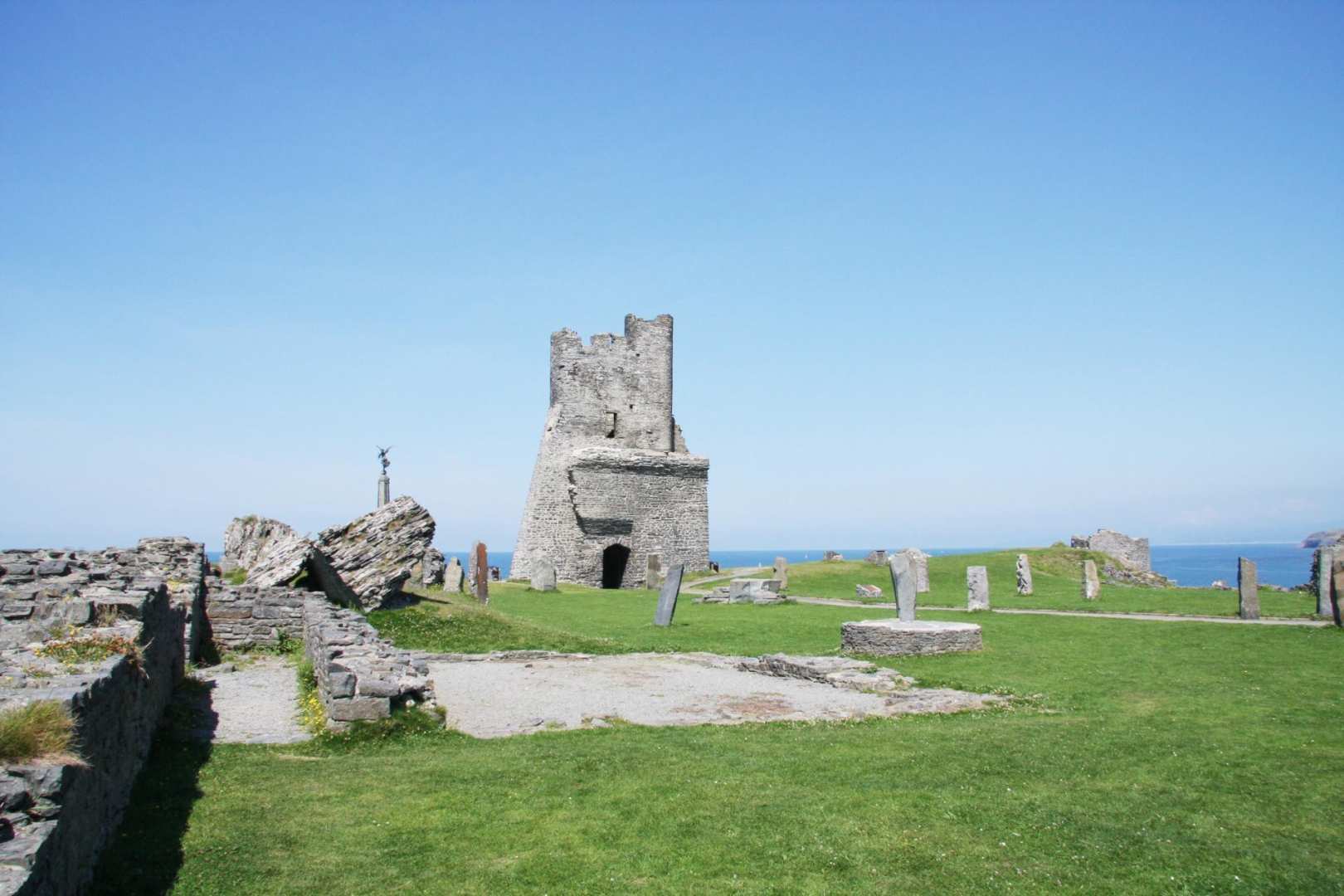 A self-guided walk along the Ceredigion section of the Wales Coast Path, from Machynlleth to Llanrhystud.
Find Out More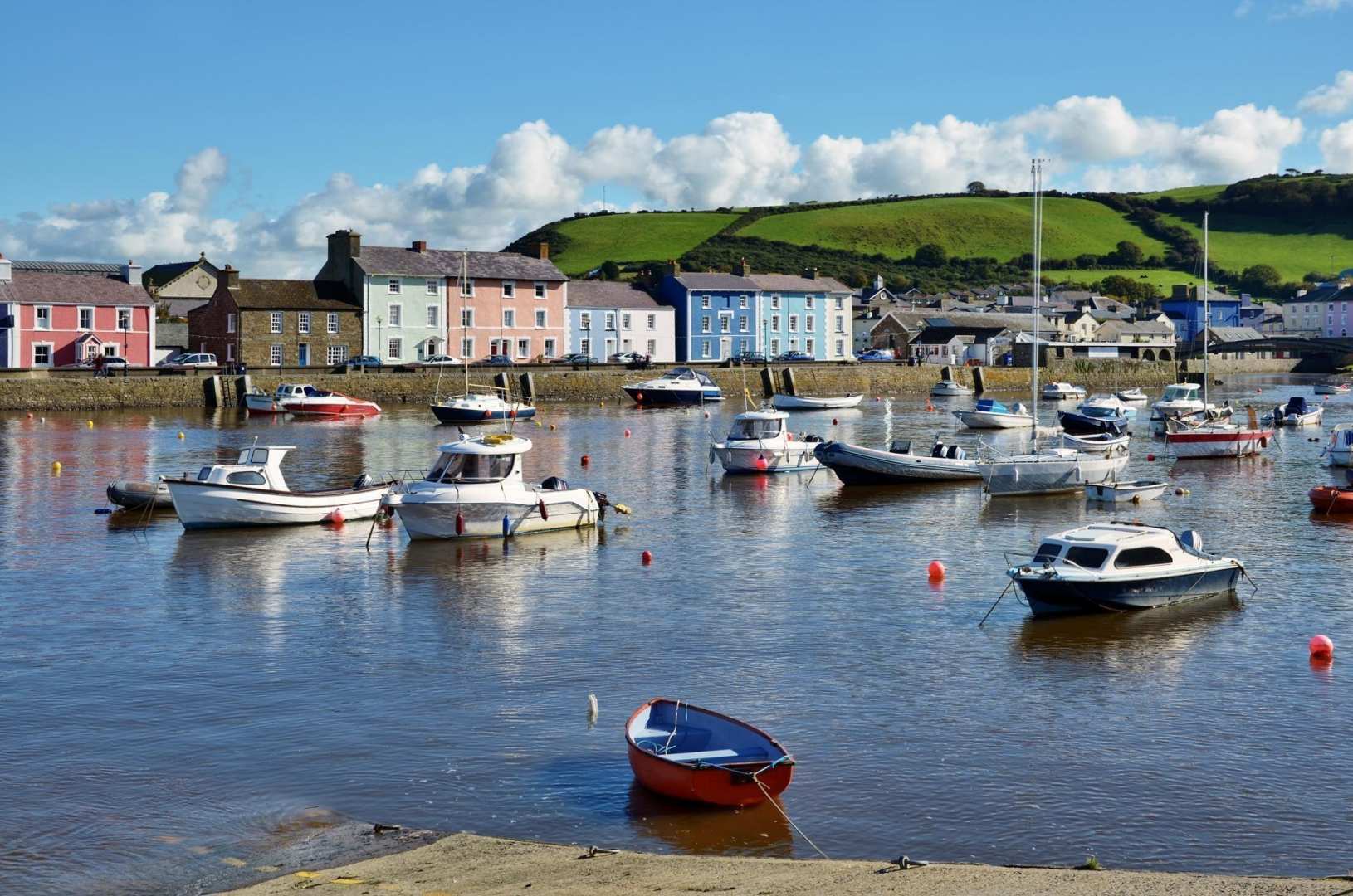 A walk along the southern half of the Ceredigion Coast Path, from Llanrhystud to St Dogmaels.
Find Out More
Customer reviews from the Ceredigion Coast Path
"Walking was fine; excellent scenery, weather wet at end, but your arrangements worked perfectly with good accommodation throughout."

Mr Tebbs, UK
"I enjoyed pretty much the entire route which provides a nice variety of scenery (mountains, beaches, cliffs, villages)."

Mr Parish, UK
"Great scenery, tough walking but coastal walking always great! Sunny weather throughout and we saw a pod of 5 dolphins playing very close to the cliff where we were walking."

Mrs Needham, UK
"Wonderful holiday, great walking through remote and beautiful coastal scenery. All accommodation was good, and the arrangements - including luggage transfer - were smooth and efficient. All the information we were sent was clear and correct."

Prof Browning, UK
"It was a lovely holiday. The scenery was varied and stunning. The accommodation was mostly excellent and everything was very well organised."

Mrs Burgon, UK
"Everything went very smoothly, thank you. We really appreciate the effort that you all put in to making it such a lovely experience. No hesitation at all in recommending you and I have used your company before, to walk the Saints Way and that was lovely too."

Ms Gumm, UK
"Another very successful holiday - thank you. I always enjoy my Contours holidays."

Mr Duthoit, UK
"The Ceredigion Coast is really beautiful but somehow unsung. I thoroughly enjoyed the walk and am most grateful to Contours for your excellent organisation and attention to details. I hope that I shall still have the legs and the puff for further exploration of the Wales Coast Path with Contours next year."

Mr Frostick, UK
"I combined this with the northern section of the Pembrokeshire Coast to make a fabulous 10-day walk from Borth to St David's. The scenery is varied and stunning, the way marking is very good, and there's lots of wildlife to see if you want to linger."

Mr Julyan, UK