By Nicky Jacquiery
What to wear on a walk is a popular topic of conversation amongst walkers, largely because our weather is so unpredictable, which makes it all the more important that we make the right decisions.
If you're new to walking as a leisure activity, this article will help to familiarise you with the basic principles of choosing walking clothes.
Even if you're an experienced walker, I think it's worth reminding yourself of what you should be wearing, as it can be easy to fall into a false sense of security, especially when it's summer and the weather is good.
The three-layer system
You'll hear walkers talk about the layering system. This is a three-layer system referring to the base layer, mid layer and outer layer of clothing, and it is the guiding principle that should be followed when choosing your walking clothes.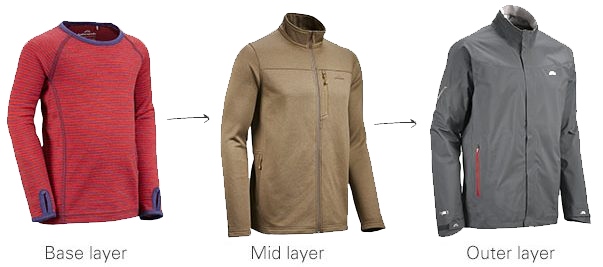 Photo by Kathmandu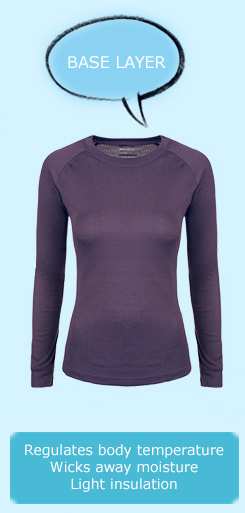 Base layer
The base layer is the layer of clothing that you wear next to your skin. Its function is to draw sweat away from you — also known as 'wicking' — so that you remain dry.
This is a critical part of the layering system, as once you stop walking, even if it's only for a short time to have something to eat and drink, you'll start to cool down. Any moisture still on your skin will cool down more rapidly, and in bad weather, this will be accelerated, potentially leading to hypothermia; at the very least it will be uncomfortable if you feel wet and cold.
Choosing the right base layer
Base layers will most likely be made of polypropylene or merino wool, or a mixture of the two. They both act in the same way, but merino wool doesn't smell even when it's been worn for an extended period. Polypropylene can smell — really badly! — but it's significantly cheaper to buy.
Always avoid cotton, even if the weather is hot, as it does not wick away moisture and once you start to exert yourself you'll feel wet and cold.
Choose a base layer that is reasonably snug. A loose-fitting base layer will not wick away moisture as effectively. If, like me, you suffer from a cold lower back in winter, consider buying a base layer that is extra long so that you can tuck it into your waistband and block out draughts.
It's important to bear in mind how hard you'll be walking and the weather conditions. If it's summer and/or you know that you sweat a lot, choose a thinner base layer. I always choose a thicker base layer in winter when I know it will be colder.
Some base layers even come with their own sun protection factor (SPF) rating, which can be useful if you know that you have sun-sensitive skin.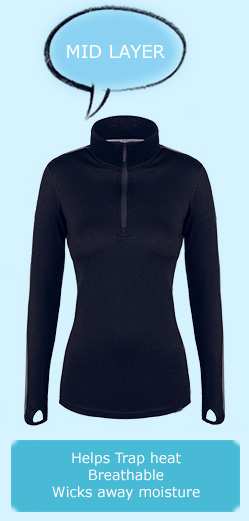 Mid Layer
The next layer is the mid layer, which is worn directly over the base layer. Its main function is to provide an insulating layer to keep you warm, and the other function of the mid layer is to carry on the wicking process and transfer moisture from the base layer to the outer layer.
Even when damp, mid layers will still feel warm. They are typically made of fleece or a synthetic-type material.
Mid layers are available in various thicknesses to give you a variety of options, again depending on the weather and how hard you'll be walking.
You may prefer to wear a couple of thin mid layers rather than one thick layer. Also, consider wearing a gillet or body warmer; this will give you greater flexibility, with extra insulation for your torso and less for your arms, which will be moving more.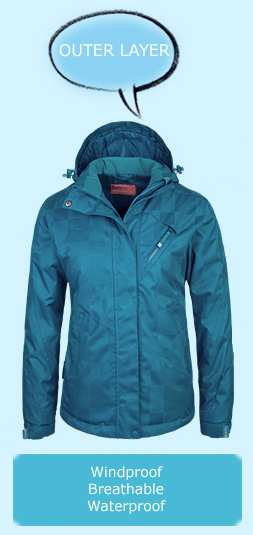 Outer Layer
The final layer is the outer layer which, like the mid layer, has two important functions.
Weatherproofing
Firstly, an outer layer is designed to protect you from the weather, notably the wind, rain and snow, and keep you — and your base and mid layers — dry.
This is important: if your base and mid layers become wet, their insulating properties are not as effective. Your outer layer achieves this by providing a waterproof and windproof barrier.
Evaporation
Secondly, this outer layer allows the moisture that has been wicked away by the base and mid layers to escape and evaporate.
For the outer layer to be able to do this, it must be made of a breathable fabric. Look out for jackets made of Goretex or an equivalent material. Ensure your jacket has adequate venting, such as 'pit zips', which are zips under your arms that allow you to let heat out and give you more control over your body temperature.
Some jackets also have zips in the side seams, which allow you to unzip the sides of your jacket, and again, regulate your temperature according to how you feel.
Don't forget the hood
Perhaps the most important feature of your jacket is its hood. The likelihood is that you'll only wear your jacket when the weather is poor, and if it's bad enough to make you wear your outer, you'll probably want to keep your hood up!
Before buying a jacket, check that the hood fits completely over your head and has adjustable ties to keep it securely in place.
Lighter, non-essential jackets
Some non-essential extras that you may want to consider buying as well as your three-layer essentials are a down jacket and a windproof shell.
Down jackets provide an extra layer of almost instantaneous warmth and are ideal to put on when you stop for lunch, while windproof shells are useful when you want to protect yourself from the wind but not the rain. They are normally lightweight so there is less risk of you over-heating, and they can be put on over your base or mid layer.
I find a windproof shell really useful for when I need an extra layer, but I don't need the full protection of a Goretex jacket.
Choosing the right trousers for walking
As far as your legs are concerned, there are many specialist trousers available for walking. Most of them are made of quick-drying material. Those designed for winter will often have a fleece lining to provide that extra layer of warmth in cold conditions.
Do not wear denim jeans! Denim does not wick away moisture, and once it's wet, it's extremely heavy and cold.
As well as a waterproof and windproof layer on top, you'll also need the equivalent in trousers. Choose ones that have a full-length zip, or as a minimum, a half zip. This will allow you to take off your trousers without the hassle of having to take off your boots.
Helpfully, you'll find that the majority of walking clothes are now available in women's specific sizes and in colours other than black!
Warm accessories
Finally, don't forget your head and hands!
I always carry a warm hat unless it's hot and I can be absolutely certain it's going to remain hot. Even if I don't wear the hat when I'm walking, I put it on whenever I stop to reduce the heat loss through my head.
In summer conditions, I wear a sun hat, usually with a wide brim to protect my face and neck from the sun.
Again, unless it's hot, I always carry gloves, and in winter, a pair of outer mittens, which are useful as protection against the wind even if it's not wet. I tend to carry several pairs of gloves in case one pair becomes wet. I find that mittens are much more effective at keeping my hands warm, but gloves give me greater dexterity.
Don't underestimate the importance of good kit
Regardless of the weather and your choice of walk, having the right clothing can make all the difference to your enjoyment of a walk.
It's also critical for your safety. Ensuring you have the right clothes can save your life. Accidents happen, even in summer when the weather is warm and sunny, and if they do, wearing the right clothes can help prevent an injured person deteriorating.
We all know how quickly the weather can change in this country, so always carry more than you think you'll need, and then you'll be prepared for every eventuality.
A final note for new walkers
It's worth saying that you don't need to go out and spend lots of money, especially if you're just getting started.
There are plenty of choices of clothes available, which are not necessarily the leading brands, but will still do the job they're made for. The essential criteria are that your base and mid layers wick away moisture and your waterproof outer keeps you dry.
And remember, there is no such thing as bad weather, just bad clothing!