The Pennine Way has a bit of a reputation; not only is it the UK's first National Trail (and probably the best known National Trail out of the 15 on offer) but past completers of the entire length of the trail will tell you they either 'loved it' or 'hated it' in equal measures. Anyone attempting to complete the entire trail will most likely encounter both rain and bogs along the way, depending on how unlucky they are with the weather. It is not a beginner's trail, due to its remoteness in places and the long distances between overnight locations; however any reasonably fit walker who is confident with a map and compass should be able to complete this trail. It's not as bad as its reputation would have you believe!





I booked to walk the Pennine Way in August, but that does not guarantee good weather! I thought it best to invest in some new waterproofs, as my old ones would not stand up to days of rain anymore. As it turned out, the weather gods were actually very kind to me; out of 16 days walking, I encountered just one full day and two half days of walking in the rain. I was very pleased and relieved, as it made the whole experience so much more pleasant. I don't mind walking in the rain and would still have enjoyed it if it had been wetter, but I can see why some people pack their bags and head home early. In fact, I met some people who were very close to breaking point after just one day of rain, and one young lad who did go home the following morning!

Here is my diary for the first six days of my Pennine Way journey, covering the southern section from Edale to Horton-in-Ribblesdale:


DAY 1
EDALE TO CROWDEN

It was a warm day with sunny spells, albeit very windy, especially on higher ground. Excited to get started, I set off from Edale at 10am. The first section of the Pennine Way - the Dark Peaks - I have walked before on day walks, so I was familiar with this area. The trail out of Edale was easy walking via Upper Booth before reaching Jacobs Ladder, the first major climb of the trail up to Edale Rocks.





From Edale Rocks the trail continued along the edges of Kinder Scout offering great views, while passing lots of amazingly-shaped, weather-eroded rocks and Kinder Low; the trail didn't go to the actual trig point however.





Eventually the trail reached Kinder Downfall waterfall, which on very windy days like today, the water actually blows backwards; it was "hold on to your hats" weather at the top!

From Kinder Downfall the trail continued along the edges, then down and up again to Mill Hill, where I took a short rest stop perched on top of a marker stone, admiring the great view in front of me.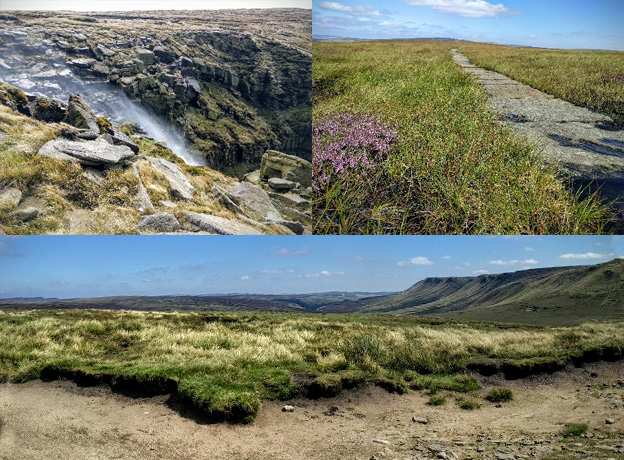 From Mill Hill the trail was easy walking, as it had been slabbed all the way to Snake Pass and the A57.

From Snake Pass it was a long steady ascent to the summit of Bleaklow. The first half of the ascent was easy on well-laid but unnatural trails. The second half however was rocks, peat bog and stream crossings. I met a lady backpacking with her dog on the way up to the summit and walked and chatted with her for a while, though I left them behind to rest at the summit and continued on the last 4.5 mile downhill stretch to Crowden. Just before Crowden I met another three Pennine Way walkers; two older guys and a young lad. The young lad had never hiked before and was totally unprepared. The two older guys had taken him under their wing from Jacobs Ladder; he was ready to go home after the first day! He did continue though the next day however; I never saw him again but I hope he persevered!
---
DAY 2
CROWDEN TO STANDEDGE


It rained quite heavily during the night but had luckily stopped by the morning. It remained overcast but dry for the rest of the day, though it was still very windy. From Crowden it was a climb up to Laddow Rocks and along an exposed path with a steep drop off to the right, with great views back towards Crowden.

It was a bit wet underfoot after the previous night's rain, and all the streams were swollen and gushing with water. Most of them could still be rock-hopped across, but one section of Crowden Great Beck was not passable without getting your feet and boots very wet! Another hiker arrived just behind me and decided to go for it and cross; he got wet up to his knees! I did not want to get my leather boots wet on the inside at this early stage of the walk, as they take days to dry out. I always carry a lightweight pair of Crocs when long-distance hiking (which are useful to slip on during breaks to give your feet an airing/rest and for fording rivers!) so I replaced my boots for my Crocs and forded across the gushing stream with my walking pole out for support and balance.

From the flooded becks it was a gentle uphill, mainly on slabs to Black Hill. From Black Hill summit it was downhill to the A635 where there was a burger van, however I resisted temptation and continued on to Wessenden Head Reservoir. The Pennine Way signpost directed me along the road briefly before taking a track to Wessenden Head. I ignored this as my OS map showed a trail going straight across. Once I'd started walking along this trail I could see why it had been rerouted; there was a marshy clough to cross! I followed a faint trodden path alongside the clough down to the shores of Wessenden Head Reservoir, where I walked along the reservoir shoreline to rejoin the Pennine Way on the trail between Wessenden Head Reservoir and Wessenden Reservoir. From these reservoirs the trail continued over moorland to two further reservoirs - Swellands and Black Moss Reservoirs - before descending down to Redbrook Reservoir and the A62. From here it was a walk along the busy road verge to the Carriage House Inn.





Today was a tough day; I made the mistake of mentally thinking that "it was only 11 miles" so it would be easy, but it was tough walking on sodden ground and on tired and sore legs!
---
DAY 3
STANDEDGE TO COLDEN

It was a cloudy day and still windy; the wind did drop by evening though and it stayed dry. From the Carriage House there was a trail opposite cutting across to rejoin the Pennine way, avoiding the walk back along the busy verge of the A62 road.

The trail continued along Millstone Edge and closely followed the Lancashire/Yorkshire border before crossing the A640 - the first of a number of road crossings today - to White Hill, then descended down to cross over the M62 motorway on a high pedestrian bridge.





I passed a few areas of fluffy cotton grass, commonly seen on boggy ground and wet moorlands, which was sadly more or less at the end of its flowering season.





From the M62 it was up and over Redmires to Blackstone Edge - another impressive gritstone outcrop - and onto the Aiggin Stone, a 600 year old stone waymark. I took a photo of the plaque about the stone but neglected to take a photo of the actual stone! I was too busy navigating along another less-trodden path shown on my map, rather than the now rerouted trail. Once I was back on track again, it was down to another road crossing past the White House Coaching Inn, and on to Blackstone Edge Reservoir.

This section was along a gravel track, attracting a few cyclists, and passed by three reservoirs – Blackstone Edge, White Holme and Warland Reservoirs. The trail eventually departed from the track, back onto slabs again across moorland and Coldwell Hill heading for Stoodley Pike, which soon came into view in the distance. On approaching Stoodley Pike a paraglider launched himself from the hillside beneath it, which was great to stop and watch.





From Stoodley Pike the trail descended down to Calder Valley, Callis Bridge and the Rochdale Canal. Many people head for Hebden Bridge at this point, two miles along the Rochdale Canal, but I chose to continue on to Colden a further two miles along the trail, unfortunately up a steep 1000ft of ascent. Just before Colden I passed Hebble Hole, a pretty little dell where I could hear children playing on a warm day.

At Colden I visited 'May's Aladdin's Cave', a must stop along the Pennine Way. I'd heard about this lady and her shop; it was truly an Aladdin's cave and stocked with everything anyone could ever need. I bought a beef and onion pie (warmed up) and Parkin cake, which were both delicious!
---
DAY 4
COLDEN TO ICKORNSHAW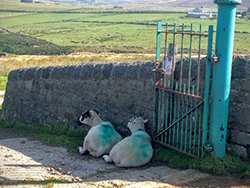 It was a misty start today but it didn't take too long for the sun to break through, resulting in a warm sunny day with no breeze. The strong winds of the first few days had finally gone!

This morning it was a gentle climb up Clough Head Hill and on a good path over Heptonstall Moor before descending to Widdop. I was heading for Withens Height - Brontë country - and a signpost informed me I had 8 miles to go. The trail took me past some colour-coordinated sheep sheltering in the shade of a wall; they were same green colour as the gate post they were sheltering by, so I hope the farmer didn't use the gate paint on the sheep!

I continued down past two more reservoirs - the Walshaw Dean reservoirs - edged with purple heather just coming into bloom, before ascending a moorland trail up to Withins Height. The old farmhouse at Top Withins is associated with Emily Bronte's 'Wuthering Heights' and as such is a bit of a tourist magnet. It was a beautiful sunny day so I stopped for a snack, and sat in the sun on a bench in front of the farmhouse, admiring the view.

From Top Withins the trail descended across moorland to Pondon, then ascended again up and over Ickornshaw Moor. While descending into Ickornshaw the trail passed lots of shooters huts, called Cowlings, privately owned and all in excellent condition. They appear to be the local version of a beach hut, costing around £20,000 a hut! They can also only be bought by local people from Cowling or Ickornshaw.



---
DAY 5
ICKORNSHAW TO MALHAM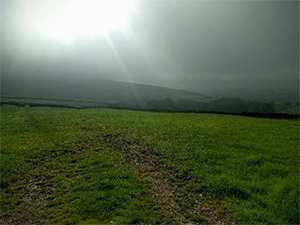 Today was a great day, my favourite day so far! It was my longest mileage day so far, but had lots of variety. I left the Peak District moorland behind and entered the Yorkshire Dales, the trail now passing through farmland, pastureland, canal side and river side paths. My legs had stopped aching; finally I had my trail legs and I felt strong! It was a misty start again, but by 10am the sun was breaking through the clouds. It was hot by the afternoon but with a nice breeze.

The trail left Ickornshaw going up and over Cowling Hill and down again to Lothersdale, where I saw a sheep actually walk over a cattle grid! I could tell it had escaped from somewhere as it was on its own on private garden/driveway land; I expected it to run off to the side somewhere, not to perfectly place its feet on the cattle grid rungs and walk over. A very clever sheep indeed!

The trail went up over moorland to Pinshaw Beacon, the highest point of today. I passed a painted stone saying 'cafe', but sadly no cafe appeared en route.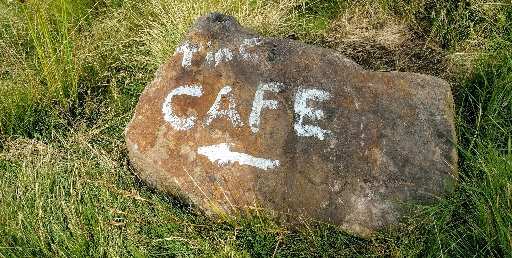 The trail then headed through fields, eventually joining the Leeds-Liverpool Canal, a lovely contrast to the first few days of walking. It was an idyllic setting, with attractive barges and farmers in nearby fields making hay while the sun shined.





The canal side path passed under a famous (I'd never heard of it before) and impressive double bridge just before East Marton, where I headed for lunch at Abbot's Harbour cafe. An artist on the canal chatted to me just beforehand and he said he sold his artwork at the cafe. I ended up buying three amusing cards by him of caricature sketches of hikers, which I planned to frame when I got home.

I eventually had to leave the lovely cafe stop and continue with my walk; I still had another nine miles to go to reach Malham. About three miles after leaving East Marton, walking through lush green fields, I reached the small town of Gargrave where I also stopped. Sitting outside the local Co-op, a cyclist couple offered me a free Magnum ice cream (they'd bought a pack of three and had one spare, they thought I looked like I'd earned it!) 'Trail Magic' the Americans would call that, when someone offers something for free to hikers walking long-distance trails!





From Gargrave a signpost told me I had 5.25 miles to go until Malham. Crossing through fields again initially, then taking a lovely riverside walk alongside the River Aire and through some thistle fields. Eventually Malham Cove came into view in the distance, which I would be heading up and over tomorrow, and I was soon in Malham itself. Malham is a bit of a tourist hot spot, with its famous limestone amphitheatre Malham Cove and other natural attractions, such as Gordale Scar, and the sun had brought out lots of visitors.
---
DAY 6
MALHAM TO HORTON-IN-RIBBLESDALE

Today was another fantastic day starting with the spectacular Malham Cove; once a massive waterfall of glacial melt water millions of years ago, the water now runs underground. Last winter however, after Storm Desmond brought heavy rain and floods, water poured over the top once again and Malham Cove became a waterfall again briefly for the first time in 200 years. It was another good weather day today; cloudy to start but then warm and sunny, turning quite hot in the afternoon in the valleys.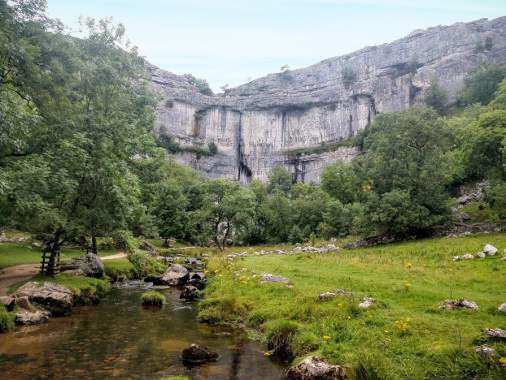 From Malham, a well laid tourist trail led up the valley to the base of the cove and to a stepped stone trail ascending to the top; 421 steps in total according to my guide book, though I didn't count them!

Once at the top I was rewarded with another impressive natural feature called 'Limestone Pavement', amazing rock patterns formed in eroded limestone, plus fantastic views back down into Malham valley. Leaving the limestone pavement behind the trail passed through Watlowes, a narrow, enclosed, high-sided valley with a further 155 steps to climb out of it, heading for Malham Tarn.





The trail passed through the grounds of Malham Tarn Field Centre. I remember stopping here for refreshments when walking the 25 mile Malhamdale Meander challenge walk way back in 1998 and again in 1999.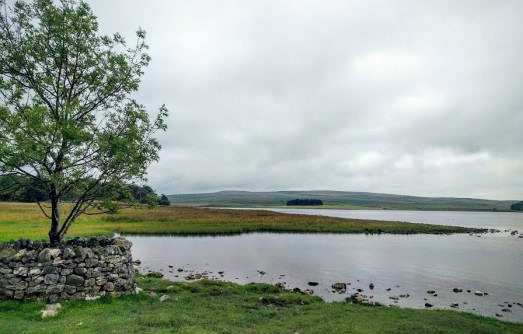 Back to field walking for a while towards Fountains Fell, I stopped for a brief break when a sheep came by and started having a good old scratch on a fairly old rickety gate. A good trail led up and around Fountains Fell to Twin Cairns, built from the numerous rocks left behind from old mine workings. It also looked like some walkers had started to build a third, smaller cairn.

Descending from Twin Cairns I got my first good view of Pen-y-ghent, one of the 'Yorkshire Three Peaks' and my next destination.





Pen-y-ghent apparently means 'hill of the winds'. it lived up to its name; it was very windy on the short but sharp ascent to the summit. I took a nice long break on the summit and sat in a sheltered spot by the wall in the sun, watching lots of other walkers come and go. It was a bit of a circus at the top; I'm just glad it was midweek and not the weekend!



The descent down from Pen-y-ghent was steep initially, a bit rough going and well eroded. In total it was just over three miles of hard track all the way down to Horton-in-Ribblesdale. Just coming into Horton I had to make way for some passing sheep; though one poor sheep got left behind and ran back in the opposite direction.





On reaching Horton-in-Ribblesdale I called into the infamous Pen-y-ghent Cafe for a mug of tea and signed their Pennine Way walkers register. Horton-in-Ribblesdale is a very popular village and base for walkers and is a popular start for the Yorkshire 3 Peaks Challenge Walk - walkers have to summit Pen-y-ghent, Ingleborough and Whernside in under 12 hours!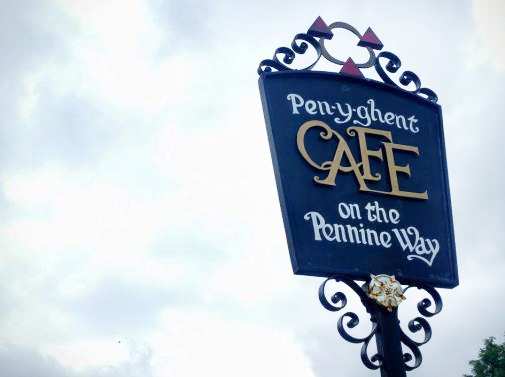 For the next part of Christine's Pennine Adventure, follow this link here.
Contours Holidays pride ourselves on our expert knowledge of the UK's trails. We regularly set out to check our routes and directions and to make improvements on the holidays we offer. You can find several write-ups of staff expeditions in our Trail Diaries.