Coast to Coast Walk - West Section
Hike the western half of Wainwright's Coast to Coast Walk on a self-guided walking holiday. Accommodation, luggage transfer and customised holiday pack included
Coast to Coast Walk - West Section
https://www.contours.co.uk/coast-to-coast-walk-western-section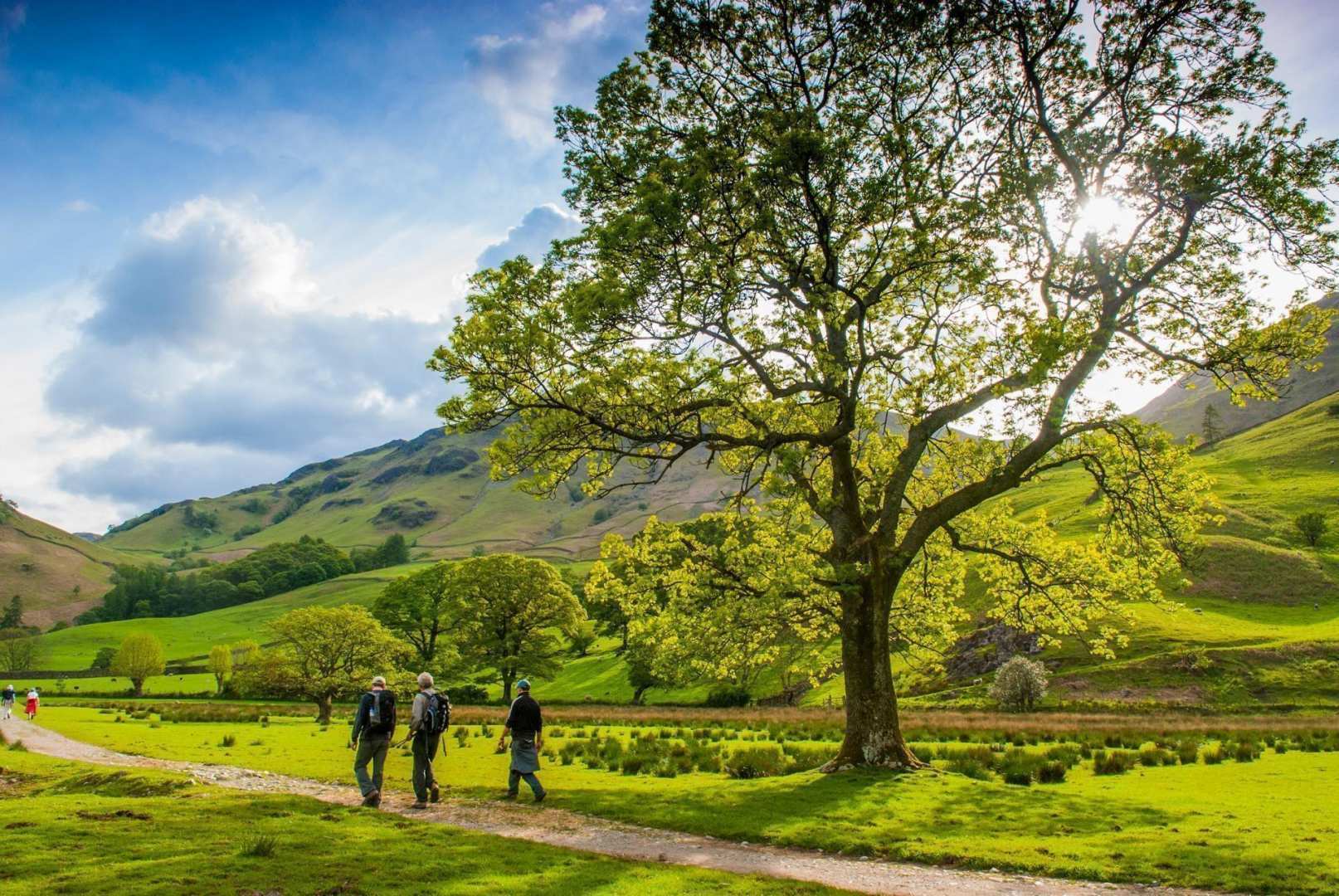 Coast to Coast Walk - West Section
A walk from St. Bees to Kirkby Stephen via the beautiful Lake District National Park.
6 to 9 nights
82 miles
Moderate to Demanding / Strenuous
From £510 per person
About this route
The west section of the Coast to Coast Walk traverses the Lake District National Park from the cliffs of St Bees Head to the old market town of Kirkby Stephen. The Lake District features rugged fells and quiet valleys filled with wildlife, offering variety and intrigue at every turn.
Each town and village along the route boasts its own unique charm and history. Some locations of note include the impressive priory church of St Mary and St Bega in St Bees, and the 'bound devil' found in St Stephen's Church in Kirkby Stephen.
St Bees to Kirkby Stephen
82 miles (131 km)
14th March to 31st October
Marvelling at the amazing views of Pillar and Great Gable during the walk through Ennerdale
Exploring the many pretty villages in Borrowdale, each with their own wonderful characters.
Walking along the banks of Haweswater and enjoying the tranquil atmosphere.
| Code | Tour | Duration | Price per person | |
| --- | --- | --- | --- | --- |
| CCWW0 | From St Bees to Kirkby Stephen | 5 days walking | £510 | |
| CCWW1 | From St Bees to Kirkby Stephen | 6 days walking | £595 | |
| CCWW2 | From St Bees to Kirkby Stephen | 7 days walking | £680 | |
| CCWW3 | From St Bees to Kirkby Stephen | 8 days walking | £765 | |
Itinerary
What's included?
Extra nights?
Tour facts
Route profile
Travel info
Weather
Start
Travel to St Bees where your first night's accommodation has been booked
Day 1
St Bees to Ennerdale Bridge. 14 miles (22.5km)
Day 2
Ennerdale Bridge to Rosthwaite. 14.5 miles (23km)
Day 3
Rosthwaite to Patterdale. 17.5 miles (28km)
Day 4
Patterdale to Shap. 16 miles (25.5km)
Day 5
Shap to Kirkby Stephen. 20 miles (32km)
Finish
Depart from Kirkby Stephen after breakfast
Your Itinerary
This itinerary lists our preferred overnight stops for this tour. Sometimes there may be a shortage of available accommodation in a preferred location, in which case we will transfer you from the trail to your accommodation and back again at no extra charge. Overnight stops marked with a (T) will always require transfers as standard.
Overnight stops marked with an (L) have very limited accommodation, and therefore more often than not will also require a transfer, particularly on bank holidays and weekends. We will use non-transfer accommodation wherever possible.
The daily mileages quoted are average trail miles only and do not include the distance from the trail to your accommodation. We do not expect you to have to travel more than a mile from the trail to your accommodation; should your accommodation be further than this, transfers will be provided as standard.
Below are the additional costs that may apply depending on your requirements. Dog-friendly tours are subject to a Daily Dog Charge, which will be listed below if applicable. Our standard prices per person are based upon two people sharing a room; if you are on your own, or are part of a group but require a room of your own, then the Solo Traveller or Single Supplements apply respectively:
A note about transfers
£37.00 per person / per night
£32.00 per person / per night
You can add rest days at any of the overnight stops:
£55.00 per person / per night
What's included?
6 nights' accommodation in en-suite rooms (where available) in selected B&B's, hotels, inns and guesthouses along the trail, or a short distance away via taxi provided at our expense.
Breakfast each day.
Door to door luggage transfer.
Maps with the route marked on and a guidebook or route notes describing the trail.
An information pack containing an itinerary, instructions on how to find your accommodation each night and a kit list.
Detailed travel instructions on how to get to the start of your holiday and back from the end of it.
Extra Nights & Rest Days
An extra night gives you the chance to explore some of the villages and old market towns along the trail, catch up with writing postcards or to simply relax and give those weary legs a rest.
Rosthwaite is a good choice for a rest day. There are many lovely walks in the hills around Borrowdale or you could catch a bus into the bustling little town of Keswick.
If you prefer somewhere quieter, we suggest taking a rest day in Patterdale. A terrific walk here starts by taking one of the iconic Ullswater Steamers across the lake and returning along the lakeshore path. Alternatively, Orton is a charming and peaceful village.
The old market town of Kirkby Stephen is also a good place to take an extra night. Don't miss the unusual 'Bound Devil', a figure of Satan chained and horned in the ancient church of St. Stephen.
You can add rest days at any of the overnight stops:
£55.00 per person / per night
Tour Facts
Total distance: 82 miles (131 km)
Duration: 6 nights, 5 days walking
Minimum daily distance: 14 miles (22.5 km)
Maximum daily distance: 20 miles (32 km)
Code: CCWW0 Grade: Demanding / Strenuous
Season: 14th March - 31st October
Start of holiday: St Bees
End of holiday: Kirkby Stephen
Route Profile

Travel Information
Useful information and travel links that will assist you in your plans to travel to the start of the holiday and back from the end of it are sent to you with your full tour pack. A summary is given below:

By Air - The most convenient major city and international airports are Manchester, Leeds and Newcastle.

By Rail - There is a rail station at the start of the trail (St Bees) and at the end of the trail (Kirkby Stephen).

By Bus - Various bus services run to St Bees and from Kirkby Stephen.

From London - Trains run from London Euston station to St Bees.

Return To The Start - The easiest way to return to the start of the trail is to catch a bus/taxi from Kirby Stephen to Kirkby Stephen rail station. From there trains run to St Bees with changes at Carlisle.
Weather Information
To find out more about the weather forecast for your chosen holiday's general location, please see the following websites:
MetCheck - This website allows you to look up detailed weather information for specific locations as far as six months in advance.
Met Office - This website shows regional area forecasts a few days in advance, with a general UK forecast description of up to 30 days in advance.
Mountain Forecast - This website shows what the forecast is like up on specific hills and fells, and offers forecasts a few days in advance.
Walking Wainwright's Coast to Coast with Contours Walking Holidays
Outdoor Journalist Damian Hall takes a walk from St. Bees in the east to Robin Hood's Bay in the west, traversing the width of the North of England through the Lake District, the Yorkshire Dales and the North York Moors.
Watch Now
Customer reviews from the Coast to Coast Walk - West Section
"Walk fantastic, all accommodation really good. No hesitation in staying at any of"

Mr Clayton, UK
"We really enjoyed walking the western part of the coast to coast and are now planning to complete the eastern side with Contours Walking Holidays. Everything was very well organised."

Mr Townsend, UK
"Everything was organized perfectly"

Mr Buchwalder, Switzerland
"Many thanks for organising an excellent trip."

Mr Booth, UK
"We had a great time in Britain again and really enjoyed all of our accommodations."

Mr Verschaeren, Netherlands
"Great walk, good weather. Very good B&Bs!!"

Mr van Bilsem, Netherlands
"The walk was wonderful and the accommodations were excellent. The scenery in the Lake District was incredible and walking the distance we did gave us a great sense of accomplishment."

Mr Tobler, USA
"Of the Contours holidays we take, we thought the accommodation standard was the best we have had, loved having so many baths!"

Mrs Taylor, UK
"Good walk; well organised."

Mr Young, UK