Cotswold Villages Trail
Explore the best Cotswold villages at your own pace on a circular self-guided walking holiday. Accommodation, luggage transfer and custom holiday pack included.
Cotswold Villages Trail
https://www.contours.co.uk/cotswold-villages-trail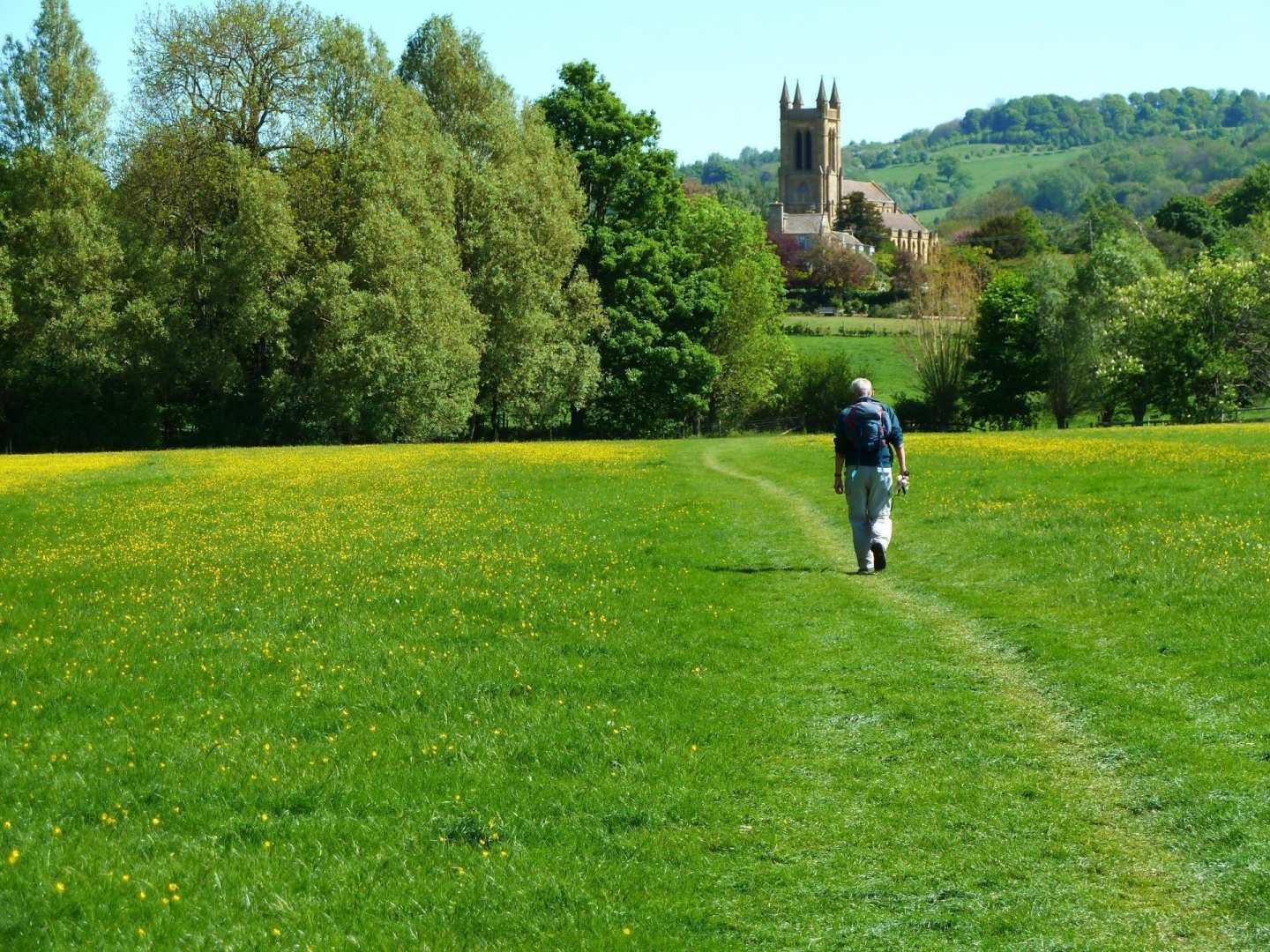 Cotswold Villages Trail
A walking holiday from Moreton-in-Marsh through the many iconic settlements of the Cotswolds.
7 nights
60 miles
Moderate
From £750 per person
About this route
The Cotswold Villages Trail passes through twenty seven of the beautiful towns, villages and hamlets that make the Cotswolds so special. It visits the wool town of Stow-on-the-Wold, with its mellow stone houses overlooking the medieval cross and stocks in the market square, as well as Northleach, with its magnificent church and immaculate late-medieval cottages clustered around the central square; and Chipping Campden, arguably the loveliest of all the Cotswold market towns.
Along the way the trail also takes in a number of sites of historic interest, including Iron Age hill forts, a gothic folly, a ruined medieval abbey, Sezincote House and Sudeley Castle.
Circular trail beginning at Moreton-in-Marsh
60 miles (95 km)
19th March to 30th October
Visiting the quintessentially English villages of the Cotswolds, including Chipping Campden, Stow-on-the-Wold and Bourton-on-the-Water.
Discovering over a thousand years of history, from Iron Age hill forts to the stunning Sudeley Castle.
Admiring the classic Cotswold sights of dry stone walls, pretty landscapes and grazing livestock.
| Code | Tour | Duration | Price per person | |
| --- | --- | --- | --- | --- |
| COTVT | A circular trail beginning at Moreton-in-Marsh | 6 days walking | £750 | |
Itinerary
What's included?
Extra nights?
Tour facts
Route profile
Travel info
Weather
Start
Travel to Moreton-in-Marsh where your first night's accommodation has been booked
Day 1
Moreton-in-Marsh to Bourton-on-the-Water. 11.5 miles (18.5km)
Day 2
Bourton-on-the-Water to Northleach(T). 6.5 miles (10.5km)
Day 3
Northleach(T) to Guiting Power. 10.5 miles (17km)
Day 4
Guiting Power to Stanton. 14 miles (22km)
Day 5
Stanton to Chipping Campden. 10 miles (16km)
Day 6
Chipping Campden to Moreton-in-Marsh. 7 miles (11km)
Finish
Depart from Moreton-in-Marsh after breakfast
Your Itinerary
This itinerary lists our preferred overnight stops for this tour. Sometimes there may be a shortage of available accommodation in a preferred location, in which case we will transfer you from the trail to your accommodation and back again at no extra charge. Overnight stops marked with a (T) will always require transfers as standard.
Overnight stops marked with an (L) have very limited accommodation, and therefore more often than not will also require a transfer, particularly on bank holidays and weekends. We will use non-transfer accommodation wherever possible.
The daily mileages quoted are average trail miles only and do not include the distance from the trail to your accommodation. We do not expect you to have to travel more than a mile from the trail to your accommodation; should your accommodation be further than this, transfers will be provided as standard.
Below are the additional costs that may apply depending on your requirements. Dog-friendly tours are subject to a Daily Dog Charge, which will be listed below if applicable. Our standard prices per person are based upon two people sharing a room; if you are on your own, or are part of a group but require a room of your own, then the Solo Traveller or Single Supplements apply respectively:
A note about transfers
£55.00 per person / per night
£45.00 per person / per night
You can add rest days at any of the overnight stops:
£60.00 per person / per night
What's included?
7 nights' accommodation in en-suite rooms (where available) in selected B&B's, hotels, inns and guesthouses along the trail, or a short distance away via taxi provided at our expense.
Breakfast each day.
Door to door luggage transfer.
Maps with the route marked on and a guidebook or route notes describing the trail.
An information pack containing an itinerary, instructions on how to find your accommodation each night and a kit list.
Detailed travel instructions on how to get to the start of your holiday and back from the end of it.
Extra Nights & Rest Days
An extra night gives you a chance to explore some of the villages and old market towns along the trail, catch up with writing postcards or to simply relax and give those weary legs a rest.
Moreton-in-Marsh is a popular choice for an extra night - the historic city of Oxford is only 30 minutes away by train.
If you prefer somewhere quieter, try Guiting Power in the upper reaches of the beautiful Windrush valley.
Many people also choose to have an extra night in Chipping Campden. It is the loveliest, best preserved and most historically important of all the Cotswold towns. Buildings of interest include the open-sided Jacobean Market Hall, built to shelter stallholders from all weathers; the Town Hall; the 14th century Woolstaplers Hall, where the fleeces were sold and which now houses the town's museum. Opposite this is the magnificent Grevel House built in 1380. St James' Church is one of the best examples of a Cotswold 'wool' church and contains the largest memorial brass in the county, dedicated to William Grevel, 'the flower of the wool merchants of all England'.
You can add rest days at any of the overnight stops:
£60.00 per person / per night
Tour Facts
Total distance: 59.5 miles (95 km)
Duration: 7 nights, 6 days walking
Minimum daily distance: 6.5 miles (10.5 km)
Maximum daily distance: 14 miles (22 km)
Code: COTVT Grade: Moderate
Season: 19th March - 30th October
Start of holiday: Moreton-in-Marsh
End of holiday: Moreton-in-Marsh
Route Profile

Travel Information
Useful information and travel links that will assist you in your plans to travel to the start of the holiday and back from the end of it are sent to you with your full tour pack. A summary is given below:

By Air - The most convenient major city and international airports are Bristol and Birmingham.

By Rail - There is a rail station at Moreton-in-Marsh.

By Bus - Various bus services run to and from Moreton-in-Marsh.

From London - Trains run from London Paddington station to Moreton-in-Marsh.

Return To The Start - The Cotswold Villages Trail is a circular tour beginning and ending in Moreton-in-Marsh.
Weather Information
To find out more about the weather forecast for your chosen holiday's general location, please see the following websites:
MetCheck - This website allows you to look up detailed weather information for specific locations as far as six months in advance.
Met Office - This website shows regional area forecasts a few days in advance, with a general UK forecast description of up to 30 days in advance.
Mountain Forecast - This website shows what the forecast is like up on specific hills and fells, and offers forecasts a few days in advance.
Exploring the Cotswold Villages with Contours Holidays
Get a glimpse of the quintessentially English villages and countryside you'll encounter on a Cotswold Villages walking holiday.
Watch Now
Customer reviews from the Cotswold Villages Trail
"It was all that I expected and more. Each day was different in terms of scenery and villages."

Mrs Edamura, Canada
"This has been one of my favourite holidays."

Mrs Malcharek, Canada
"3rd Contours holiday so we must enjoy them - we keep coming back. When we booked on a week that had a special event, you were able to find us a different route"

Dr Rudolph, USA
"The holiday was splendid."

Dr Bentley, UK
"Thank you for a well-planned break. It was the right distance and terrain for our walkers."

Mrs Kiln, UK
"We had a wonderful time with the distances per day and accommodations being ideal for us. Lovely pubs at each village to provide genuine hospitality and great meals and welcoming hosts at our Bed & Breakfasts. The communication throughout the lead-up to our start was seamless. The printed directions and marked-up map gave us almost step-by-step instructions."

Mr Bamford, Australia
"I loved this holiday and would recommend this to anyone. I have already recommended this as far as anyone would listen!"

Ms Kleynhans, South Africa