Cumbria Way
Explore the Cumbria Way at your own pace on a self-guided walking holiday. Accommodation, luggage transfer and custom holiday pack included.
Cumbria Way
https://www.contours.co.uk/cumbria-way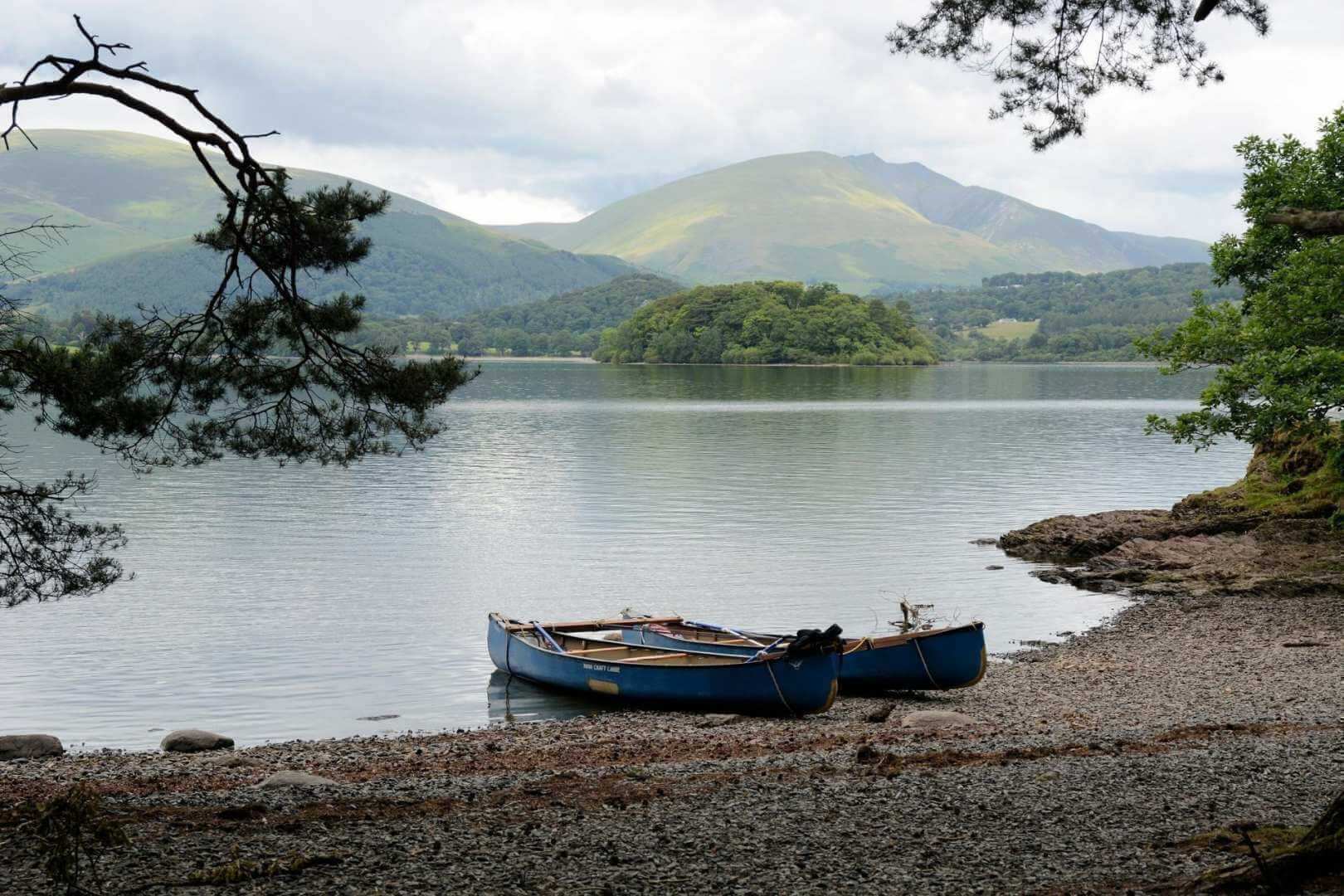 Cumbria Way
A self-guided walking holiday from Ulverston to Carlisle through the beautiful Lake District.
6 to 7 nights
73 miles
Moderate / Demanding to Demanding
From £650 per person
About this route
The complete Cumbria Way explores the Lake District from Ulverston to Carlisle through 73 miles of impeccable scenery. This approachable trail winds its way through the imposingly beautiful landscapes for which the UNESCO World Heritage site of the Lake District National Park is known worldwide.
Whether you wish to gaze out from incredible mountain viewpoints, admire rushing waterfalls or visit quintessentially English villages, a walking holiday along the Cumbria Way is an enticing way to discover this stunning corner of the United Kingdom.
Ulverston to Carlisle
73 miles (117 km)
27th March to 31st October
Visiting iconic lakes, including Coniston Water and Elterwater.
Immersing yourself in the dramatic mountain ranges of Helvellyn, Skiddaw and the Langdale Pikes.
Arriving in Carlisle to explore Hadrian's Wall, Carlisle Castle, and Carlisle Cathedral.
| Code | Tour | Duration | Price per person | |
| --- | --- | --- | --- | --- |
| CUMW1 | From Ulverston to Carlisle | 5 days walking | £650 | |
| CUMW2 | From Ulverston to Carlisle | 6 days walking | £760 | |
Itinerary
What's included?
Extra nights?
Tour facts
Route profile
Travel info
Weather
Start
Travel to Ulverston where your first night's accommodation has been booked
Day 1
Ulverston to Coniston. 15.5 miles (25km) / 1749 ft (533 m) ascent
Day 2
Coniston to Great Langdale/Dungeon Ghyll. 12 miles (19km) / 1503 ft (458 m) ascent
Day 3
Great Langdale/Dungeon Ghyll to Keswick. 16 miles (25.5km) / 2139 ft (652 m) ascent
Day 4
Keswick to Caldbeck(L). 14.5 miles (23.5km) / 2756 ft (840 m) ascent
Day 5
Caldbeck(L) to Carlisle. 15 miles (24km) / 561 ft (171 m) ascent
Finish
Depart from Carlisle after breakfast
Your Itinerary
This itinerary lists our preferred overnight stops for this tour. Sometimes there may be a shortage of available accommodation in a preferred location, in which case we will transfer you from the trail to your accommodation and back again at no extra charge. Overnight stops marked with a (T) will always require transfers as standard.
Overnight stops marked with an (L) have very limited accommodation, and therefore more often than not will also require a transfer, particularly on bank holidays and weekends. We will use non-transfer accommodation wherever possible.
The daily mileages quoted are average trail miles only and do not include the distance from the trail to your accommodation. We do not expect you to have to travel more than a mile from the trail to your accommodation; should your accommodation be further than this, transfers will be provided as standard.
Below are the additional costs that may apply depending on your requirements. Dog-friendly tours are subject to a Daily Dog Charge, which will be listed below if applicable. Our standard prices per person are based upon two people sharing a room; if you are on your own, or are part of a group but require a room of your own, then the Solo Traveller or Single Supplements apply respectively:
A note about transfers
£45.00 per person / per night
£35.00 per person / per night
You can add rest days at any of the overnight stops:
£60.00 per person / per night
What's included?
6 nights' accommodation in en-suite rooms (where available) in selected B&B's, hotels, inns and guesthouses along the trail, or a short distance away via taxi provided at our expense.
Breakfast each day.
Door to door luggage transfer.
Maps with the route marked on and a guidebook or route notes describing the trail.
An information pack containing an itinerary, instructions on how to find your accommodation each night and a kit list.
Detailed travel instructions on how to get to the start of your holiday and back from the end of it.
Extra Nights & Rest Days
There is plenty to see and do around Coniston; a walk to the summit of Coniston Old Man, boat trips on Coniston Water on the elegant Victorian steam yacht 'Gondola', the Ruskin Museum in the village and the home of John Ruskin, the author, critic, artist and philanthropist who lived at Brantwood on the eastern side of the lake. Another possibility would be a trip to Hill Top, the little 17th century cottage where Beatrix Potter wrote many of her books or to the pretty village of Hawkshead. Among the interesting buildings in the village is Hawkshead Courthouse, St. Michael's Church, the solicitors offices of William Heelis, husband of Beatrix Potter, that contain an exhibition of the illustrations from her children's books and the old Grammar school where Wordsworth was educated; the desk on which he carved his name can still be seen.
The old market town of Keswick is another good choice for an extra night. It is a bustling little town with plenty of shops, inns and cafes. There are boat trips on Derwentwater, or you could walk to the mystical Castlerigg Stone Circle, the fine viewpoint of Friar's Crag or climb Skiddaw, the fourth highest mountain in England.
Many people take an extra night at the end of the tour in Carlisle and visit the award winning Tullie House Museum, the 12th century cathedral, the half-timbered guildhall that houses a local history museum and the vast medieval castle, with its ancient chambers, stairways and the dungeons that contain the infamous 'licking stones'. Here, parched Jacobite prisoners found enough moisture to stay alive, only to be brutally executed on Gallows Hill.
You can add rest days at any of the overnight stops:
£60.00 per person / per night
Tour Facts
Total distance: 73 miles (116.5 km)
Duration: 6 nights, 5 days walking
Minimum daily distance: 12 miles (19 km)
Maximum daily distance: 16 miles (25.5 km)
Code: CUMW1 Grade: Demanding
Season: 27th March - 31st October
Start of holiday: Ulverston
End of holiday: Carlisle
Route Profile

Travel Information
Useful information and travel links that will assist you in your plans to travel to the start of the holiday and back from the end of it are sent to you with your full tour pack. A summary is given below:

By Air - The most convenient major city and international airports are Manchester, Leeds-Bradford and Glasgow.

By Rail - There is a rail station at the start of the trail (Ulverston) and also at the end of the trail (Carlisle).

By Bus - Various bus services run to Ulverston and from Carlisle.

From London - Trains run from London Euston station to Ulverston.

Return To The Start - The easiest way to return to the start of the trail, is to take the train from Carlisle to Ulverston.
Weather Information
To find out more about the weather forecast for your chosen holiday's general location, please see the following websites:
MetCheck - This website allows you to look up detailed weather information for specific locations as far as six months in advance.
Met Office - This website shows regional area forecasts a few days in advance, with a general UK forecast description of up to 30 days in advance.
Mountain Forecast - This website shows what the forecast is like up on specific hills and fells, and offers forecasts a few days in advance.
Customer reviews from the Cumbria Way
"All in all, the four of us were very satisfied with the whole arrangement. We had a very nice holiday."

Ms Alming, UK
"Guidebook was great, suitcases arrived on time. Route was beautful, especially langdale pikes. Great way to walk through gorgeous countryside. Well organized and all logistics taken cade of. This was our third and we are about to start our fourth."

Mr Litsky, USA
"The Cumbria Way offers a stunning variety of scenery to hold ones interest over a week of walking. We greatly appreciated the time and effort Contours staff put into planning our customized itinerary for the Cumbria Way to accommodate our 4-month-old baby. The personal attention made us feel so much more comfortable with undertaking a walking holiday with an infant."

Ms Ristau, USA
"My group and I had a wonderful experience hiking the Cumbria Way."

Mr Greisberger, USA
"We found the scenery stunning and enjoyed the river and valley walking."

Ms Wood, UK
"Wonderful area, Contour-package without failures and good support from our initial planning days, lots of nice and friendly people."

Mr Hove, Denmark
"Cumbria is a beautiful area and the holiday was organised spotless."

Mr Severens, Netherlands
"A superb walk. We all wondered why we had done so my trips without the Lake District featuring before! The Lang Strat Valley was absolutely stunning, and worth the climb up Stake Pass to see it."

Mr Ogden, UK
"Beautiful landscapes, meeting nice people, good accommodations. We will definitely come back!"

Mrs Petersen, Denmark