Dales High Way Highlights
Sample the Dales High Way on a short self-guided walking holiday: the perfect weekend getaway. Accommodation, luggage transfer and custom holiday pack included
Dales High Way Highlights
https://www.contours.co.uk/dales-high-way-highlights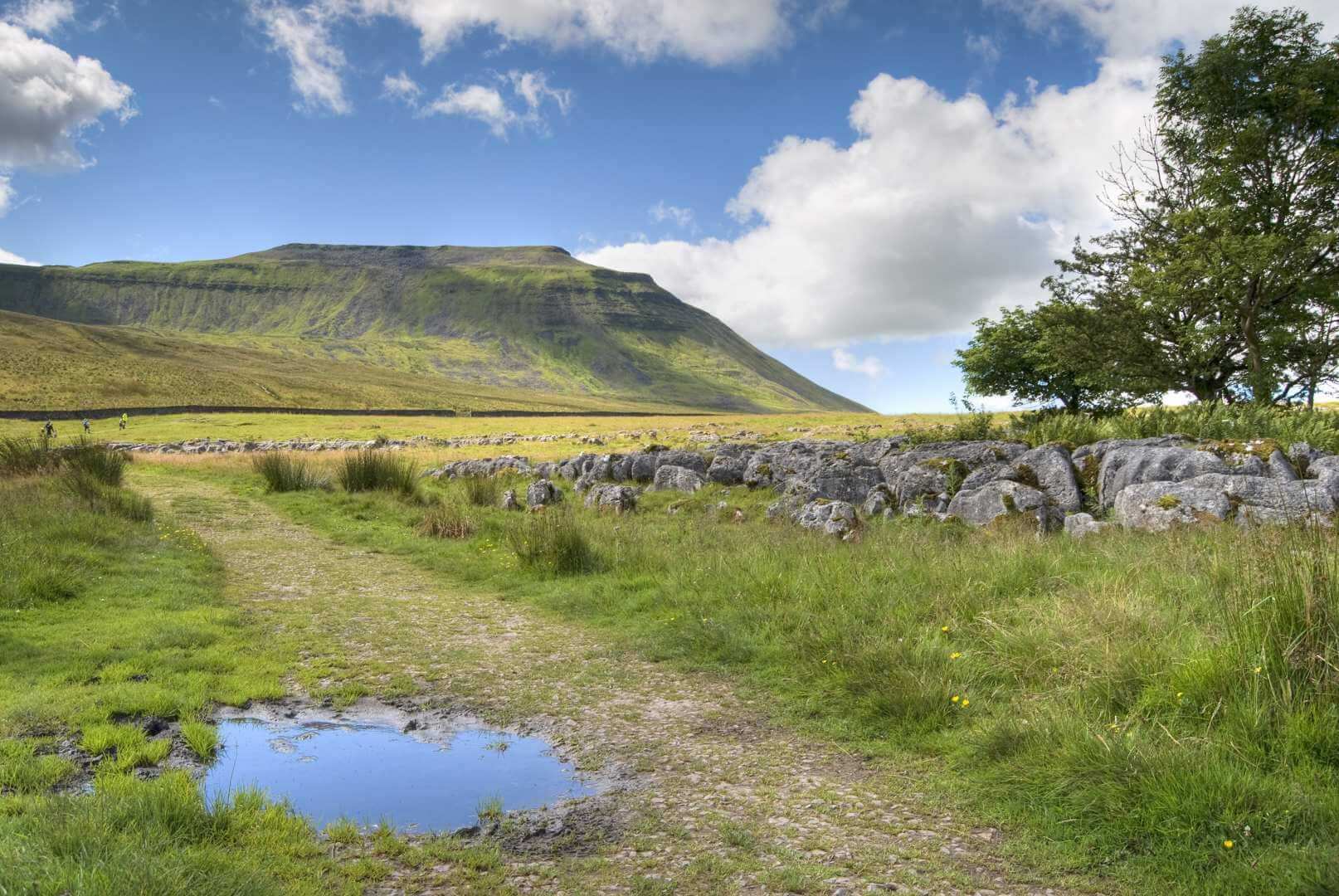 Dales High Way
A walk through the Yorkshire Dales from the village of Saltaire to the town of Appleby-in-Westmorland.
4 to 10 nights
49-90 miles
Moderate to Demanding / Strenuous
From £505 per person
Enjoy a walking holiday along the Dales High Way, following ancient drovers' ways, packhorse tracks and green lanes through the Yorkshire Dales and taking in some of the most beautiful scenery the region has to offer. The trail traverses rolling dales, quiet moors, secluded valleys and mighty peaks, the latter offering breath-taking views over the surrounding countryside.
Not only does this walk showcase the wonderful geology of the Yorkshire Dales, including limestone crags and cascading waterfalls, but it also boasts plenty of interesting history to uncover, with landmarks of note including Neolithic stone carvings, Skipton Castle and the famous Ribblehead Viaduct.
We offer multiple holiday options along this trail. If you wish to experience the entire trail, simply select the first option from the list below.
Choose your route
Dales High Way

Dales High Way Highlights
About this route
4 to 6 nights
49 miles
Moderate to Demanding
26th March to 21st October
From £505 per person
Dales High Way Highlights
The Dales High Way Highlights holiday begins beneath the walls of the impressive Skipton Castle. From here the route heads over Weets Top to Malhamdale, boasting dramatic limestone scenery. Next it visits the traditional Dales town of Settle, explores tranquil Crummockdale and meanders through beautiful Dentdale to Sedbergh, England's book town.
The walk showcases a range of spectacular cliffs, caverns, coves and waterfalls, as well as boasting far-reaching views from Weets Top, Ingleborough and World's End, making this a spectacular walk filled with memorable sights.
| Code | Tour | Duration | Price per person | |
| --- | --- | --- | --- | --- |
| HDHW1 | From Skipton to Sedbergh(L) | 3 days walking | £505 | |
| HDHW2 | From Skipton to Sedbergh(L) | 4 days walking | £625 | |
| HDHW3 | From Skipton to Sedbergh(L) | 5 days walking | £745 | |
Itinerary
What's included?
Extra nights?
Tour facts
Route profile
Travel info
Weather
Holiday Highlights
Start
Travel to Skipton where your first night's accommodation will be booked
Day 1
Skipton to Settle. 18.5 miles (29.5km) / 3009 ft (917 m) ascent
Day 2
Settle to Chapel-le-Dale(L). 14.5 miles (23km) / 2533 ft (772 m) ascent
Day 3
Chapel-le-Dale(L) to Sedbergh(L). 15.5 miles (25km) / 1716 ft (523 m) ascent
Finish
Depart from Sedbergh(L) after breakfast
Your Itinerary
This itinerary lists our preferred overnight stops for this tour. Sometimes there may be a shortage of available accommodation in a preferred location, in which case we will transfer you from the trail to your accommodation and back again at no extra charge. Overnight stops marked with a (T) will always require transfers as standard.
Overnight stops marked with an (L) have very limited accommodation, and therefore more often than not will also require a transfer, particularly on bank holidays and weekends. We will use non-transfer accommodation wherever possible.
The daily mileages quoted are average trail miles only and do not include the distance from the trail to your accommodation. We do not expect you to have to travel more than a mile from the trail to your accommodation in most cases; should your accommodation be further than this, transfers will be provided as standard if practical. A very limited number of stops will require you to travel on foot up to two miles off the trail, however these instances will be clearly communicated to you if applicable.
Further transfers may also be required due to some accommodations having a two-night minimum booking policy, especially at weekends.
Below are the additional costs that may apply depending on your requirements. Dog-friendly tours are subject to a Daily Dog Charge, which will be listed below if applicable. Our standard prices per person are based upon two people sharing a room; if you are on your own, or are part of a group but require a room of your own, then the Solo Traveller or Single Supplements apply respectively:
A note about transfers
£60.00 per person / per night
£50.00 per person / per night
You can add rest days at any of the overnight stops:
£65.00 per person / per night
£75.00 per person / per night
Skipton to Sedbergh
49 miles (78 km)
26th March to 21st October
Holiday highlights
Visiting the quaint towns and villages of the Yorkshire Dales National Park, including Settle and Sedbergh, England's Book Town.
Sampling a range of traditional Yorkshire ales in the many welcoming village pubs along the trail.
Walking through Malhamdale and encountering the spectacular scenery of Malham Cove.
What's included?
4 nights' accommodation in en-suite rooms (where available) in selected B&B's, hotels, inns and guesthouses along the trail, or a short distance away via taxi provided at our expense.
Breakfast each day.
Door to door luggage transfer.
Maps with the route marked on and a guidebook or route notes describing the trail.
An information pack containing an itinerary, instructions on how to find your accommodation each night and a kit list.
Detailed travel instructions on how to get to the start of your holiday and back from the end of it.
Extra Nights & Rest Days
Taking an extra night is the perfect way to extend your holiday and give yourself extra time to explore the beautiful countryside of the Yorkshire Dales.
Skipton is a very good choice for a rest day. It is a bustling little town, especially on one of its four weekly market days. Skipton Castle, at the top of the High Street, is the most complete and best-preserved medieval castle in England, thanks to the efforts of Lady Anne Clifford who repaired the damage caused during a 3-year siege during the English Civil War. Lady Anne Clifford also restored the Church of the Holy Trinity, which stands in front of the castle. It has a magnificent 15th century bossed roof, a beautiful chancel screen and a 12th century font with a wooden Jacobean cover.
Settle is a lovely little town with a typical 17th century market square complete with a split-level arcaded shambles. The town has plenty of shops, several cafes and a handful of welcoming inns. As it stands on the Settle-Carlisle railway line, trips to Horton-in-Ribblesdale (to climb Pen-y-Ghent) or Ribblehead (to climb Whernside) or Carlisle (for Hadrian?s Wall) can easily be accomplished.
Sedbergh, England's book town, is a popular choice for a rest day amongst bibliophiles. The town also boasts a fine Norman church, which dates from 1130. The east window is a large stained glass picture depicting the call of Christ to Andrew and Peter. It is unusual in that the single large picture occupies the full width of the five-light window.
You can add rest days at any of the overnight stops:
£65.00 per person / per night
£75.00 per person / per night
Tour Facts
Total distance: 48.5 miles (77.5 km)
Duration: 4 nights, 3 days walking
Minimum daily distance: 14.5 miles (23 km)
Maximum daily distance: 18.5 miles (29.5 km)
Code: HDHW1 Grade: Demanding
Season: 26th March - 21st October
Start of holiday: Skipton
End of holiday: Sedbergh(L)
Route Profile

Travel Information
Useful information and travel links that will assist you in your plans to travel to the start of the holiday and back from the end of it are sent to you with your full tour pack. A summary is given below:

By Air - The most convenient major city and international airports are Leeds-Bradford and Manchester.

By Rail - There is a rail station at the start of the trail (Skipton). The nearest rail stations to the end of the trail (Sedbergh) are either Oxenholme (10 miles away), Kendal (11 miles away) or Kirkby Stephen (13 miles away).

By Bus - Various bus services run to Skipton. Very infrequent bus services run to Oxenholme and Kendal Stations Monday to Saturday only from Sedbergh, so a taxi is usually the best option. There is no bus service from Sedbergh to Kirkby Stephen, so a taxi would be essential for this journey.

From London - Trains run from London Kings Cross station to Skipton.

Return To The Start - The easiest way to return to the start of the trail, is to take a taxi to Kirkby Stephen rail station. From there trains run to Skipton.
Weather Information
To find out more about the weather forecast for your chosen holiday's general location, please see the following websites:
MetCheck - This website allows you to look up detailed weather information for specific locations as far as six months in advance.
Met Office - This website shows regional area forecasts a few days in advance, with a general UK forecast description of up to 30 days in advance.
Mountain Forecast - This website shows what the forecast is like up on specific hills and fells, and offers forecasts a few days in advance.
Customer reviews from the Dales High Way Highlights
"Excellent walking route and efficient baggage transfer."

Mr Knapman, UK
"Fine walking and excellent accommodation. Enjoyable. Always been reliable."

Mr Andrews, UK
"Great and varied scenery helped by excellent weather."

Dr Latham, UK
"Excellent holiday but weather could have been slightly better. Not a bad meal all week."

Mrs Pitt, UK