Hadrian's Wall Highlights
Enjoy the highlights of Hadrian's Wall Path on a self-guided walking holiday. Accommodation, luggage transfer and custom holiday pack included.
Hadrian's Wall Highlights
https://www.contours.co.uk/highlights-of-hadrians-wall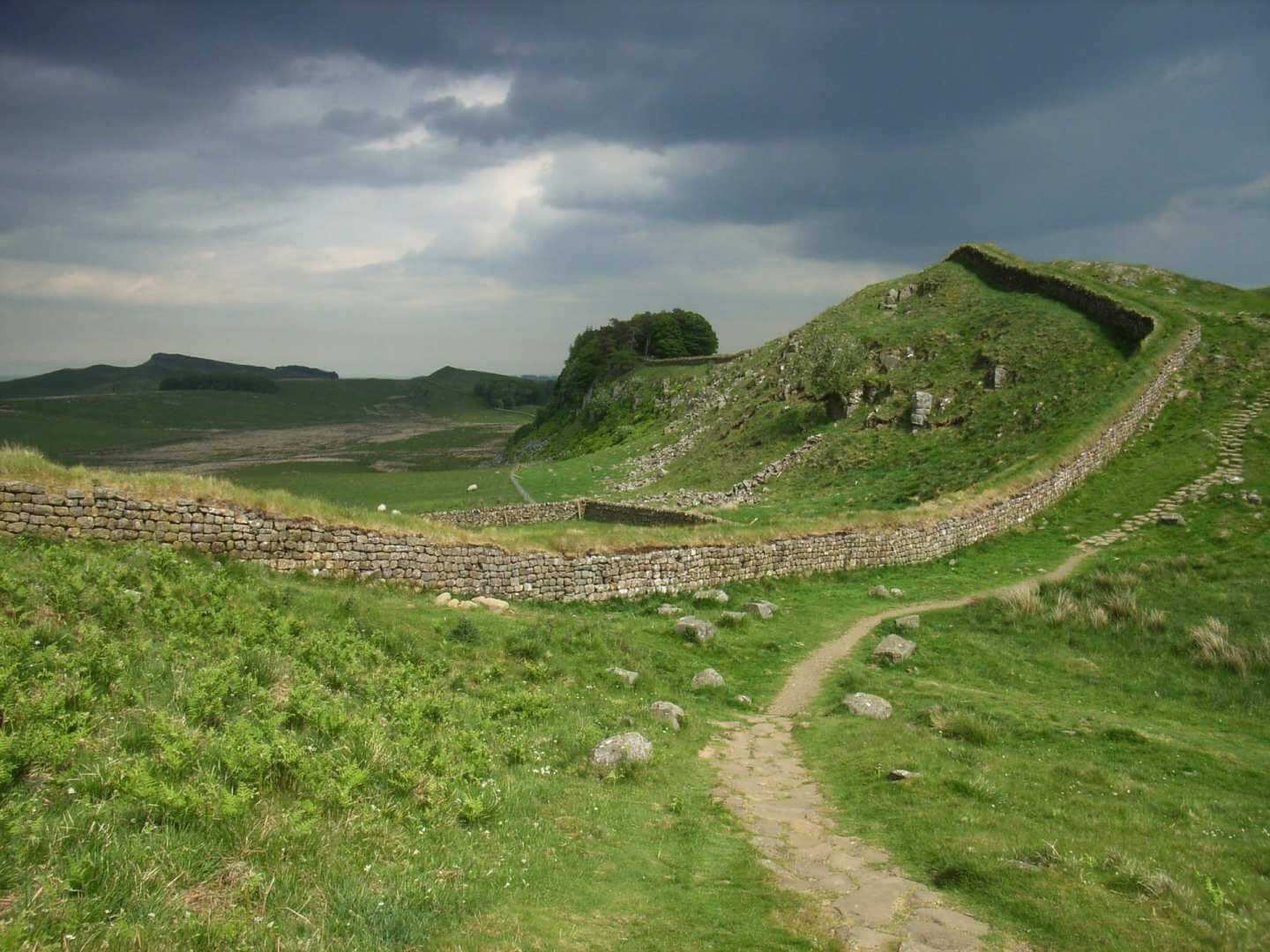 Hadrian's Wall Highlights
A walk from Corbridge to Brampton along the most fascinating part of Hadrian's Wall.
3 to 6 nights
39 miles
Easy / Moderate to Demanding / Strenuous
From £255 per person
About this route
Walked over the course of four or five days, the Hadrian's Wall Highlights tour takes in far-reaching views, the wall's remarkably intact remains, and the towns the wall built, as its stone was pilfered away by opportunistic Brits after the Roman empire's withdrawal.
The Hadrian's Wall Highlights walk begins in Corbridge, where extensive Roman remains include a fountain house, granaries, and a walled military compound. There is plenty more to see along the length of this tour before arriving at the finishing point in Brampton and exploring the local area more thoroughly.
This route can also be travelled in the opposite direction if preferred. Select the 'Reverse tours' option when choosing your itinerary.
Corbridge to Brampton
39 miles (62 km)
2nd January to 24th December
Taking in the views of the mountains from Pike Hill Signal Tower.
Exploring the Roman town of Corbridge, where extensive remains include a fountain house, granaries, and a walled military compound.
Visiting Plantrees Wall, a superb section of Hadrian's Wall built in the newer, narrower style upon broad old foundations.
| Code | Tour | Duration | Price per person | |
| --- | --- | --- | --- | --- |
| HHWP1 | From Corbridge to Brampton | 2 days walking | £255 | |
| HHWP2 | From Corbridge to Brampton | 3 days walking | £340 | |
| HHWP3 | From Corbridge to Brampton | 4 days walking | £425 | |
| HHWP4 | From Corbridge to Brampton | 5 days walking | £510 | |
Itinerary
What's included?
Extra nights?
Tour facts
Route profile
Travel info
Weather
Start
Travel to Corbridge where your first night's accommodation has been booked
Day 1
Corbridge to Once Brewed. 21 miles (33.5km) / 2484 ft (757 m) ascent
Day 2
Once Brewed to Brampton. 17.5 miles (28km) / 1302 ft (397 m) ascent
Finish
Depart from Brampton after breakfast
Your Itinerary
This itinerary lists our preferred overnight stops for this tour. Sometimes there may be a shortage of available accommodation in a preferred location, in which case we will transfer you from the trail to your accommodation and back again at no extra charge. Overnight stops marked with a (T) will always require transfers as standard.
Overnight stops marked with an (L) have very limited accommodation, and therefore more often than not will also require a transfer, particularly on bank holidays and weekends. We will use non-transfer accommodation wherever possible.
The daily mileages quoted are average trail miles only and do not include the distance from the trail to your accommodation. We do not expect you to have to travel more than a mile from the trail to your accommodation; should your accommodation be further than this, transfers will be provided as standard.
Below are the additional costs that may apply depending on your requirements. Dog-friendly tours are subject to a Daily Dog Charge, which will be listed below if applicable. Our standard prices per person are based upon two people sharing a room; if you are on your own, or are part of a group but require a room of your own, then the Solo Traveller or Single Supplements apply respectively:
A note about transfers
£35.00 per person / per night
£28.00 per person / per night
You can add rest days at any of the overnight stops:
£50.00 per person / per night
What's included?
3 nights' accommodation in en-suite rooms (where available) in selected B&B's, hotels, inns and guesthouses along the trail, or a short distance away via taxi provided at our expense.
Breakfast each day.
Door to door luggage transfer.
Maps with the route marked on and a guidebook or route notes describing the trail.
An information pack containing an itinerary, instructions on how to find your accommodation each night and a kit list.
Detailed travel instructions on how to get to the start of your holiday and back from the end of it.
Extra Nights & Rest Days
Corbridge is a charming small town that is steeped in history. St Andrew's Church overlooking the Market Place dates back to Saxon times and contains some fascinating relics. In the wall of the churchyard is the King's Oven, the communal oven where the villagers baked their bread. Its use was first recorded in 1310, and it was still in use in the 19th century. Beside the church stands the Vicar's Pele, a beautifully preserved 14th century fortified tower-house. Other important buildings include Monksholme, a fine Jacobean house and Low Hall, the oldest house in town On the outskirts of the town lies the garrison town of Corstopitum. The extensive remains provide a remarkable insight into the layout of the town, showing the foundations of temples, public baths, workshops and houses, the garrison headquarters and the best-preserved granaries in Britain.
The hamlet of Once Brewed is a good choice for a rest day if you want to fully explore the Roman forts of Vindolanda and Housesteads and visit their fascinating museums.
You can add rest days at any of the overnight stops:
£50.00 per person / per night
Tour Facts
Total distance: 38.5 miles (61.5 km)
Duration: 3 nights, 2 days walking
Minimum daily distance: 17.5 miles (28 km)
Maximum daily distance: 21 miles (33.5 km)
Code: HHWP1 Grade: Demanding / Strenuous
Season: 2nd January - 24th December
Start of holiday: Corbridge
End of holiday: Brampton
Route Profile

Travel Information
Useful information and travel links that will assist you in your plans to travel to the start of the holiday and back from the end of it are sent to you with your full tour pack. A summary is given below:

By Air - The most convenient major cities and international airports are Newcastle, Durham-Tees Valley and Leeds Bradford.

By Rail - There is a rail station at the start of the trail (Corbridge) and at the end of the trail (Brampton).

By Bus - Various bus services run to Corbridge and from Brampton.

From London - Trains run from London King's Cross station (and occasionally London St Pancras International) to Newcastle. From there trains then run to Corbridge.

Return To The Start - The easiest way to return to the start of the trail is to catch a bus from Brampton to Corbridge.
Weather Information
To find out more about the weather forecast for your chosen holiday's general location, please see the following websites:
MetCheck - This website allows you to look up detailed weather information for specific locations as far as six months in advance.
Met Office - This website shows regional area forecasts a few days in advance, with a general UK forecast description of up to 30 days in advance.
Mountain Forecast - This website shows what the forecast is like up on specific hills and fells, and offers forecasts a few days in advance.
Walking Hadrian's Wall Path with Contours Walking Holidays
Outdoor Journalist Damian Hall takes a walk from Wallsend in the east to Bowness-on-Solway in the west, traversing the breadth of the North of England along one of the most historical trails in the UK.
Watch Now
Customer reviews from the Hadrian's Wall Highlights
"The history, the countryside, the B n B hosts, baggage transfer all contributed it to a great experience. It was well organized and a perfect combination of history, activity, the outdoors, friendly people, good pub food, and comfortable accommodations."

Mrs Mazer, USA
"Very good B&B's, excellent pack and guide book."

Mr Woodward, UK
"This was the first type of this holiday I have done. I will definitely do it again."

Miss Larlham, UK
"Felt well prepared with the information pack and maps provided. Good weather, beautiful countryside, interesting things to see on the way and high quality accommodation."

Mrs Pearson, UK
"Well organised, great accommodation, everything went smoothly and good value for money."

Mr Anderson, USA
"Loved it! We were blessed with good weather - which probably helped - but it was a brilliant holiday."

Mrs Hannawin, UK
"Thank you for arranging another great holiday for us. We really enjoyed it."

Mr Wilson, UK
"Fabulous scenery coupled with incredible history."

Ms Conley, USA
"We were very lucky with the weather and we had a very memorable holiday together with our dog Dilly."

Mrs Hunter, UK