Invigorating - The first word that enters my head as I stride along St Bees Head at the start of the Coast to Coast Walk. I have barely walked a mile, but already the sea air is filling my nostrils and I am encountering groups of people chattering excitedly. The combination of walking poles, well-worn boots and copious waterproofs tells me that they too, are walkers set for Alfred Wainwright's classic adventure.

A group of women have gathered to take in the view. They wave and shout greetings at me as I pass by. There is a definite buzz in the air as if we are the only people on earth, all facing the same challenge and determined to complete it in high spirits.
Soon, I meet a couple passing through a kissing gate. "Are you walking the whole way?" They ask.
I suddenly feel like I'm cheating. Time constraints mean that I will only walk as far as Shap, roughly a third of the entire route. I confess sheepishly.
"We're only going to Kirkby Stephen," they reply, "it's all in the spirit of it, isn't it, no matter how far you walk?"
They are right, of course. Even Wainwright recommended walking the route in bite-sized chunks. It is the act of making the effort to be in and to appreciate the landscape that is so important.

The sense of exhilaration is palpable as I proceed with the cliffs falling away dramatically to my left and birds flying to and from their roosts. I have passed the westernmost point of Britain. What little mobile phone network I have is being picked up from the Isle of Man, which can be seen lying about 65 miles away, across the Irish Sea.
As I walk, I start to think about this feeling of 'invigoration.' To be 'invigorated' is to be enriched and energised. There is no doubt that with every step, these feelings are starting to replace the usual stresses of everyday life. But, as I approach the slopes of Dent Fell, I begin to question whether summing up my experience in just one word somehow undersells the walk as a whole – with all of its beauty, its challenges and with a personality as complex as many a human being.
I zigzag my way up to a strategically placed bench on the ascent of Dent Fell. A path leads away from me, reaching straight upwards in a walk that I know will leave me gasping for breath. I take one look at the bench and pass by it, head down and determined to reach the top.

Before I have caught my breath, I plonk a stone onto the cairn at the summit and take a rest. For the first time since starting my ascent, I look up and all around me is stunning scenery. Mountains growing out of forests and blue sky and clouds interchanging like waves on the shoreline.
It is at this moment that I decide that no single word can ever do this walk justice. The senses should speak for themselves.
I emerge off the summit of Dent Fell and make a steep descent to Nannycatch Beck, listening to the trickle of water and settling down to a picnic at the side of the beck. Somehow, even the cheese and pickle sandwiches that have been squashed in the bottom of my bag are more satisfying for knowing that they are well earned.
I slip off my boots and cherish the feeling of the air around my toes. A passing walker mistakes my bare feet as a sign of having blisters and asks me if I have everything I need to care for them, offering me supplies from her bag. I think what a joy it is that a stranger should show such consideration and imagine that she would be the saviour of many a blistered walker. I decline her offer with an explanation that my feet are better than ever and she moves along the way happily.
With my feet fully refreshed, I too, pass through to Ennerdale Bridge, where a night of absolute tranquillity leaves me raring to continue the next morning.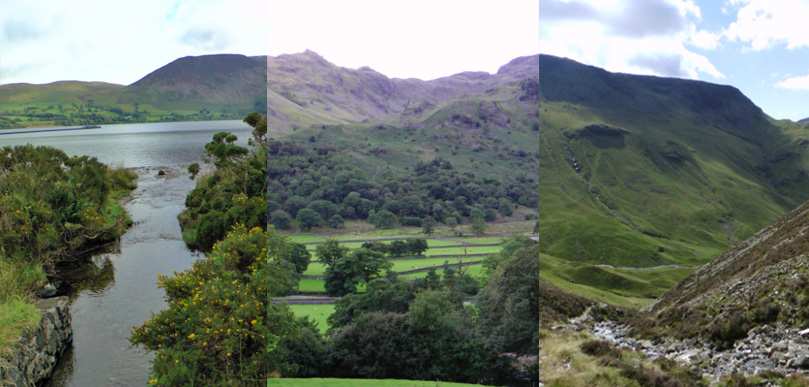 A glistening reflection on Ennerdale Water accompanies me all of the way through to the Ennerdale plantations, where the scent of conifers fills my nostrils. There is the feeling of increasing isolation and when I arrive out of the trees, I am at Black Sail Hut, a building that has become as famous as the Coast to Coast Walk itself. Sadly, renovations mean that I can't enjoy a hot drink there, but the wonderfully wild backdrop makes for a picnic stop that I almost do not want to move from.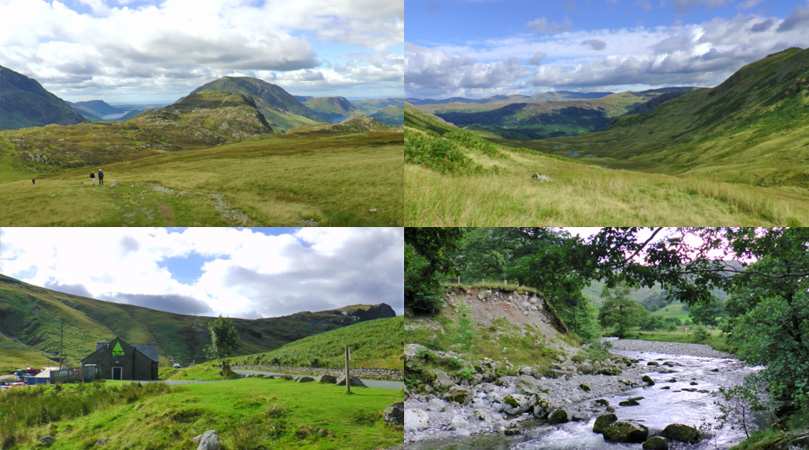 Heeding cautions to pay attention at Black Sail Hut and take the correct path up Loft Beck, I turn and am faced with an extremely steep jumble of rocks. Stones have been strategically placed, making the route much easier, but even so, I have to stop a few times to catch my breath, which is no bad thing given that the views offered back down to Black Sail Hut are phenomenal.
The views just get more spectacular too and with clear skies, I can see back to Ennerdale and down into the Buttermere valley. I am soon winding my way down to the Honister Slate Mine, where I enjoy a cup of tea and a slice of homemade cake from my packed lunch.
The walk into Rosthwaite is one that takes me by surprise with its prettiness. The scenery on the day's walk has so far been stunning, dramatic, wild, breath-taking and mountainous, but 'pretty' is not a word that would have sprung to mind. Yet, as I walk through the attractive village of Seatoller and along the banks of the River Derwent, the woodland is as picturesque as any I can imagine. The trees rustle in tune with the river's flow and there is even a metal chain bolted to a wall to add a sense of adventure to a perfectly safe river crossing.

I arrive in the peaceful little village of Stonethwaite with a growing sense of satisfaction with the Coast to Coast Walk. I can see how so many people become entranced by it and when I look at my mobile phone to check the time, I am almost relieved to see that I have no signal – I can become utterly lost in the walk and the experiences that it allows.
The walk from Stonethwaite leads out of Borrowdale along a beautiful path lined by dry stone walls and lush greenery. I have not even reached the slopes of Greenup Edge when a flash of red approaches me along the wall.
I continue walking and it is not until a few moments later, when my brain catches up with my feet and I realise that I have encountered one of the Lake District's sweetest creatures – the red squirrel.
I wait with slim hope that it will return and to my joy, it does. I watch it playing in a tree for around 10 minutes and proceed along the path with a beaming smile on my face - a smile that drives me up the steep rocks of Lining Crag. I reach the top, thoroughly elated, to cheers from a group of more apprehensive walkers below.
And the day just insists on getting better, despite the rain that now proceeds to pour down, folding everything in a murky gloom. I visit the wonderful town of Grasmere, making sure that I take a packet of Grasmere gingerbread before I continue along Grisedale Hause and I pause to eat it at Grisedale Tarn, once again glistening with reflections of the surrounding mountains.
I awake on the morning of my final day with a real sense of regret – I desperately want to continue to Robin Hood's Bay, but as I begin to walk along the gradually rising path to Boredale Hause and Angle Tarn, the promise of yet another perfectly paced, challenging and terrifically rewarding walk, is enough to appease me.

The route is gloriously mountainous and by midday, I have reached the highest point of the Coast to Coast Walk – the summit of Kidsty Pike. I sit at the summit with a sandwich in one hand and a camera in the other. Gaps in the cloud reveal bright blue sky and I can see down to the shores of Haweswater Reservoir, which accompanies me for the next few hours, along with the cries of buzzards, the rustle of rabbits in the undergrowth and more red squirrels that, regrettably, stay hidden.
When I reach the head of Haweswater and pass through the old navvies' village of Burnbanks, I can already feel a change in the landscape. The mountains have quickly been left behind, the fields roll more gently and I pass through field after field dominated by sheep, cattle and busy farmers herding their livestock. I have not yet left the Lake District, but already the promise of the Yorkshire Dales is teasing me, trying to lure me onwards.

When I reflect upon my walk along the Coast to Coast, I know that I was right when I decided that no single word could ever do it justice. But I do arrive in Shap feeling alive and refreshed – I feel positively invigorated!
Perhaps a single word is necessary to summarise something as complex and varied as the Coast to Coast Walk. I have become hooked. So, on reflection, I have decided to change my word.
Addictive.
The Coast to Coast Walk is 'addictive' and the only way to experience its lure is to pull on your boots and try it!
For more information about the Coast to Coast, along with itineraries for walking it as a whole, or in shorter sections as I did, please visit our website or call or email our office on info@contours.co.uk or 01629 821900.
Contours Holidays pride ourselves on our expert knowledge of the UK's trails. We regularly set out to check our routes and directions and to make improvements on the holidays we offer. You can find several write-ups of staff expeditions in our Trail Diaries.