Lincolnshire Coast Path - Stile-Free
Contours Walking Holidays
Lincolnshire Coast Path - Stile-Free
https://www.contours.co.uk/lincolnshire-coast-path-stile-free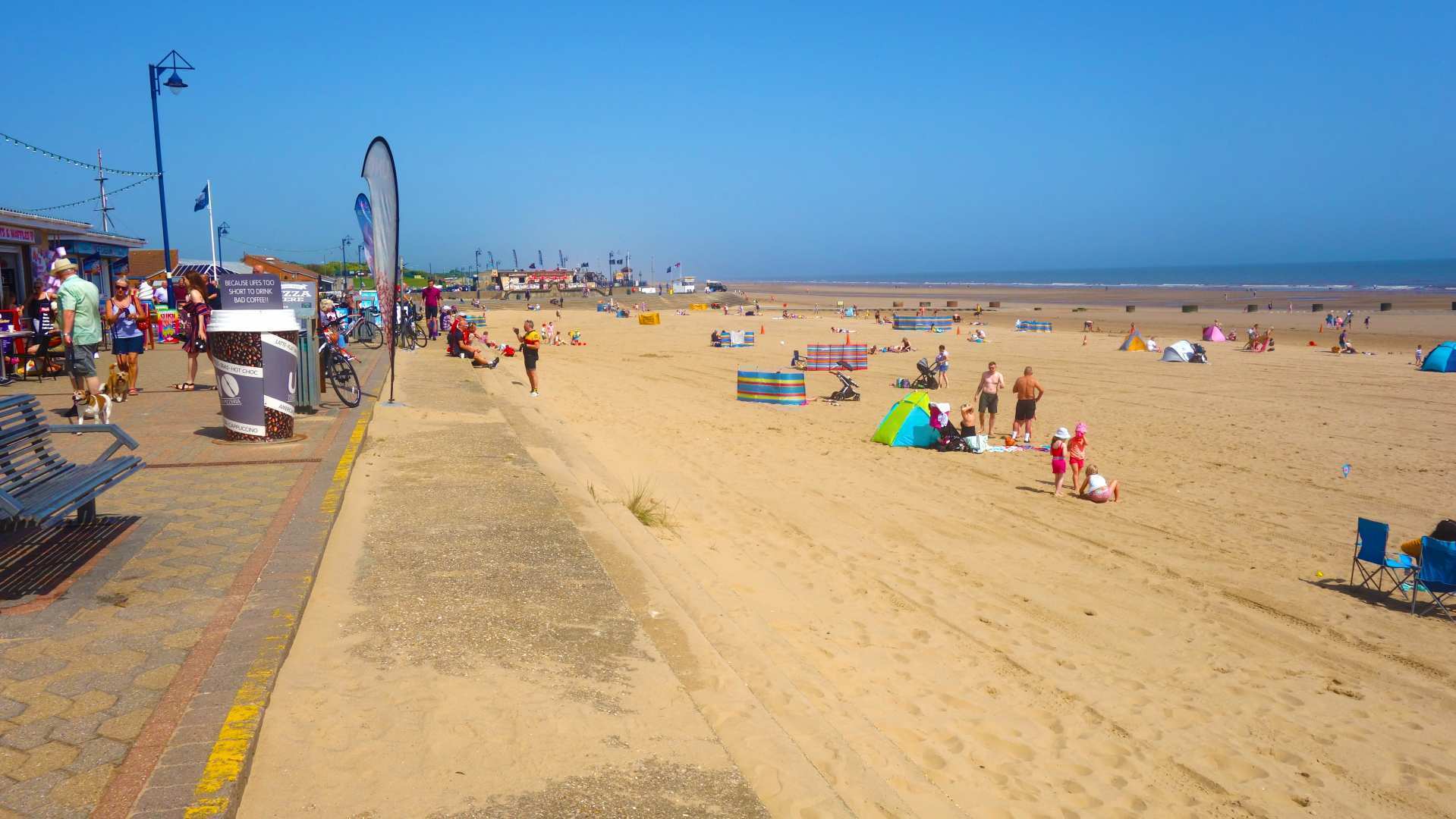 Lincolnshire Coast Path - Stile-Free
A short, obstacle-free walk from Gibraltar Point to Mablethorpe along England's beautiful coastline.
3 to 4 nights
20 miles
Easy/Moderate to Moderate
From £315 per person
About this route
The Lincolnshire Coast Path opened in February 2019 as part of the England Coast Path National Trail. Our holiday offering along this section of coastline is a relaxing 20 miles in length. The walk begins at Gibraltar Point, a thriving nature reserve filled with wildlife. It then follows clear promenades and sandy beaches all the way to Mablethorpe, a popular seaside resort. There are several other wonderful places on the route, such as the Victorian holiday destination of Skegness. This town in particular features historic buildings, valuable conservation efforts and amusements galore.
This is the perfect walking trail for anyone seeking a sense of tranquillity, with peace of mind knowing there are facilities within easy reach throughout your holiday.
As a Stile-Free route, the Lincolnshire Coast Path has no stiles or other challenging obstacles to contend with. Any climbs or descents are short and/or gentle. It is suitable for beginners, young families and those with mild mobility impairments.
Gibraltar Point/Mablethorpe
20 miles (32 km)
2nd January to 24th December
Exploring the Gibraltar Point National Nature Reserve and spotting a variety of birdlife, including skylarks, hen harriers, plovers and owls.
Passing a number of interactive landmarks and structures, such as the Sound Tower and the Cloud Bar.
Spending time in the bustling towns of Skegness and Mablethorpe, and taking advantage of the wide range of attractions on offer.
| Code | Tour | Duration | Price per person | |
| --- | --- | --- | --- | --- |
| LC1 | From Gibraltar Point(T) to Mablethorpe | 2 days walking | £315 | |
| LC2 | From Gibraltar Point(T) to Mablethorpe | 3 days walking | £420 | |
Itinerary
What's included?
Extra nights?
Tour facts
Route profile
Travel info
Weather
Start
Travel to Gibraltar Point(T) where your first night's accommodation has been booked
Day 1
Gibraltar Point(T) to Chapel Saint Leonards(T). 10.5 miles (16.5km)
Day 2
Chapel Saint Leonards(T) to Mablethorpe. 9.5 miles (15km)
Finish
Depart from Mablethorpe after breakfast
Your Itinerary
This itinerary lists our preferred overnight stops for this tour. Sometimes there may be a shortage of available accommodation in a preferred location, in which case we will transfer you from the trail to your accommodation and back again at no extra charge. Overnight stops marked with a (T) will always require transfers as standard.
Overnight stops marked with an (L) have very limited accommodation, and therefore more often than not will also require a transfer, particularly on bank holidays and weekends. We will use non-transfer accommodation wherever possible.
The daily mileages quoted are average trail miles only and do not include the distance from the trail to your accommodation. We do not expect you to have to travel more than a mile from the trail to your accommodation; should your accommodation be further than this, transfers will be provided as standard.
Below are the additional costs that may apply depending on your requirements. Dog-friendly tours are subject to a Daily Dog Charge, which will be listed below if applicable. Our standard prices per person are based upon two people sharing a room; if you are on your own, or are part of a group but require a room of your own, then the Solo Traveller or Single Supplements apply respectively:
A note about transfers
£45.00 per person / per night
£35.00 per person / per night
You can add rest days at any of the overnight stops:
£60.00 per person / per night
What's included?
3 nights' accommodation in en-suite rooms (where available) in selected B&B's, hotels, inns and guesthouses along the trail, or a short distance away via taxi provided at our expense.
Breakfast each day.
Door to door luggage transfer.
Maps with the route marked on and a guidebook or route notes describing the trail.
An information pack containing an itinerary, instructions on how to find your accommodation each night and a kit list.
Detailed travel instructions on how to get to the start of your holiday and back from the end of it.
Extra Nights & Rest Days
Although the Lincolnshire Coast Path is a short route, it nevertheless passes through plenty of wonderful locations that are worth pausing in and exploring more thoroughly. Extend your holiday by booking extra nights at any of your overnight stops, and enjoy the many fantastic attractions on offer in each new place.
Skegness was one of the country's first seaside resorts to welcome visitors and is still one of the most popular today, with attractions galore to keep you occupied for an extra night's stay. The pier and main streets are home to a wealth of shops, restaurants and amusement arcades, as well as a lively funfair and a selection of crazy golf courses. Those looking for a more relaxed environment will enjoy wandering through the Compass Gardens or along Skegness' Blue Flag Beach with a delicious ice cream in hand. The town also has a vibrant nightlife and plays host to an array of internationally-regarded festivals and events, assuring that there is something to suit every visitor all year round.
Mablethorpe is another well-loved holiday destination and a great place to spend an extra day or two. The promenade overlooks a gorgeous sandy beach and is packed with places to eat, drink and relax, along with the town's iconic Bathing Beauties beach huts. A stone's throw from the beach, Queens Park offers a chance to relax amongst its neat gardens while enjoying a leisurely bite to eat at the café. You'll also find a paddling pool, a boating lake and a miniature railway here. Other nearby places of interest include the Victorian Gayton Engine Pumping Station, Woodthorpe Leisure Park and the Mablethorpe Seal Sanctuary and Wildlife Centre, so there is no shortage of things to see and do.
You can add rest days at any of the overnight stops:
£60.00 per person / per night
Tour Facts
Total distance: 20 miles (32 km)
Duration: 3 nights, 2 days walking
Minimum daily distance: 9.5 miles (15 km)
Maximum daily distance: 10.5 miles (16.5 km)
Code: LC1 Grade: Stile-Free - Moderate
Season: 2nd January - 24th December
Start of holiday: Gibraltar Point(T)
End of holiday: Mablethorpe
Route Profile

Travel Information
Useful information and travel links that will assist you in your plans to travel to the start of the holiday and back from the end of it are sent to you with your full tour pack. A summary is given below:

By Air - The most convenient major city and international airports are East Midlands and Norwich.

By Rail - There is a rail station near your 1st night's accommodation (Skegness). The nearest rail station to the end of the trail (Mablethorpe) is Skegness (about 16 miles away).

By Bus – Various bus services run to Skegness. A bus service runs from Mablethorpe to Skegness Monday to Saturday only, so a taxi will be required on a Sunday.

From London – Trains run from London King's Cross station to Skegness.

Return To The Start - The easiest way to return to the start of the trail, is to take the bus or a taxi from Mablethorpe to Skegness.
Weather Information
To find out more about the weather forecast for your chosen holiday's general location, please see the following websites:
MetCheck - This website allows you to look up detailed weather information for specific locations as far as six months in advance.
Met Office - This website shows regional area forecasts a few days in advance, with a general UK forecast description of up to 30 days in advance.
Mountain Forecast - This website shows what the forecast is like up on specific hills and fells, and offers forecasts a few days in advance.
Walking the Lincolnshire Coast Path with Contours Holidays
Perfect for beginner walkers and those with mild mobility impairments, the Lincolnshire Coast Path is an approachable, largely flat walk along sandy beaches and vibrant promenades. Enjoy some of the highlights in this short film.
Watch Now