by Mindy Simons
I was born on the Edge. Well, to be exact, at a smallholding in rural Shropshire, out at the farthest point northeast on this wonderful escarpment.
My birthplace was, as I say, a smallholding, with some ponies, cows, sheep and chickens and of course my extended family: my mum, such a pretty smooth-haired long-legged Parson Jack Russell (I like to think I take after her); my dad, a rascal, rough-haired and rough edges but so much character; my two aunties, who helped with my early upbringing; and then my five brothers and sisters. What fun we had playing in the barns and then out in the sunshine under the watchful eyes of the grown-ups.
We were told that we were lucky to have been born in such a pretty place, but we didn't take much notice of that; there was always something else to distract us at the time.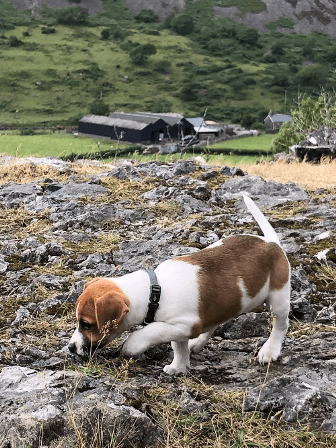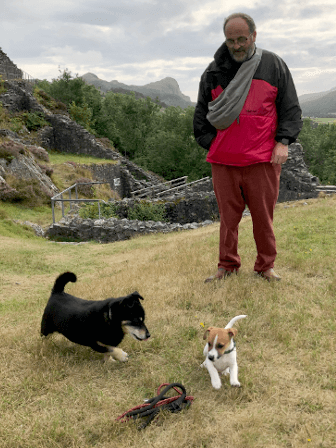 One by one, our forever families came to take us to new homes. I was told that my new family lived only a stone's throw away in a place called Much Wenlock. I had no idea that this had anything to do with the line of trees I saw daily on the horizon or that this view was called Wenlock Edge.
I was so happy to have found not only two new parents, who seemed to want to look after me, but also a wonderful older companion, who I could tell was going to be a soul mate for me.
This was Ralph, a much older and wiser dog with a love of life and such a wealth of experience to share with an inquisitive little pup. He quickly showed me how to behave. From the very beginning, he instilled the delights of walking and being able to run free into every day so that it always felt like an adventure.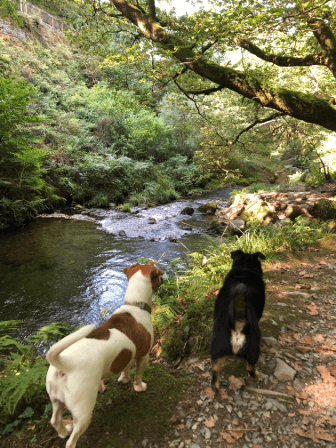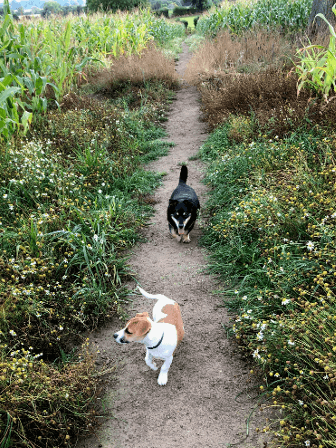 At the sight of a lead we would both be besides ourselves, which I found great fun and played up to, as I could see that it caused uproar with the parents who just wanted to get on their way. They were always good-natured about it, though, because they loved walking as much as we did.
Ralph also taught me to be very good in the car because he said that it would be worth it when we got to our destination. I was not sure how he knew this, but he was right. Wherever we went, there were new and exciting places to explore.
Being a youngster and having so much energy, it was difficult for me not to run and jump and chase things, especially squirrels, who catch my eye and tease me as they scamper off and out of reach up a tree. But Ralph would pull me up and remind me that if I was too naughty it would mean lead walks, which I really didn't want.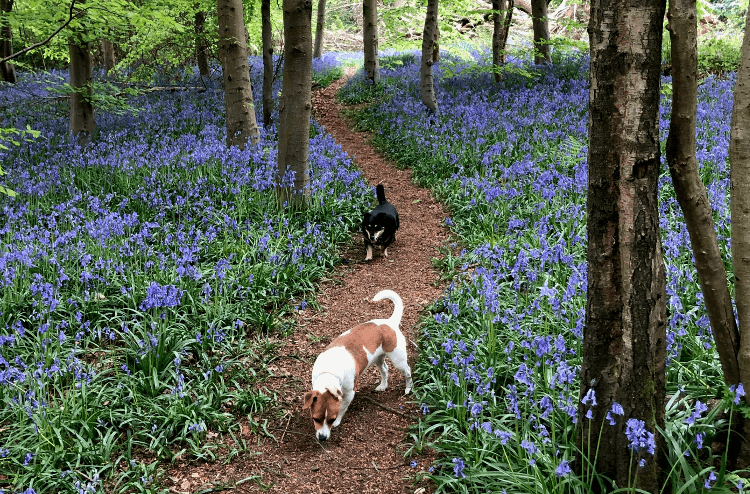 We were taken everywhere with our parents, and early on I was introduced to Wales, with the beaches and river walks that are still some of my favourites. I was told how much these walks meant to Ralph, so I liked to show him my appreciation of this wonderful part of the country. I would run on the beaches, trying not to kick sand in his face as he strolled along, and criss-cross him on our river walks, checking he was still watching out for me as he knew the way by heart.
We always returned to Shropshire, me with renewed energy and Ralph that little bit slower, back to The Edge. This was our local walk; all the smells and the familiar sights were part of my young upbringing. Wenlock Edge runs some 14 miles of unbroken ancient wooded escarpment, and we would pop out onto parts of it for a good breather each day.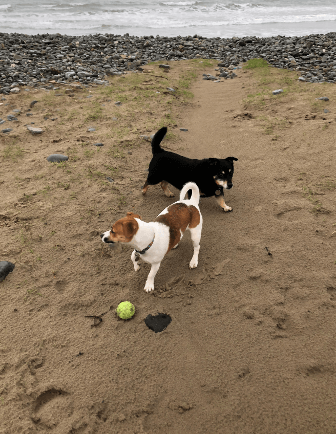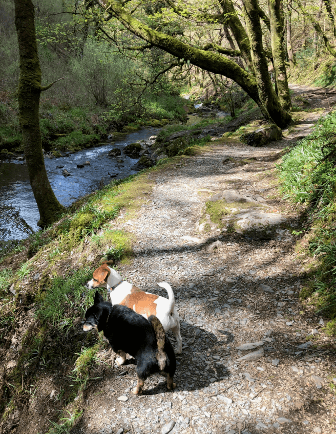 Then Ralph could not manage the climbing to reach the Edge so easily. I did try to curb my enthusiasm, which is not easy when you are full of joy, so that he could continue to enjoy his time. Our parents started to carry him some of the way, which I thought was a great way to have our family walks. But even I knew that this was not a long-term arrangement. I sensed when he was carried all the way to the top of our Welsh river that it would be the last time we would do that together.
Now we are three. My life was made so much richer by being under the care of the most amazing older brother. He guided me gently and wisely through my formative months. I miss him and will strive to live up to his legacy of giving unbridled love to everyone he ever met. He touched us all.