Peak District Boundary Walk
Follow the boundary of the Peak District on this circular self-guided walking holiday. Accommodation, luggage transfer and custom holiday pack included.
Peak District Boundary Walk
https://www.contours.co.uk/peak-district-boundary-walk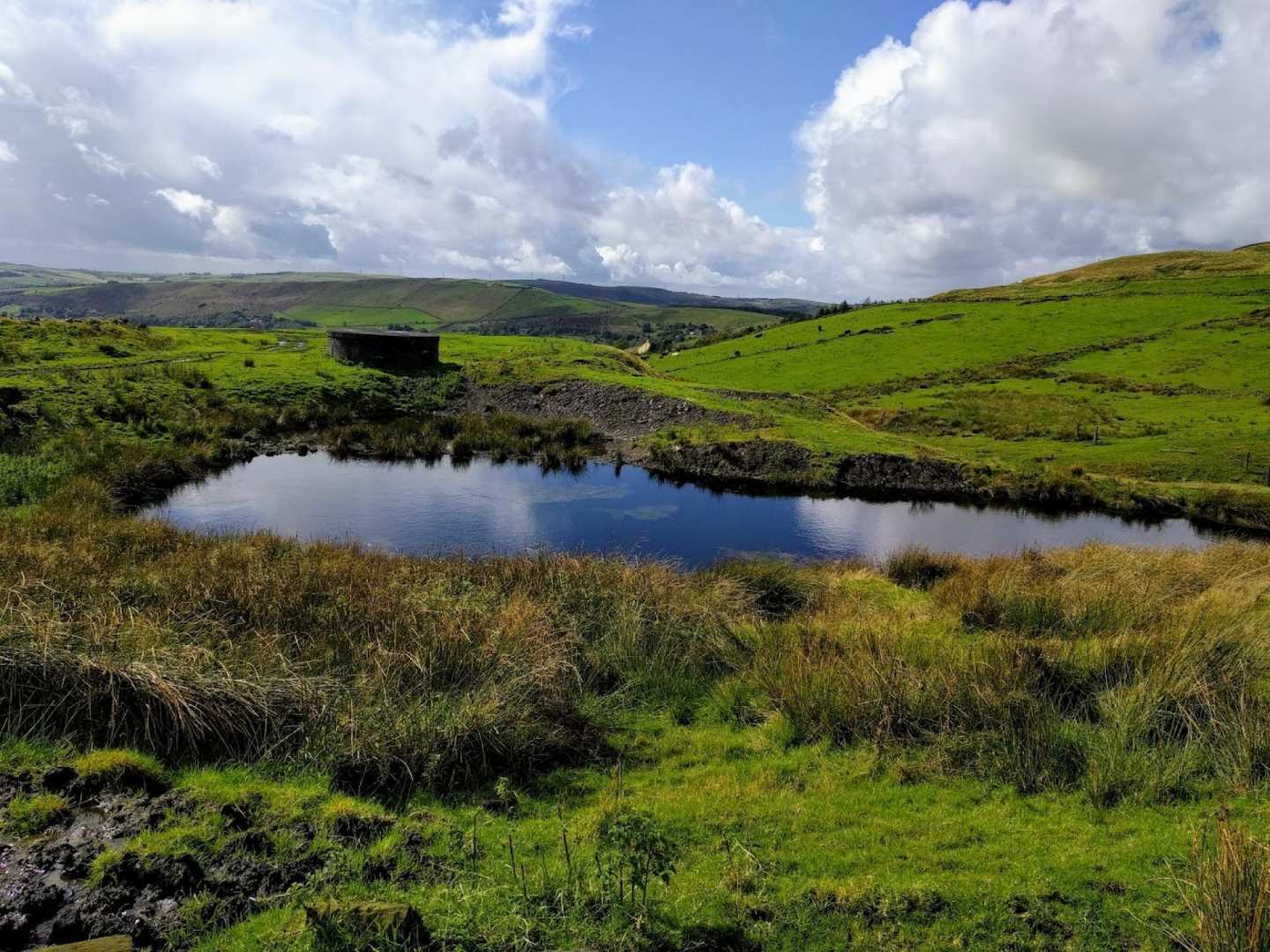 Peak District Boundary Walk
A complete 190-mile circular walk around the edge of the Peak District National Park in the North of England.
11 to 16 nights
185 miles
Moderate / Demanding to Demanding / Strenuous
From £1075 per person
About this route
New Trail for 2018!
This wonderful trail circumnavigates Britain's first designated National Park and showcases some of the most stunning scenery the Peak District has to offer.
This largely quiet, circular walk stretches from the wild moorland of the South Pennines to the beautiful limestone landscapes of the Derbyshire Dales, whilst also skirting the urban edges of Sheffield and Oldham, passing Staffordshire's rugged moorland and traversing Cheshire's rolling hills.
The views and settlements along the way are diverse and constantly changing, offering new sights at every turn. The walk utilises a mixture of footpaths, quiet lanes, former railway lines and more rugged terrain as it explores the many little-known gems of the Peak District, making this walk a satisfying adventure for everyone.
Circular trail beginning at Buxton
185 miles (295 km)
2nd January to 24th December
Exploring the period Georgian architecture in the elegant spa town of Buxton.
Enjoying the pretty nature reserves, varied landscapes, charming towns and spectacular hilltop vistas of the Peak District countryside.
Walking through wild stretches of remote moorland, providing a feeling of wide-open space while never straying far from civilisation.
| Code | Tour | Duration | Price per person | |
| --- | --- | --- | --- | --- |
| PDBW1 | A circular trail beginning at Buxton | 10 days walking | £1075 | |
| PDBW2 | A circular trail beginning at Buxton | 12 days walking | £1270 | |
| PDBW3 | A circular trail beginning at Buxton | 15 days walking | £1565 | |
Itinerary
What's included?
Extra nights?
Tour facts
Travel info
Weather
Start
Travel to Buxton where your first night's accommodation has been booked
Day 1
Buxton to Hayfield. 20 miles (32km)
Day 2
Hayfield to Greenfield. 19 miles (30.5km)
Day 3
Greenfield to Huntsman/Holmfirth. 17 miles (27km)
Day 4
Huntsman/Holmfirth to Low Bradfield(T). 23 miles (37km)
Day 5
Low Bradfield(T) to Robin Hood (Baslow). 20 miles (32km)
Day 6
Robin Hood (Baslow) to Bonsall. 14.5 miles (23km)
Day 7
Bonsall to Waterhouses(T). 21.5 miles (34.5km)
Day 8
Waterhouses(T) to Wildboarclough(T). 22.5 miles (36km)
Day 9
Wildboarclough(T) to Whaley Bridge. 18 miles (28.5km)
Day 10
Whaley Bridge to Buxton. 9 miles (14.5km)
Finish
Depart from Buxton after breakfast
Your Itinerary
This itinerary lists our preferred overnight stops for this tour. Sometimes there may be a shortage of available accommodation in a preferred location, in which case we will transfer you from the trail to your accommodation and back again at no extra charge. Overnight stops marked with a (T) will always require transfers as standard.
Overnight stops marked with an (L) have very limited accommodation, and therefore more often than not will also require a transfer, particularly on bank holidays and weekends. We will use non-transfer accommodation wherever possible.
The daily mileages quoted are average trail miles only and do not include the distance from the trail to your accommodation. We do not expect you to have to travel more than a mile from the trail to your accommodation; should your accommodation be further than this, transfers will be provided as standard.
Below are the additional costs that may apply depending on your requirements. Dog-friendly tours are subject to a Daily Dog Charge, which will be listed below if applicable. Our standard prices per person are based upon two people sharing a room; if you are on your own, or are part of a group but require a room of your own, then the Solo Traveller or Single Supplements apply respectively:
A note about transfers
£60.00 per person / per night
£35.00 per person / per night
You can add rest days at any of the overnight stops:
£55.00 per person / per night
What's included?
11 nights' accommodation in en-suite rooms (where available) in selected B&B's, hotels, inns and guesthouses along the trail, or a short distance away via taxi provided at our expense.
Breakfast each day.
Door to door luggage transfer.
Maps with the route marked on and a guidebook or route notes describing the trail.
An information pack containing an itinerary, instructions on how to find your accommodation each night and a kit list.
Detailed travel instructions on how to get to the start of your holiday and back from the end of it.
Extra Nights & Rest Days
The Peak District Boundary Walk passes through so many interesting areas that you may wish to spend some extra time exploring or relaxing in this beautiful National Park. Should you wish to add some extra nights into your walking holiday, here are a few ideas to help you choose where to stay.
Buxton is a lively town with plenty to occupy an extra night?s stay. Buxton's famous Georgian and Victorian architecture provides an impressive backdrop to a range of shops, eateries and attractions, including the ornamental Pavilion Gardens, the Poole's Cavern show caves and a huge range of outdoor activities. Must-see sites include the magnificent Crescent with its natural baths, the Old Hall Hotel dating back to 1573, and St Anne's Well, one of the 'Seven Wonders of the Peak'. As Buxton is a spa town, there are also plenty of places in which to relax and enjoy a bit of pampering.
Those looking for a more relaxed location for a rest day should consider the quaint village of Hayfield. The village dates back to the 17th century and still features a wealth of evidence relating to its historic mill trading heritage. The old centre of the village is really charming, with a fine church and lots of cottages to view while meandering through the quiet streets. It is also packed with amenities for visitors, including gourmet pubs, interesting shops and welcoming cafes. Hayfield is the ideal place for walkers who simply wish to unwind and take in the wonderful architecture and surrounding countryside.
You can add rest days at any of the overnight stops:
£55.00 per person / per night
Tour Facts
Total distance: 184.5 miles (295 km)
Duration: 11 nights, 10 days walking
Minimum daily distance: 9 miles (14.5 km)
Maximum daily distance: 23 miles (37 km)
Code: PDBW1 Grade: Demanding / Strenuous
Season: 2nd January - 24th December
Start of holiday: Buxton
End of holiday: Buxton
Travel Information
Useful information and travel links that will assist you in your plans to travel to the start of the holiday and back from the end of it are sent to you with your full tour pack. A summary is given below:

By Air - The most convenient major city and international airports are Manchester, Leeds Bradford and East Midlands.

By Rail - There is a rail station at Buxton.

By Bus - Various bus services run to and from Buxton.

From London - Trains run regularly from London Euston station to Buxton.

Return To The Start - The Peak District Boundary Walk is a circular tour beginning and ending in Buxton.
Weather Information
To find out more about the weather forecast for your chosen holiday's general location, please see the following websites:
MetCheck - This website allows you to look up detailed weather information for specific locations as far as six months in advance.
Met Office - This website shows regional area forecasts a few days in advance, with a general UK forecast description of up to 30 days in advance.
Mountain Forecast - This website shows what the forecast is like up on specific hills and fells, and offers forecasts a few days in advance.