By Damian Hall

Five hard shells to suit the walker or runner
When out in the hills, few things are worse than sensing that first droplet of water trickling victoriously down your spine. Getting wet can make even the most irritatingly chipper walker quiet and sullen. At the risk of being alarmist, getting wet can quickly lead to getting cold and, in unfriendly weather in the fells, a more serious situation. So a quality waterproof jacket is one of the most important bits of kit the walker can own, right up there in importance with good shoes or boots.
Back in the good old days, one waterproof jacket seemed to do us just grand all year round. But lugging the unnecessary weight around on countless hikes where it stayed unused in our pack got a bit annoying. Especially as key materials have gotten so much lighter. So along came the lightweight waterproof jacket.
The beauty of a lightweight waterproof is that, as the name suggests, it weighs little, but still performs when needed. Yes you'd want something more rugged for a winter hike in the Cairngorms, but for most of the rest of the year, chucking something that weighs less than 300g in your pack is peace of mind and eminently sensible. Several of these jackets are equally adept for trail running – three of them are designed specifically for moving fast and light.

What to look for
Curiously, they're not usually well highlighted, but every jacket has a waterproof and a breathability rating – often tucked away on a label somewhere, failing that on the manufacturer's website (if in doubt, ask shop staff). A waterproof rating will be somewhere between 1,500mm and 20,000mm, with the latter being the most waterproof; however the more waterproof a material is, the less breathable (and heavier) it's likely to be.

A waterproof jacket also needs to be breathable because otherwise the walker gets wet from the inside out as they sweat. A good waterproof jacket allows for perspiration. For the jacket to be useful for most of the year it needs to be at least 10,000mm waterproof. While 5,000 to 8,000g breathability will suffice for most, runners may want more.

Gore-Tex is no longer the only material that performs the contradictory actions of being both waterproof and breathable. Other options include eVent (which tends to be a tad more breathable but needs more care), Polartec Neoshell (also very breathable), and others here.

These jackets were tested in the Cotswolds, Lake District, Brecon Beacons and Snowdonia.

Additional things to consider

Jacket features that aren't vital, but are worth considering are:

The hood: is it a good fit, is it adjustable and does it have a wire peak – all of which will help you remain drier.

Pockets: are they big enough for your needs? Would a pack's waist belt block access?

Cuffs: will they be tight enough to the wrist (a notorious point of vulnerability) to prevent most water entering?

Storm flap: zips are weak points and are ideally supported by an additional layer or material behind.

Taped seams: seams are another weak point. Check if they're 'taped' (have supportive tape running along them inside the jacket). Ask if you're unsure.

Collar: does it rise as high as you'd like, to protect the chin? And is the zip likely to rub on your skin?

Double zips: a zip at each end, which most blokes will find useful, if you catch my drift.
Take care
Over time mud, sweat and tears will clog up the membranes on your jacket and reduce waterproofness and breathability. However, in my experience, waterproof jackets never seem quite as waterproof after their first wash, so I tend to delay that until my wife complains about the whiff. Then I follow the manufacturers' instructions scrupulously (usually on their website). They usually involve an initial 30˚C wash with a specific cleaning liquid, then a second wash with a waterproofing liquid (I find Nikwax gives best results). Be careful not to use any additional fabric softeners with the washes.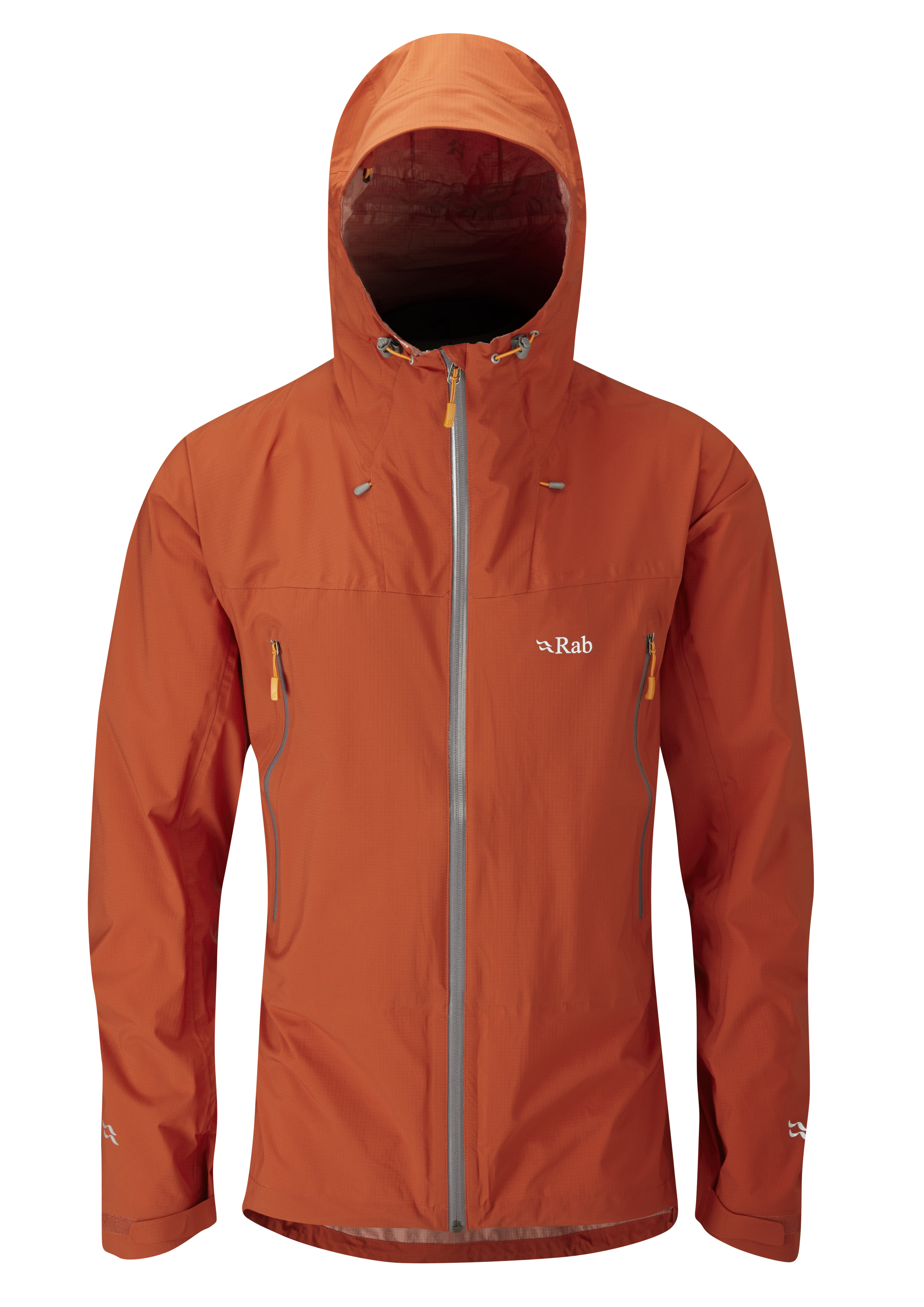 1. Rab Charge
£150
354g (claimed weight for size L)
Waterproof rating (hydrostatic head): 20,000mm
Breathability rating (MVTR): 20,000g
Women's version available? Yes
Rab's Charge is aimed directly at walkers (as opposed to runners or mountaineers) and for the weight offers excellent protection from the elements. The adjustable, peaked hood fits well and can be rolled down and tucked away, which is helpful on a windy day when you don't want it flapping away irritatingly behind you. There's plenty of collar, too, to protect from the wind, while the zip is reinforced and has a storm flap behind it. Both the arms and backside have ample material to cover you – quite a few jacket designs overlook these areas.
Elsewhere, the chest pockets are big enough for maps and the jacket scrunches up into a mug-sized bag. The Pertex Shield+ fabric has a pleasingly soft, slightly stretchy feel to it, which is hard not be seduced by.
Pros Good all-round protection and thoughtful touches.
Cons Design is a little plain, if we're being picky, and no double zip.
Verdict Excellent protection and features for the price and weight. The most well-balanced jacket on test.
Star rating 9 (out of 10)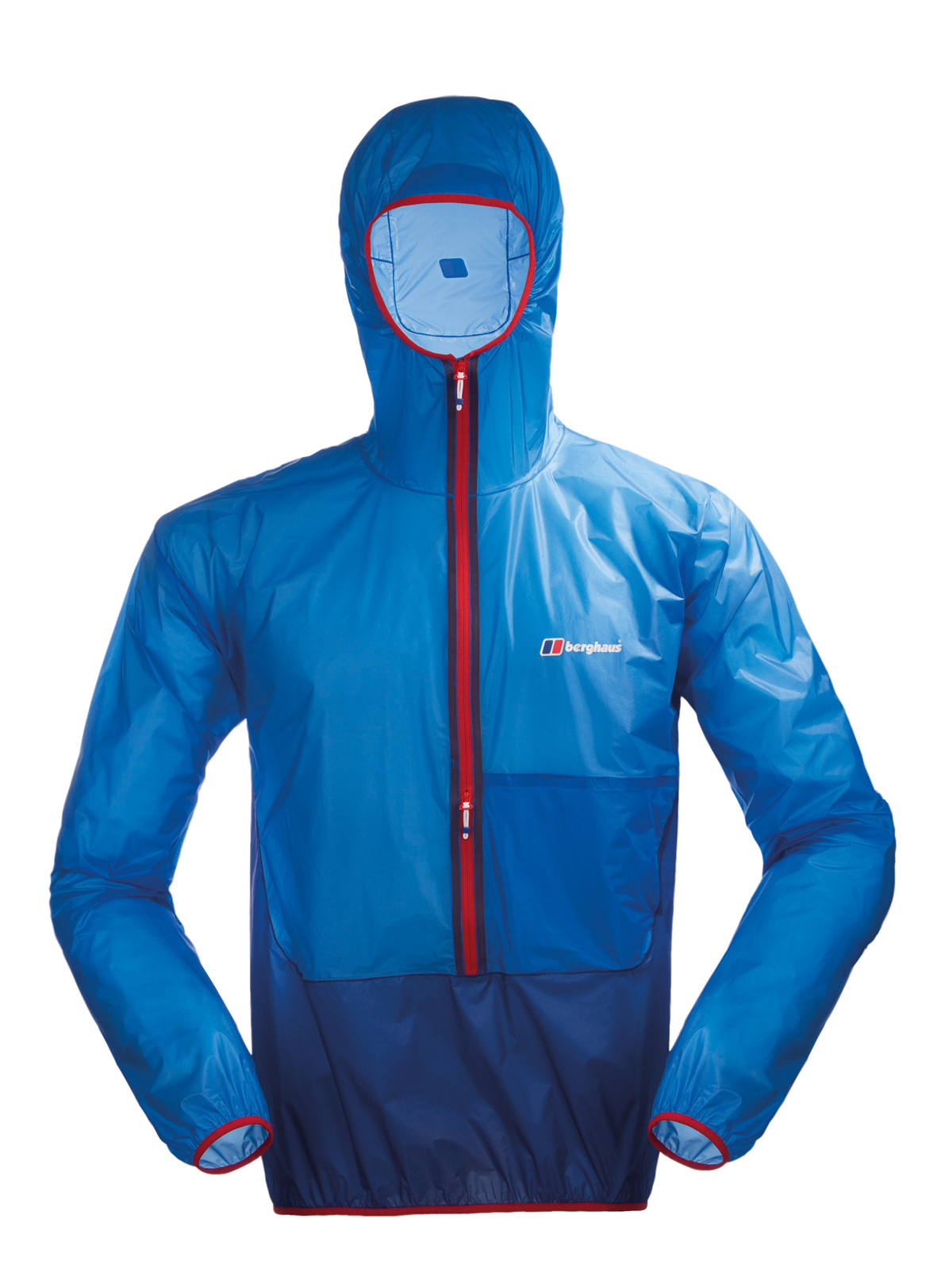 2. Berghaus VapourLight Hyper Smock 2.0
£100
75g
Waterproof rating: 15,000mm
Breathability rating: 10,000g
Women's version? Yes
Made with Berghaus' Hydroshell Hyper fabric and aimed primarily at runners, the VapourLight Hyper Smock 2.0 is the world's lightest waterproof. It's astonishingly light and packs away into a child's fist-size bag. It ends the debate of whether or not to take a waterproof on a hike, because at this weight you simply don't notice it in your pack, so you may as well play it safe.
A close-fitting hood covers a lot of the face and includes a 'tab down' feature to eliminate flapping.
Of course, the weight necessitates sacrifices and there's just one phone-sized pocket, less adjustability than most jackets and it isn't as waterproof as most here – but it should keep you dry for a couple of hours in persistent rain. The payoff seems worth it.
One quibble is that when running with a pack on, because it's so light, the jacket does tend to ride up your back, leaving it open to the elements.
Pros Extraordinary weight and packability.
Cons One small pocket, can ride up the back under a pack.
Verdict A game-changing garment for runners or summer fastpackers.
Star rating 8.5 (9 for a runner)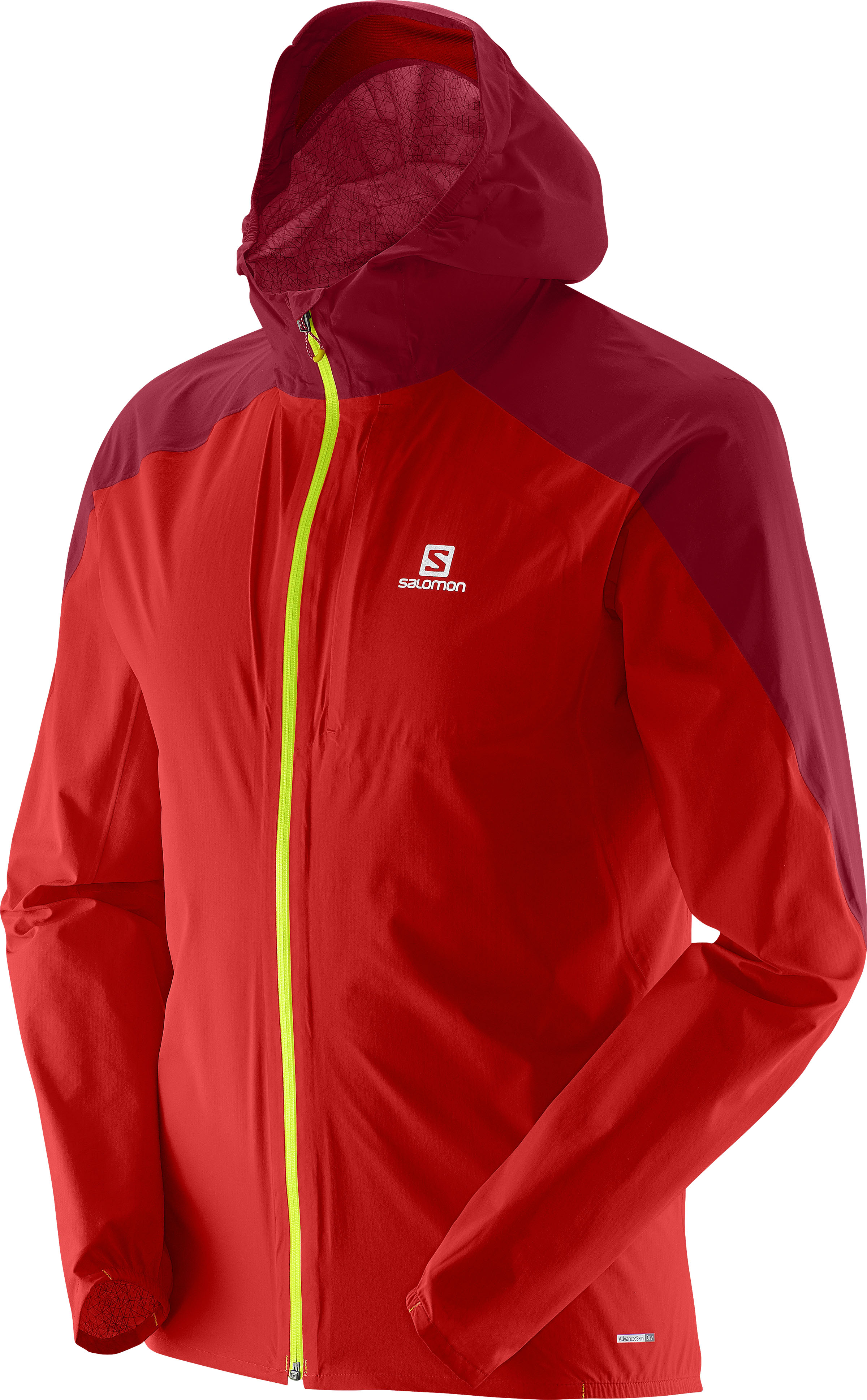 3. Salomon Bonatti WP
£140
210g
Waterproof rating: 10,000m
Breathability rating: 10,000g
Women's version? Yes
Made from Polyamide, the Salomon Bonatti is easily the most stylish on test and looks very desirable in all the colours in the range. The sort of jacket you want to wear even when there's no rain forecast. Or you're indoors.
Like the Berghaus option, it sits at the superlightweight end of the spectrum, aimed squarely at the fast and light crowd. So there are compromises, such as just one small pocket and the hood isn't adjustable, though I found it to fit perfectly, and there's no chin cover. The material is pleasingly stretchy, allowing the jacket to move with you instead of tugging on the elbows and shoulders. It also packs down very small.
Despite its superlightweight makeup, I was perfectly dry in this after a four-hour Lake District downpour and it felt like the most breathable jacket on test.
Pros Stylish, stretchy, breathable, packable.
Cons Zip regularly catches on internal storm flap.
Verdict Classy bit of superlightweight kit you may find yourself wearing to the pub.
Star rating 8.5 (9 for a runner)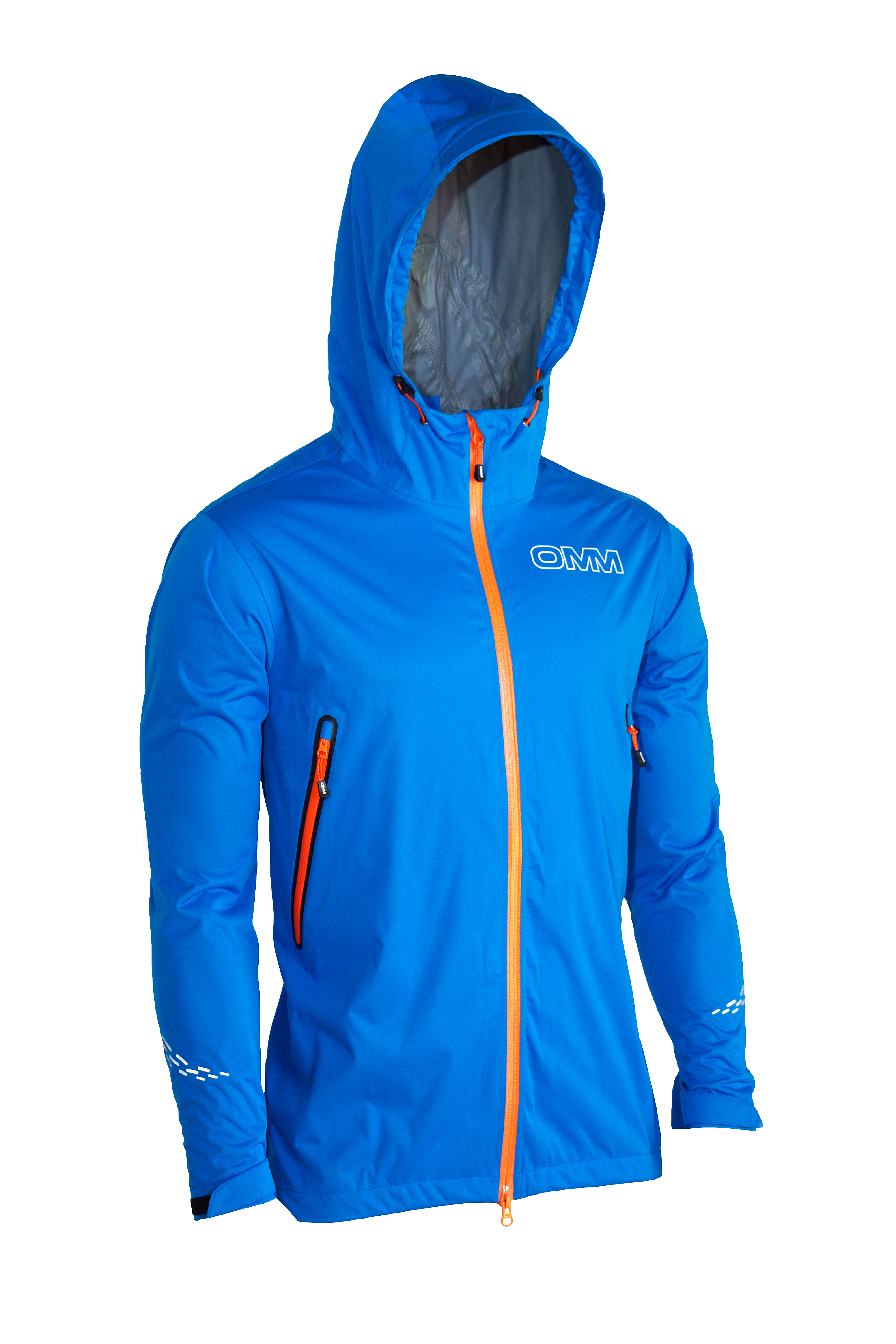 4. OMM Kamleika Race Jacket II
£160
280g
Waterproof rating: N/A
Breathability rating: N/A
Women's version? Yes
Designed for mountain marathons, OMM's Kamleika competes with the Rab Charge for the middle ground in this test. Not superlightweight like the Salomon or Berghaus, and not heavy like the Páramo, it's an appealing balance of weight and features.
The unique four-way stretch material (100 per cent polyester knit face fabric laminated to 100 per cent PU membrane) makes it deliciously stretchy – the stretchiest here – like a tracksuit top. You can't quite believe it could be waterproof (OMM don't submit their products for standard waterproof and breathability testing). But a few hours in the very wet and windy Brecon Beacons proved it certainly is.
It doesn't rustle either. The peaked hood is excellent once you get used to adjusting it (not easily done with gloves on however). The double zip is a boon, one's rear end is well covered and super-large pockets are much appreciated. I couldn't fault breathability, even when running uphill. Some may find it a tight fit on the torso, and after five months the stitching was coming undone on the velcro cuff straps.
Pros Really comfy, big pockets, very breathable.
Cons Will be a tight fit on some, tricky hood adjustments, stitching issues.
Verdict An excellent choice for the more active hill goer.
Star rating 8.5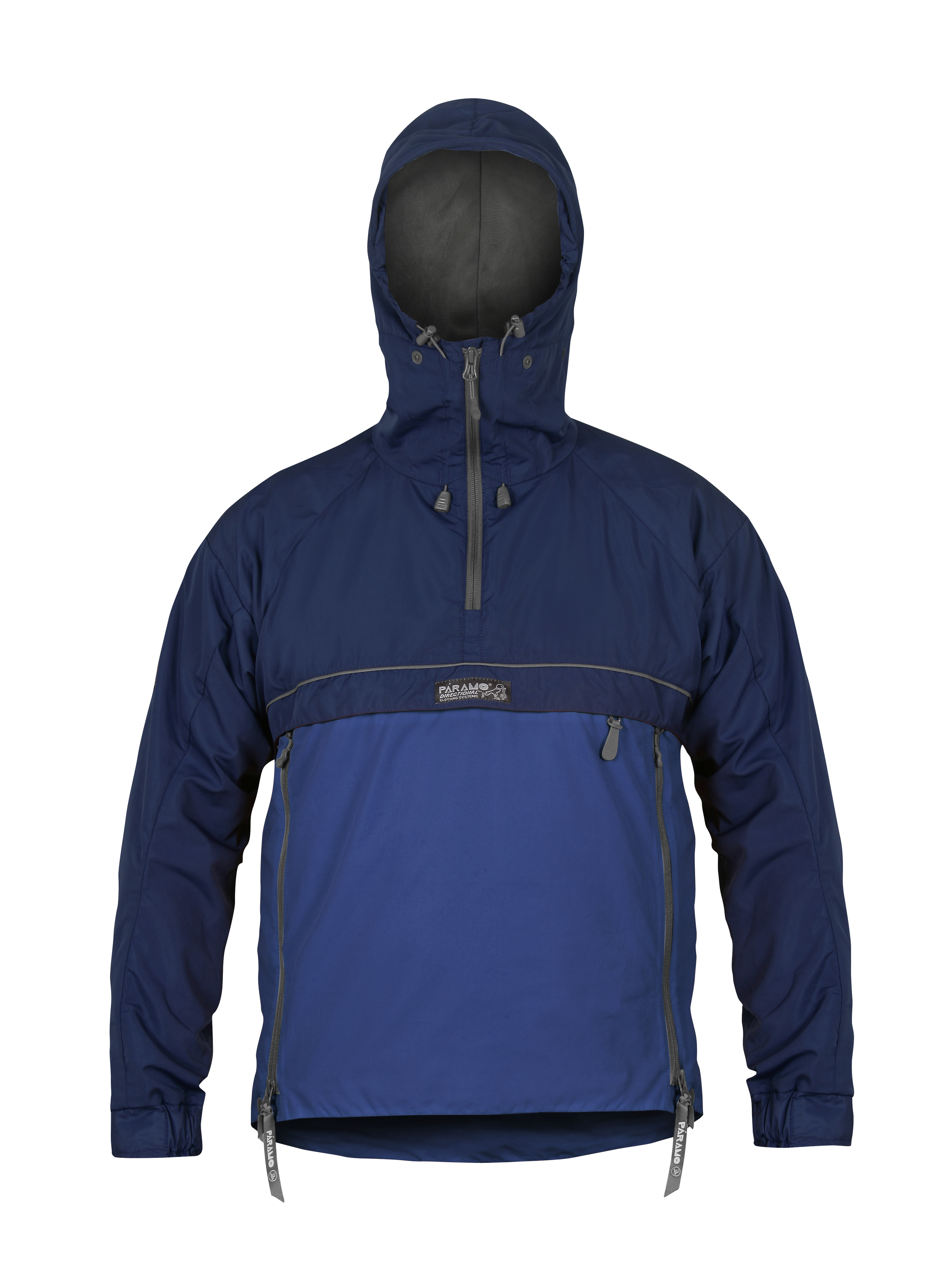 5. Páramo Velez Adventure Light Smock
£225
580g
Waterproof rating N/A
Breathability rating N/A
Women's version? Yes
I once asked a mountaineering guide in Scotland what was the most dependable waterproof he knew of. Páramo, he said. Weighing over half a kilogramme, the Páramo Velez Adventure Light Smock isn't an obvious fit (pun not intended) in this test. However, it's an important and excellent alternative to the much-vaunted layering system.
Okay, it's the least stylish on test, but who cares about style when it's lashing it down in the Lakes. And it doesn't feel like a waterproof – because it's made from an entirely different fabric. The small British company uses Nikwax and the material works a bit like animal fur, wicking moisture away from the inside, keeping you dry.
It's definitely an autumn/winter item and far warmer than anything else here, but has huge zip vents to dump excess heat. It's too heavy and hot to run in and you'd only chuck it in your pack if you were confident it'd get used.
I tend to stick it on the first time I leave the house on a Saturday morning and it often remains on all day, whether for taking kids to the park or longer woodland yomps. The big chest pocket could fit a family picnic.
Pros Warm, durable, breathable, versatile.
Cons Heavy, baggy design, not summer friendly.
Verdict Substance over style and a superb piece of kit for the wetter end of the year.
Star rating 9 (7 for runners)
It is also worth noting that waterproof clothing can also be purchased from http://www.cotswoldoutdoor.com or http://www.myracekit.com or http://www.castlebergoutdoors.co.uk.
About the writer
Damian Hall is an outdoor journalist who's completed many of the world's famous and not-so-famous long-distance walks, including the Everest Base Camp trek for his honeymoon. He's the author of the official Pennine Way guide and his newest book, Long Distance Walking in Britain, is out this autumn. There's plenty more self-aggrandising hogwash on Twitter (@damo_hall) and at www.damianhall.info.