Five pairs of 2-3 season hiking boots and shoes ideal for long-distance walks with a light pack.

The most important thing a walker has is his or her footwear, because frankly – and without wishing to scare anyone – nothing will make you more miserable than a bad choice. But fear not; despite the intimidatingly huge range of boots and shoes on offer, making a good choice is based on one factor above all: ensuring they fit well and are comfortable – which is usually, but not always, the same thing.

Ill-fitting footwear could ruin your walk by helping to cause rubbing, soreness, blisters or other annoyances.
What to look for

Other things to look for include good grip, while some level of cushioning or shock absorption is usually preferable too. The importance of ankle support is open to debate, and some people comfortably cover long distances in running- or multi-terrain shoes (i.e. trainers) or even robust sandals. The tendons, ligaments and muscles will strengthen to support the body above it, but if you are used to strong ankle support then your ankles may be weaker and more dependent on that. So bear that in mind when you're shopping and give your lower legs time to adapt to a new style.

There's an argument for cushioning being overrated too; if you walk with good posture (staying tall and upright, with a slight forward lean from the ankles and short strides) then your body's skeleton works as a natural shock absorber. I tend to worry less about these things and more about the fit and comfort.
Materials

Walking boots used to be leather, but then Gore-Tex started to be used and now boots are increasingly being made with a combination of both. Leather lasts and lasts if it's well looked after, keeps water out for a good length of time (i.e. hours), is rugged and subtly adapts to the shape of your foot. The downsides are they're usually heavier than other boots and take some time to break in.

Gore-Tex boots, in comparison, will keep water out for longer, be lighter and quicker to dry and won't usually require breaking in. However, once water gets in it won't easily leave, and they aren't usually as durable or rugged; however they are the more beginner-friendly option.

The hybrid option tries to offer the best of both worlds and can work really well. Whether they are leather, Gore-Tex or a combination, your boots should be waterproof for several hours in most instances.
Terms

Manufacturers often classify boots as one-, two-, three-, or four-season. Four is aimed more at winter mountain- and hill-walking and will fit crampons, so in most cases they'll be too big and cumbersome for a hiking trail. One-season boots (usually more like shoes) are designed for summer walks, while two-season boots usually offer a bit more protection. Both offer only limited ankle support – though this is not a problem if your ankles are used to it, as discussed above. Three-season boots will best suit most long distance walkers and is the most versatile footwear choice.

The 'cut' is how high up your legs the boots or shoes sit. A high cut means they travel further up the wearer's legs. It's personal choice, really, but no matter how waterproof the boots are, a low cut (like a shoe or trainer in style) is more likely to let water in over the top, but then again they may be more breathable (which means they are less likely to cause blisters, which are created through a combination of moisture and friction).

Also, consider how heavy boots feel. Lighter boots may mean less robustness, but more spring in your stride means a faster pace. A heavy boot means there will be more work for your calves to do.

Don't ever start a long walk in new boots – you're pretty much saying 'please give me some big painful blisters'. Wear them in first.

None of this matters, however, if the boots don't fit well. Boots are definitely an item to buy from a shop – ask an assistant for advice on fitting. Anything that feels even slightly tight is too small, as your feet will expand during a long walk.

Talking of which, it's better to go boot shopping in the afternoon on a warm day, when your feet have already expanded, rather than a cold morning when they're smaller. Take your favoured or thickest walking socks along and try to visit a shop with an incline board, so you can test the boots for downhill walking. If your foot slips forward then it's not the right boot for you. If you can't find boots that fit well, look into footbeds or insoles.

These five pairs were tested over six months in the Cotswolds, the South West Coast Path, the Peak District, the Ridgeway and, er, London.

---
1. Salomon Evasion GTX

Price: £100
Weight: 400g
Women's Version? Yes (Ellipse GTX W)
www.salomon.com/uk

Salomon are renowned for making premium, lightweight products and the first observation about these shoes is that they're significantly more rugged than they look. The split leather and Gore-Tex shoes may appear to be like trainers, but a lick of rubber around the housing makes them really tough – you could kick a rock and not know it – while the general housing is surprisingly tough too. They're more like boots than trainers, but lovely and light with it.

Like all Salomon products I've tried, they're comfortable fresh out the box (on my feet anyway), and there's no breaking-in period required. The grip, too, is aggressive and reliable on a variety of surfaces, especially mud, albeit a little less so on wet rock.

I find myself sticking these on at the weekend and they stay on for a trip to the shops, a visit to the park with my pesky kids, woodland yomps and also proper hill walks, too. So they're a versatile number and especially suitable for summer.

A mid-height version is also available.

Pros: Versatile, light, very comfy and rugged.
Cons: Low cut won't suit all.
Verdict: Salomon have found that elusive sweet spot between lightweight and ruggedness.
Star Rating: 9

---
2. Columbia Peakfreak XCRSN Mid Leather OutDry

Price: £85
Weight: 460g
Women's Version? Yes
www.columbiasportswear.co.uk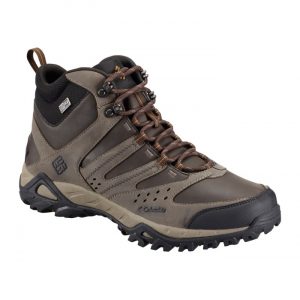 Columbia's lightweight, waterproof, excellently named Peakfreaks are designed for technical terrain (i.e. rocky or rooty) and don't have the obvious slabs of cushioning found on other boots. They're made with a combination of full-grain leather and suede materials, plus rubber toe protection, and they have that lovely leathery smell.

Someone carrying a huge pack day after day may wish for a bit more cushioning, but they're perfectly comfortable for most scenarios and I prefer the more dextrous feel they offer compared to almost every other boot out there. They give confidence on rocky terrain.

I instantly loved these. They feel light and very nimble for full boots, but with terrific grip. I find any excuse to wear them and even found myself trudging around London's Natural History Museum in them recently (which was no problem for them).

Pros: Versatile, light, great grip, dextrous feel.
Cons: Less cushioning than some.
Verdict: Excellent lightweight option that makes you feel nimble and confident.
Star Rating: 9

---
3. Merrell Chameleon Shift Mid Gore-Tex

Price: £140
Weight: 524g
Women's Version? Yes
www.merrell.com/UK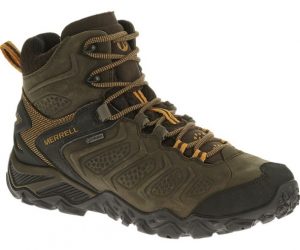 Merrell's Chameleon look initially like old-school style, heavy leather numbers – though they're made with Gore-Tex too, but once on they are deliciously and immediately comfortable and feel delightfully light.

They offer great ankle stability with a cushioned, high cut, though to some this may be a little excessive.

They feel surprisingly dextrous and responsive (you can sense the terrain under foot, in a good way). The boots are quite a narrow fit, though, which won't suit all. Anti-odour treatments are a definite bonus if your feet honk anything like mine, and the heel has good shock absorption.

Again the lightness and comfort makes them versatile and I found myself wearing them all weekend, such as when I'm mucking about with the kids in parks and woods, as well as visits to the shops and children's birthday parties in-between.

A low-cut version is also available.

Pros: Lightweight yet comfortable, stable and protective.
Cons: Narrow fit and firm ankle support might not suit all.
Verdict: An excellent combination of comfort, lightness and ruggedness.
Star Rating: 9

---
4. Hanwag Banks GTX

Price: £155
Weight: 610g
Women's Version? Yes
www.hanwag.com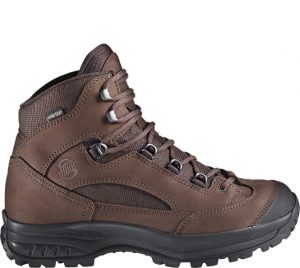 Another boot combining Gore-Tex and leather; slide a foot into these and it'll instantly feel very comfortable, almost like a down sleeping bag for your pinkies – and super-protected, too. The pay-off is that they're comparatively heavy and large, and feel slightly cumbersome on more technical terrain.

The heel has noticeable shock absorption and they claim superior air circulation due to a "pumping action" in the tongue, which is difficult to be sure of, but they don't cause sweaty feet like they look like they should. The grip is impressive and trustworthy, and in them you feel like a human tractor.

For walking in colder, muddier times of the year these offer peace of mind, but for warmer months they'll feel excessive to some.

Pros: Very comfy, cushioned and protective.
Cons: Heavy and cumbersome.
Verdict: A tough and comfy option for walking in tougher conditions.
Star Rating: 8

---
5. Keen Wanderer WP

Price: £120
Weight: 610g
Women's Version? Yes
www.keenfootwear.com/en-gb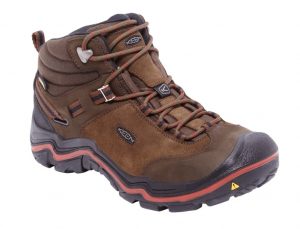 Like the Hangwags, these feel instantly comfortable and rugged, but also big and heavy. They're not in fact a full boot, but rather a 'semi mid-cut', the idea being to combine the flexibility of a shoe with the support and comfort of a mid-cut boot; which just about works, though they feel a bit like shoes with the weight of boots.

A 'contoured heel lock' keeps them fairly stable on the foot though, and they're a wide fit which will suit some and allows for inevitable foot swell during a long day's walking. Grip and sole cushioning are both impressive and you feel like a tank powering through mud.

Some people will love the comfort and protection these offer, but personally I prefer the lighter and more dextrous options.

Pros: Comfortable and rugged.
Cons: Heavy and slightly cumbersome.
Verdict: A marmite option some will love, with some less so.
Star Rating: 7

---


Damian Hall is an outdoor journalist who's completed many of the world's famous and not-so-famous long-distance walks, including the Everest Base Camp trek for his honeymoon. The tea-loving hillbilly is the author of the official Pennine Way guide and his newest book, Long Distance Walking in Britain, is out soon. There's plenty more self-aggrandising hogwash on Twitter (@damo_hall) and at www.damianhall.info.

---