by Tracey Hannam
I started a journey along the full UK Coast Path on July 4th, but between breaking my ankle at Westward Ho! and stops and starts due to Covid-19 restrictions, I'm hopping about like a frog! Still, I have walked all of Devon and Cornwall's coastlines, with some of Dorset, Somerset and Sussex.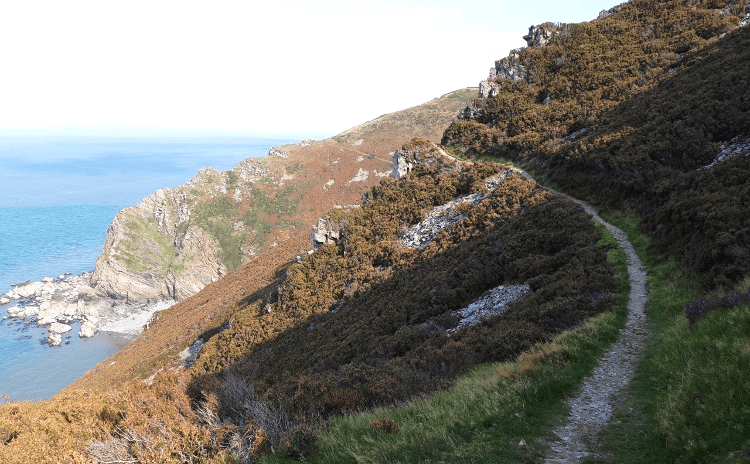 Personal strength out on the trail
Since starting my solo hikes along the coast path, I have discovered that nature is nurture.
My mind and body have been so in tune. I have learned that my body needs exercise and healthy food to keep it going. As humans we shouldn't live to eat, we should eat to live. On the trail, we really use food and drink as a fuel to keep us going.
After braking my ankle, I was amazed how I was able to talk to my body and ankle and get myself out of the cliff area, plodding four and a half miles with my walking poles on that broken bone. I was amazed how my body and mind, backed by the fresh air and my inner strength, got me to safety.
Poem: Walking the Coast
Walking the coast, I feel the earth
Underneath my soles,
And the wind blows gently through my hair
And I know I must reach my goal
The rugged shores below the cliff top
Seem to call out my name,
Begging me to climb down to a cove,
Not one of them ever the same,
Each so special, quirky and quaint,
Old Cornish fishing boats needing some paint
With a jolly old fisherman smelling of fish,
To take home to his wife, to make a good dish,
With a smile on his face, as a seagull flies by,
Dive bombing to fishing scraps as he lets out a cry,
You stand there and marvel at this beautiful sight,
Simple yet wonderful and you think that you might,
Keep walking, keep talking and tell all your tales,
Of this coastline adventure, the sea and the swell,
Of the waves as they lull you to sleep by the shore,
Dreaming of tomorrow knowing you want more,
Of this coast full of treasures, so much to see,
An experience never forgotten, come walk it with me.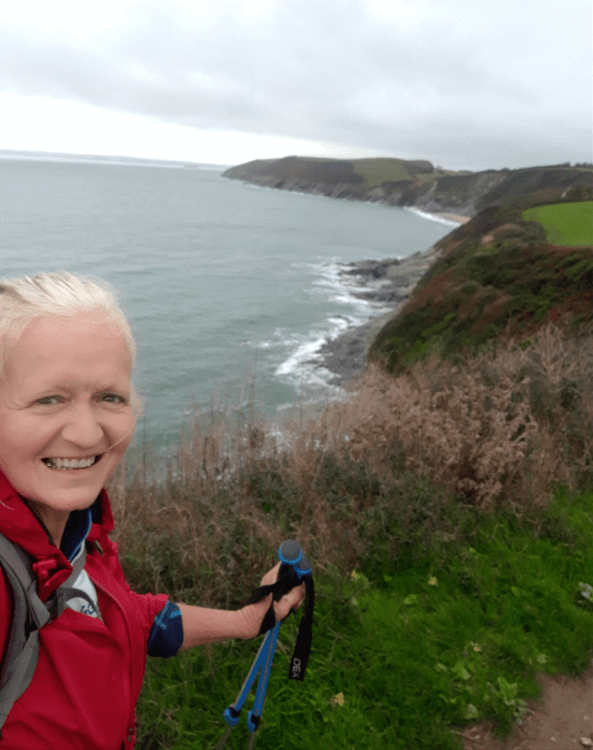 Nature's healing energy
Although my injury had slowed me down, once my cast was off and my leg was set, I started plodding two to three miles a day. I was up to 17 a day when I stopped my journey again due to lockdown rules.
I truly believe that getting back outdoors after the cast came off and being in my happy place on the coast was what I needed to heal. Being home after plodding over 700 miles and fending for myself on the coast path has honestly sparked a yearning in me to get back out there. I plan to resume my ramble in January 2021 with my winter kit and new winter tent. I'll breathe in the cold winter air, hear the waves, see the beauty all around me and feel alive, free and healthy, at peace with myself, my body and mind.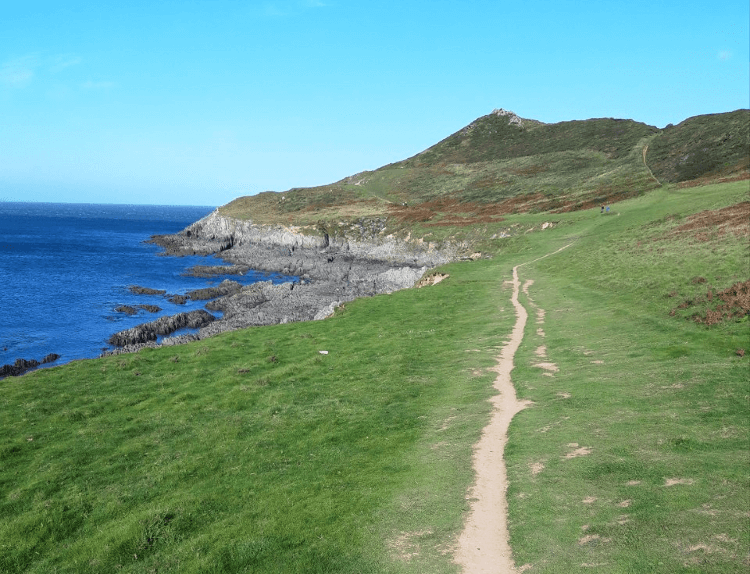 Getting outside in 2021
In my opinion, being outdoors is the best thing you can do for yourself in 2021. Go by yourself, like I did. Or if that's too much, go with family or friends, or book an outdoors trek or activity with a professionally trained outdoors group.
Please take a look at my blog, Walk With Me: Tracey and Aggie's Epic Hike Around the UK Coastline, or talk to someone at Contours Holidays to get outside in 2021. Being outdoors, challenging yourself and getting in touch with nature will change you and make you yearn for more.
Let's hope 2021 is a better year for all of us.
Poem: Take a Break
Take a break to the coast and walk the path so free,
The earth below, the sky above, so evident to see,
The freedom you feel inside, as you breathe in the fresh air
Feeling a connection with nature, see the beauty everywhere
It's a nature nurture feeling you have never felt before,
And as you hike and feel it, the more you'll want it more
Away from life's complications, a job that ties you down,
Take some time for yourself, come on get out of town,
Go to a cove or beach, climb a cliff to a wondrous view,
And marvel at what you are seeing, a happy smiling you,
Breathing fresh sea air, nothing suffocating,
And wow look at the memories you have started making,
So stop, slow down, and take a walk along our lovely coast,
It will inspire you so very much, a trek you'll love the most.