By Ben Taylor
Ben Taylor took a short walking holiday along the Fife Coast path with a friend recently; having never been to this part of the UK before, Ben was very excited about this new adventure. Here is how he got on:
…And just like that, finishing as quickly as it had started, we were on the train home. With the Fife coastline drifting away through the frame of the window, we were momentarily brought back in time to the familiar landmarks of our recent journey. The setting sun provided us with clear glimpses across the Firth of Forth, made crystal clear after a two day Atlantic storm that had seemingly carried out a thorough, yet ferocious bout of spring cleaning.
A last minute decision for us to head North of Edinburgh to explore the first half of the Fife Coast Path made this trip instantly exciting, as I knew nothing about the area and was keen to learn more. After spending the morning on various connecting trains travelling to North Queensferry, we were soon free of our hefty haul bag containing spare clothes, food and home comforts; keeping with our holiday traditions, we had packed more than we first intended. The words 'we don't need to carry much, it's only a couple of days...' sprang to mind.
The first day – or afternoon by this point – was a relatively short 11 miles to the seaside haven of Burntisland. This section of the trail skirted past remnants of crude industry, interspersed by lush fields and rocky beaches. Viewing this contrast positively, we found that since we were constantly looking at something different, our conversation never ceased until we reached our Bed and Breakfast for the night.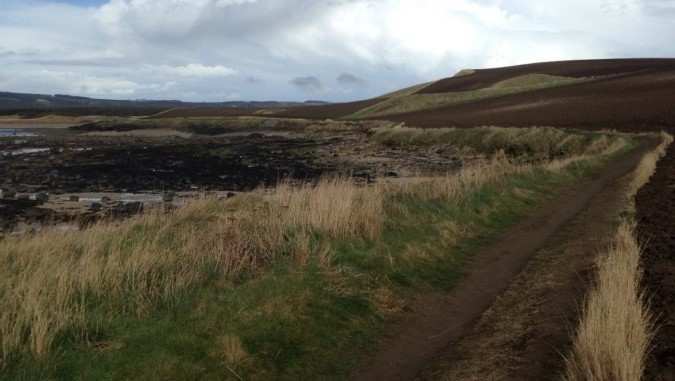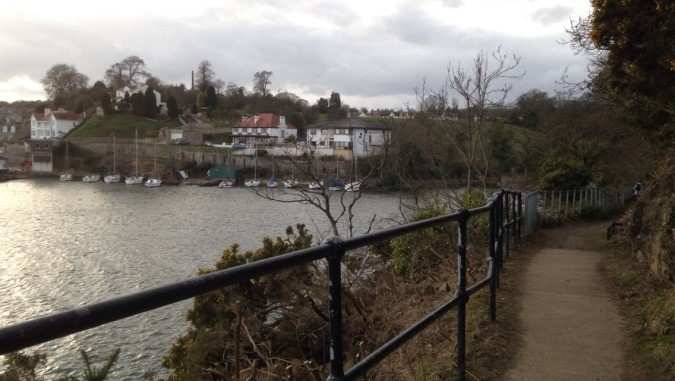 We enjoyed a relaxing sleep and a gourmet breakfast set out by our enthusiastic hosts, who entertained us with tales of cycling in the Alps and their preparations for a fell running race the following weekend. We soon set off beaming with energy, straight into a drizzly grey morning that only drew greyer and drizzlier as the day dragged on. Regardless, we donned waterproofs to keep back the deteriorating weather and resumed the previous evening's conversation. I guess that having not been away from Manchester for a long while, both of us were relishing in the new sights and sounds of a different part of the world; if it were not for the ever-so familiar rain, we could have easily convinced each other that we were on holiday overseas.
After getting distracted by various rock pools and craggy terrain on the coast line, we were soon on a long curving beach that filled our shoes with soft sand. Aside from the local towns, we saw very few people all day. I thought this was odd for an Easter weekend, but shortly after the pouring rain reached new levels of wetness, we grew jealous of their warm, smug houses. Before long we strolled into the Port of Leven and made a bee-line for our nights' accommodation. As the door opened, we pulled bewildered looks at one another as a cat stood there introducing himself silently, apparently possessing great strength and skill to open such a heavy wooden door. Our expectations were short lived however, as we were greeted by a cheerful lady who immediately welcomed us and hustled us up to our room, where our bag containing towels and dry clothes awaited us.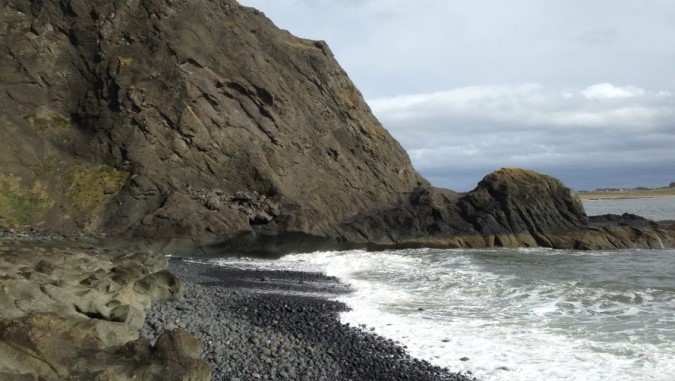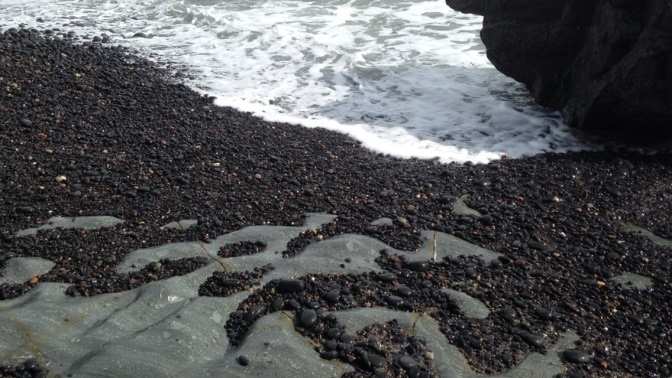 Sun, wind, hail, rain, rainbows, more wind and salty sea spray made the third day the most memorable of the trip. After spending the surprisingly cold morning wrapped up in many layers, more suited for a mid-winter walk in the hills, we felt a bit daft on the beach when the sun was burning so brightly. But this was soon forgotten when a succession of hail showers assisted our progress along the coastline. After spending our lunch admiring a double rainbow, the day's objective quickly presented itself; the coast path immediately before Elie divides on the shoulder of a hill, offering a choice of either an easy cliff-top stroll or a demanding traverse guided by chains around its lower, dramatic flanks. Being a sunny day, and having coincided with our well-placed lunch stop, we happily trotted down a steep bank to meet the ancient rocks, barely a few meters above the raging sea below. The 8 chains that make up the 'Elie Catwalk' had been replaced a few years earlier, and wide obvious foot placements had been worn into the cliff sides, making route finding simple and fun. However, some of the rock remained greasy at times, and we limited our conversation to brief comments as we paid respectable amounts of attention to the exposed terrain. The final pull required us to drop into a cave and then traverse back out to the incoming tide underneath a slightly overhanging, imposing black crag. By the time we had passed through Elie, the setting sun reminded us that we still had some miles left to go.
The light began to fade as we passed signs for Anstruther, our last overnight stop, and we quickly proceeded to the wrong end of the town during our half-hearted search for the Spindrift Hotel. Feeling tired and hungry, we dragged ourselves back through the streets we had just passed through, distracted by thoughts of an ideal hotel room. Our dreams were acknowledged by a highly efficient receptionist, who had us greeted, checked in and safely in our room within minutes of reaching the hotel. A hot drink and a warm shower soon put us both to sleep in a similarly effective manner.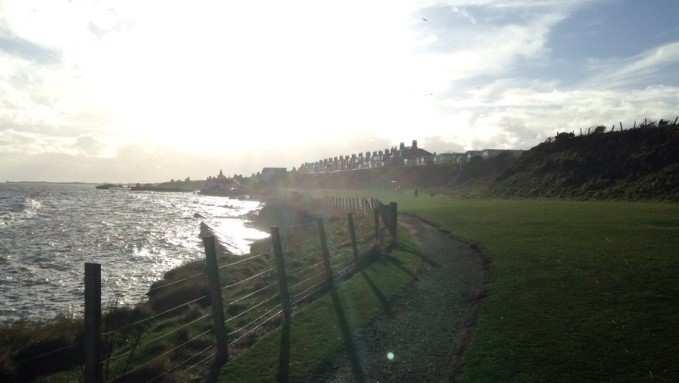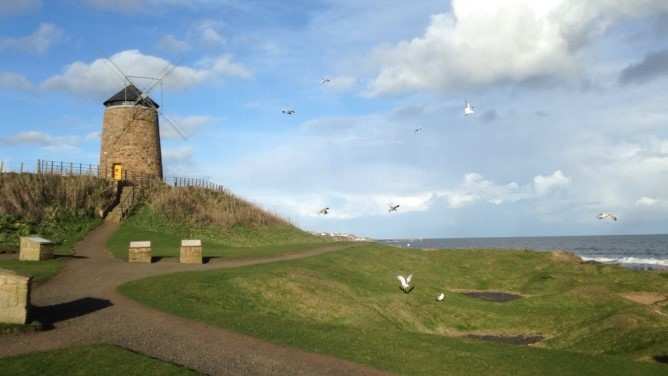 The last day was cut short, so as to spend more time exploring an interesting looking beach near St. Andrews, and also partly due to us feeling quite exhausted by the stormy weather of the last two days. St. Andrews is a very modern town with an extensive and interesting history, making it a joy to simply wander freely among the old streets, surrounded by castle walls and familiar high street shops that urged us to spend money; we refrained, but gave in to the temptation of pizza and coffee.
Leaving the town behind us, we passed through the world famous golf course that neither of us had ever heard of before, and set foot on the final 5 miles to the train station in Leuchars. The weather stayed brilliantly blue and clear, enough to leave us with red faces long before we reached the bright lights of Edinburgh train station. It seemed that only moments ago we were gazing across the sea beyond Dundee to the snow-capped highlands, thoughts already drifting to future adventures. But no, the familiar sound of a station announcement soon brought us back to reality, and sadly, so did the late night train to Manchester.