The Gower Coast Path
Experience the Gower Peninsula at your own pace on a circular self-guided walking holiday. Accommodation, luggage transfer and custom holiday pack included.
The Gower Coast Path
https://www.contours.co.uk/the-gower-coast-path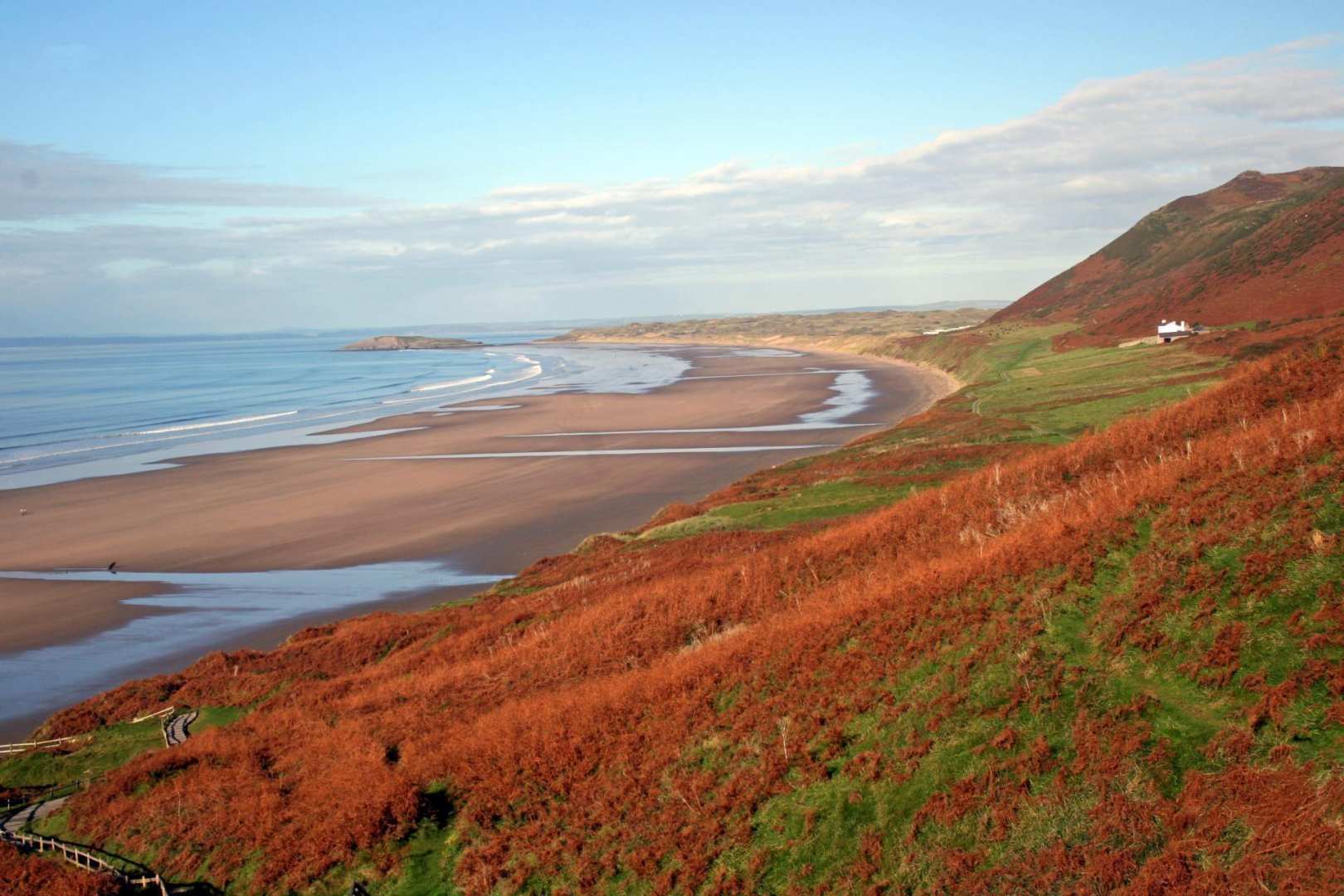 The Gower Coast Path
A 65-mile walk around the limestone landscape of the Gower Peninsula section of the Wales Coast Path.
5 to 10 nights
66 miles
Easy / Moderate to Demanding
From £520 per person
About this route
New Trail for 2018!
As the first Area of Outstanding Natural Beauty to be designated in Britain, the limestone Gower Peninsula boasts a wonderfully unspoilt coastline filled with grassy saltmarshes, golden sandy beaches and rugged cliffs dotted with headlands and coves.
The scenery is magnificent, the villages along the way are charming and welcoming, and the bustling city of Swansea acts as a fantastic finishing point for this section of the Wales Coast Path.
The terrain along The Gower Coast Path is diverse and changeable, dotted with a number of steep ascents when climbing the cliffs and sandy, marshy landscapes that could become challenging depending on the weather; however the many wonderful sights along the way serve as their own satisfying reward.
Burry Port to Swansea
66 miles (106 km)
2nd January to 24th December
Visiting the National Wetland Centre and enjoying the pretty plant life that attracts various birds all year round.
Taking in the far-reaching views from the headlands of Whiteford Point and Port Eynon Point.
Enjoying the changing landscapes from rugged cliffs to untouched beaches and soft sand dunes.
| Code | Tour | Duration | Price per person | |
| --- | --- | --- | --- | --- |
| GOW1 | From Burry Port to Swansea Trafalgar Bridge | 4 days walking | £520 | |
| GOW2 | From Burry Port to Swansea Trafalgar Bridge | 6 days walking | £730 | |
| GOW3 | From Burry Port to Swansea Trafalgar Bridge | 9 days walking | £1040 | |
Itinerary
What's included?
Extra nights?
Tour facts
Travel info
Weather
Start
Travel to Burry Port where your first night's accommodation has been booked
Day 1
Burry Port to Pen-clawdd(L). 16.5 miles (26.5km)
Day 2
Pen-clawdd(L) to Rhossili(T). 19 miles (30km)
Day 3
Rhossili(T) to Southgate(T). 17.5 miles (28km)
Day 4
Southgate(T) to Swansea Trafalgar Bridge. 13 miles (21km)
Finish
Depart from Swansea Trafalgar Bridge after breakfast
Your Itinerary
This itinerary lists our preferred overnight stops for this tour. Sometimes there may be a shortage of available accommodation in a preferred location, in which case we will transfer you from the trail to your accommodation and back again at no extra charge. Overnight stops marked with a (T) will always require transfers as standard.
Overnight stops marked with an (L) have very limited accommodation, and therefore more often than not will also require a transfer, particularly on bank holidays and weekends. We will use non-transfer accommodation wherever possible.
The daily mileages quoted are average trail miles only and do not include the distance from the trail to your accommodation. We do not expect you to have to travel more than a mile from the trail to your accommodation; should your accommodation be further than this, transfers will be provided as standard.
Below are the additional costs that may apply depending on your requirements. Dog-friendly tours are subject to a Daily Dog Charge, which will be listed below if applicable. Our standard prices per person are based upon two people sharing a room; if you are on your own, or are part of a group but require a room of your own, then the Solo Traveller or Single Supplements apply respectively:
A note about transfers
£50.00 per person / per night
£35.00 per person / per night
You can add rest days at any of the overnight stops:
£55.00 per person / per night
What's included?
5 nights' accommodation in en-suite rooms (where available) in selected B&B's, hotels, inns and guesthouses along the trail, or a short distance away via taxi provided at our expense.
Breakfast each day.
Door to door luggage transfer.
Maps with the route marked on and a guidebook or route notes describing the trail.
An information pack containing an itinerary, instructions on how to find your accommodation each night and a kit list.
Detailed travel instructions on how to get to the start of your holiday and back from the end of it.
Extra Nights & Rest Days
The Gower Coast Path is a wonderful walk celebrating everything the Gower peninsula has to offer. Those wanting to explore the sights more thoroughly can add extra nights into their holiday, giving you more time to enjoy the Gower's coast in all its glory.
The small town of Burry Port would make a great option for a rest day during your walk. The area is famed for being Amelia Earhart's landing place when she became the first woman to fly across the Atlantic Ocean. The town's impressive harbour and golden beach draw in tourists all year round, with the shoreline offering some of the best surfing waves in the county. Burry port is also fully stocked with a range of pubs, restaurants and shops to explore, offering a wonderfully relaxed environment in which to prepare for your walk along the Gower Coast Path.
Another good location in which to spend an extra night is the village of Rhossili. The surrounding area boasts sandy beaches and towering cliffs, while the village itself maintains a sense of tranquillity and unspoilt beauty. There is plenty of history to uncover, including a handful of Iron Age promontory forts, the 12th century arch over the doorway of the church, and the wreck of the Helvetia which ran aground on Rhossili Bay in 1887. There are also plenty of interesting caves, coves, bays and rocky inlets to explore nearby, providing plenty to see and do around this charming little village.
You can add rest days at any of the overnight stops:
£55.00 per person / per night
Tour Facts
Total distance: 66 miles (105.5 km)
Duration: 5 nights, 4 days walking
Minimum daily distance: 13 miles (21 km)
Maximum daily distance: 19 miles (30 km)
Code: GOW1 Grade: Demanding
Season: 2nd January - 24th December
Start of holiday: Burry Port
End of holiday: Swansea Trafalgar Bridge
Travel Information
Useful information and travel links that will assist you in your plans to travel to the start of the holiday and back from the end of it are sent to you with your full tour pack. A summary is given below:

By Air - The most convenient major city and international airports are Cardiff and Bristol.

By Rail - There is a rail station at the start of the trail (Pembrey & Burry Port) and also at the end of the trail (Swansea).

By Bus - Various bus services run to Burry Port and from Swansea.

From London - Trains run from London Paddington station to Pembrey & Burry Station.

Return To The Start - The easiest way to return to the start of the trail, is to take the train from Swansea to Pembrey & Burry Port station.
Weather Information
To find out more about the weather forecast for your chosen holiday's general location, please see the following websites:
MetCheck - This website allows you to look up detailed weather information for specific locations as far as six months in advance.
Met Office - This website shows regional area forecasts a few days in advance, with a general UK forecast description of up to 30 days in advance.
Mountain Forecast - This website shows what the forecast is like up on specific hills and fells, and offers forecasts a few days in advance.
Customer reviews from the The Gower Coast Path
"Spectacular scenery – great 'tempo' - my daughter and I thoroughly enjoyed ourselves. Wales is a hidden jewel (for Americans)... I would recommend this without reservation. My second booking with Contours - I have booked with competitors. I look for value and support - so, I will strongly consider Contours again. You were the only agency (that I found) that gave me what I wanted for this holiday."

Mr Arey, USA
"We all agreed that this was one of our best walking holidays yet! A beautiful area of Wales with outstanding scenery. Good accommodation, clear itinerary for each day and excellent transfer arrangements back to our trail to resume our walk when necessary."

Mr Belton, UK
"Thank you for organising another great holiday for us."

Ms Kirk, UK
"Scenery is gorgeous, especially the second day Rhossili Beach and the third and fourth days along the cliffs."

Mr Lenstra, Netherlands
"Great experience with lots of variety in coastal scenery and great accommodations. Liked the guidebook and especially having a large scale map."

Mr McBee, USA