by Amy Johnson
The immense feeling of relaxation evoked by seeing and hearing a live waterfall is an experience that cannot be bought. On a hike through the unbeatable British countryside, the sound of rushing water can stop you in your tracks to take in the beauty of the world around you. Helping to rebuild a sense of clarity and peacefulness, waterfalls will never fail to impress, regardless of how many you visit.
In search of tranquillity
In an age where quickness is praised, high stress levels are normal, loud noises are all around us and technology is in use 24/7, it has become increasingly difficult to find safe spaces that provide the calm and quiet that we need to function healthily.
The lockdowns of 2020 strongly emphasised our innate need for green, natural spaces. According to a study conducted by GOV.UK, 33% of respondents reported visiting local green and natural spaces more often when coronavirus restrictions were put in place. 40% claim that the increased time outdoors has become an important part of their wellbeing.
Unsurprisingly, nature plays a huge part in the upkeep of our physical and mental health, which is why natural beauty spots in the UK have risen in popularity in recent years. The sight, sound, and even feel of water has been proven to help calm and ground us.
In a fast, modern world, waterfalls provide a pause button on reality that can help you unwind during your hikes. Check out my favourites in the North, Midlands, and South of England, including a popular honourable mention.
Three Shires Head, Derbyshire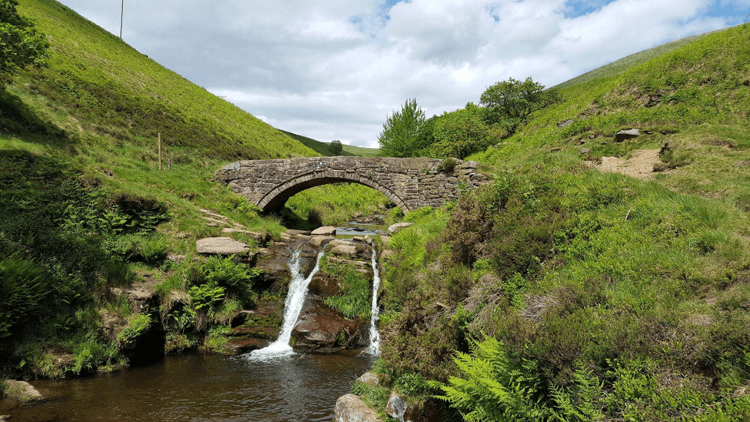 Dane Valley Way at Three Shires Head by Douglal. Shared unaltered under a Creative Commons licence.
Three Shires Head features three multi-level waterfalls and looks as though it should have been featured in the Lord of the Rings film trilogy. However, this remarkable well-known spot is very much real, and can be found in Buxton, Derbyshire.
As the name suggests, Three Shires Head lies where three Peak District counties meet: Derbyshire, Cheshire and Staffordshire. The average walking time it takes to visit is around four hours, depending on your ability. For avid and beginner walkers alike, Three Shires Head is more than worth the visit for your dose of Zen.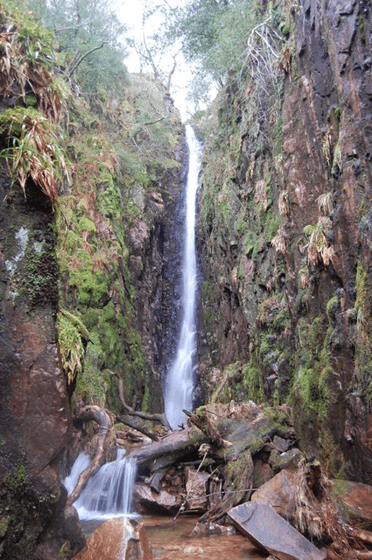 Scale Force by Trevor Harris, shared unaltered under a Creative Commons Licence.
Scale Force, Buttermere
Situated near picturesque Buttermere, Scale Force really is a force of nature, as it is the highest waterfall in the Lake District.
Dropping over 170ft, it provides visitors with a fresh, rainforest feel, making it hard to believe that Scale Force is not in a different country.
Scale Force is within easy hiking distance of neighbouring Buttermere village. Extra care should be taken during a visit to Scale Force due to its drop.
The Cascade, Virginia Water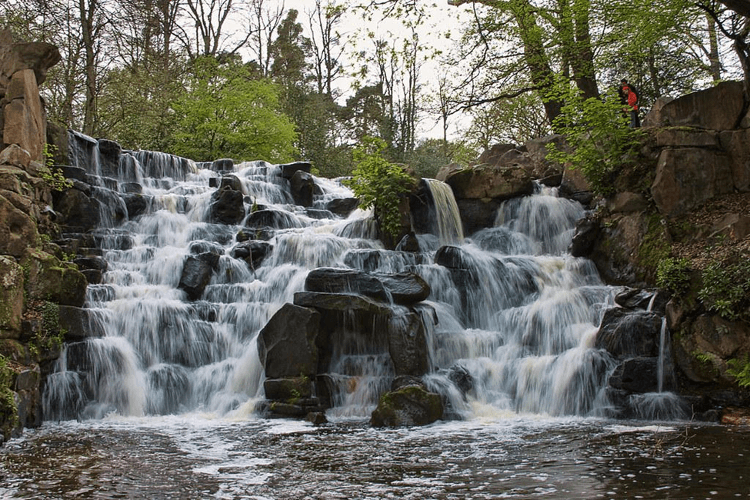 The Cascade at Virginia Water, Surrey, by Nana B Agyei. Shared unaltered under a Creative Commons licence.
The Cascade at Virginia Water is most impressive after heavy rainfall. It is one of the easier waterfalls to reach in terms of duration and difficulty of the walk, situated within the Great Windsor Park, so it is definitely worth the visit if you're looking for a more casual wander.
The man-made (yes, man-made!) waterfall drops 30ft and makes for a great picture opportunity, providing you with the beauty and peace that waterfalls give — without a massive trek. If you'd wish to see The Cascade first when you arrive at the park, head towards the path on the left.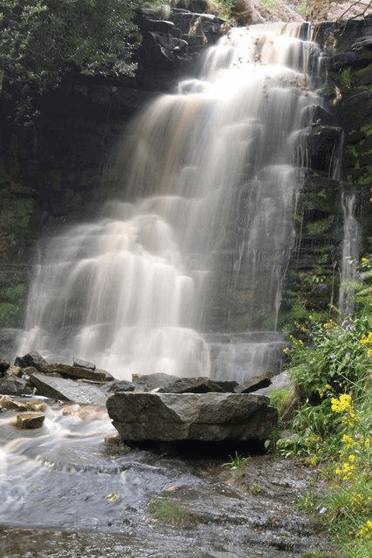 Waterfall Middle Black Clough by Steve Fareham. Shared unaltered under a Creative Commons Licence.
Honourable mention: Middle Black Clough, Glossop
Middle Black Clough is a famous walking beauty spot in the hiking community. Surrounded by beautiful Peak District woodland, the waterfall can be found on a Clough not too far from Crowden. Although somewhat remote, Middle Black Clough is an oasis of Zen, away from noise and business and isolated in nature.
The hike to visit is about two miles long, but although relatively short, it is a challenging walk. Be prepared to cross water and maybe get a little wet when visiting Middle Black Clough, and please take care extra care when approaching the waterfall itself.
Amy Johnson is a writer who enjoys venturing in nature. Although passionate about fictional storytelling, Johnson has a background in content and blog writing, article writing, and environmental journalism. Find Amy on Instagram or read her sustainability blog.