Usk Valley Walk - Stile-Free
Contours Walking Holidays
Usk Valley Walk - Stile-Free
https://www.contours.co.uk/usk-valley-walk-stile-free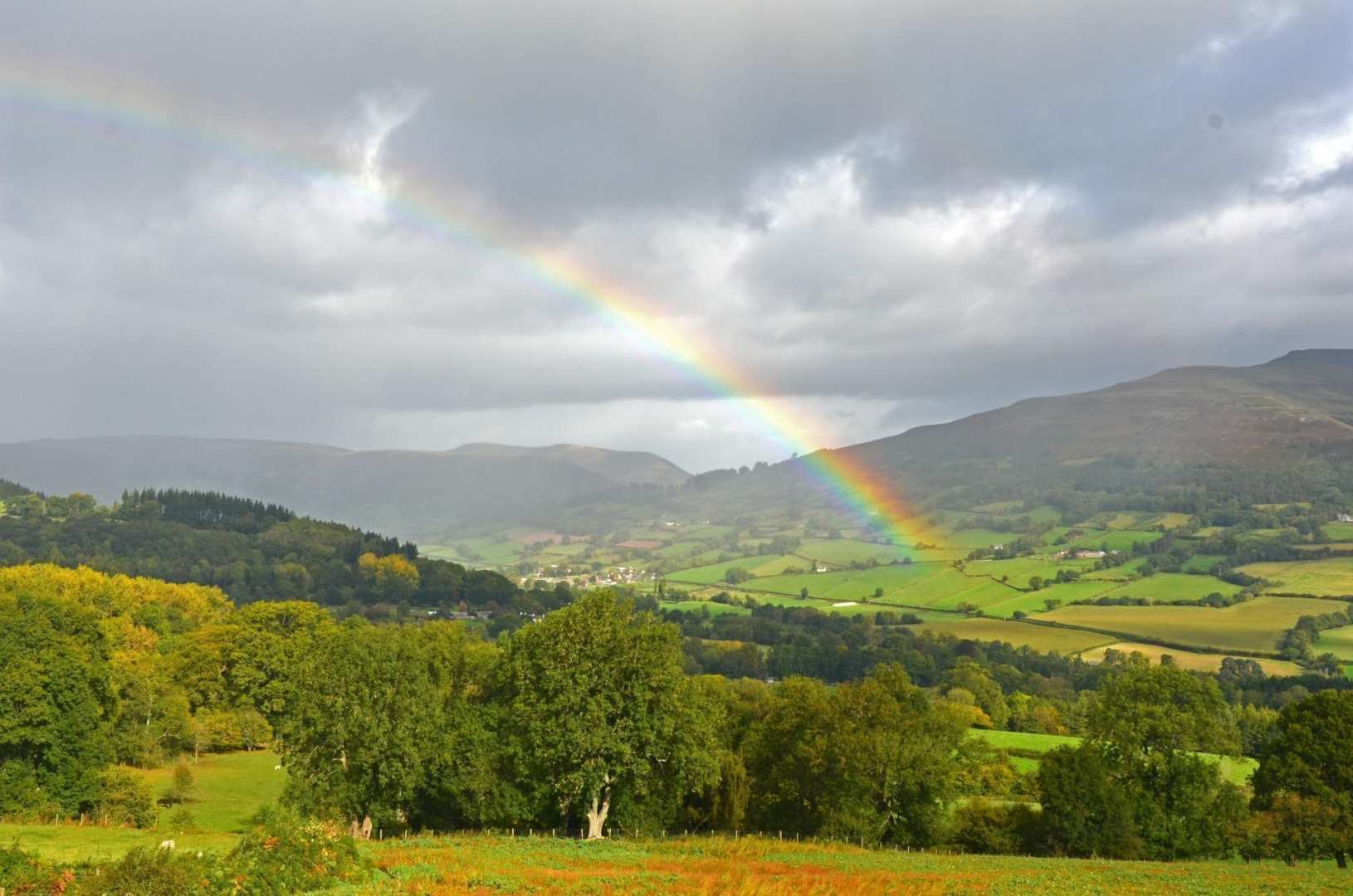 Usk Valley Walk
A self-guided walking holiday along the banks of the River Usk from Usk to Brecon.
4 to 5 nights
21-42 miles
Easy / Moderate to Easy
From £495 per person
The Usk Valley Walk explores historic market towns and quaint villages as it presses north between the Brecon Beacons and the Black Mountains, tracing the path of the river between Usk and Brecon.
Never straying far from the river, the trail follows low-level paths and the towpath of the Monmouth and Brecon Canal through an unspoilt landscape of rolling hills, patchwork fields and woodland between waterside inns, overlooked by the towering mountains that flank the valley.
We offer multiple holiday options along this trail. If you wish to experience the entire trail, simply select the first option from the list below.
Choose your route
Usk Valley Walk

Usk Valley Walk Short Break

Usk Valley Walk - Stile-Free
About this route
4 to 5 nights
21 miles
Easy
2nd January to 24th December
From £500 per person
Usk Valley Walk - Stile-Free
This user-friendly walk through the glorious Usk Valley begins from Llangattock village and neighbouring Crickhowell, each with their own quiet charm. The route then meanders along canal towpaths through woodland and farmland, following the river. As well as wonderful scenery throughout, the route encounters lime kilns, aqueducts and countless bridges on its way to the market town of Brecon.
This particular tour also includes a circular day walk from Talybont-on-Usk halfway through your holiday. This extension takes you around the Talybont Reservoir via more quiet forests and riverside paths, featuring spectacular views of the Brecon Beacons. Overall, this walk is perfect for new walkers seeking a taste of the beautiful Welsh countryside.
As a Stile-Free route, this walking holiday along the Usk Valley Walk has no stiles or other challenging obstacles to contend with. Any climbs or descents are short and/or gentle. It is suitable for beginners, young families and those with mild mobility impairments.
| Code | Tour | Duration | Price per person | |
| --- | --- | --- | --- | --- |
| UVWA1 | From Llangattock (Crickhowell) to Brecon | 3 days walking | £500 | |
| UVWA2 | From Llangattock (Crickhowell) to Brecon | 4 days walking | £615 | |
| Code | Tour | Duration | Price per person | |
| --- | --- | --- | --- | --- |
| UVWSB | From Abergavenny to Brecon | 3 days walking | £500 | |
Itinerary
What's included?
Extra nights?
Tour facts
Route profile
Travel info
Weather
Holiday Highlights
Start
Travel to Llangattock (Crickhowell) where your first night's accommodation will be booked
Day 1
Llangattock (Crickhowell) to Tal-y-Bont(L). 8 miles (13km)
Day 2
Tal-y-Bont(L) to Tal-y-Bont(L). 5.5 miles (9km)
Day 3
Tal-y-Bont(L) to Brecon. 7 miles (11km)
Finish
Depart from Brecon after breakfast
Your Itinerary
This itinerary lists our preferred overnight stops for this tour. Sometimes there may be a shortage of available accommodation in a preferred location, in which case we will transfer you from the trail to your accommodation and back again at no extra charge. Overnight stops marked with a (T) will always require transfers as standard.
Overnight stops marked with an (L) have very limited accommodation, and therefore more often than not will also require a transfer, particularly on bank holidays and weekends. We will use non-transfer accommodation wherever possible.
The daily mileages quoted are average trail miles only and do not include the distance from the trail to your accommodation. We do not expect you to have to travel more than a mile from the trail to your accommodation in most cases; should your accommodation be further than this, transfers will be provided as standard if practical. A very limited number of stops will require you to travel on foot up to two miles off the trail, however these instances will be clearly communicated to you if applicable.
Further transfers may also be required due to some accommodations having a two-night minimum booking policy, especially at weekends.
Below are the additional costs that may apply depending on your requirements. Dog-friendly tours are subject to a Daily Dog Charge, which will be listed below if applicable. Our standard prices per person are based upon two people sharing a room; if you are on your own, or are part of a group but require a room of your own, then the Solo Traveller or Single Supplements apply respectively:
A note about transfers
£60.00 per person / per night
£45.00 per person / per night
You can add rest days at any of the overnight stops:
£65.00 per person / per night
Llangattock/Brecon
21 miles (33 km)
2nd January to 24th December
Holiday highlights
Strolling at your own pace alongside the River Usk, admiring the scenery and counting the many bridges spanning the canal.
Visiting the atmospheric Welsh villages of Llangattock, Llangynidr, Talybont-on-Usk, Aber and Pencelli and uncovering each of their unique stories.
Exploring the popular town of Brecon, with its Georgian architecture, 12th century cathedral and a range of interesting museums.
What's included?
4 nights' accommodation in en-suite rooms (where available) in selected B&B's, hotels, inns and guesthouses along the trail, or a short distance away via taxi provided at our expense.
Breakfast each day.
Door to door luggage transfer.
Maps with the route marked on and a guidebook or route notes describing the trail.
An information pack containing an itinerary, instructions on how to find your accommodation each night and a kit list.
Detailed travel instructions on how to get to the start of your holiday and back from the end of it.
Extra Nights & Rest Days
Adding an extra night to any of your overnight stops is the perfect way to extend your holiday. You can spend your time exploring the sights and scenery of the Usk Valley, soaking up the atmosphere or simply resting your legs amid wonderful surroundings.
Situated just across the river from each other, the quaint village of Llangattock and the town of Crickhowell together make a great base from which to explore the incredible geology of the Brecon Beacons National Park. To the south of Llangattock is a great limestone escarpment and gritstone plateau, where you can take in far reaching views across the county. Some of Britain's longest cave systems can be found here, as well as a great natural amphitheatre formed by imposing cliffs. You can also visit the Daren Cilau National Nature Reserve, with its variety of rare plants, so there is more than enough here occupy an extra night's stay.
The vibrant, multi-coloured town of Brecon – with its infamous glass blowing industry – is almost reminiscent of Venice, minus the large crowds! The bustling town provides all the amenities you could need for a short stay, including a variety of outdoor shops that can cater to your walking requirements. As well as its charming Georgian architecture, Brecon boasts a fine cathedral and plenty of shopping and dining choices, though its most notable feature is undoubtedly its proximity to the Brecon Beacons National Park. There is a vast array of walking trails to explore here, each offering the opportunity to take in a selection of rolling hills, quiet woodland, mysterious caves and impressive waterfalls.
You can add rest days at any of the overnight stops:
£65.00 per person / per night
Tour Facts
Total distance: 20.5 miles (33 km)
Duration: 4 nights, 3 days walking
Minimum daily distance: 5.5 miles (9 km)
Maximum daily distance: 8 miles (13 km)
Code: UVWA1 Grade: Stile-Free - Easy
Season: 2nd January - 24th December
Start of holiday: Llangattock (Crickhowell)
End of holiday: Brecon
Route Profile

Travel Information
Useful information and travel links that will assist you in your plans to travel to the start of the holiday and back from the end of it are sent to you with your full tour pack. A summary is given below:

By Air - The most convenient major city and international airports are Bristol and Cardiff.

By Rail - The Nearest Station to the start of the trail (Llangattock) is at Abergavenny (approximately 8.2 miles). The nearest rail stations to the end of the trail (Brecon) are either Merthyr Tydfil (about 20 miles away) or Abergavenny (about 22.5 miles away).

By Bus - A bus runs from Abergavenny to Llangattock. Buses run from Brecon to both Merthyr Tydfil and Abergavenny.

From London - Trains run from London Paddington station to Abergavenny. From here a bus/taxi will be required to get to Llangattock.

Return To The Start - To get to the start of the trail you will need to take a bus or taxi from Brecon to Llangattock .
Weather Information
To find out more about the weather forecast for your chosen holiday's general location, please see the following websites:
MetCheck - This website allows you to look up detailed weather information for specific locations as far as six months in advance.
Met Office - This website shows regional area forecasts a few days in advance, with a general UK forecast description of up to 30 days in advance.
Mountain Forecast - This website shows what the forecast is like up on specific hills and fells, and offers forecasts a few days in advance.