by Christine Saul
For those who would still like the challenge and reward of walking coast to coast across the north of the UK, but prefer something a little less strenuous than Wainwright's classic trail, consider our Alternative Coast to Coast Walk which offers a slightly gentler, though no less enjoyable option.
This walk bypasses the tougher Lake District section of Wainwright's route, but this does not mean that our coast to coast walk is any less spectacular. The trail still passes through remarkable scenery, including limestone hills, dales, moorlands and attractive Yorkshire Dales villages, as well as visiting many popular Yorkshire Dales attractions including the famous Ribblehead Viaduct, Wensleydale Creamery - the home of Wallace and Gromit's favourite cheese - Aysgarth Falls and Bolton Castle, to name just a few.
During mid-March I escaped the office for a week and walked the west section of our Alternative Coast to Coast Walk, checking and updating our written route notes as I went along. The west section of our trail is 74 miles in total, starting from Arnside on the shores of Morecambe Bay and finishing at the historical market town of Richmond. From Richmond, the east section of the trail follows a combination of Wainwright's Coast to Coast Walk and the Cleveland Way National Trail to Saltburn-on-Sea. I was walking out of season, so I knew it was going to be hit and miss with our unpredictable British weather - I had 3 dry days (plenty of photos) and 3 very wet days (no photos), but I was well-prepared and still thoroughly enjoyed the walk.

The tide was out when I started walking from the small pier in the attractive coastal village of Arnside, a designated 'Area of Outstanding Natural Beauty' with great views across Morecombe Bay towards the Lakeland Fells. If you're lucky enough, depending on the timing of the incoming tide, you may get chance to see the Arnside Bore tidal wave. The local District Council provide a seasonal siren 15-20 minutes before it is due, to warn of the incoming tide.
Around an hour into the walk, you encounter two sets of narrow stone steps passing between limestone rock faces. The narrower 'Fairy Steps' used to be known locally as 'the coffin route'. Historically, it was an old route used to carry coffins from Arnside to Beetham. There are a couple of versions of local folklore fairy stories: if you can climb the steps without touching the sides, one myth says that fairies will grant your wish, while the other myth says that you will see a fairy. The area was, unsurprising, very popular with young children!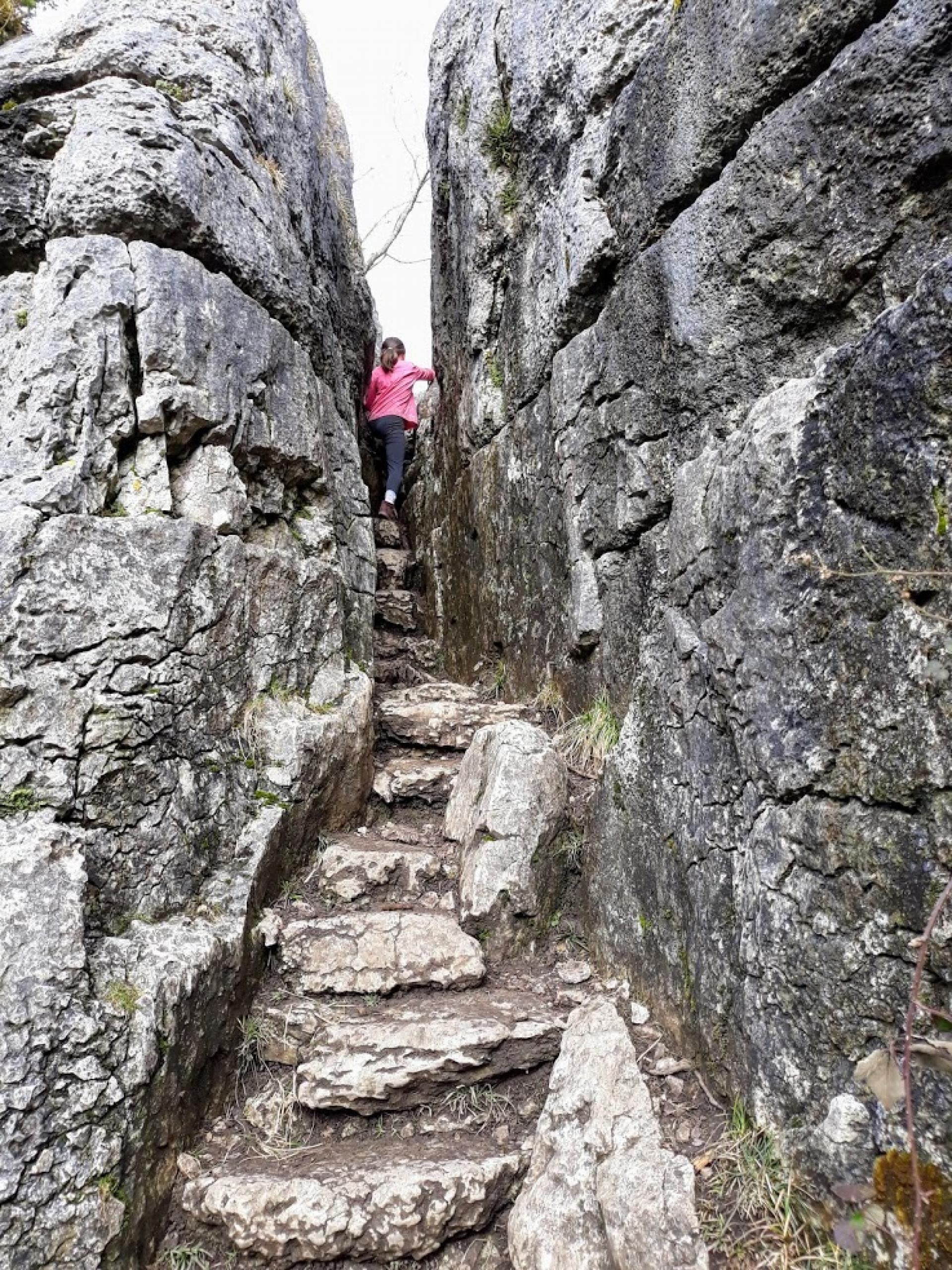 Shortly after the Fairy Steps, you walk over an area of limestone pavement. Exposed limestone rock that looks like an artificial pavement, formed by glaciers during the last ice age and also over time by acid rain and erosion. The Yorkshire Dales, being predominantly made up of limestone, has numerous areas of visible limestone pavement; you will pass more on this walk.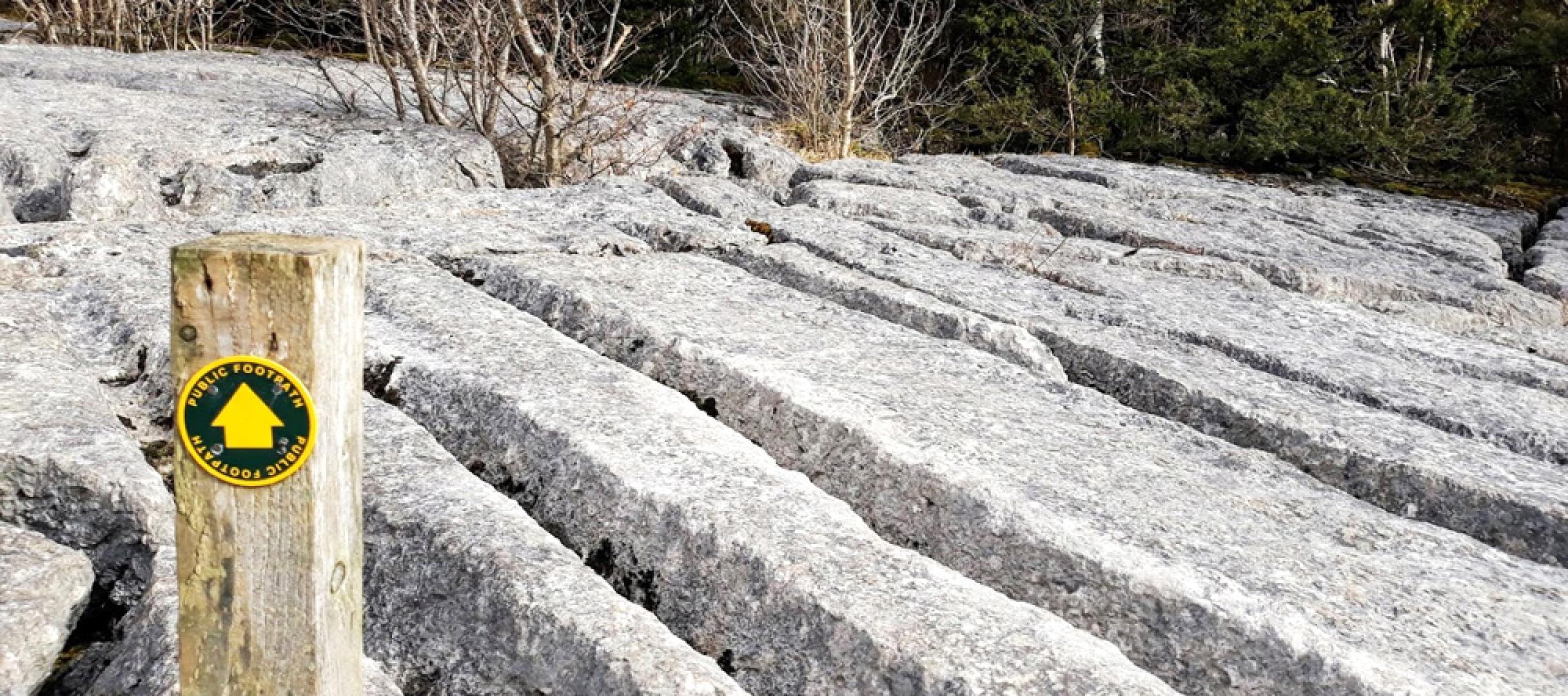 The trail skirts around the edges of Holme Park Fell, which belongs to the National Trust, followed by Hutton Roof Crags Nature Reserve, a Site of Special Scientific Interest, before arriving at Kirkby Lonsdale. Kirkby Lonsdale is a small, historic market town lying in the south of the Lake District, at the western gateway to the Yorkshire Dales.

The trail leaves the town over Devil's Bridge, a medieval bridge consisting of three arches, and continues over farmland to reach Ingleton. It rained on me all day today, hence no photos! The popular village of Ingleton is a big draw for all outdoor adventure enthusiasts. Ideally situated, it sits in the backdrop of Ingleborough, one of the Yorkshire Three Peaks, a 24-mile challenge route also taking in the peaks of Whernside and Pen-y-gent. Again for an easier Yorkshire Three Peaks alternative, see our Yorkshire Three Peaks Short Break. Ingleton is also famous for its 4.5 mile Waterfall Trail, for which there is now an admission charge; years ago it used to be free! It is also a great base for caving and canyoning and is close by to White Scar Cave, the longest show cave in Britain.
From Ingleton, the trail climbs up onto the limestone plateau of Scales Moor, following an old packhorse track known as the Craven Old Way; the moor also has vast areas of limestone pavement. Low cloud initially meant I had no views for an hour or so, and I couldn't appreciate the expanse of limestone pavement or the vastness of the moor. The sun eventually broke through though, and it was quite atmospheric for a while, then the cloud cleared and I could finally see where I was going. It was beautiful up there; I had a 'wow' moment when the cloud cleared and I turned around to see the iconic Ribblehead Viaduct ahead in the distance.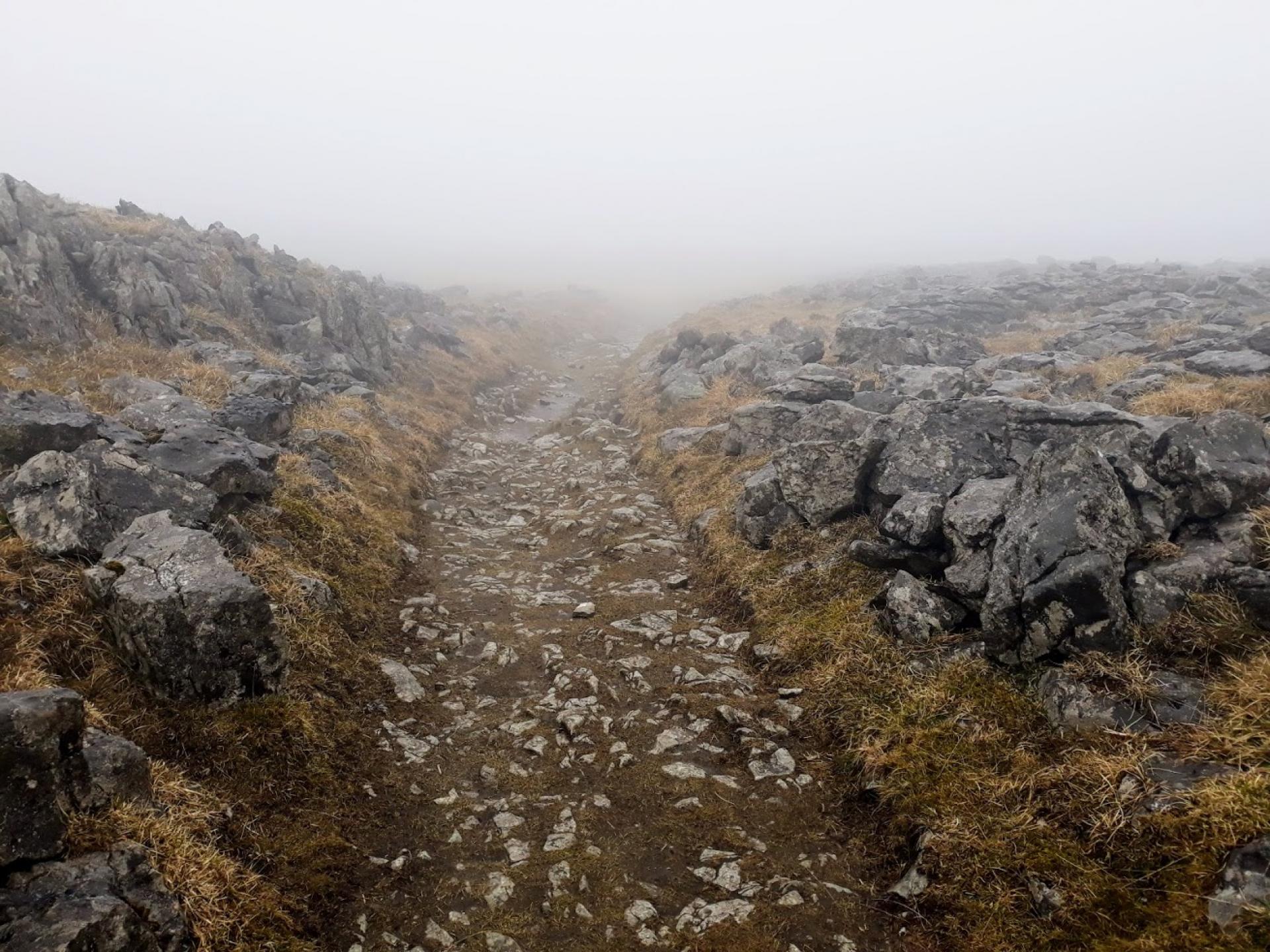 Ribblehead Viaduct is one of the most famous railway bridges in the UK, and one of England's greatest monuments to Victorian engineering. It is grade II listed and carries the 72-mile Settle–Carlisle Railway. The viaduct is 400m long, 32 metres high and has 24 arches. It was built between 1870 and 1874 by around 2000 navvies. The working conditions were extremely dangerous; built by hand, not machinery, hundreds of navvies died from falls, accidents and also outbreaks of smallpox. I stopped for lunch here, with one of the best views - the viaduct sitting in the backdrop of the Yorkshire Three Peaks.

After Ribblehead, the trail picks up Cam High Road and the Pennine Way across Cam Fell, an old Roman road which crossed the Pennines, with great views looking back on a clear day of Pen-y-ghent, Ingleborough and Whernside.

From Cam High Road, the trail continues along West Cam Road towards Hawes. There were still remains of snow drifts at the junction here following the 'beast from the east' and the unusual Siberian weather the UK encountered in early March. Another lone walker coming in the opposite direction warned me that I had a lot of snow banks to traipse through along the next section of trail, and it would slow me down. I did encounter about 2km of remaining snow drift patches, but it wasn't as bad as he'd made out; eventually it cleared and there were great views down into the valley and of Wensleydale ahead.

This section of trail brought back fond memories of when I walked the Pennine Way back in August 2016; the weather was much warmer then and I remember the exact spot where I perched on a stone, sticking out of a stone wall, and stopped for lunch in the sun, admiring the views into the valley below.
Hawes is another very popular Yorkshire market town, a tourist honeypot at the head of Wensleydale and at 850ft is England's highest. It is home to the world famous Wensleydale Cheese, made even more popular recently due to its association with Wallace and Gromit.
From Hawes the trail continues through patchwork farmland and the beautiful valley of Wensleydale towards Askrigg. If you're lucky, as I was, you may encounter RAF fighter jets flying low through the valley on their training flights. Being lambing season, there were also plenty of lambs around. I passed one newly born lamb who's mum was not responding to it, it was bleating away but mum, although alive because her ears were moving, did not move or stand. Maybe she was having twins? I just hoped that the farmer would be back soon to intervene; he passed me earlier going in the opposite direction on his quad bike.
On the way into Askrigg you pass by a small waterfall, Mill Gill Force, with the option if you have the time and energy of a detour to visit the impressive Whitfield Gill Force.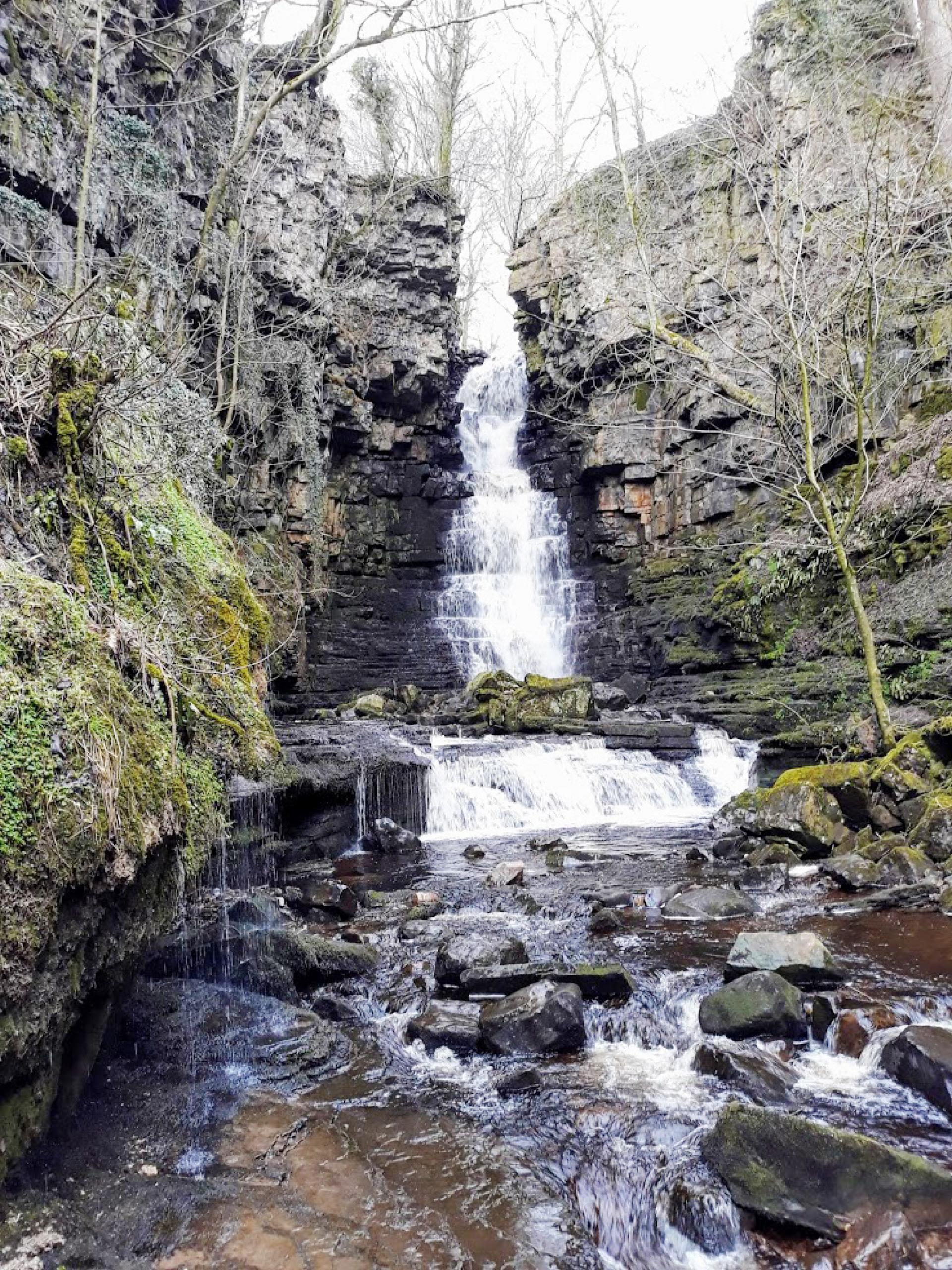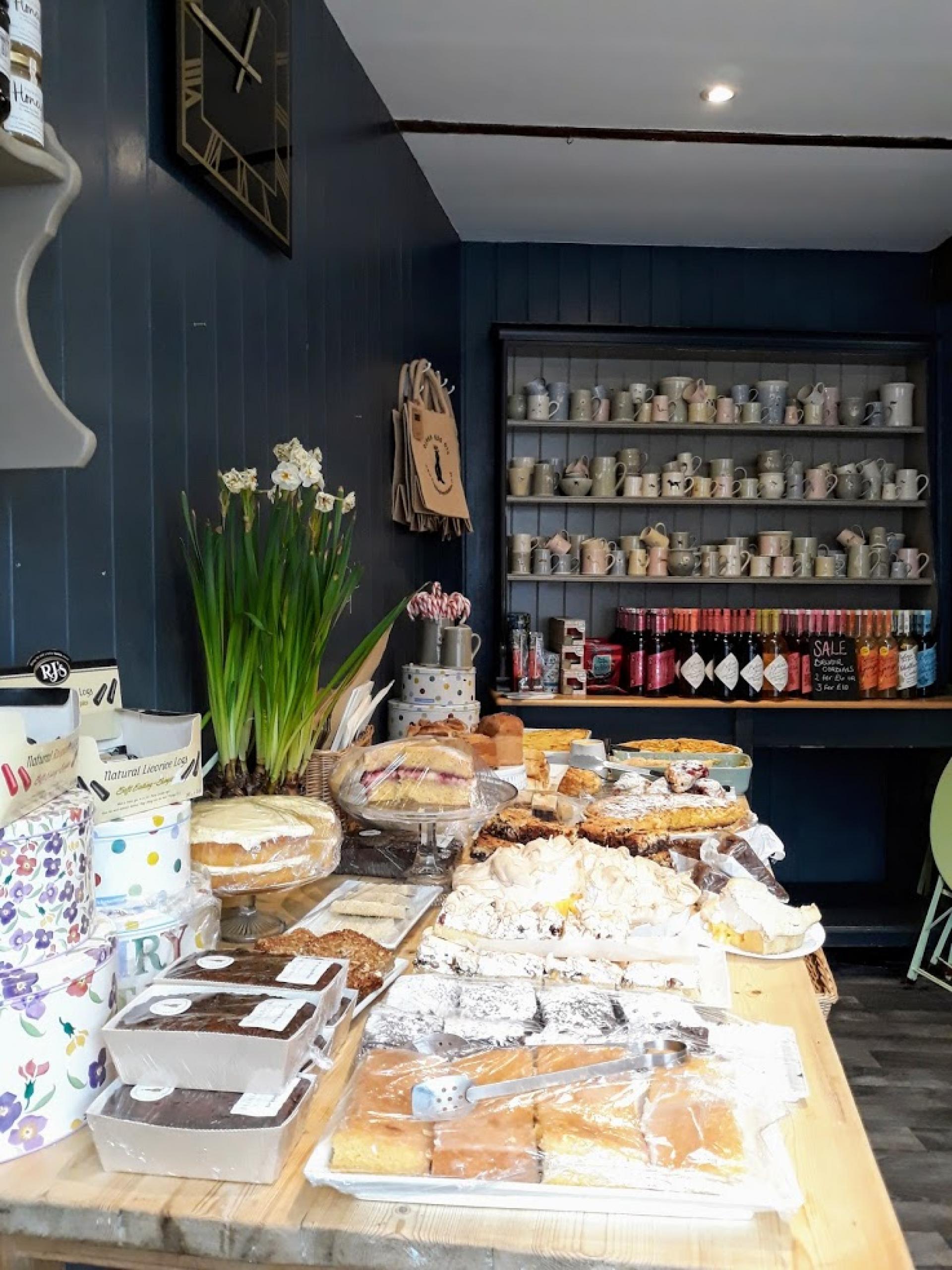 There was a gem of a tea shop/deli in Askrigg called Humble Pie, were I stopped for tea and cake. I didn't know where to start choosing from the vast array of delicious looking cakes on offer. It's only very small, with a couple of tables to sit at inside, but had tables outside also for fine weather days.
From Askrigg the trail continues through Wensleydale and alongside the River Ure to Aysgarth village.
Aysgarth is famous for its 3 impressive waterfalls; Upper Falls, Middle Falls and Lower Falls. The Upper Falls is also famous for appearing in the Kevin Costner film Robin Hood Prince of Thieves. The trail takes you right past the Middle and Lower falls and the National Park Centre. It was another very wet day for me today, so sadly I didn't take any photos.
From Aysgarth Falls the trail heads north for Bolton Castle, an impressive medieval castle built between 1378 and 1399 by Sir Richard le Scrope, and is still owned by descendents of the same family today. It is open daily during the summer season (subject to an entrance fee) and is worth factoring in a visit, although do check its website first, as it is closed on some dates due to weddings taking place.
From the castle, the trail heads up onto open moorland over East Bolton Moor, Whitaside Moor and Harkerside Moor, skirting around High Carl to Reeth. Walking along Apedale Road you pass through old lead mining country, where evidence of mining can still be seen, apparently. Being a very wet day with low cloud, I couldn't see more than about 40-50m in front of me; I had to just imagine how interesting and beautiful the landscape would be. I just had lots of startled red grouse and the smell of burnt heather for company, and could have done with mini windscreen wipers for my glasses! Heather burning regularly takes place on grouse moorlands in winter and spring; the burning of small areas of heather removes the older growth, allowing the plants to regenerate.
From Reeth the trail picks up Wainwright's Coast to Coast Walk through the eastern end of beautiful Swaledale, across farmland and through woodland to reach the historic market town of Richmond, with its large cobbled market square at the eastern gateway to the Yorkshire Dales. I had another, very wet, final day of walking, but I thoroughly enjoyed this west section of our Alternative Coast to Coast trail which, apart from the first day, takes you predominantly across the centre of the Yorkshire Dales National Park. Even though the weather wasn't great - British weather can be very unpredictable - I passed by so many fantastic and interesting Yorkshire gems en route. The Yorkshire Dales is renowned for its wonderful scenery; don't let my weather experiences put you off, I was walking out of season for this trail after all!
Contours Holidays pride ourselves on our expert knowledge of the UK's trails. We regularly set out to check our routes and directions and to make improvements on the holidays we offer. You can find several write-ups of staff expeditions in our Trail Diaries.