Melody Evans: My First Geocaching Experience
We take part in a worldwide adventure hunt by heading out geocaching. Find out how to get involved with our beginner's blog post!
Melody Evans: My First Geocaching Experience
https://www.contours.co.uk/worlds-largest-treasure-hunt
Melody Evans: My First Geocaching Experience
Discovering Geocaching
By Melody Evans

I joined Contours in December 2015 as a Marketing Assistant, and I have since settled very well into the team. One of the biggest perks of my role – aside from the people, the tuck shop and the office dogs – is that I get to scope out the latest news and trends that are relevant to walking, outdoor pursuits and nature in general, and either highlight them across our social media, website and blog, or bring them to the attention of the team if it's something we can use to help improve our service.

Recently, I was going about my news-hunting when I stumbled across an activity called Geocaching. For those who, like me, haven't heard of this before, Geocaching is basically like a world-wide treasure hunt; millions of containers or 'caches' have been hidden in various rural and urban locations across the globe, each containing a little logbook for successful finders to write in their names as proof of their find. These caches come in various shapes and sizes, from tiny little canisters that only hold a sheet of paper, to large military ammunition boxes that are also used for finders to trade little trinkets as a memento of the occasion. For people who love walking and being outdoors in general, Geocaching could well offer a sense of excitement and discovery that many may only remember feeling as kids.

Intrigued, I decided to investigate further and see if there were any of these caches nearby. After signing up for an account on the computer (which took about 20 seconds and keeps a record of your finds) I popped in the postcode for the Contours office and hit Search, not really expecting there to be any for miles. The screen reloaded and I was extremely surprised to see that there were over 900 caches within ten miles of the office, with the top result being just 0.1 miles away; a five minute walk at most into the nearby woods!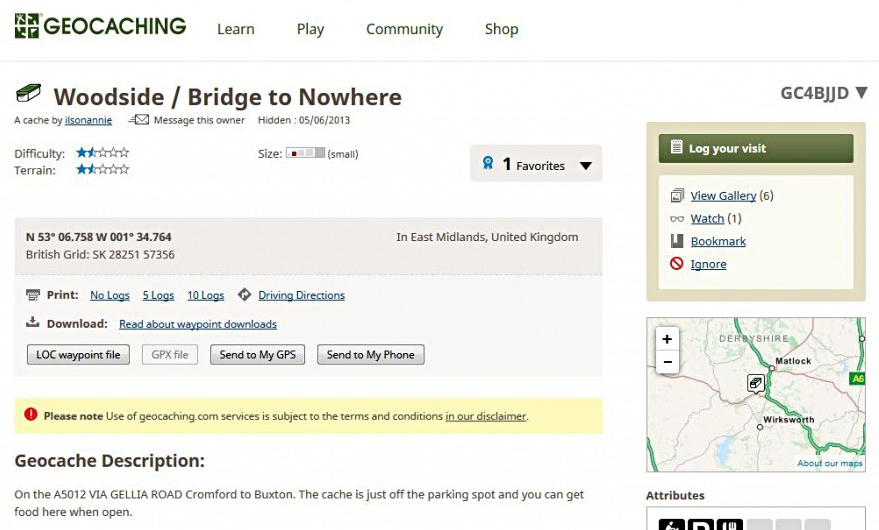 Selecting this result, I looked at the directions before quickly typing the coordinates into Google Earth for a visual representation of the area. Although I hadn't yet explored this very nearby location, it didn't look at all difficult to get to. What made this activity even more engaging was that an additional clue was provided at the bottom of the page that I had to decipher (Note for avid Geocachers; the rest of this article contains spoilers regarding the location of the cache):





I love a good puzzle, and so within five minutes I had decrypted the message to read "cross bridge concrete middle hole on right side". So, armed with the directions and coordinates, the additional decrypted hint and my GPS-enabled smartphone, I headed out to explore.

It didn't take me long to walk from the office to the geocache site; in fact, it was almost directly behind our building on a quiet river (which at the time had a family of fluffy little ducklings paddling along it). I spotted the bridge and the concrete barriers that the hint must have been referring to, and set about my search.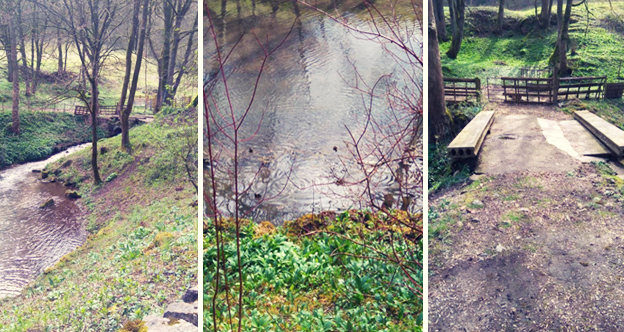 As the hint instructed, I crossed over the bridge, turned around and knelt down to inspect the middle hole in the right concrete barrier, and that's when I saw it…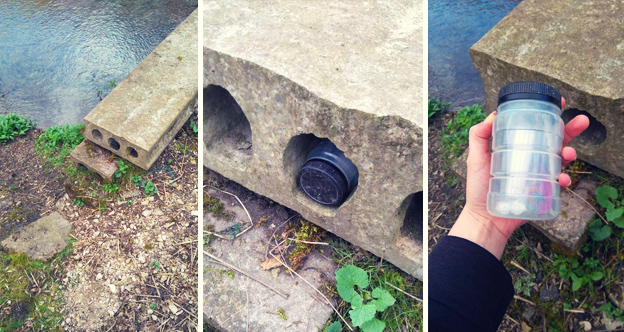 I had found my very first geocache!

I was half-expecting to be unable to find it, as my navigational and orienteering skills are far from comprehensive, and yet even someone as directionally-challenged as I had managed to get my hands on it with relative ease. I was thrilled to bits and quickly investigated its contents, which included a number of little trinkets that other finders had placed there for people to trade, including a tiny toy skateboard (whose front wheels had come off and were rolling around the bottom of the bottle), a small pack of nails and a bubble blower. There was also a note confirming and explaining the purpose of the geocache and a small log sheet, on which I took great pride in writing down my name and the date of my discovery.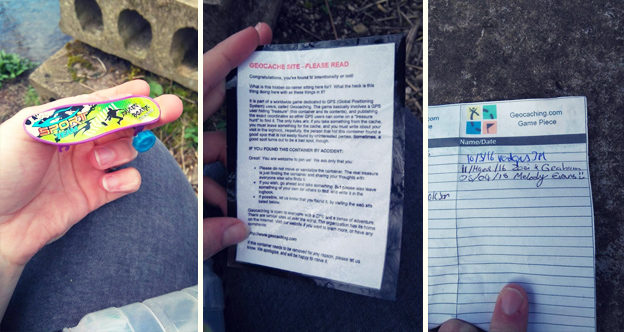 When I had finished with the cache, I popped everything back into the bottle (along with a cheeky Contours business card) and took care to follow its instructions and return it to its hiding place, so that future hunters could find it and enjoy the thrill of the find like I had. I then strode back to the office with a big grin on my face, regaling my epic tale of discovery to anyone who would listen.

Perhaps my favourite thing about my first Geocaching experience, aside from being outdoors in the sunshine and the anticipation of the search, was the feeling of being part of a wider community of treasure hunters who, despite not knowing each other, work together and respect each other, preserving the geocaches and allowing others to share in this simple, yet thoroughly enjoyable activity.

I would definitely recommend Geocaching to all of our walkers, as well as families looking for a cheap day out or indeed anyone who enjoys being outdoors; there are so many geocaches located all over the UK that you are guaranteed to find at least a few within walking distance of wherever you may be, meaning you could easily spend an entire day or longer exploring your local area and rejoicing at each exciting find. Why not sign up for an account before your next walking holiday and see if there are any geocaches to be discovered along your chosen trail?

For more information about Geocaching and to sign up for free, visit www.geocaching.com.
Top posts