Contours Launch Challenge for Charity 2013
Read all about Contours' charity efforts in 2013 - our second year of helping our community!
Contours Launch Challenge for Charity 2013
https://www.contours.co.uk/contours-walking-holidays-launch-challenge-for-charity-2013
Contours Launch Challenge for Charity 2013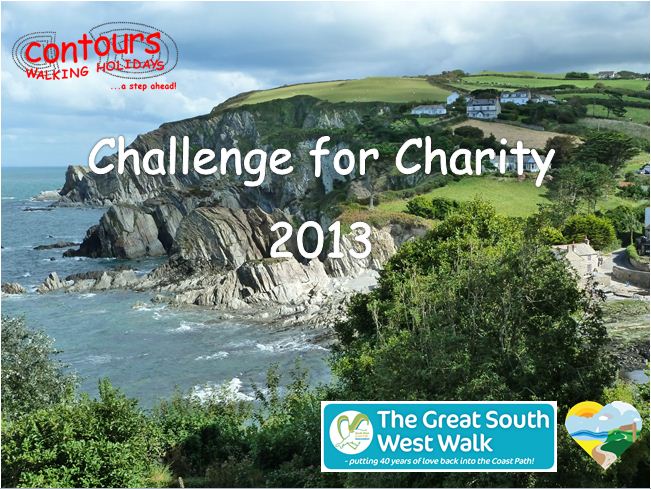 To celebrate its 40th anniversary in Spring 2013, the South West Coast Path Association is hosting a series of sponsored events dedicated to raising funds for small but significant improvement projects along the path. With the ethos of "putting 40 years of love back into the Coast Path", the events aim to raise £250,000 towards giving the path some much needed tender loving care.

Contours Walking Holidays are proud to launch the first of the annual Challenges for Charity, by sponsoring one of 56 legs along the Great South West Walk, but for the team at Contours, this was not enough to demonstrate their passion for preserving this superb trail.

On 26 April, Managing Director, Mark Townsend, along with his friend Julie Gardener and a dedicated support crew, will be attempting to run the entire South West Coast Path (that's 630 miles) in the space of just 16 days, beating the current record of 17 days!

By collecting donations via our JustGiving page, Mark, Julie and the team hope to raise in excess of £4000 to fund the replacement of 30 granite steps through a wetland habitat between Porthmoina and Rosmergy.

The South West Coast Path is enjoyed by many. It is a unique part of our heritage and it needs help. You can support the team in this mammoth effort to raise funds for improvements to the trail by donating via JustGiving.

Please support us!
Top posts