There is nothing better than sharing your adventures with your canine companion, but preparing to travel with your dog may seem a bit stressful. A kit list can help! Here are the top 10 items we wouldn't be caught without.
Mobile Dog Gear Pack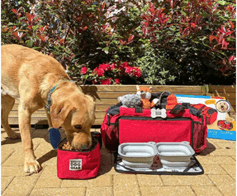 Your own doggie suitcase! What could be better? Having all your dog's essentials, such as a water bottle, blanket, toys, food and other must-haves, safely stored in one place makes it easy to grab and go.
The bag comes with travel feeding set, including two pouches to carry dry food and treats, as well as two silicone bowls that fold flat and a pet placemat to keep feeding time clean and tidy.
The mobile dog gear bags come in various options and sizes to suit every need.
Harness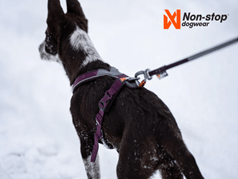 A great harness is always useful and can sometimes be safer than a collar. What type you choose to go for will depend on the activities you plan to do whilst away, so have a read through the specific uses of different harnesses.
As well as your everyday and sport specific harnesses, we also recommend a travel harness for your car to keep your dog safe enroute to your destination. Safety for your dog is the number one priority. Check out the Kurgo Impact Seatbelt Harness, crash tested up to 108lbs (49kg).
Leads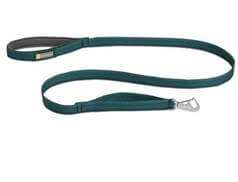 You'll need to select a lead that can be used for a variety of activities, whether you're looking to go walking, running or biking, or simply something light and comfortable so you can easily keep your dog under control.
A good all-rounder is the Ruffwear Front Range Lead, which comes in a range of colours.
Belts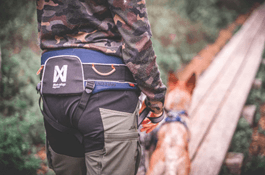 We find trekking belts useful for when you want your hands free but need to keep your dog safely nearby.
The Non-Stop Dogwear Ferd Belt is developed for those who like to enjoy nature together with their dog. Extremely comfortable, with a moulded back for an ergonomic fit, the belt has a cell foam core that makes it water-resistant.
Belts are also great for allowing your pup to give you a helpful tow when you come across any steep hills!
Dog Sleeping Bag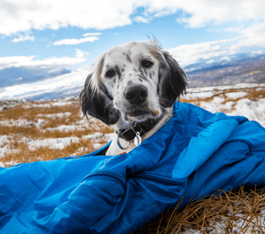 Your dog will love having their own place to rest at night: somewhere warm and cosy where they can feel safe and rest up after a long day of adventuring, whether that's hiking, biking, swimming, paddle boarding or playing fetch out in the fields.
Sleeping bags are a great way to give your dog their own place and to keep them warm on a cold night. Our favourite is from Non-Stop Dogwear — it can also double up as a simple dog bed and is so light and easy to chuck in the car and move around. You can also have it personalised, too!
Backpacks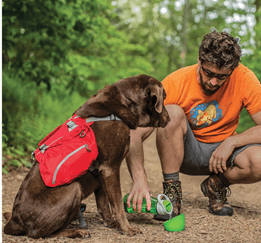 Have you thought about giving your dog a job to do and allowing them to share the load?
Most dogs love feeling like they are useful and part of the team and will be more than happy to help, so a doggy backpack can be a great choice. They can carry any useful extras you might need, such as a first aid kit, some water to drink, or even a ball or other toy. Whatever you want, really.
Just be mindful not to overload your dog. Build up the weight gradually, and never exceed loading the pack with more than 10% of your dog's body weight.
Jackets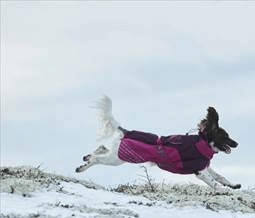 You may need a jacket to keep your dog warm once the temperature drops, especially at night.
When choosing a coat or jacket, bear in mind your dog's movements: make sure they can move comfortably.
We use the Glacier Jacket from Non-Stop Dogwear as it is comfortable, windproof and water-repellent. These jackets are also brightly coloured so you can see your dog at night.
If the weather takes a turn for the worse, a light raincoat may be of great benefit, keeping your dog dry and warm in the rain.
Lifejacket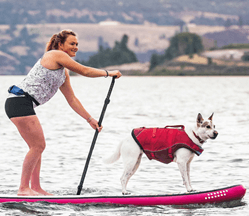 Our dog, Duke, loves the water so much that he doesn't realise just how tired he gets while swimming.
For dogs who love to dive into lakes and rivers alike, a doggy lifejacket is an essential piece of equipment that keeps their heads above water no matter what.
Drying Robe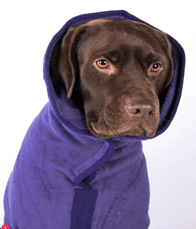 If you're planning on any water-based activities, the drying coat from Ruff and Tumble is a must! It's quick drying, comfortable and stylish. It will keep your dog warm and cosy after a swim — and spare your car from getting wet and muddy. Take a look at all the colour options. It can be personalised too!
Additionally, a pair of elbow-length drying mitts will keep your hands clean as you dry those muddy paws and legs.
GPS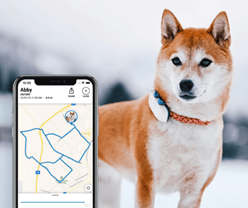 With many varieties to choose from, GPS trackers for dogs have become more and more popular recently. The ability to open an app on your phone and hone into your dog's exact location can give peace of mind in the event your furry companion decides to take themselves for a walk.
These trackers can alert you if your dog wanders outside the parameters of a "digital fence", as well as monitoring mileage and step count — great to see how much exercise your dog is getting!
Small Extras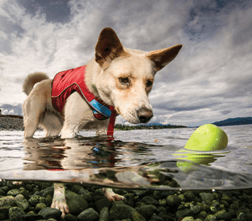 Don't forgot items like paw care, first aid kits, water bottles, treat bags, food storage, safety lights or balls and toys! They're small and don't take up much room but will really add to your trip.
Duke's favourites are the Skipping Stones from Kurgo — a great way to entertain your dog on land or in the water. These floating, stone-shaped toys don't get waterlogged and are brightly coloured so that they can be seen clearly by both you and your dog.
Canmore Canines
We hope you found this article useful and enjoy your adventures with your furry best friends! If there is anything else that you wouldn't adventure without and you think should be on this list, please write to us at info@canmorecanines.co.uk
Follow and tag us on social media @canmorecaninesltd, where we would love to see photos of you and your dog adventuring together.
As a Contours customer, remember you have a 15% discount across the range at Canmore Canines. At checkout, simply use the code provided in your Holiday Pack! Still looking for the perfect walking holiday with your dog? Check out our dog-friendly walks.