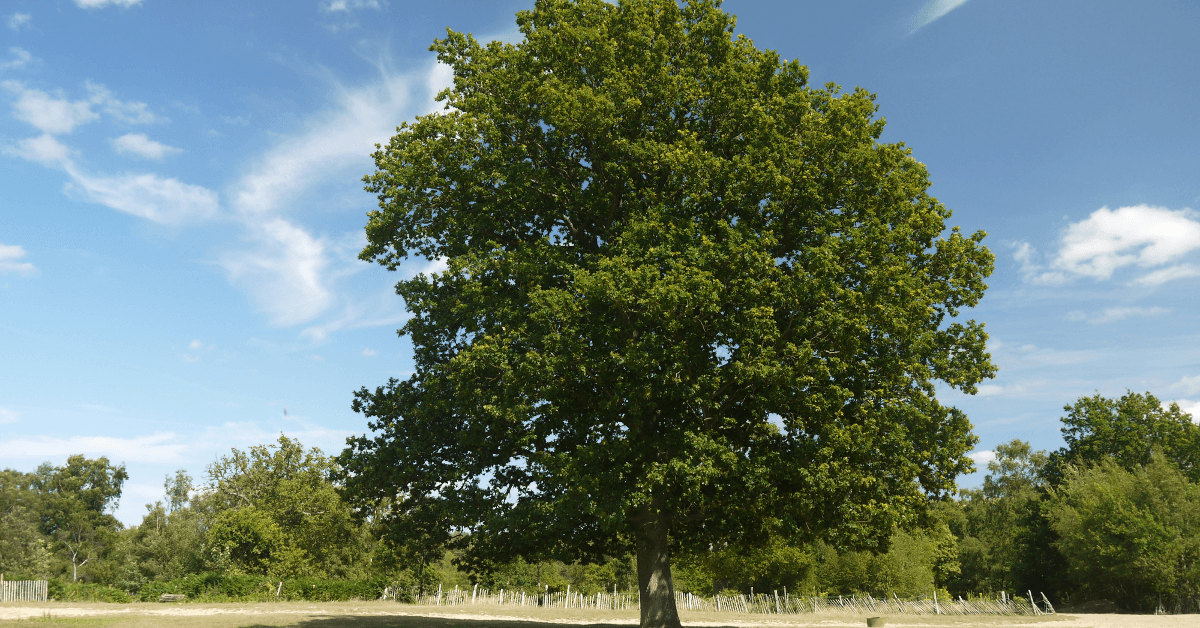 From our splendid native species to a host of unusual examples imported from abroad, the UK is home to a stunning array of trees. They're integral to the character of our walking trails, dappling our riverside paths in shade, forming defining landmarks and providing windbreaks out on the highest paths through the countryside.
Here are just a few of the famous species and stand-out individual specimens you might meet while out on your walking holiday.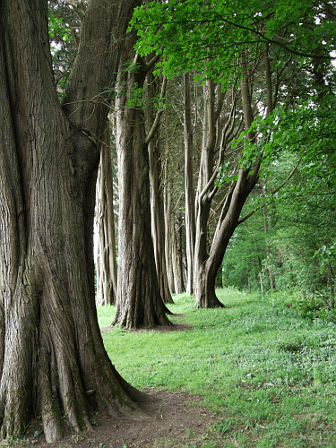 Trees at Plas Newydd by Jim Linwood, shared under a Creative Commons Licence.
The statement trees of British estates
The Anglesey Coast Path wanders right past the entrance to Plas Newydd House and Gardens, a National Trust property overlooking phenomenal views across the Menai Strait. The estate boasts a range of woodland walks and plenty of mature statement trees, too, including avenues of cypress and birch.
Perhaps most unusual, though, is the Plas Newydd Beech. This giant tree nestles within dense woodland. You'll need these co-ordinates to find it. The beech is an incredible specimen, enormously wide at its base. Perhaps the tree was coppiced at a young age, or perhaps several saplings were planted in the same spot and merged together; either way, it's an impressive feat for a tree to be this broad at only around 100 years old.
Plas Newydd is just one of a few well-stocked stately home gardens on our trails. Why not see the enormous redwoods of Sandringham Estate with an extra night on Peddars Way and the Norfolk Coast Path? A huge number of flowering trees grow here too, from camelias to magnolia. The White Peak Way offers an opportunity to drop into Chatsworth House and its gardens, too, where a dedicated arboretum was built in the 1730s.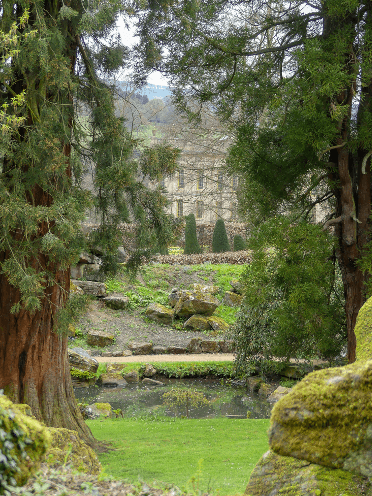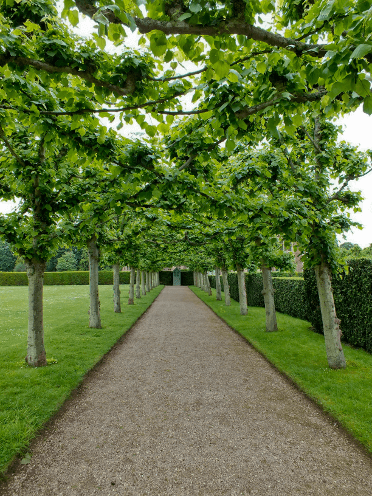 Left: Chatsworth House by Mike Prince. Right: Sandringham Norfolk by Michael John Button. Both shared unaltered under a Creative Commons licence.
The English Yew
You'll find yew trees in churchyards all around the country. One of only three conifer species that are native to the UK, these distinctive evergreens are poisonous, which may have contributed to their popularity in graveyards — they might have been planted to deter people from grazing livestock around the graves. Less practical reasons exist, too, including a longstanding belief that they might purify the dead.
Yew trees are incredibly long-lived, with the oldest examples hitting four digits in age. The Ankerwycke Yew, which grows close enough to the Thames Path and the North Downs Way that you could conceivably visit from either on public transport, is estimated to be between 1400 and 2500 years of age. Its gnarled trunk suggests as much. Even older — perhaps as old as 3,000 years — is the Fortingall Yew, which grows not far off the Rob Roy Way.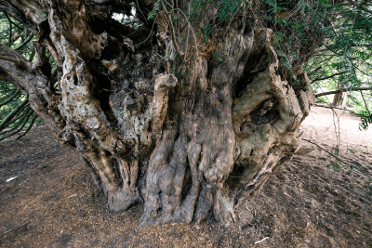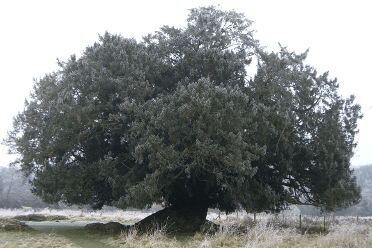 Left: the gnarled, ancient trunk of the Ankerwycke Yew. Right: Very Elderly Yew Tree at Waverley by Clare Wilkinson. Shared unaltered under a Creative Commons licence.
Younger trees can still be spectacular, including the Waverley Abbey Yew, which grows in the abbey estate not far from the North Downs Way. Left to grow as it wishes, this yew has taken on an impressive spreading habit. It's somewhere around 450 years old.
Sycamore Gap on Hadrian's Wall Path
Sometimes referred to as the Robin Hood Tree after it was pictured in the movie Prince of Thieves, the sycamore tree growing in this distinctive spot on Hadrian's Wall is probably the single most photographed thing on any of our trails - or certainly the most submitted to our Contours Holidays Photo Competition!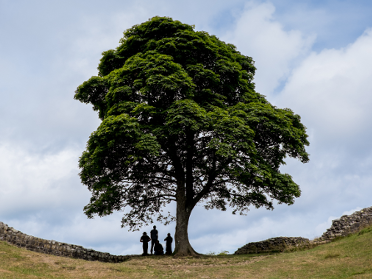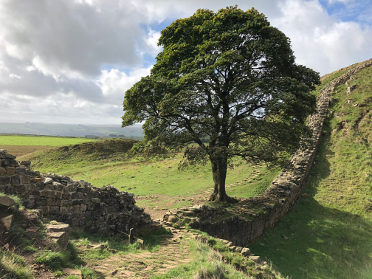 Voted England's Tree of the Year in 2016, this photogenic sycamore tree is several hundred years old and a good example of a tree that both elevates and is elevated by its surroundings. There are miles and miles of Hadrian's Wall to picture, after all, and plenty of beautiful sycamores sprouting in woodlands and fields, but none are so loved and pictured as this.
The oak tree
Is any tree species as popular as the oak? Oak trees are firmly present in ancient folklore, tied to royalty, magic and military success. It's hard not to be inspired by the largest oaks. They trend toward a spreading habit, seeking to mop up the sunlight, so they're often the most distinctive trees in the landscape.
There are beautiful oaks growing along almost every trail Contours offer. And if you're looking for spectacular examples, why not venture off the Severn Way near Newtown to visit the Brimmon Oak, saved from execution by popular support when plans were unveiled to fell it to make room for the Newtown Bypass.
Savernake Woods is well-worth a rest day to explore, too, within reach of The Ridgeway and North Downs Way by bus. This ancient woodland is full of stunning ancient oaks, including the Cathedral Oak and Big Belly Oak, both over a thousand years old. The Big Belly is almost 11 metres in diameter at its base.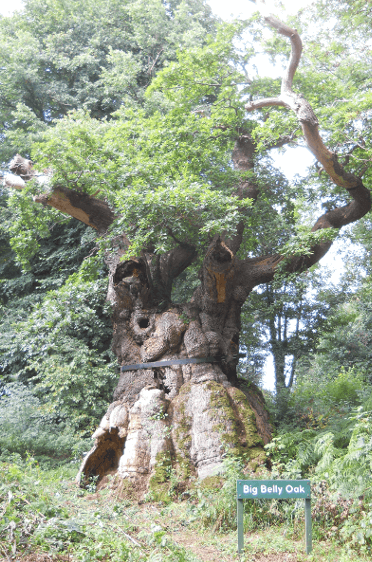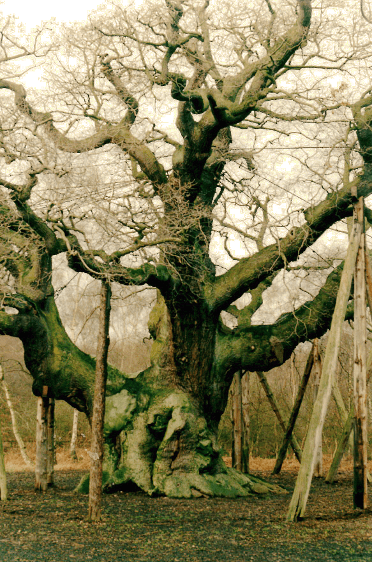 Left: Big Belly Oak by hattheant. Right: The Major Oak by It's No Game. Both shared unaltered under a Creative Commons licence.
Although it's not on our trails, the Major Oak in Sherwood Forest is not far from our Derbyshire office, which makes it a bit of a staff favourite! This ancient oak has spread a bit too far and is permanently supported by props.
Leafy London
England's densely populated capital city might not seem like a green haven, but in fact, London provides home to 8.4 million trees — not too far off the city's 8.9 million humans. These leafy inhabitants line streets; grow up through front gardens; dominate the sky over shops, like the famous Cheapside Plane Tree; and add shade to larger green spaces.
Several veteran examples exist amongst them, including the ancient Totteridge Yew, which could date back to the Norman conquest or even as far as the Roman occupation. History abounds in unusual specimens like the Hardy Tree, too, which stands surrounded by headstones stacked by a young pre-novelist Thomas Hardy as he helped to clear the surrounding graveyard.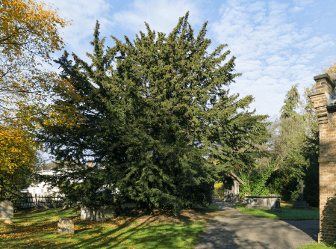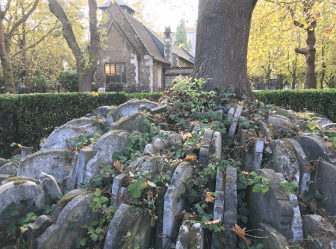 Left: Totteridge Yew by David Skinner. Right: The Hardy Tree by Matt Brown. Both shared unaltered under a Creative Commons licence.
From the Charlton House Mulberry near the end of the Thames Path, you could always put together a tour through this urban woodland. Many stand-out examples are listed in Great Trees of London, available here as a map, and a wide variety represented on London's interactive tree map.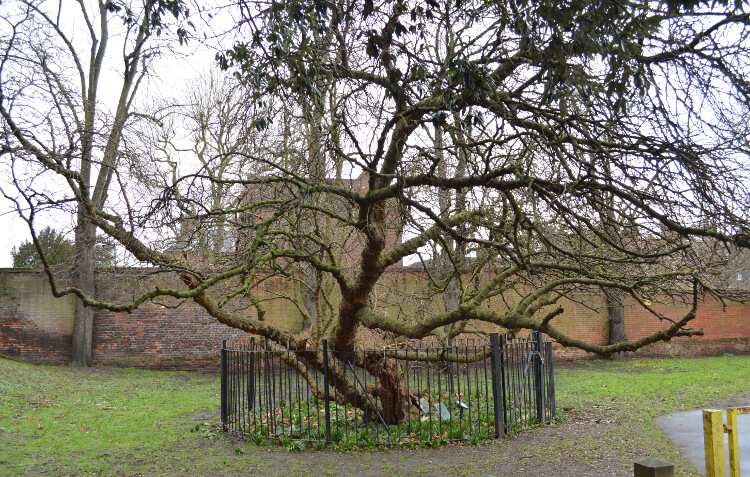 Britain's Oldest Mulberry by Matt Brown. Cropped and shared under a Creative Commons licence.
Planning a tree-lined wander
From distinctive and unusual species like monkey puzzle trees to characterful individuals that frame the perfect nook, trees are such an influential part of the personality of a place. Which trees near you make all the difference, and which might you be missing out on?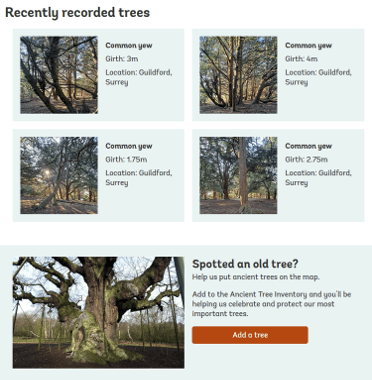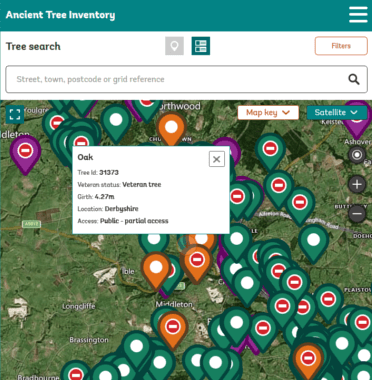 The Woodland Trust has put together this Ancient Tree Inventory tool to locate and record all the best specimens across the country. Why not add your local favourites, or use the list to plan a few day walks around your local arboreal highlights? The tool can be great for picking out some leafy highlights along your walking holiday trail, too.
Get out there and enjoy the natural world.