Kennet and Avon Canal - Stile-Free
Contours Walking Holidays
Kennet and Avon Canal - Stile-Free
https://www.contours.co.uk/kennet-and-avon-canal-stile-free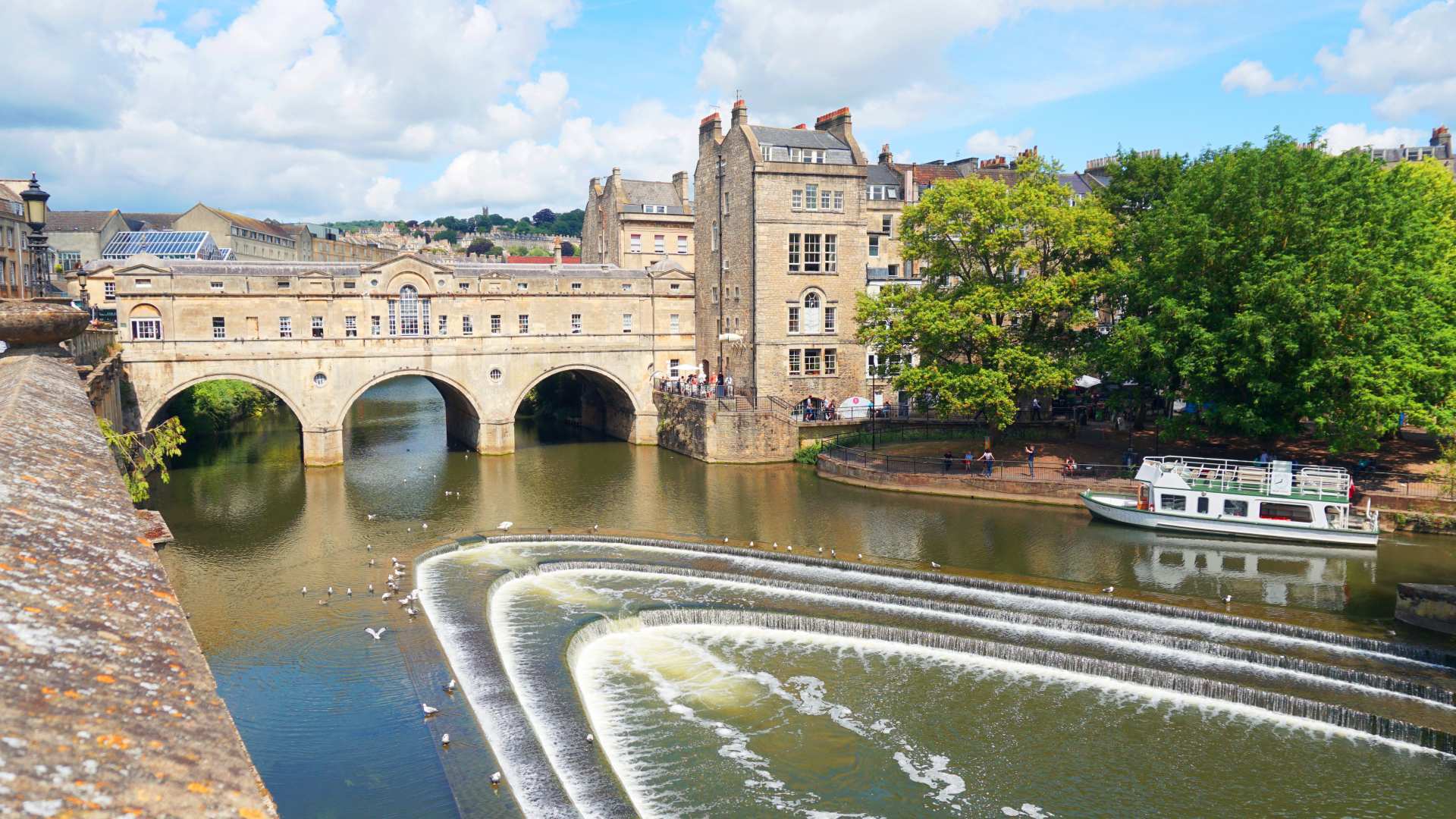 Kennet and Avon Canal
A walk through changing landscapes and charming settlements, following alongside the Kennet and Avon Canal.
3 to 14 nights
23-96 miles
Easy / Moderate to Moderate
From £410 per person
The Kennet and Avon Canal Walk travels from Reading to Bristol across the South of England. On this self-guided walking holiday, you'll walk alongside a major water transport route, built over 200 years ago during the heyday of the British canals.
The trail passes through the chalk hills of the North Wessex Downs in the east and southern fringes of the Cotswolds in the west. The changing landscape offers plenty of opportunities to spot wonderful plants and wildlife. This largely rural walk features rolling fields, quiet woodlands and pretty valleys. Along the way you will also visit picturesque villages and bustling towns. Among the most exciting places are the UNESCO World Heritage-listed city of Bath and the vibrant harbour town of Bristol.
Choose your route
Kennet and Avon Canal

Kennet and Avon Canal - Stile-Free
About this route
3 to 5 nights
23 miles
Easy to Moderate
2nd January to 24th December
Includes Dog-Friendly Tours
From £410 per person
Kennet and Avon Canal - Stile-Free
This section of the Kennet and Avon Canal trail takes in much of the beautiful scenery you would expect from the full route but at a more manageable pace. Our Stile-Free offering meanders from Devizes to Bath along 20 miles of level, easy terrain. The views of the canals and surrounding countryside are truly stunning as you stroll along the Avon Valley. Sites of particular interest include the Caen Hill Lock Flight at Devizes and the Avoncliff Aqueduct. There is also plenty to see and do in the fantastic city of Bath, where your holiday concludes.
This holiday route is perfect for new or less able walkers who want to discover the delights and stories of the English countryside.
As a Stile-Free route, this holiday along the Kennet and Avon Canal has no stiles or other challenging obstacles to contend with. Any climbs or descents are short and/or gentle. It is suitable for beginners, young families and those with mild mobility impairments.
| Code | Tour | Duration | Price per person | |
| --- | --- | --- | --- | --- |
| KACA1 | From Devizes to Bath | 2 days walking | £410 | |
| KACA2 | From Devizes to Bath | 3 days walking | £540 | |
| KACA3 | From Devizes to Bath | 4 days walking | £675 | |
Itinerary
What's included?
Extra nights?
Tour facts
Route profile
Travel info
Weather
Holiday Highlights
Start
Travel to Devizes where your first night's accommodation will be booked
Day 1
Devizes to Bradford-on-Avon. 13 miles (20.5km)
Day 2
Bradford-on-Avon to Bath. 10 miles (16km)
Finish
Depart from Bath after breakfast
Your Itinerary
This itinerary lists our preferred overnight stops for this tour. Sometimes there may be a shortage of available accommodation in a preferred location, in which case we will transfer you from the trail to your accommodation and back again at no extra charge. Overnight stops marked with a (T) will always require transfers as standard.
Overnight stops marked with an (L) have very limited accommodation, and therefore more often than not will also require a transfer, particularly on bank holidays and weekends. We will use non-transfer accommodation wherever possible.
The daily mileages quoted are average trail miles only and do not include the distance from the trail to your accommodation. We do not expect you to have to travel more than a mile from the trail to your accommodation in most cases; should your accommodation be further than this, transfers will be provided as standard if practical. A very limited number of stops will require you to travel on foot up to two miles off the trail, however these instances will be clearly communicated to you if applicable.
Further transfers may also be required due to some accommodations having a two-night minimum booking policy, especially at weekends.
Below are the additional costs that may apply depending on your requirements. Dog-friendly tours are subject to a Daily Dog Charge, which will be listed below if applicable. Our standard prices per person are based upon two people sharing a room; if you are on your own, or are part of a group but require a room of your own, then the Solo Traveller or Single Supplements apply respectively:
A note about transfers
£70.00 per person / per night
£50.00 per person / per night
You can add rest days at any of the overnight stops:
£65.00 per person / per night
£75.00 per person / per night
Devizes/Bath
23 miles (37 km)
2nd January to 24th December
Holiday highlights
Wandering at your own pace along well-laid, clear paths through quintessentially English countryside, with wonderful views throughout.
Admiring the Caen Hill flight of locks and the Avoncliff Aqueduct, both amazing feats of canal engineering.
Arriving in the World Heritage City of Bath and exploring its magnificent architecture and range of attractions.
What's included?
3 nights' accommodation in en-suite rooms (where available) in selected B&B's, hotels, inns and guesthouses along the trail, or a short distance away via taxi provided at our expense.
Breakfast each day.
Door to door luggage transfer.
Maps with the route marked on and a guidebook or route notes describing the trail.
An information pack containing an itinerary, instructions on how to find your accommodation each night and a kit list.
Detailed travel instructions on how to get to the start of your holiday and back from the end of it.
Extra Nights & Rest Days
This section of the Kennet and Avon Canal has a wealth of fantastic sites to take in, so it is worth extending your walking holiday so you can explore further. We can arrange for you to do this at any of our overnight rest stops.
Devizes is a tempting location in which to spend a rest day. This market town offers a range of services, including plenty of choices for dining and shopping, and has a number of interesting sites to take in. For those interested in the region's brewing contributions, the Wadworth Brewery Visitor Centre is certainly worth a look, whereas budding historians would enjoy the Wiltshire Heritage Museum and St John's Church. The privately-owned Devizes Castle, built on the site of a former Norman stronghold, is another impressive landmark that is well-worth a visit, so there is a good variety of things to see and do in and around this picturesque town.
The town of Bradford-on-Avon, with the River Avon winding through it, has plenty to occupy visitors for a day or two. The mechanisation of the wool industry in the late 18th century saw the construction of the great mills that still dominate the town's architecture. Nowadays, the cottages, mills and industrial premises house independent shops and great places to dine. One of the main features of Bradford is the superb town bridge, and at its centre is a medieval pilgrim chapel with plenty of stories to tell. This combination of intriguing historic landmarks and ample facilities make Bradford a fantastic location in which to stay.
The UNESCO World Heritage City of Bath would also be a great place for an extra night or two if you wish to explore the local area more thoroughly. This Georgian spa town's origins can be traced back to the Iron Age, and so boasts a vast amount of history to learn about while exploring magnificent buildings such as Bath Abbey and the iconic Roman Baths. There are also a few great circular day walks out into the local countryside, as well as a variety of shops, eateries and activities available, catering to every taste and ensuring that everyone has a wonderful stay.
You can add rest days at any of the overnight stops:
£65.00 per person / per night
£75.00 per person / per night
Tour Facts
Total distance: 23 miles (36.5 km)
Duration: 3 nights, 2 days walking
Minimum daily distance: 10 miles (16 km)
Maximum daily distance: 13 miles (20.5 km)
Code: KACA1 Grade: Stile-Free - Moderate
Season: 2nd January - 24th December
Start of holiday: Devizes
End of holiday: Bath
Route Profile

Travel Information
Useful information and travel links that will assist you in your plans to travel to the start of the holiday and back from the end of it are sent to you with your full tour pack. A summary is given below:

By Air - The most convenient major city and international airports are London Heathrow, London Gatwick, Bristol and Cardiff.

By Rail - The nearest train station to Devizes is at Melksham (approximately 8.7 miles away). There is a train station at the end of the trail (Bath).

By Bus - Buses run from Melksham to Devizes. Various bus services run from Bath.

From London - Trains run from London Paddington to Melksham Train station. From here, take a bus/taxi to Devizes.

Return To The Start - To return to the start of the trail, take the bus from Bath to Devizes.
Weather Information
To find out more about the weather forecast for your chosen holiday's general location, please see the following websites:
MetCheck - This website allows you to look up detailed weather information for specific locations as far as six months in advance.
Met Office - This website shows regional area forecasts a few days in advance, with a general UK forecast description of up to 30 days in advance.
Mountain Forecast - This website shows what the forecast is like up on specific hills and fells, and offers forecasts a few days in advance.