by Christine Saul
Now, especially during the current coronavirus pandemic when we are all to exercise from home, there has never been a better time to explore and get to know your local area on foot.
There are thousands of miles of public footpaths and bridleways crisscrossing the whole of the UK, even in urban and built up areas. So many regular walkers are used to getting in the car to travel to popular walking areas like the Peak District or the Lake District for a day's walk and may not realise just how many footpaths they have locally on their doorstep waiting to be explored. Time to dig out your local Ordnance Survey (OS) map and see what you can find.
Find Your Local Trails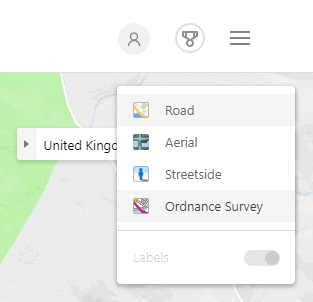 If you don't have an Ordnance Survey map of your local area, take a look at Bing Maps, and from the top right map option box, select Ordnance Survey. You can zoom in and view 1:50000 and 1:25000 scale OS maps, and you may be surprised to see how many footpaths you have within a 2-mile radius of your own home. Pick a route and go.
As you come across a new path, just follow it to see where it takes you. You can't get too lost being so close to home and you can always turn around and walk back again if unsure. Be sure to follow social distancing rules, though, whilst out walking. For advice, check out The Ramblers Association's article about walking during the pandemic.
Even if you are already familiar with the footpaths local to you, you may discover one you have not walked along for years or missed out on before as, from habit, you always stick to the same old paths. I thought I knew every footpath in my local area, but only today, walking down a track I don't go down very often, I discovered a new footpath off it, so checked on the map where it went to, taking a mental note to come back and follow it another day.
Walking Where I Live
I am very fortunate and grateful, especially at the moment, to live in a rural part of the southern Peak District with plenty of walking options from my door. Social distancing is not really a problem where I'm based, although I do pass a small number of other walkers and cyclists sometimes, but it is very easy to keep our distance from each other.
My favourite walking circuit from home with my dog Gino is steeped with history and takes us along old tracks, an old disused railway line, up to a Neolithic burial mound, and past a monastic sheep farm and old limestone pavement, all in the heart of beautiful Derbyshire limestone country.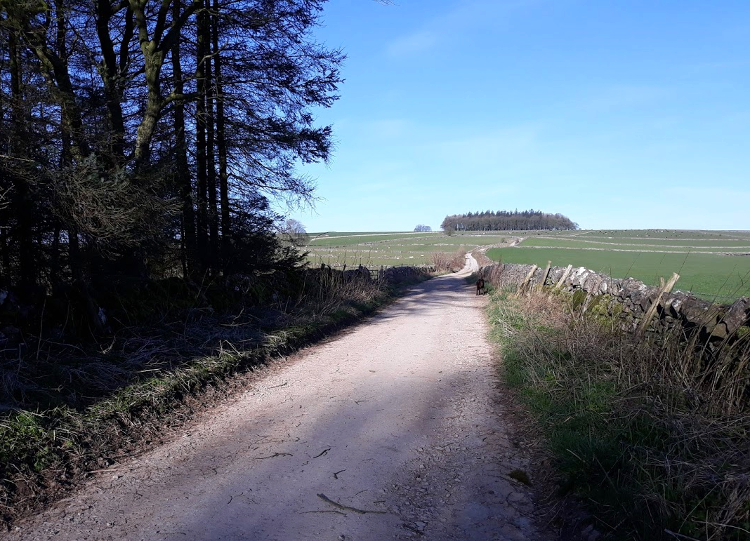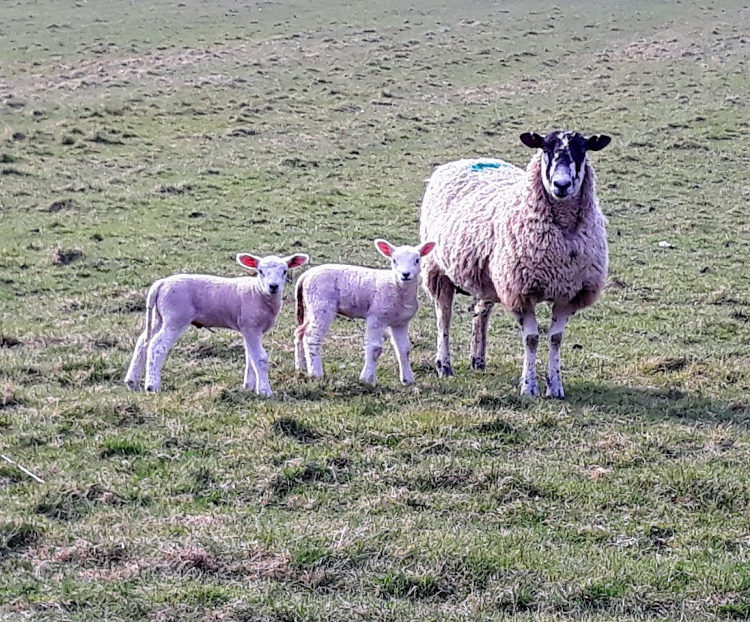 After a short walk up our road, we head up an old farm track, Cardlemere Lane, for just over a mile, which gradually climbs to 375m (1230ft) and affords fabulous views to the northern peak district hills. This time of year, the fields alongside the track are full of cute lambs on one side and dairy cows on the other.
We take another green lane/track which descends to the High Peak Trail, a traffic-free multi-user trail that runs for 17 miles (27km) from nearby Buxton to High Peak Junction near Cromford. It follows the route of the former Cromford and High Peak Railway, which was one of the first railways ever to be built in the world when it opened in 1831. It closed in 1967 and was purchased by the Peak District National Park in 1971 for conversion into a recreational trail.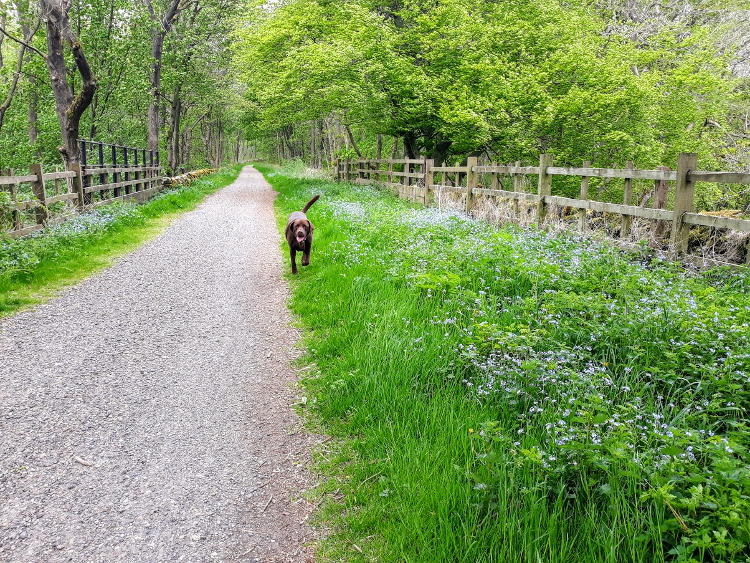 The Winding High Peak Railway
The original line was 33 miles long (53 km) and it climbed a thousand feet in total, making it one of the highest railway lines ever built in Britain. The main purpose of the railway was for the transportation of minerals such as limestone and lime, all quarried locally.
The railway line was built on the same principle as canals and followed the contours of the Peak District hills on its journey, which meant a lot of curves along its route, over 21 curves to negotiate. When the railway first opened, wagons were pulled by horses so the curves were not a problem, but it took the horses two days to complete the full 33-mile journey. Horses were later replaced by faster steam locomotives, which experienced many problems at the tight curves.
Our walk along the trail takes us through Gotham Curve. At 80 degrees, this was one of the worst curves on any rail line and very difficult for the locomotives to negotiate, as you can imagine.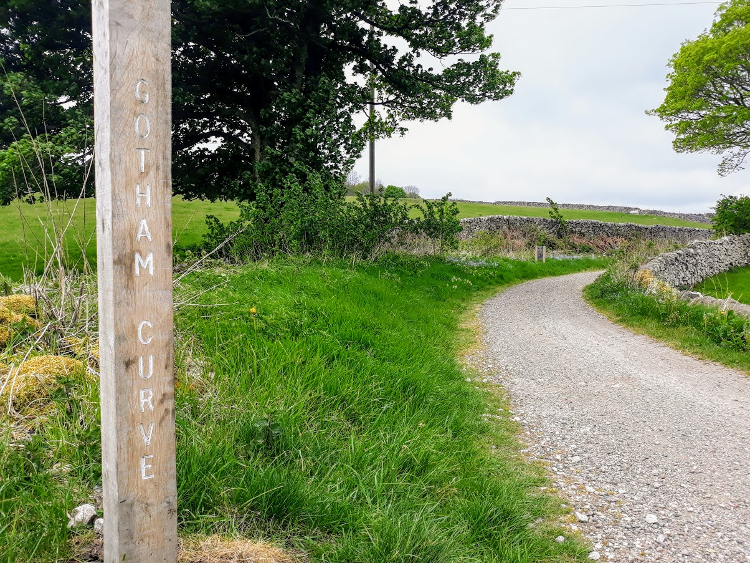 We continue through a wooded section of the trail, which during early mornings is alive with chirpy songbirds singing their hearts out, to pass through Minninglow car park and picnic site which was a former railway goods yard. Just past the car park we reach what is Derbyshire's equivalent of Hadrian's Wall: the imposing Minninglow Embankments.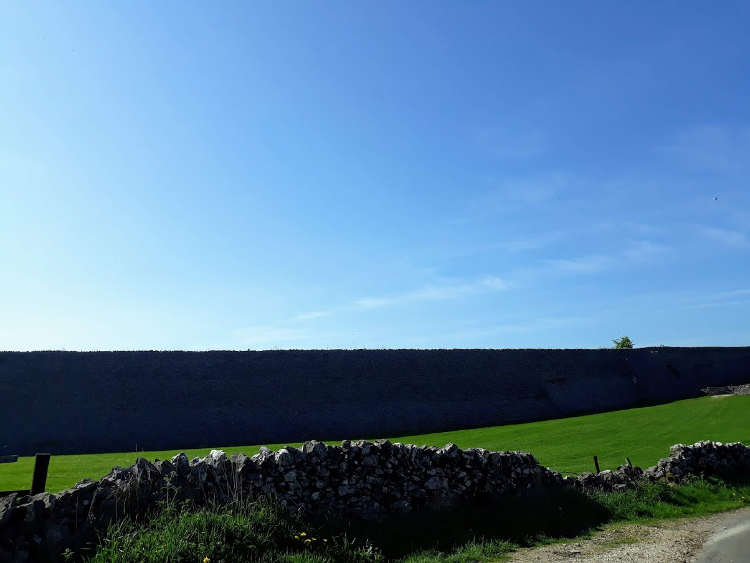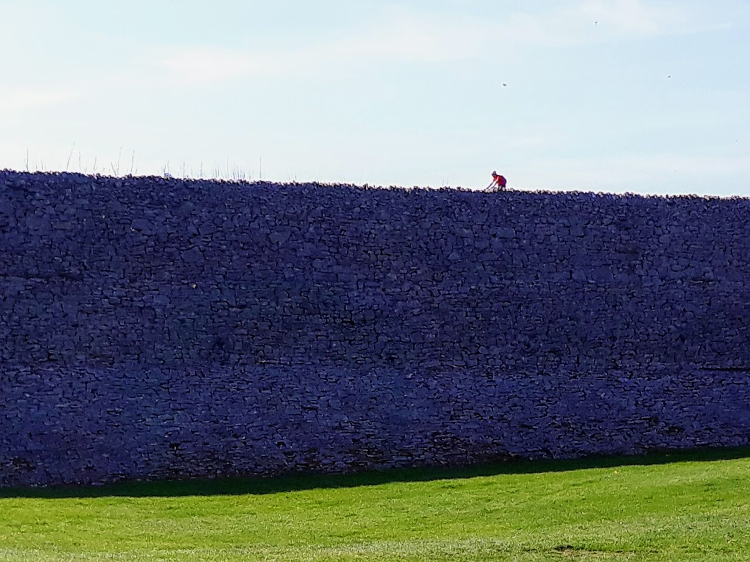 To keep the railway as level as possible through the hills, narrow cuttings were made into rock as well as huge embankments built. The impressive embankments are Grade-II-listed structures that look like reservoir dam walls, except that they have attractive arched bridges built into them for farm access. Built from local limestone, they are a pre-Victorian example of civil engineering at its best. The largest, first embankment we walk over is around 300m long and 30 feet high.
Climbing Minninglow Hill
In front of us are views of Minninglow Hill, which is our next destination as we pass grassy banks and go through cuttings blossoming with spring flowers and uncurling young ferns at this time of year.

We pass a rusty relic and old train lines still visible in the ground by an old quarry area where limestone was quarried to build the embankments.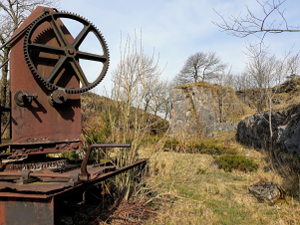 Just afterwards, we leave the High Peak Trail on a concessionary path and ascend to Minninglow Hill, which is a Scheduled Ancient Monument.
Its summit is the site of Neolithic chambered tombs, including the largest one in Derbyshire, dating back to 3400BC, and Bronze Age barrows. Excavations of the largest chambered tomb during 1843 and 1851 revealed human bones, as well as Roman bronzes, coins and pottery dating from the 3rd Century. 'Low' in Old English means hill or mound, especially with a barrow.
At its centre are tall mature beech trees surrounded by another entire circle of trees. It's always peaceful and lovely up there and there are fantastic 360-degree views from the outside circle of trees. On a clear day, you can see as far as Kinder Scout. Standing at 372m (1220ft) Minninglow's distinctive and prominent shape means that it is a familiar Peak District landmark and can be seen for miles and miles away from other high ground in the Peak District. One guy from my walking group is always happy when he can spot Minninglow from far away when out and about on walks!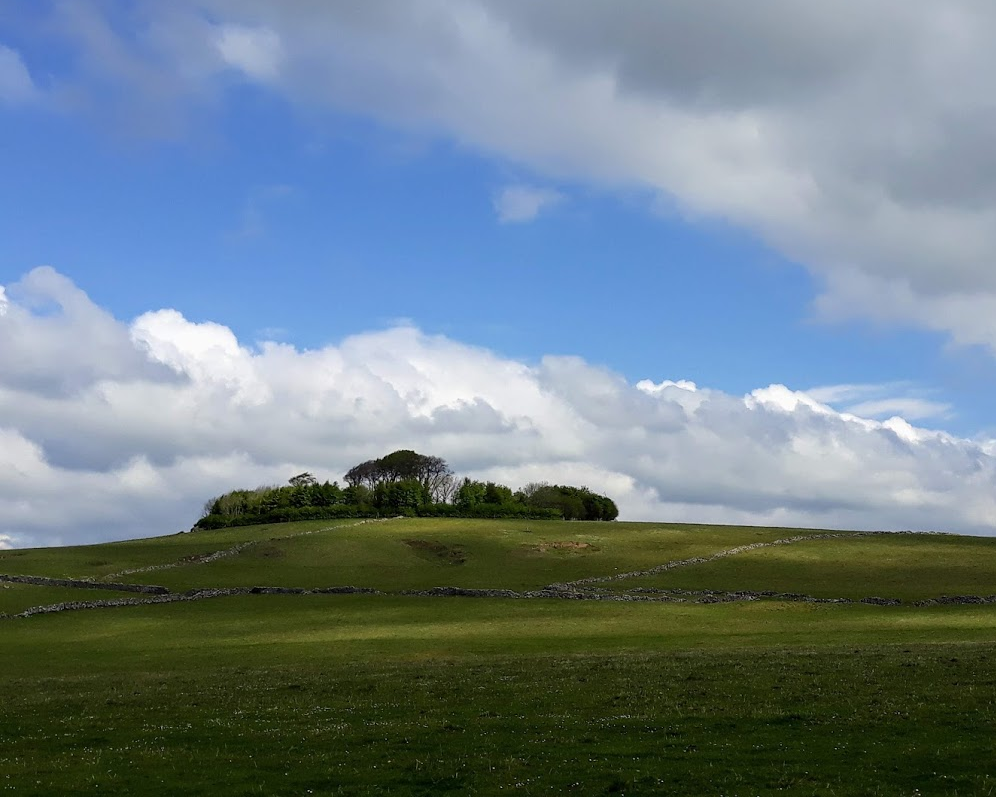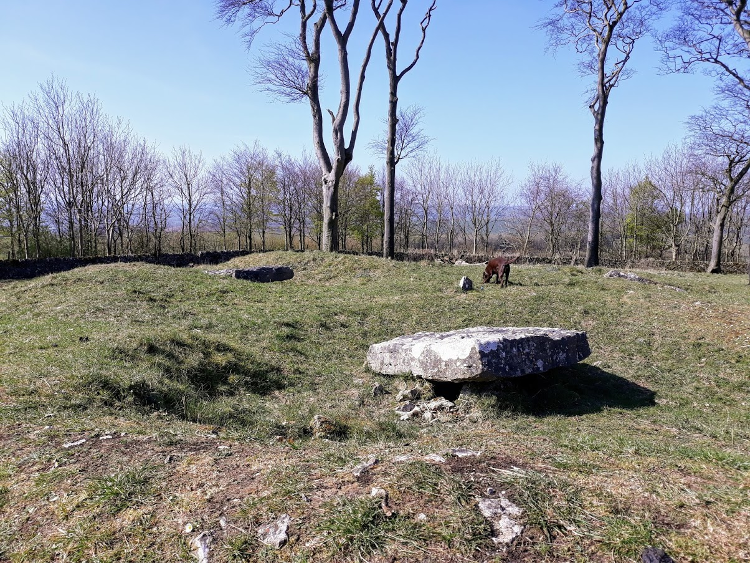 Rambling Down to Roystone Grange
From Minninglow, we descend via the opposite hillside on another concessionary path to join a footpath which runs through one of the arched bridges under another large High Peak Trail embankment and down to Roystone Grange in the valley below. We always must watch out for cows here as they like to chase Gino, especially at this time of year when they have loads of cute calves!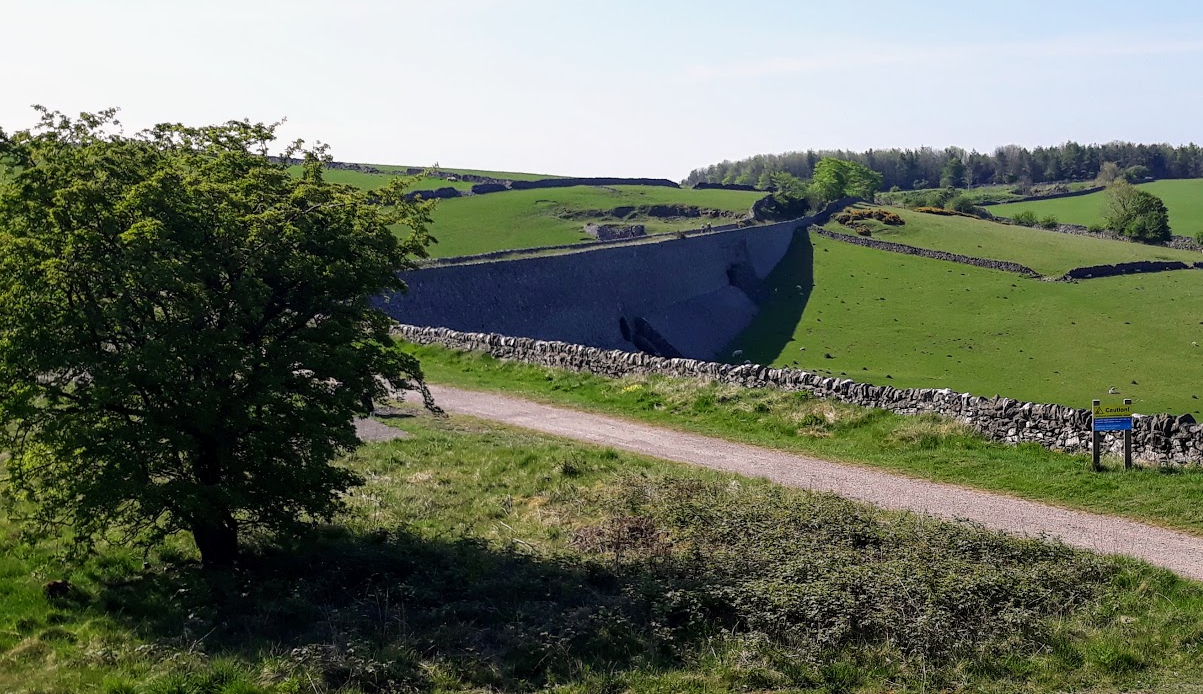 Roystone Grange is another historic site, there is a newer farm built nearby now but during the 12th to 14th century it was the site of a monastic grange and sheep farm. The sheep's wool was exported to Europe, in the days when wool had value! Stone foundations of Roystone Grange's original medieval hall and barn can still just be seen.
There is also an impressive restored 19th century chapel-style building with arched windows which was formerly a pump house. It was built to house a large engine which pumped compressed air through cast-iron pipes to drive rock drills in local quarries where stone was extracted for use in the construction of the Cromford and High Peak railway.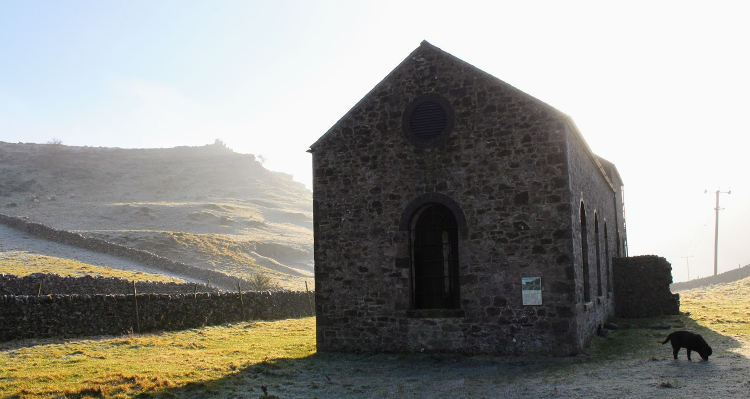 There is a rocky hill behind Roystone Grange which is Open Access land, which means that you are free to roam over it. My house is the other side of the hill. We climb to the top of the hill 324m (1065ft) to reach the unique Roystone Rocks, which is scattered old limestone pavement with rocks jutting out of the ground at all angles and random trees growing in between. I occasionally see photographers on the rocks from my house, especially early morning or in the evening, trying to snap the perfect sunrise or sunset shot in this unique landscape.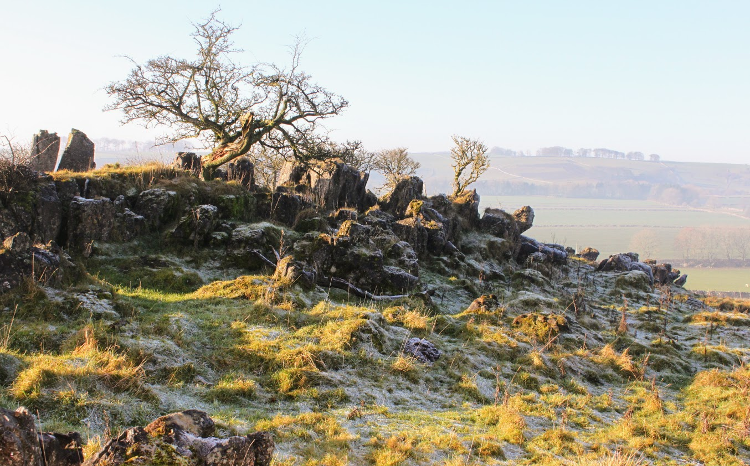 We finally walk down the other side, across a field and we're home after another beautiful and vary varied local walk of just under 6 miles. Sunny spring days always make it perfect, but I love walking it whatever the weather.
Explore these beautiful routes
Our Peak District Boundary Walk takes you along a section of the High Peak Trail and past Roystone Grange and our White Peak Way trail also takes you past the imposing Minninglow embankment and on a short section of the High Peak Trail through Minninglow Car Park. It is a short detour to Minninglow Hill from both trails. Our White Peak Leisure cycle tour also takes you along part of the High Peak Trail that starts at High Peak Junction.