Northumberland Coast Highlights
Explore the Northumberland Coast Path over a weekend on a short self-guided walking holiday. Accommodation, luggage transfer and custom holiday pack included.
Northumberland Coast Highlights
https://www.contours.co.uk/northumberland-coast-highlights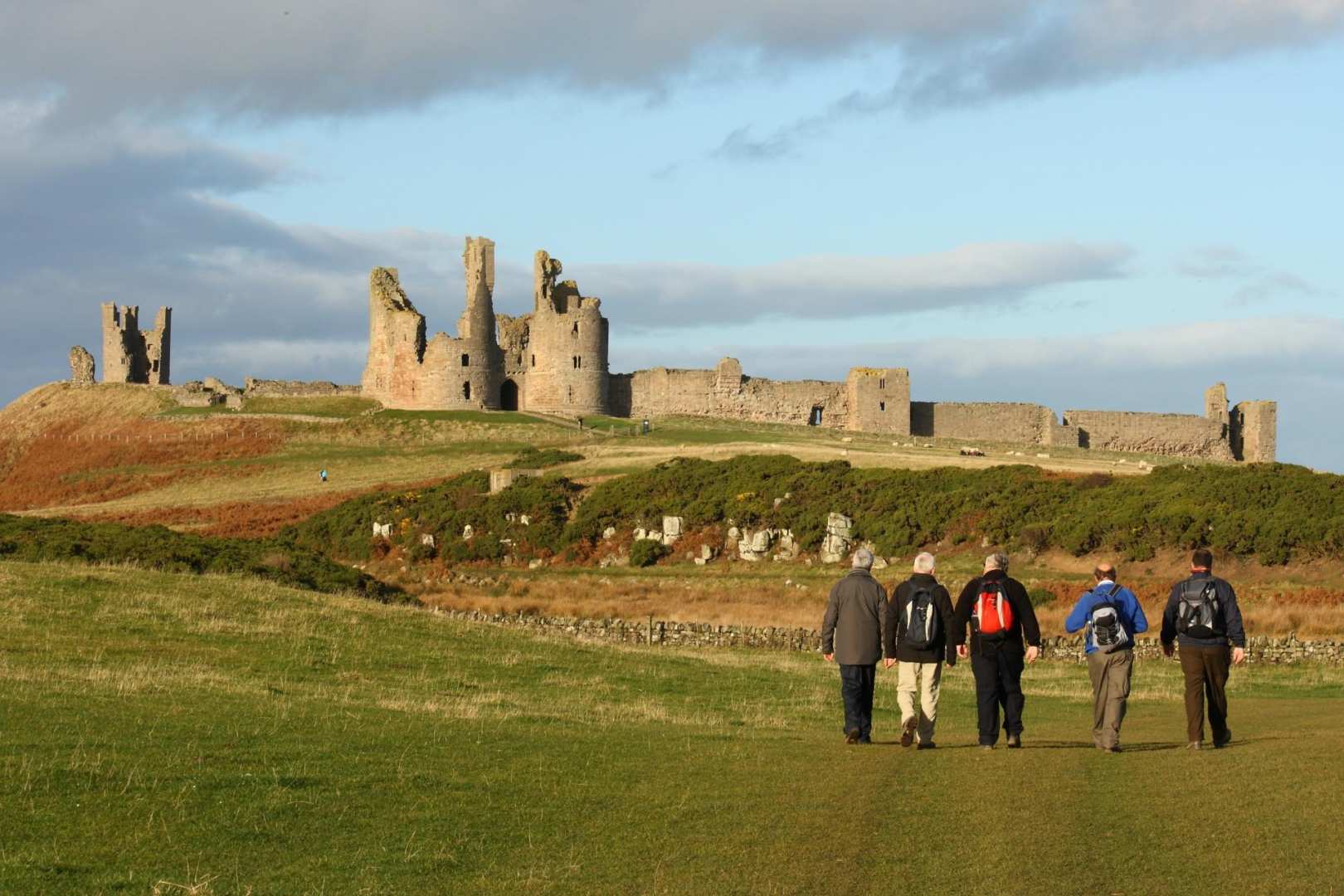 Northumberland Coast Path
A self-guided walking holiday along the coast of Northumberland, visiting the Holy Island of Lindisfarne.
3 to 11 nights
28-74 miles
Easy to Strenuous
From £325 per person
The Northumberland Coast Path tours wild, unspoilt countryside, where castle ruins loom on the headands above long beaches of golden sand.
This gentle, low-level walk arcs inland once – to sample glorious views of the coast from St Cuthbert's Cave – but otherwise clings to the Northumbrian shoreline. Castles adorn the rocky cliffs and, at low tide, you can make your way across a tidal causeway to Holy Island to explore the extensive ruins of Lindisfarne Priory. With plenty of beach walking between bustling seaside towns, this is a pretty, approachable and friendly coastline walk.
We offer multiple holiday options along this trail. If you wish to experience the entire trail, simply select the first option from the list below.
Choose your route
Northumberland Coast Path

South Northumberland Coast Path

Northumberland Coast Highlights
About this route
3 to 5 nights
28 miles
Easy to Moderate / Demanding
2nd January to 24th December
Includes Dog-Friendly Tours
From £400 per person
Northumberland Coast Highlights
This walk along the first half of the Northumberland Coast Path allows you to immerse yourself in spectacular coastal views between some of the country's largest and most impressive fortresses.
This walk takes in miles of golden, sandy beaches, abundant birdlife and friendly fishing villages: Craster in particular is well worth a visit, particularly if you wish to sample its famous oak-smoked kippers!
| Code | Tour | Duration | Price per person | |
| --- | --- | --- | --- | --- |
| NCCH1 | From Warkworth to Bamburgh | 2 days walking | £400 | |
| NCCH2 | From Warkworth to Bamburgh | 3 days walking | £525 | |
| NCCH3 | From Warkworth to Bamburgh | 4 days walking | £655 | |
Itinerary
What's included?
Extra nights?
Tour facts
Route profile
Travel info
Weather
Holiday Highlights
Start
Travel to Warkworth where your first night's accommodation will be booked
Day 1
Warkworth to Craster(L). 13 miles (21km) / 728 ft (222 m) ascent
Day 2
Craster(L) to Bamburgh. 14.5 miles (23km) / 522 ft (159 m) ascent
Finish
Depart from Bamburgh after breakfast
Your Itinerary
This itinerary lists our preferred overnight stops for this tour. Sometimes there may be a shortage of available accommodation in a preferred location, in which case we will transfer you from the trail to your accommodation and back again at no extra charge. Overnight stops marked with a (T) will always require transfers as standard.
Overnight stops marked with an (L) have very limited accommodation, and therefore more often than not will also require a transfer, particularly on bank holidays and weekends. We will use non-transfer accommodation wherever possible.
The daily mileages quoted are average trail miles only and do not include the distance from the trail to your accommodation. We do not expect you to have to travel more than a mile from the trail to your accommodation in most cases; should your accommodation be further than this, transfers will be provided as standard if practical. A very limited number of stops will require you to travel on foot up to two miles off the trail, however these instances will be clearly communicated to you if applicable.
Further transfers may also be required due to some accommodations having a two-night minimum booking policy, especially at weekends.
Below are the additional costs that may apply depending on your requirements. Dog-friendly tours are subject to a Daily Dog Charge, which will be listed below if applicable. Our standard prices per person are based upon two people sharing a room; if you are on your own, or are part of a group but require a room of your own, then the Solo Traveller or Single Supplements apply respectively:
A note about transfers
£55.00 per person / per night
£45.00 per person / per night
You can add rest days at any of the overnight stops:
£65.00 per person / per night
£75.00 per person / per night
Warkworth to Bamburgh
28 miles (45 km)
2nd January to 24th December
Holiday highlights
Walking between the imposing castles of Bamburgh, Dunstanburgh, and Warkworth.
Visiting the traditional seaside towns of Seahouses, Alnmouth and Craster.
Admiring the spectacular coastal views over the Farne Islands.
What's included?
3 nights' accommodation in en-suite rooms (where available) in selected B&B's, hotels, inns and guesthouses along the trail, or a short distance away via taxi provided at our expense.
Breakfast each day.
Door to door luggage transfer.
Maps with the route marked on and a guidebook or route notes describing the trail.
An information pack containing an itinerary, instructions on how to find your accommodation each night and a kit list.
Detailed travel instructions on how to get to the start of your holiday and back from the end of it.
Extra Nights & Rest Days
The ancient village of Warkworth is a fascinating place to visit. The village is dominated by Warkworth Castle and perched on a rocky spur close to the mouth of the River Coquet. Just a short walk from the castle is the Warkworth Hermitage, a 14th century chapel carved out of the rock, while there are a series of craft shops, cafes and pubs along the village's main street.
Craster is another good choice for a rest day. It is a delightful little fishing village with a tiny harbour. Just south of the village is Howick Hall, built in 1782 and long associated with the Grey family, who have produced many famous figures, including Earl Grey the social reformer and tea enthusiast. The gardens are noted for their beauty.
You can add rest days at any of the overnight stops:
£65.00 per person / per night
£75.00 per person / per night
Tour Facts
Total distance: 28 miles (45 km)
Duration: 3 nights, 2 days walking
Minimum daily distance: 13 miles (21 km)
Maximum daily distance: 14.5 miles (23 km)
Code: NCCH1 Grade: Moderate / Demanding
Season: 2nd January - 24th December
Start of holiday: Warkworth
End of holiday: Bamburgh
Route Profile

Travel Information
Useful information and travel links that will assist you in your plans to travel to the start of the holiday and back from the end of it are sent to you with your full tour pack. A summary is given below:

By Air - The most convenient major cities and international airports are Newcastle and Edinburgh.

By Rail - The nearest rail station to the start of the trail (Warkworth) is at Alnmouth (about 4 miles away). The nearest rail stations to the end of the trail (Bamburgh) are either Chathill (7.5 miles away), Alnmouth (18.5 miles away) or Berwick-Upon-Tweed (19.5 miles away).

By Bus - A bus runs from Alnmouth Station to Warkworth. There are no viable public transport options to Chathill station from Bamburgh, so a taxi is recommended. There are buses to Alnmouth & Berwick-Upon-Tweed from Bamburgh, but they are rather infrequent & lengthly journeys, so a taxi may be a better option.

From London - Trains run from London Kings Cross station to Alnmouth. From there a bus/taxi will be required to Warkworth.

Return To The Start - The easiest way to return to the start of the trail, is to take a taxi from Bamburgh to Warkworth.
Weather Information
To find out more about the weather forecast for your chosen holiday's general location, please see the following websites:
MetCheck - This website allows you to look up detailed weather information for specific locations as far as six months in advance.
Met Office - This website shows regional area forecasts a few days in advance, with a general UK forecast description of up to 30 days in advance.
Mountain Forecast - This website shows what the forecast is like up on specific hills and fells, and offers forecasts a few days in advance.
Customer reviews from the Northumberland Coast Highlights
"A great part of the country to explore on foot. Overall a lovely holiday, beautiful scenery."

Miss Ward, UK
"Excellent holiday and the planning of our accommodation and personal taxi transfers was meticulous."

Mr Allen, UK
"The route was interesting, enough to be a challenge and good accommodation overall. Good booklet and map invaluable."

Mr Woore, UK
"Route well signposted. The taxi service from Embleton to Dunstan Village and return was very efficient."

Mrs Evans, UK
"It was a unique and wonderful experience. Love the history and beauty."

Ms Danforth, USA
"Spectacular views completely lived up to expectations, helped by the weather cooperating! Wish I could do it again! My biggest worry was always whether my luggage would be waiting at the next location when I arrived, and thankfully it always was."

Mr Negyal, UK
"It was well organised, a great walking route and nice accommodation. Walking without carrying your luggage is a treat. Contours provide good support and information. Everything worked seamlessly."

Mrs Fuchs, UK
"Nice and easy path, very good weather."

Mr Hiltunen, Finland
"I walk with my sister. It is our time away from everyday life. Time to relax, catch up, laugh, reflect and make memories. The whole process, from browsing the website to find our next break, to booking is straight forward. The team at contours efficiently deal with any enquiries. A reminder is sent to pay the balance of the holiday and our itinerary arrives in plenty of time for us to make dinner reservations and check out our accommodation. The information provided in the packs gives us all the information we need to arrange transfers and find our evening accommodation. Each accommodation we visited was welcoming and comfortable with fabulous breakfasts. Our luggage transfer worked perfectly and was waiting for us upon arrival. We are already looking to book our next adventure with you. We have already recommended this holiday to others. We are looking for another coastal walk for next year."

Mrs Hopkinson, UK