Whichever walk you choose, whether it's one that lasts a couple of days (like our Lake District Short Breaks) or a couple of weeks (like our Coast to Coast Walk), you'll need to think about the essential items that you should carry in your day pack. But what are the essentials?
They break down into two categories: the things you bring with you to make your walk safer and those you'll want to carry to ensure your walk is comfortable.

It goes without saying that if you're comfortable, you will enjoy your walk a lot more. I can testify that a walk will quickly lose its appeal if it starts to rain heavily and you've forgotten to pack your waterproof jacket. That pub, café or your overnight accommodation will seem a long way away all of a sudden!
You should also bear in mind that you need to be self-reliant. Even if you're walking as part of a group and start off the day with other members of your party, you may end up walking sections of the trail alone. Many people prefer to walk alone and there is nothing wrong with this, but you do need to be prepared. For example, you don't want to find yourself separated from your fellow walking companions without anything to drink, especially on a hot day, or worse, have an accident and find you've no first aid kit.

Aside from the essential safety items that I recommend you always carry in your day pack, there will be other 'essentials' that you'll want to carry, which will likely be different from mine (I'm sure few people carry as much food as I do)! Joking aside, the biggest mistake people make is to carry too much. Even a few extra pounds can make all the difference. But equally, you don't want to leave an essential item at home either. You can be sure that if you've not packed your sunscreen, the sun is guaranteed to shine!
At the end of the day, it's a balance between what you need to carry, what you want to carry and what you're prepared to carry, based on the time of year, where you are walking, your level of fitness and personal preferences.
The following describes what I carry in my day pack, and just as importantly, why.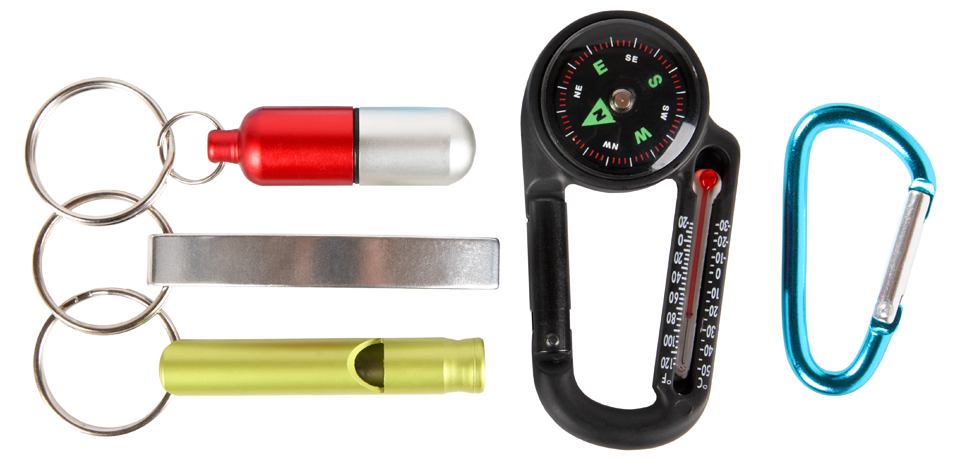 My kit list for a walking holiday
Whistle – a whistle is essential in case you need to signal for help in an emergency. Most day packs have a built-in whistle on the chest strap. If not, make sure you carry a plastic whistle. Lips can freeze to a metal whistle in winter.
Map and compass – a map is essential so that you know where you're going and can identify features along the way. A compass will tell you which direction to walk in. If you do carry a map and compass, make sure you know how to use them. Check out our series on navigating with map and compass.
Waterproofs – it's sensible to carry a lightweight, compressible rain jacket or shell and over trousers, no matter what conditions you expect. In Britain, whatever the day starts out like, always be prepared for rain!
Make sure your waterproofs are at the top of your day pack so that you can get to them easily. I also carry a lightweight windproof layer as there are many times on a walk when I don't need a waterproof, but I do need something to prevent the wind whistling through me.
Clothing – I always carry at least one extra layer. Exactly how many layers I carry is dependent on the time of year, the weather conditions and how quickly I know I'll be moving. It's a good idea to have a base, mid and top layer of clothing so that you can easily regulate your body temperature according to the conditions.
Also, make sure you have a layer handy to put on whenever you need to stop, i.e. for a bite to eat. If you're like me, you'll cool down quickly. If you have an accident, extra layers of clothing are extremely important.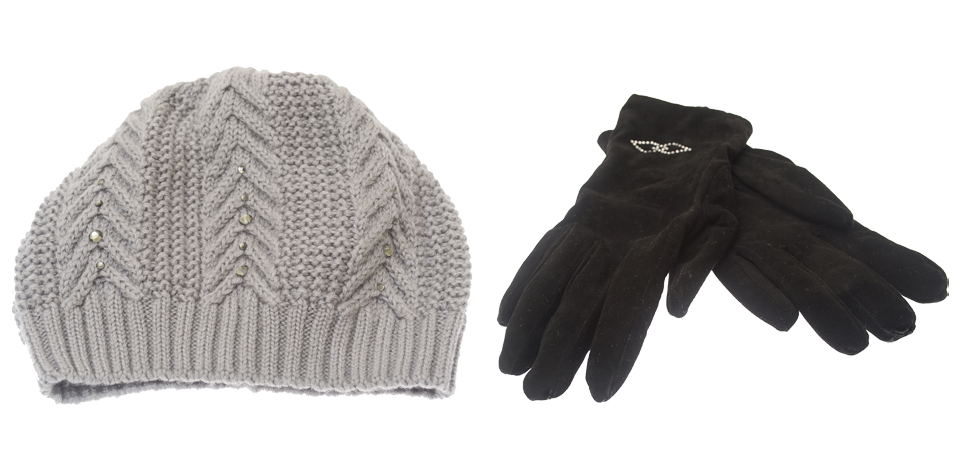 Hat/buff and gloves – for the majority of the year I carry a hat, buff and gloves since these provide instant warmth if the temperature drops. If I'm walking in summer, or I'm expecting the sun to shine, I always carry a peaked cap to protect myself from the glare of the sun and also a buff that I can dip in a passing stream to cool me down.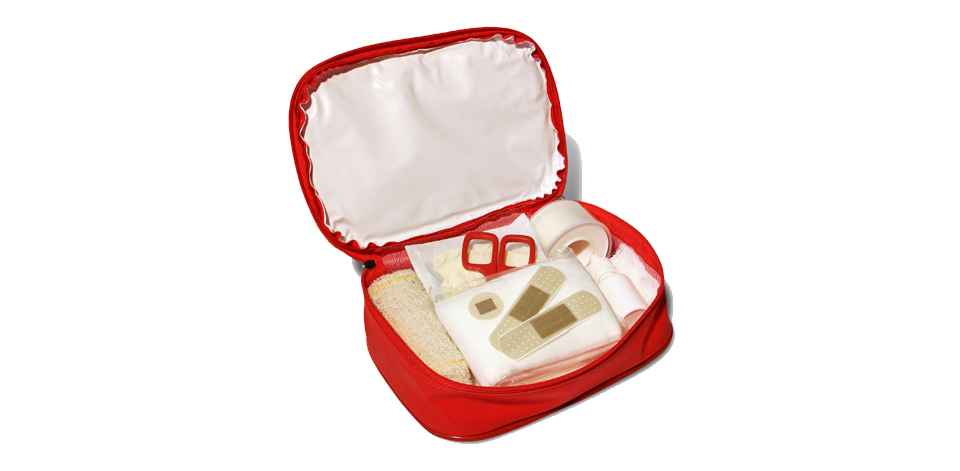 First aid kit – I always carry a first aid kit in case of an accident. Make sure you're familiar with the contents of your first aid kit and you know how to use them.
Survival bag – I carry a lightweight and brightly coloured survival bag that takes up hardly any room. You may never need it, but when you do, you'll be very glad you're carrying it!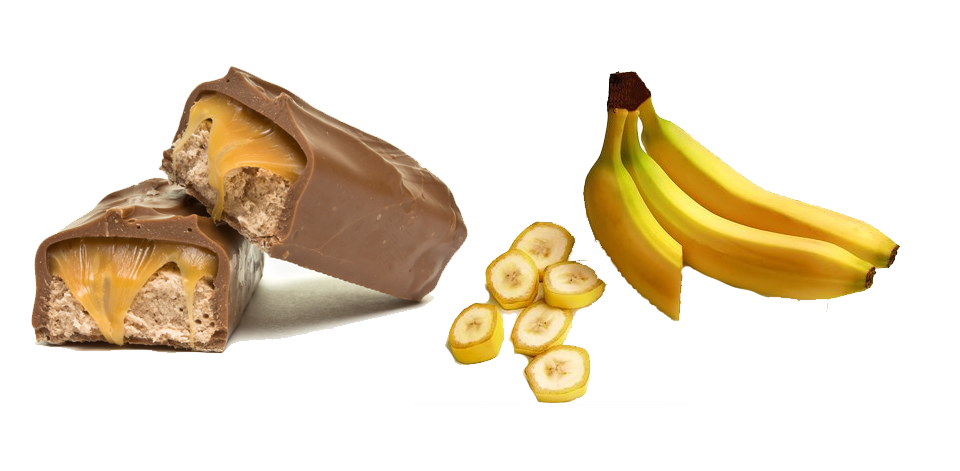 Food and drink – I always carry some form of extra food and something to drink so that I stay hydrated. High energy foods such as a cereal bar, banana, etc. will get you going if you're suffering a slump in energy. Your favourite chocolate bar will do the trick as well! I carry at least a litre of water or juice and a flask in winter. A hot drink is a great morale booster on a cold day.
Knife – I carry a small Swiss Army penknife. It's compact and has a multitude of uses.

Mobile phone and pencil and paper - whether for yourself or on behalf of others, having a phone can save lives. However, inevitably there will be occasions when you're in the middle of nowhere and you won't have a signal. A pencil and paper means you can write down your location to give to someone to go and get help. Carry a pencil rather than a pen as a pen can freeze.
Torch – I carry a head torch so that my hands are free. Make sure that your torch has fresh batteries and that you carry an extra set.

Money and bank card – I carry cash and a bank card…just in case. You never know when you might come across a café or a pub!
Sunglasses – I carry sunglasses all year round. Even in winter, when the sun is low in the sky, I'm always glad I have them.
Toilet paper/tissues – again, toilet paper or tissues have a multitude of uses. However, when there is no other option and I "need to go", I won't use toilet paper unless I absolutely have to. I prefer to use whatever nature has to hand, although moss is preferable!
Other items that you might also consider carrying include sunscreen, camera and a GPS. I don't always carry a GPS, but when I do, I find it very helpful for confirming where I think I am!
I always carry a liner in my day pack to keep the contents dry since no day pack is fully waterproof. I don't carry an outer pack cover, but you may want to consider using one. Also, I find dry bags very helpful for compartmentalising my gear and for keeping things dry. Small ones are best for mobile phones, cameras, etc., whilst larger ones protect my extra clothes. I always put liquids, such as sunscreen, in a plastic bag so that if anything leaks everything else in my day pack is protected.
Finally, many day packs have a piece of removable foam padding that you can use to sit on. As well as being extremely useful when you stop to have lunch, this is very handy for preventing the contents of your day pack sticking in your back!
Over time, my day pack of essentials has evolved into what are the important items for me. Now that you've seen what I carry in my day pack, you need to decide what is important to you and whether you need to make any changes to the things you carry. If you're well equipped and have everything that you're likely to need, you'll enjoy your walk a lot more!