South Northumberland Coast Path
Walk the South Northumberland Coast Path: 39 miles of coastal walking from Sunderland to Cresswell.
South Northumberland Coast Path
https://www.contours.co.uk/south-northumberland-coast-path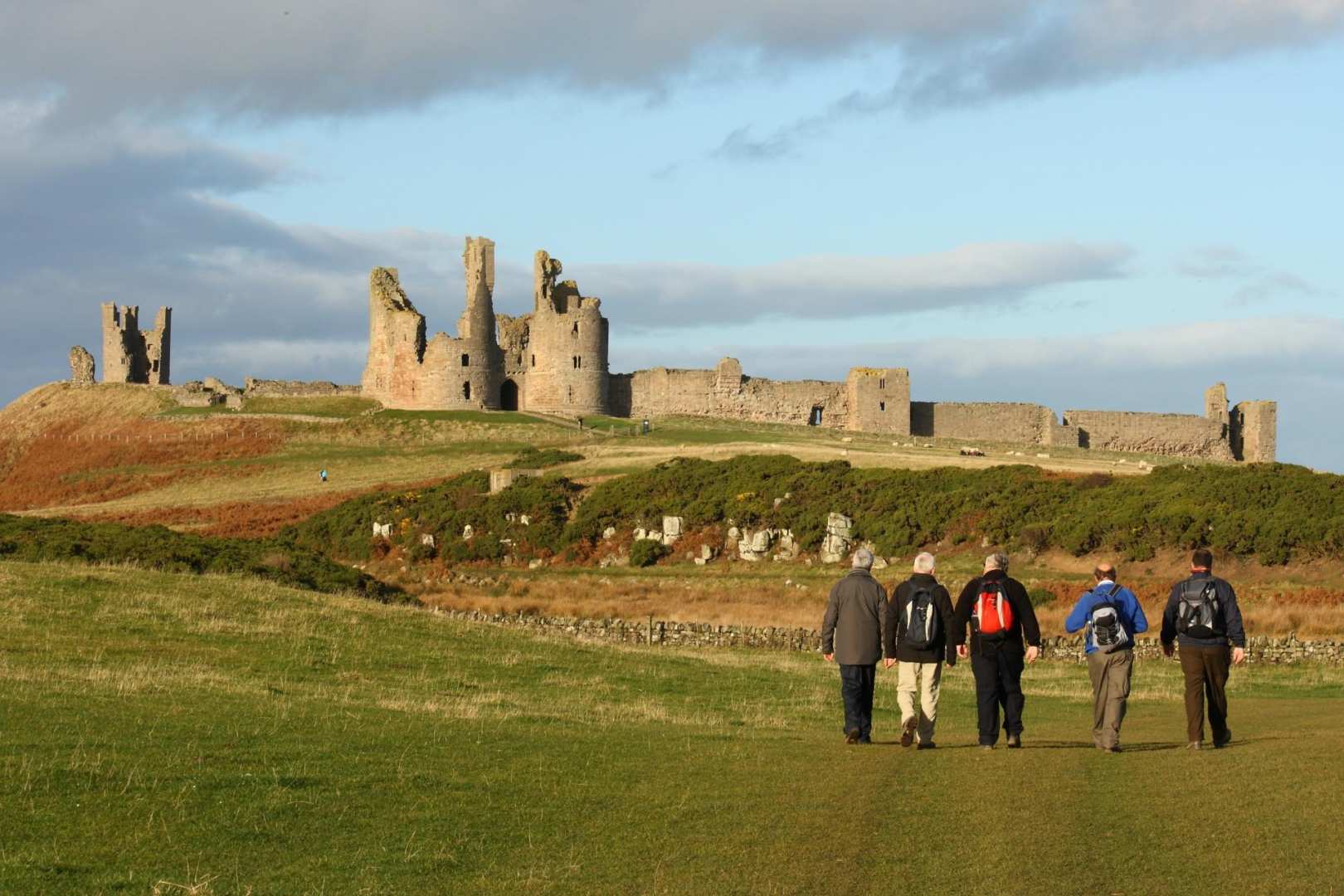 Northumberland Coast Path
A self-guided walking holiday along the coast of Northumberland, visiting the Holy Island of Lindisfarne.
3 to 11 nights
28-74 miles
Easy to Strenuous
From £325 per person
The Northumberland Coast Path tours wild, unspoilt countryside, where castle ruins loom on the headands above long beaches of golden sand.
This gentle, low-level walk arcs inland once – to sample glorious views of the coast from St Cuthbert's Cave – but otherwise clings to the Northumbrian shoreline. Castles adorn the rocky cliffs and, at low tide, you can make your way across a tidal causeway to Holy Island to explore the extensive ruins of Lindisfarne Priory. With plenty of beach walking between bustling seaside towns, this is a pretty, approachable and friendly coastline walk.
We offer multiple holiday options along this trail. If you wish to experience the entire trail, simply select the first option from the list below.
Choose your route
Northumberland Coast Path

South Northumberland Coast Path

Northumberland Coast Highlights
About this route
3 to 6 nights
39 miles
Easy / Moderate to Strenuous
2nd January to 24th December
From £325 per person
South Northumberland Coast Path
The South Northumberland Coast Path stretches from the lively city of Sunderland up to Cresswell, where it then meets with the main Northumberland Coast Path. This 39-mile route forms part of the England Coast Path National Trail, an ongoing development to create a full trail around the entire coastline of the country.
The South Northumberland Coast Path features everything you could hope for in an urban coastal walk. Wander along beachside promenades and clifftop paths, past coastal caves and, of course, over lots of beautiful beaches and sandy dunes. There are plenty of amazing landmarks to see, including eroded stack formations, old lighthouses, charming harbour towns and fishing villages, and a selection of historic remnants from Roman times, the Dark Ages and the Industrial Era.
| Code | Tour | Duration | Price per person | |
| --- | --- | --- | --- | --- |
| SNC1 | From Sunderland to Cresswell(T) | 2 days walking | £325 | |
| SNC2 | From Sunderland to Cresswell(T) | 3 days walking | £430 | |
| SNC3 | From Sunderland to Cresswell(T) | 4 days walking | £535 | |
| SNC4 | From Sunderland to Cresswell(T) | 5 days walking | £640 | |
Itinerary
What's included?
Extra nights?
Tour facts
Travel info
Weather
Holiday Highlights
Start
Travel to Sunderland where your first night's accommodation will be booked
Day 1
Sunderland to Seaton Sluice. 20 miles (32km) / 1093 ft (333 m) ascent
Day 2
Seaton Sluice to Cresswell(T). 19.5 miles (31km) / 607 ft (185 m) ascent
Finish
Depart from Cresswell(T) after breakfast
Your Itinerary
This itinerary lists our preferred overnight stops for this tour. Sometimes there may be a shortage of available accommodation in a preferred location, in which case we will transfer you from the trail to your accommodation and back again at no extra charge. Overnight stops marked with a (T) will always require transfers as standard.
Overnight stops marked with an (L) have very limited accommodation, and therefore more often than not will also require a transfer, particularly on bank holidays and weekends. We will use non-transfer accommodation wherever possible.
The daily mileages quoted are average trail miles only and do not include the distance from the trail to your accommodation. We do not expect you to have to travel more than a mile from the trail to your accommodation in most cases; should your accommodation be further than this, transfers will be provided as standard if practical. A very limited number of stops will require you to travel on foot up to two miles off the trail, however these instances will be clearly communicated to you if applicable.
Further transfers may also be required due to some accommodations having a two-night minimum booking policy, especially at weekends.
Below are the additional costs that may apply depending on your requirements. Dog-friendly tours are subject to a Daily Dog Charge, which will be listed below if applicable. Our standard prices per person are based upon two people sharing a room; if you are on your own, or are part of a group but require a room of your own, then the Solo Traveller or Single Supplements apply respectively:
A note about transfers
£60.00 per person / per night
£50.00 per person / per night
You can add rest days at any of the overnight stops:
£65.00 per person / per night
Sunderland/Cresswell
39 miles (63 km)
2nd January to 24th December
Holiday highlights
Enjoying the fresh sea air, changing landscapes and far-reaching coastal views throughout your walk.
Hopping onto long sandy beaches, undulating sea dunes and meandering cliff paths that link together the towns and villages beside the North Sea.
Spotting a variety of wildlife off the shoreline, including nesting seabirds and playful seals.
What's included?
3 nights' accommodation in en-suite rooms (where available) in selected B&B's, hotels, inns and guesthouses along the trail, or a short distance away via taxi provided at our expense.
Breakfast each day.
Door to door luggage transfer.
Maps with the route marked on and a guidebook or route notes describing the trail.
An information pack containing an itinerary, instructions on how to find your accommodation each night and a kit list.
Detailed travel instructions on how to get to the start of your holiday and back from the end of it.
Extra Nights & Rest Days
The South Northumberland Coast Path visits a variety of wonderful location on its journey, offering plenty to see and do along the way. If you want to explore some specific areas more thoroughly, you can extend your holiday by adding extra night stays at any of your overnight stops.
The city of Sunderland is an excellent location to spend an extra night or two. With a variety of museums to see, from the North East Land, Sea and Air Museum - which boasts an assortment of aircraft - to The National Glass Centre, where you can experience glass blowing and even walk on the glass roof. If history and heritage are more your thing, you could visit the Penshaw Monument. This 70ft high shrine provides a stunning view of the city, and if you visit between Good Friday to the end September, the hidden spiral staircase is unveiled inside one of the pillars, allowing sightseers to climb to the top of the roof for the show stopping view.
For those who prefer a more serene location for an extra night, Seaton Sluice is ideal. It is the southernmost point of the Northumberland Coast, which used to be made up of two separate villages (Seaton Sluice and Hartley). To most it is now known as Seaton Sluice, but some still consider them as separate villages. This is the ideal place for a relaxing stroll on the beach or along the harbour. You will also find that the village is well equipped with cafés, pubs, a post office and even a supermarket, offering plenty of opportunity to restock for the remainder of your holiday.
You can add rest days at any of the overnight stops:
£65.00 per person / per night
Tour Facts
Total distance: 39 miles (62.5 km)
Duration: 3 nights, 2 days walking
Minimum daily distance: 19.5 miles (31 km)
Maximum daily distance: 20 miles (32 km)
Code: SNC1 Grade: Strenuous
Season: 2nd January - 24th December
Start of holiday: Sunderland
End of holiday: Cresswell(T)
Travel Information
Useful information and travel links that will assist you in your plans to travel to the start of the holiday and back from the end of it are sent to you with your full tour pack. A summary is given below:

By Air: the most convenient international airports are Newcastle Airport, Teesside International, Leeds Bradford International & Edinburgh.

By Rail: There is a Metro station at the start of the trail (Sunderland). The nearest station to the end of the trail (Cresswell) *is at Widdrington (about 5 miles away). The nearest rail stations to Amble are at Acklington (about 5 miles away) and Alnmouth (about 6 miles away). The nearest rail station to Warkworth) is at Alnmouth (about 4 miles away).
* As there is no suitable accommodation near to the start of the trail, your accommodation will be at one of numerous locations within the area, with a tranfer to the trail - please see Traveline for further information for other locations.

By Bus: Various bus services run to Sunderland. There is no bus from Cresswell to Widdrington, so a taxi will be required. Buses run from both Amble and Warkworth to Alnmouth. Buses also run from Amble to Acklington.

From London: Trains run regularly from London Kings Cross to Sunderland.

Return To The Start - The easiest way to return to the start of the trail, is to take a taxi from wherever your last night's accommodation has been booked to Sunderland, as public transport options are either not available or are very lengthly.
Weather Information
To find out more about the weather forecast for your chosen holiday's general location, please see the following websites:
MetCheck - This website allows you to look up detailed weather information for specific locations as far as six months in advance.
Met Office - This website shows regional area forecasts a few days in advance, with a general UK forecast description of up to 30 days in advance.
Mountain Forecast - This website shows what the forecast is like up on specific hills and fells, and offers forecasts a few days in advance.