by Christine Saul
It seems almost unthinkable, but five months ago, my dog Gino and I set off on our England Coast Path walk. We have walked a total of 1365 miles so far, through 12 different counties. It has been an incredible and unforgettable journey, and it hasn't always kept to the plan.
Back when the walk began
Walking anti-clockwise around England, we started the England Coast Path with nervous excitement from the Severn Bridge in South Gloucestershire on the 15th of April, carrying everything we needed on our backs — Gino had his own backpack too.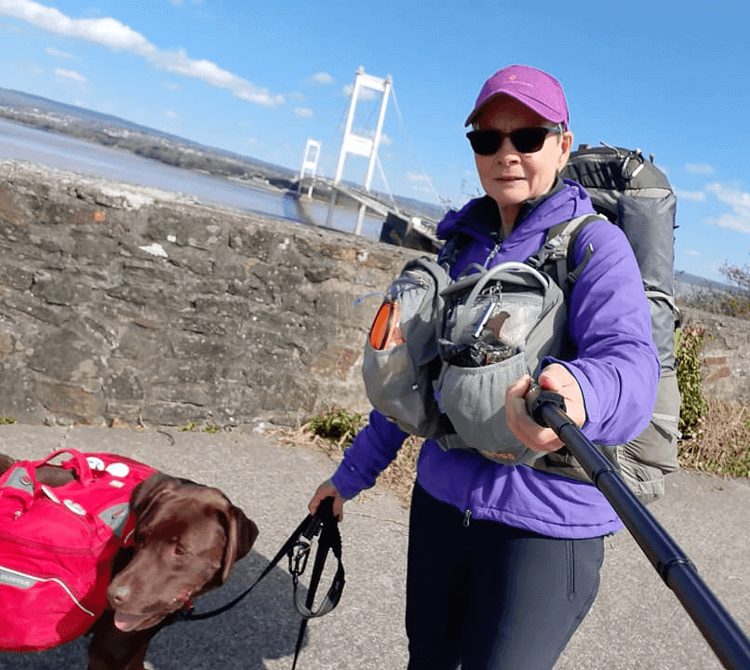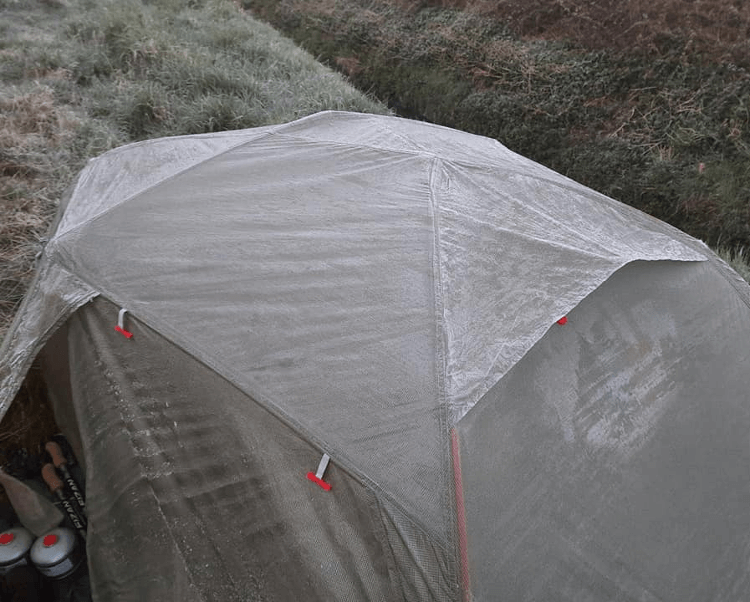 I remember our first night of wild camping very well: near Avonmouth, waking up to a tent covered in frost in the morning! Frost was a nightly theme which continued for quite a few weeks.
The walking was pretty easy for the first two weeks through Somerset, mainly flat to break us in gently, and the weather was very kind to us too, cold at night but sunny days with no rain at all for the first two weeks.
The ups and downs of the South West Coast Path
We reached Minehead and the start of the infamous 630-mile-long South West Coast Path on the 25th of April. No more flat walking for us: it was straight into a steep climb out of Minehead, something we had to get used to.
The South West Coast Path is renowned for being strenuous and a rollercoaster ride, with constant ups and downs, especially the North Devon coast and North Cornwall coast from Hartland to Padstow.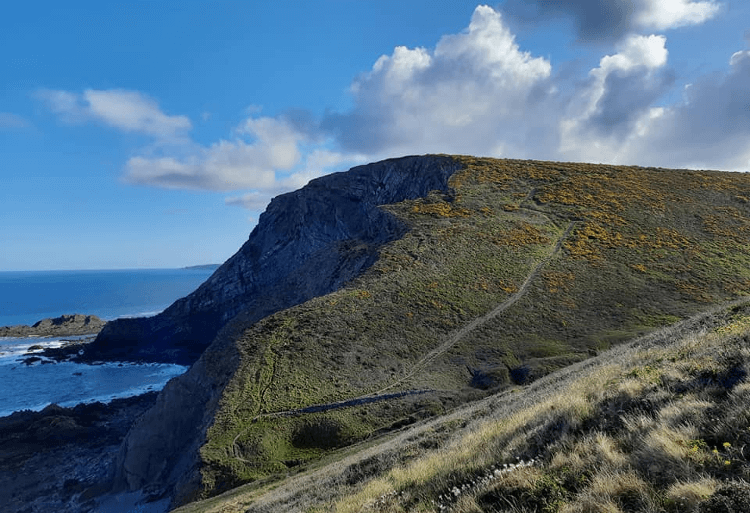 I hated them to start with, especially carrying a heavy pack, but learnt to accept all the ups and downs. They got easier as we got fitter.
Walking into temperamental spring
The scenery on this section of the walk was absolutely stunning, with its rugged rocky coast, and we passed through loads of ancient bluebell woodlands. Lots of wild flowers were coming into bloom too.
After a lovely April, May was quite a temperamental month weatherwise, however: very windy all month, and we had a couple of bad storms which we managed to avoid by taking rest days.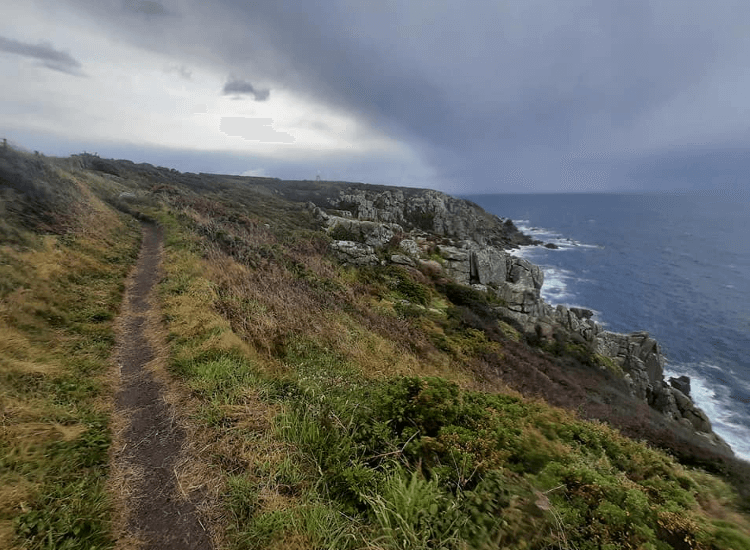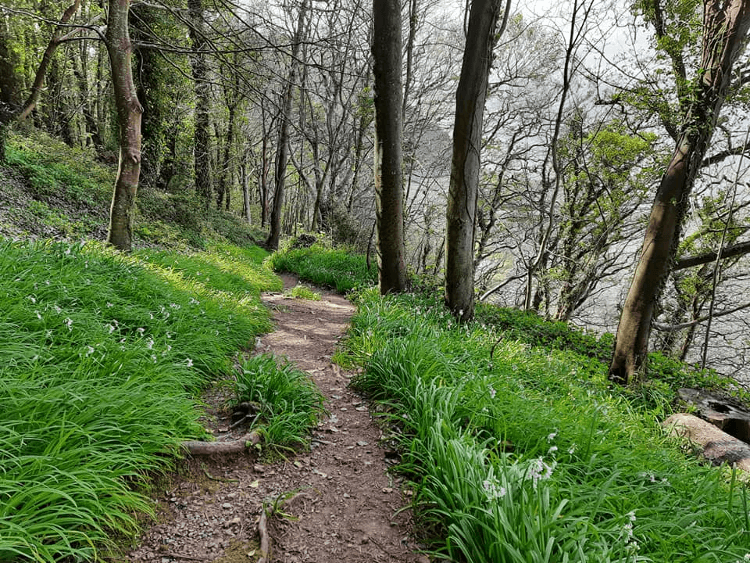 There were plenty of sunny spells though, too, between rain showers. Padstow to St Ives was one of my favourite sections. The walking was a bit easier and followed a very variable and stunning coast, with rugged rocks, sand dunes, old mining areas and pretty fishing villages.
Lockdown ends on the England Coast Path
Apart from the early May Bank Holiday, everywhere had been peaceful and not very busy, just how I liked it, but things all changed from the 17th of May when accommodations opened up after the COVID-19 lockdown.
This did give us more options for places to stay, though, and we wild camped less, staying at campsites instead and the odd hotels or B&B. We had our first hotel stay in St Ives on the 17th of May!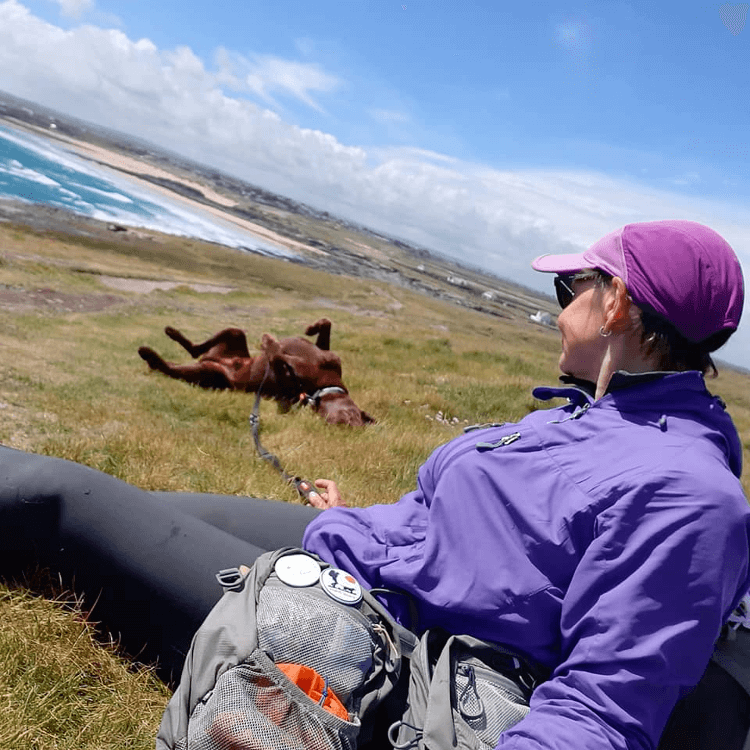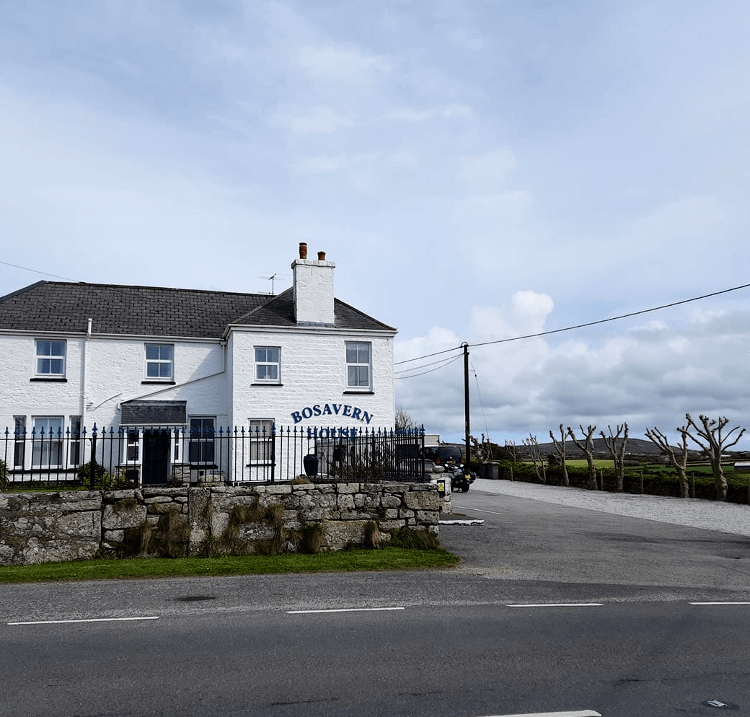 After a month of walking we were well and truly into a routine and fully enjoying our new lifestyle. It felt so normal but it did require learning and adapting all the time.
Into the summer months
We passed Land's End, the most south-westerly point, and Lizard Point, the most southerly point, both big tourist hotspots.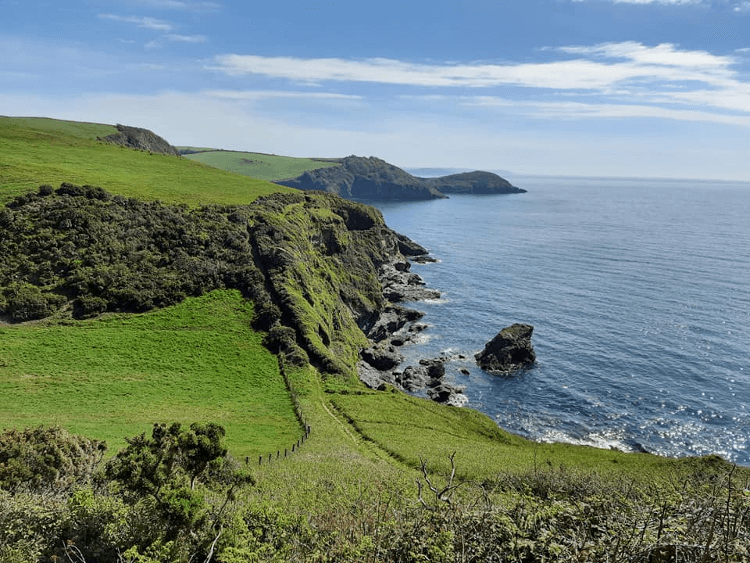 By the end of May and into June, things had warmed up, which brought new challenges for us. It was too warm some days for Gino, and sometimes even for me, so it meant very early morning starts and early finishes to beat the heat, which was also energy-zapping.
Gino had to stop wearing his backpack for the summer. It was far too warm for him to wear on top of his fur coat.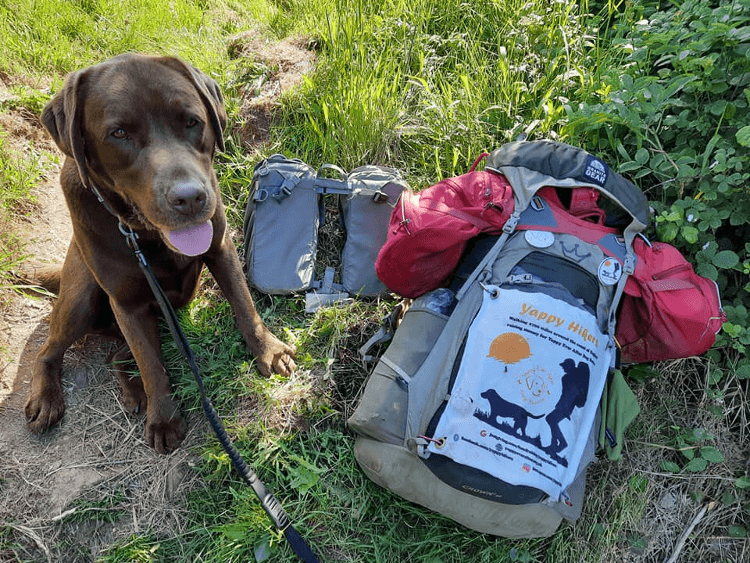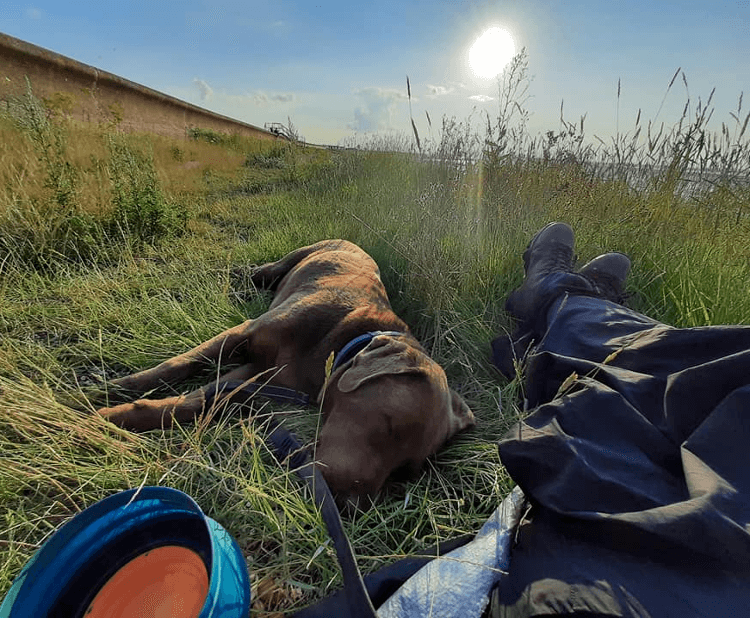 A week into June, we left beautiful Cornwall behind and returned to South Devon, passing through familiar locations that as a kid I used to visit on family holidays, so it was lovely to see them all again, some I could remember, like Exmouth, and some I could not.
Nearing the end of the South West Coast Path
A couple of weeks later, we left Devon behind and entered Dorset, which meant we only had about one more week to go on the beautiful South West Coast Path. I was looking forward to finishing it, though, and moving on to the next stage of the walk, as it felt like real progress was being made.
Dorset's coast was just as stunning as Devon and Cornwall's, the Isle of Portland standing out as a highlight, and included a few final steep rollercoaster ups and downs again. The path was not letting us have an easy finish.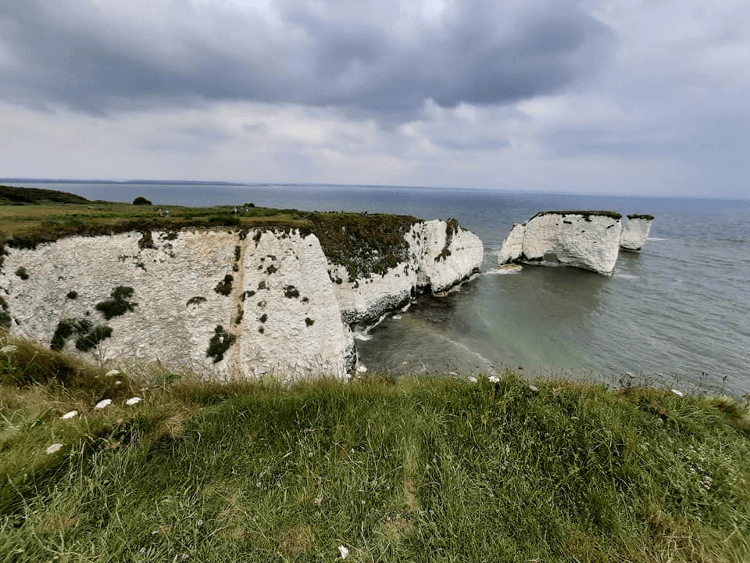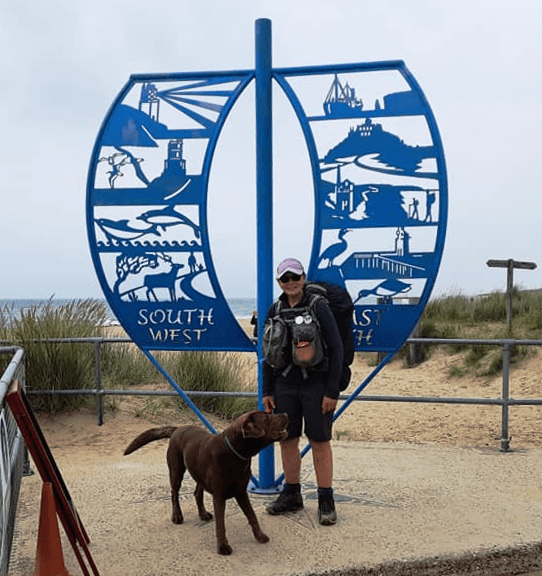 We completed the South West Coast Path on the 27th of June, after 74 days. By then, we'd walked 833 miles. The South West Coast Path was amazing and stunning but brutal in places too, especially with a heavy pack. That was the hardest section of our England Coast Path journey in terms of hills and terrain, and finishing it was a huge accomplishment.
Onward onto the flat
From Bournemouth, immediately the terrain transformed into mostly flat walking, which was an enjoyable and refreshing change. The area was not any less interesting, with lots of variety as we passed through various seaside towns, nature reserves and marshes.
Just three days of walking took us to Lymington, where we caught a ferry to the Isle of Wight and completed a circuit of the island over six days before returning to the mainland.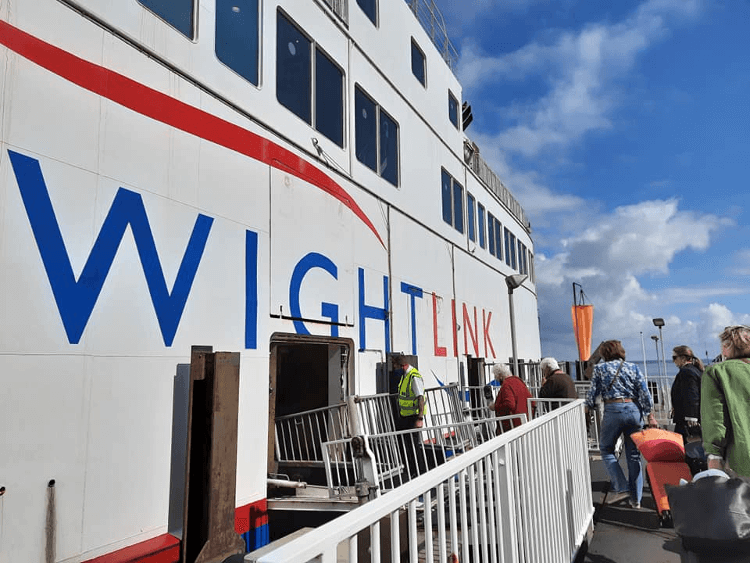 I was delighted too when we hit our initial fundraising target of £2700 for Yappy Ever After Dog Rescue as soon as we got to the Isle of Wight, after just two and half months of walking, which was absolutely amazing.
Making progress through the South of England
We continued along the south coast through Hampshire and the New Forest, passing through the cities of Southampton and Portsmouth. Every day was different and so varied in terms of scenery and terrain, and we hit our 1000-mile milestone at Hayling Island after 89 days on foot.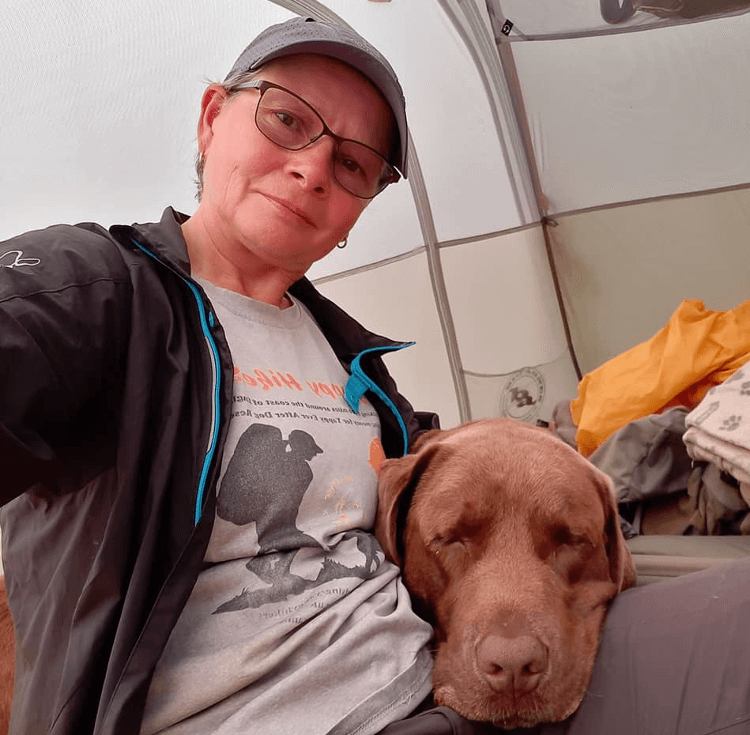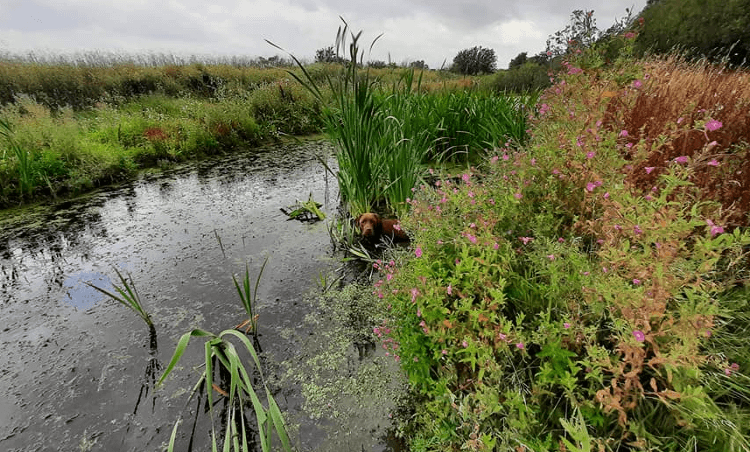 Mid July brought another heatwave, which meant very early morning starts again to avoid the heat and several days with shorter daily distances.
Lots of ice creams got eaten — human and doggie ice creams — and I had my first swim in the sea at Selsey. The water had been far too cold for me up until then. Not for Gino, though: he was in the water numerous times every day.
West Sussex, East Sussex and Kent brought a fair bit of promenade walking through the popular seaside resorts such as Worthing, Brighton and Eastbourne, but the walking was still enjoyable. Hastings Country Park, the Seven Sisters coming into Eastbourne and quirky Dungeness stick out at highlights.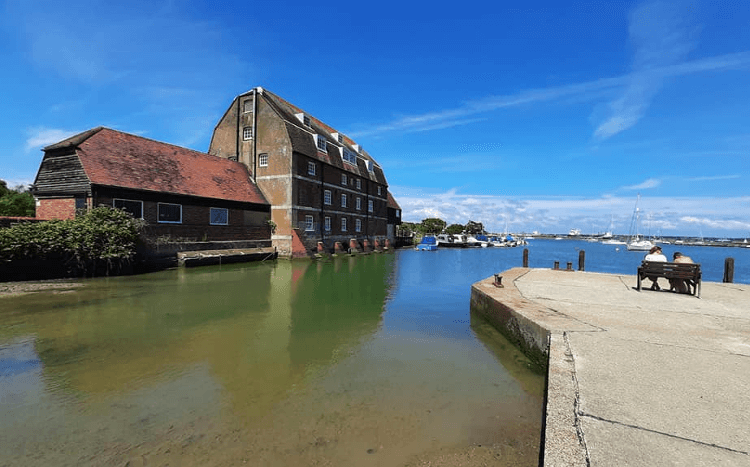 The walk takes its toll
The weather cooled a bit by the end of July, which meant we could increase our daily mileages. This backfired on us a bit, unfortunately. All the hard surface walking took its toll, causing Gino to get sore paws.
Gino recovered after a couple of days rest, but by the time we got to north Kent, I was struggling too with aches and pains and fatigue. Almost four months of repetitive walking carrying a heavy 20kg pack had caused my body to burn out, so we took a week off to recover and rest.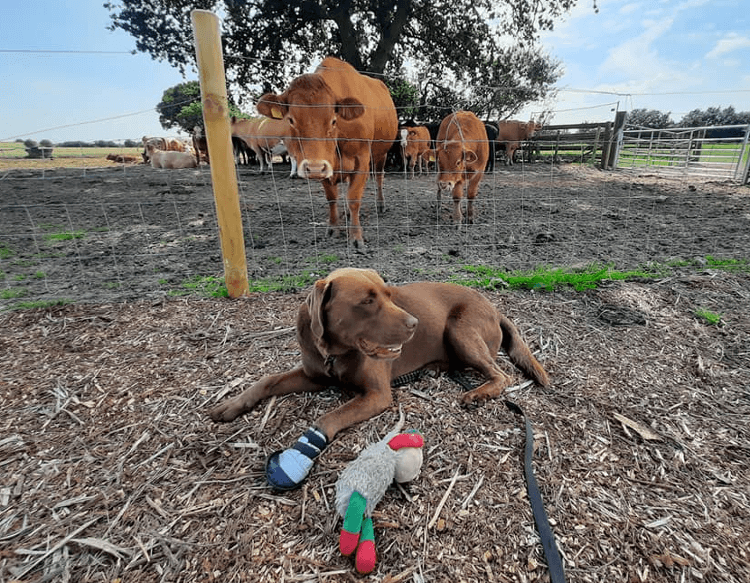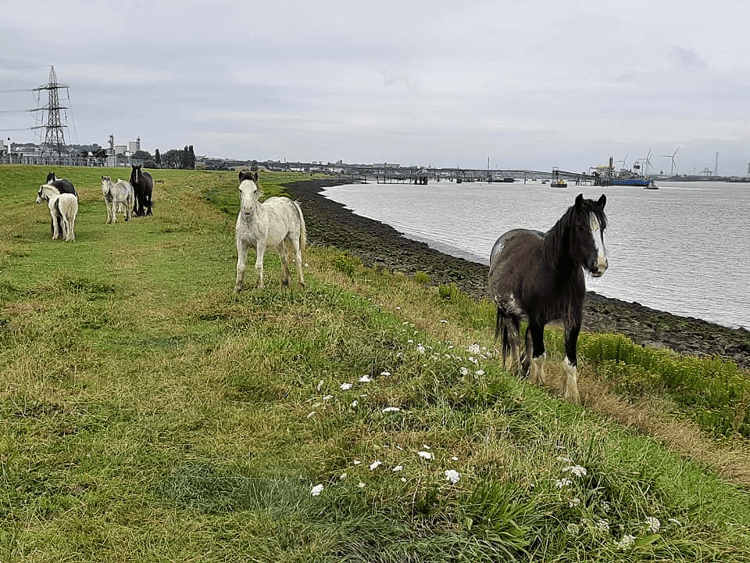 A week's rest renewed my energy levels, but I still had niggly aches in my right thigh and left ankle, which got worse after a few more days of walking. I was determined to continue, hoping my body would eventually correct itself and I would walk off the pain, but no, I was doing more harm than good.
I managed another week of walking, dosed up on ibuprofen. We got north of the Thames, which marked our halfway point, and through south Essex to Rochford.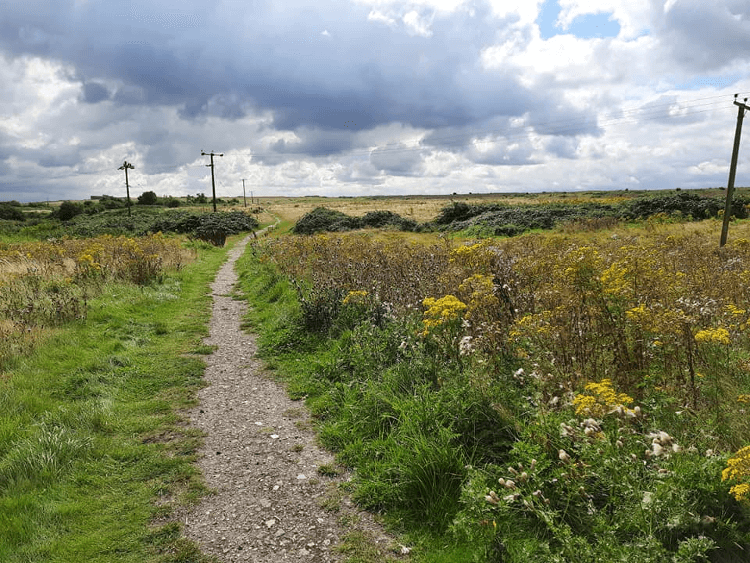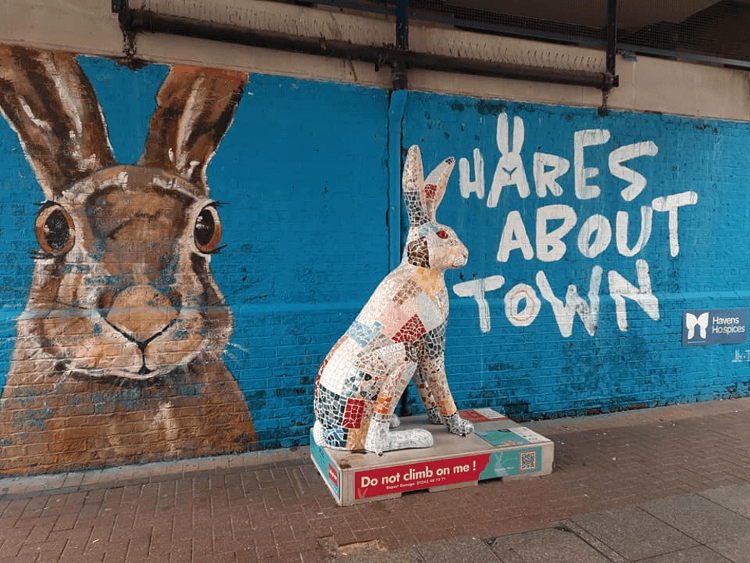 Making time to adapt and heal
Eventually I decided I needed to listen to my body, so we stopped at Rochford to take another extended break.
But a diagnosis of Achilles tendinopathy and adductor muscle strain meant that what I thought would only be a two-week break ended up being five weeks long.
I am determined our walk is not over, though, and we are ready to start our 'second chapter' in a slightly different manner. I won't be carrying a heavy pack anymore and we won't be camping in a tent — we have upgraded to a campervan called Meg!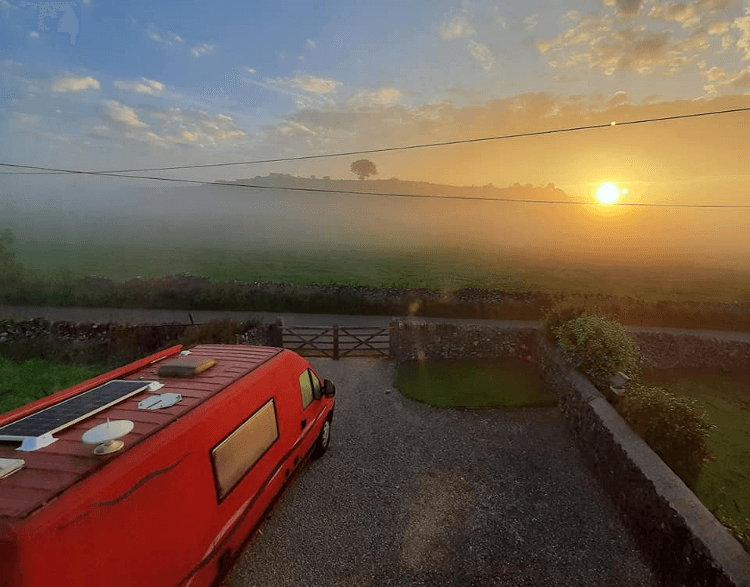 The new plan going forward
My Achilles tendon is likely to continue to cause some problems if I'm not careful; it's better than it was but not yet 100%.
I made the mistake previously of walking longer daily distances as we hit the easier, flatter sections of trail, thinking if we didn't we'd never get our walk finished by the end of the year when I'm due back at work. My injuries were the result. We will take our time walking the coast from now on, walking shorter daily distances and taking regular breaks.
We will finish walking the entire coast of England, but it won't be all in one go now. We will continue until December, and then next year we'll walk piecemeal.
The adventure will just take us a bit longer than originally planned, with a few more chapters along the way.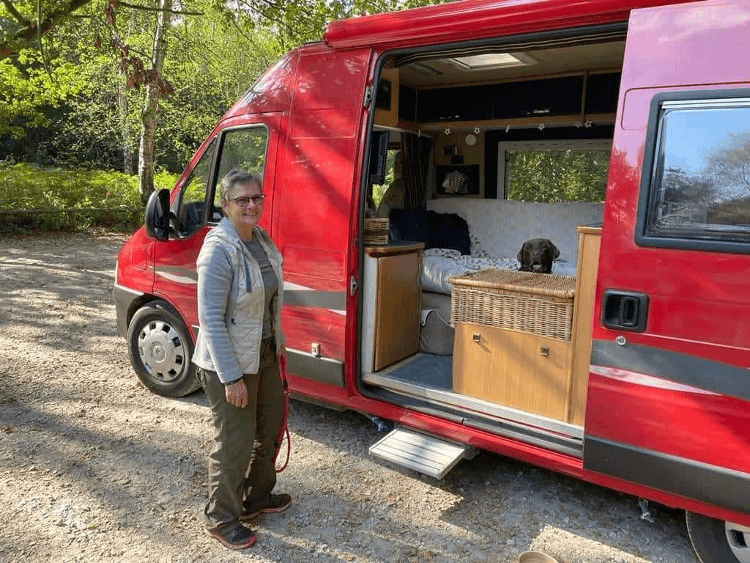 You can keep up with Christine and Gino on their Yappy Hikers Facebook blog. Love the look of the English coast? Book your walking holiday with Contours along the South West Coast Path, Isle of Wight Coast Path or the Kent Coast Path.