Are guidebooks genuinely useful when you're out walking? When everyone has a map and the internet in their pocket, it's easy to see why the paper guidebook might be under fire.
But guidebooks are absolutely invaluable when you're off on a self-guided holiday. They help with navigation; they offer tips about where to eat or fill up that water bottle; and most importantly of all, they're full of local history and fascinating details you might otherwise miss.
At Contours, one of our favourite publishers is Cicerone Press, a British company responsible for a host of top-quality guidebooks. I have an old office copy of their guide to Hadrian's Wall Path right here to help demonstrate just how great these books really are.
Using a guidebook to navigate
A guidebook might seem unnecessary for navigation, especially in this age of technology. And there's no denying it: with a brilliantly detailed Ordnance Survey or Harvey map, a good old compass and a modern GPS device charting the route ahead, you should be able to find your way along most trails.
But these resources provide an aerial view, reducing the route to a squiggle and the land itself to a coil of contour lines.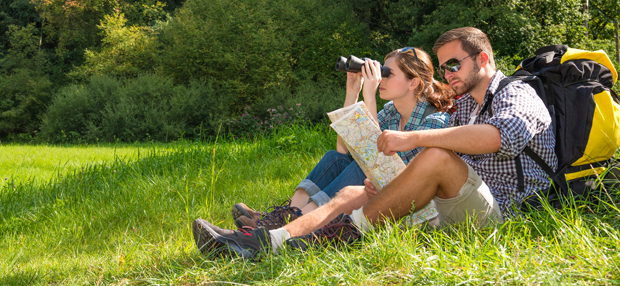 A guidebook, however, reads as though the author is right there on the ground with you. Expect intuitive visual directions that neatly translate the polyform on your map into a white farm house, and the dotted line of the trail into a clamber through that stile over there between two trees.
These kinds of directions are reassuring on a self-guided walking holiday — especially when the whole group is relying on your instructions!
Good old reliable
Even if you keep the book in your pack and navigate primarily via map and compass, a guidebook is great to have to hand if you get lost. If you're retracing your steps after taking a wrong turn, a quick glance back through the directions can reveal a helpful landmark you might otherwise have missed.
As these guidebooks are written by experienced ramblers and refined over the years by walker feedback, they'll often pay extra attention to sections of the trail where you're most likely to go astray. It's great to know you have that expert knowledge in reserve.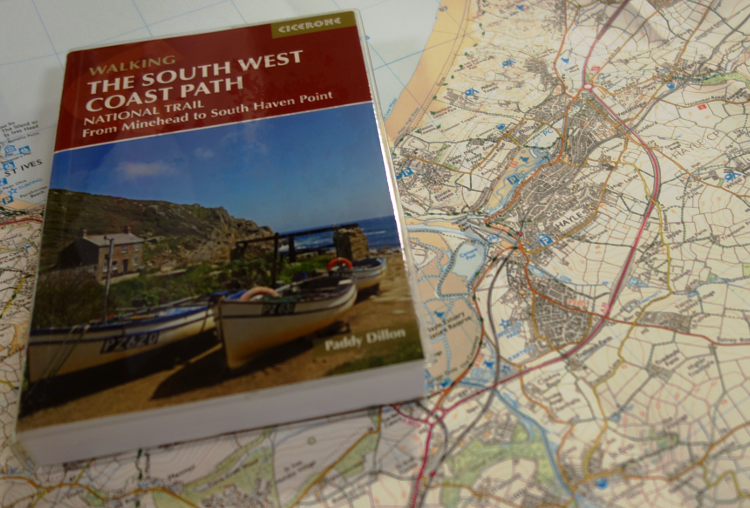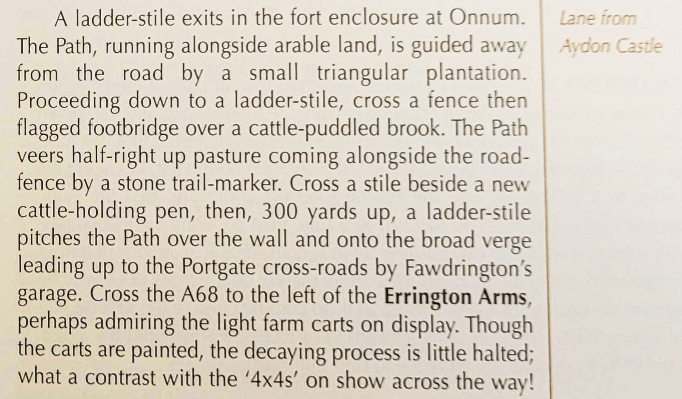 In competition with a GPS unit or a map on your phone, the guidebook's advantage is obvious: it doesn't need batteries. It's also not at all fussed about signal. Even in the rain, while a guidebook might get crinkly, it's not going to short out and die altogether.
Technology may be brilliant, but there's nothing more dependable than a guidebook in a ziplock bag.
The guidebook as insider
Knowledge of the underlying history is what really helps you to know a place and feel absorbed in it. Sometimes it takes a good guidebook to reveal how thoroughly the past has shaped the world we ramble through.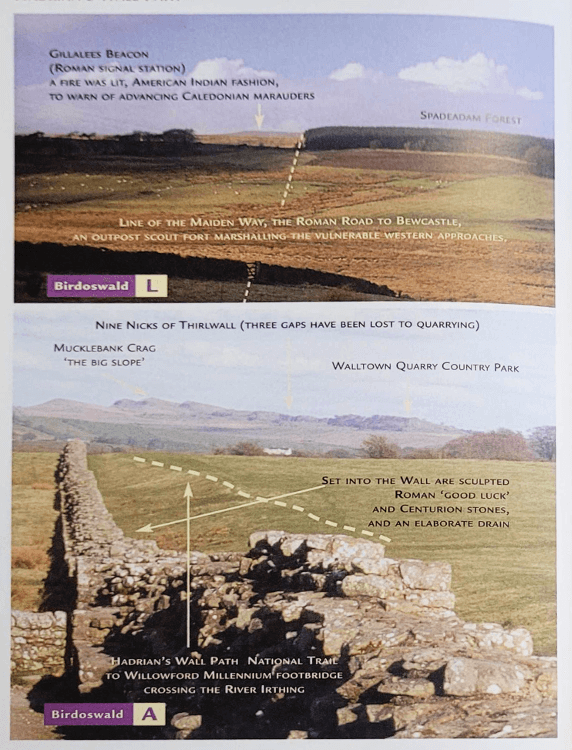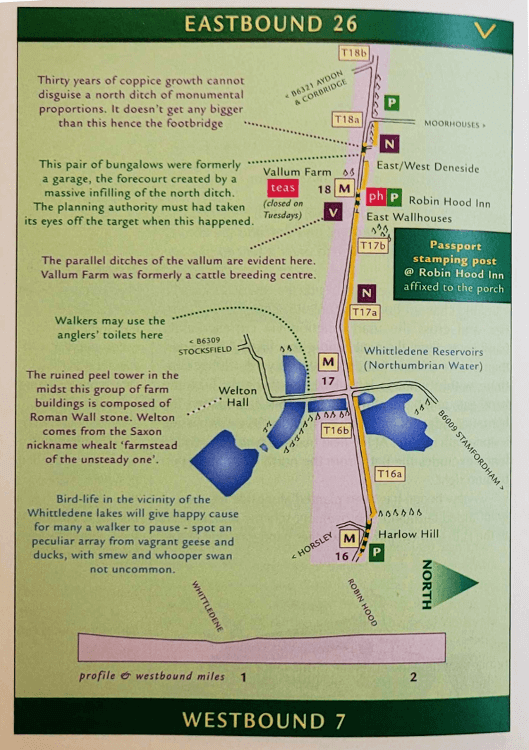 Cicerone do a great job of pointing out these things. See above for two ingenious examples. On the left, the guidebook features the view a walker on Hadrian's Wall Path now shares through the centuries with the Roman soldiers who once stood guard here, looking out toward an ancient alert beacon.
The feature on the right is somehow even more fascinating, combining the Roman ruins with all the human activity that has gone on since, from coppicing trees for lumber to the abject failures of the planning department. All fascinating details to the nosey hikers amongst us.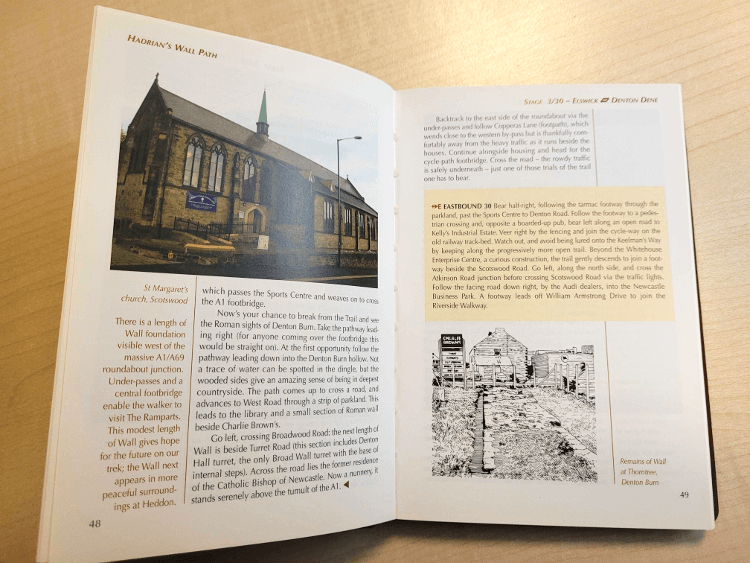 Guidebooks come into their own in towns, too. Cicerone's Hadrian's Wall Path guidebook points out instances where local houses incorporate Roman stone stolen from the Wall centuries ago, while our in-house route notes for our home-grown Cotswold walking holidays identify features integral to the old wool trade that might otherwise be lost amongst all the Cotswold beauty.
These publications provide a strong feel for what has been here before — and what it's left behind.
The guidebook as tour planner
Maybe the best aspect of a guidebook is how thoroughly it can equip you to plan out each day's walk. These books are jam-packed with local knowledge, taking a lot of the guesswork out of the process.
Cicerone books tend to start each chapter with the section's overall mileage, sometimes breaking it down into the gaps between useful rest stops. Daily elevation charts give good warning of a trail's steeper climbs, too, so you can identify difficult sections in advance.
These are the drier parts of planning, along with the location of drinking taps or bus stops you might use if you want to cut a day short. But one of the best bits of self-guiding is the ability to shoot off on detours, and these books suggest plenty of those and explain how to get there. The small but critical details are included, too — like the location of each stamping station on Hadrian's Wall Path.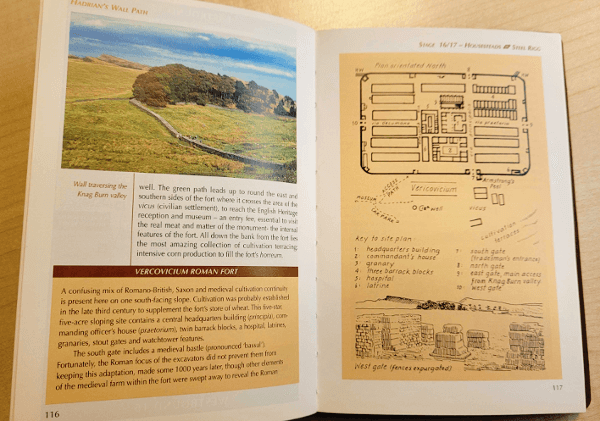 The guidebook's place
All in all, a guidebook provides a level of familiarity with a trail built by years of love and research. We think that's well worth a space in your pack — and maybe, when you get home from your walk, a spot on the mantelpiece as a well-loved, well-read souvenir.