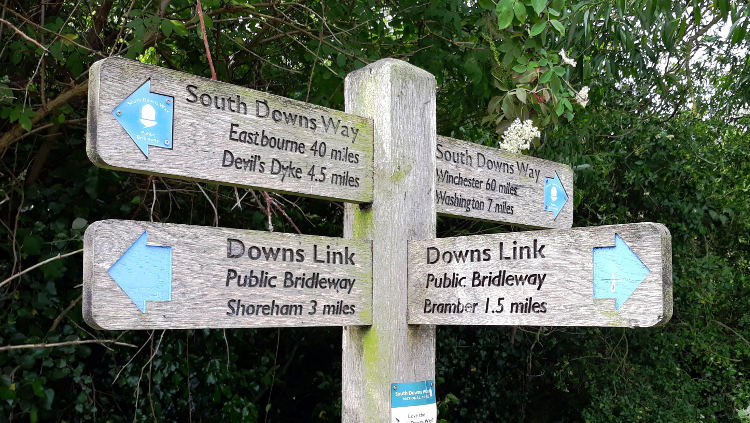 by Christine Saul
In June 2019, whilst I was in the South Downs area walking the South Downs Way, a very warm and sunny week offered the opportunity to investigate a potential new route for Contours: the Downs Link trail.
Who is it for?
The Downs Link is not itself a National Trail but an important and popular route that links the North Downs Way with the South Downs Way, hence its name. At around 40 miles long, stretching from Guildford to Shoreham by the Sea, the walk is the perfect length for the more experienced walker wanting to tick off another long-distance trail over a long weekend. It opens up many options for people wishing to connect sections of the North Downs Way and South Downs Way to create their own alternative long-distance walk.
But it's also ideal for beginners seeking to do their first multi-day walk or for anyone looking for a particularly accessible, mainly flat trail with minimal obstacles and no stiles. Walked at a more leisurely pace, the Downs Link can easily span a full week.
About the route
The trail, which opened in 1984, is a multi-use trail for walkers, cyclists and horse riders and is well managed by three local councils. Over half a million pounds in funding has recently been awarded to carry out significant improvements to the route's surface during winter 2019. It is also well-waymarked and has numerous mileage posts letting you know how far you've come and how far you have yet to go.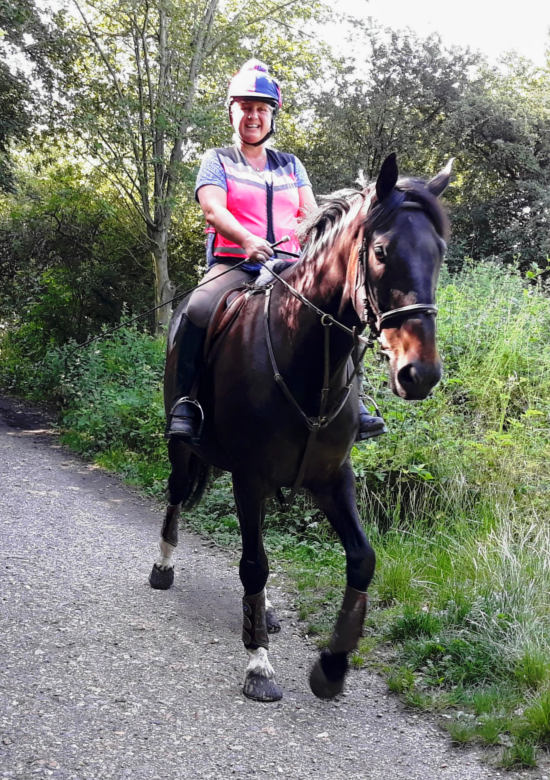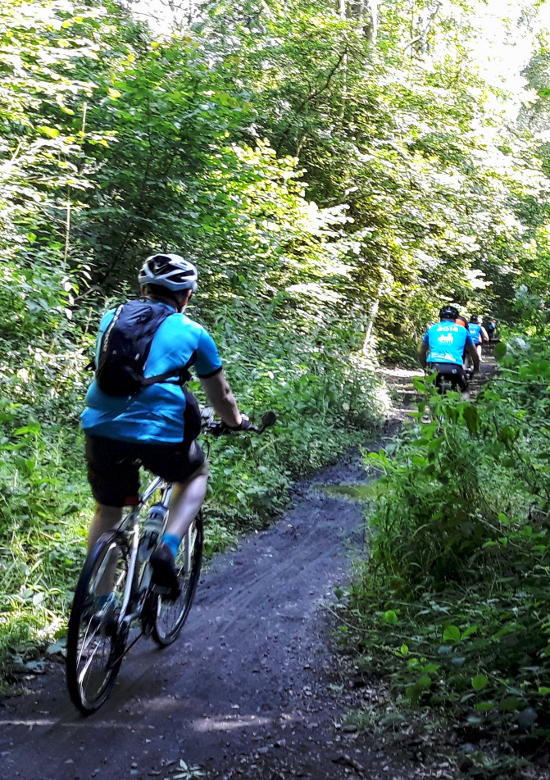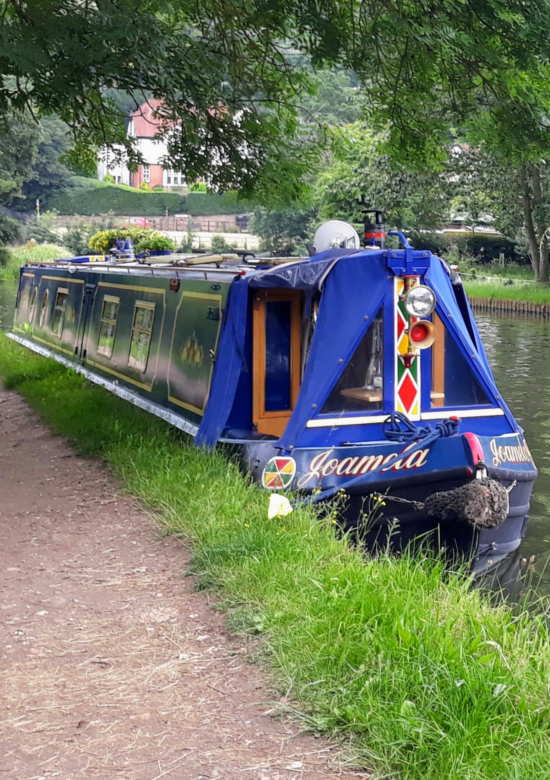 The Downs Link crosses a variety of beautiful landscapes, starting with the sandy Surrey Hills and St Martha's Hill at the end nearest the North Downs Way in Guildford. It heads over heathland at Blackheath with its imposing war memorial, crossing the Low Weald with its clay soils and fine views over the farmland of the chalky South Downs, and finally reaches the River Adur, which cuts its way between the South Downs as you approach Shoreham by Sea.
The history of the railway
The trail has a lot of history, especially for any railway enthusiasts, as it follows two disused railway lines: the Cranleigh Line and the Steyning Line. Both closed as a result of the 'Beeching Axe' in the 1960's, when the mass closure of railways in Great Britain resulted in the loss of around 4,000 miles of railway line and 50% of its railway stations.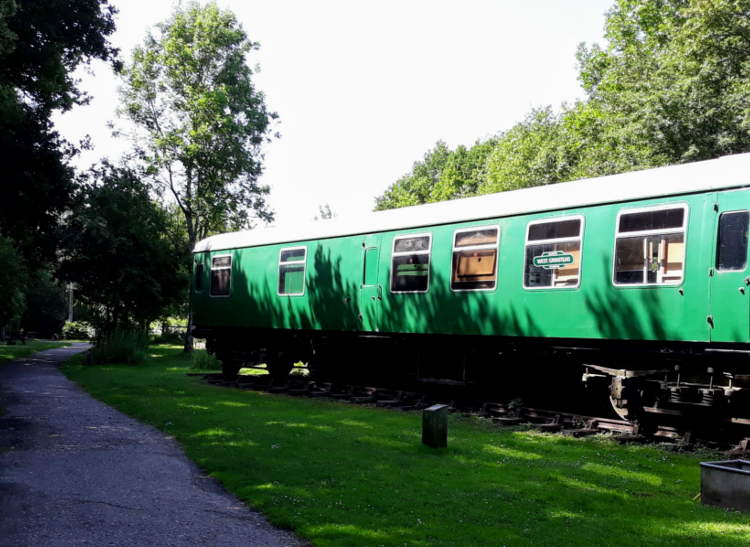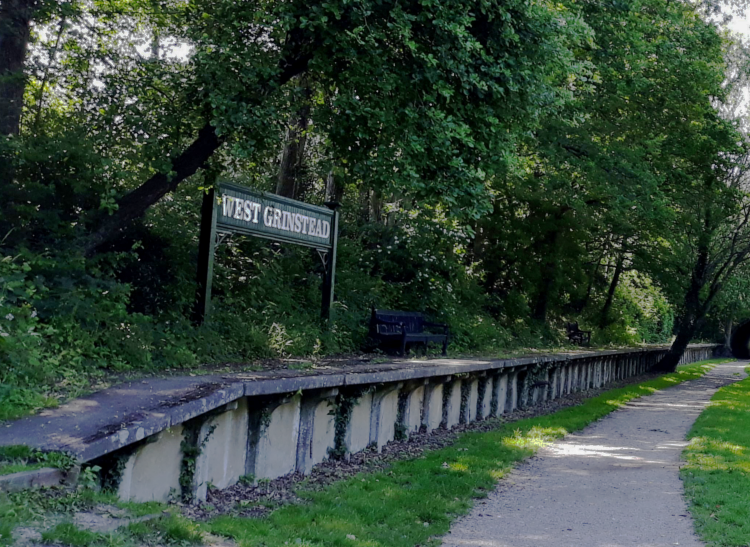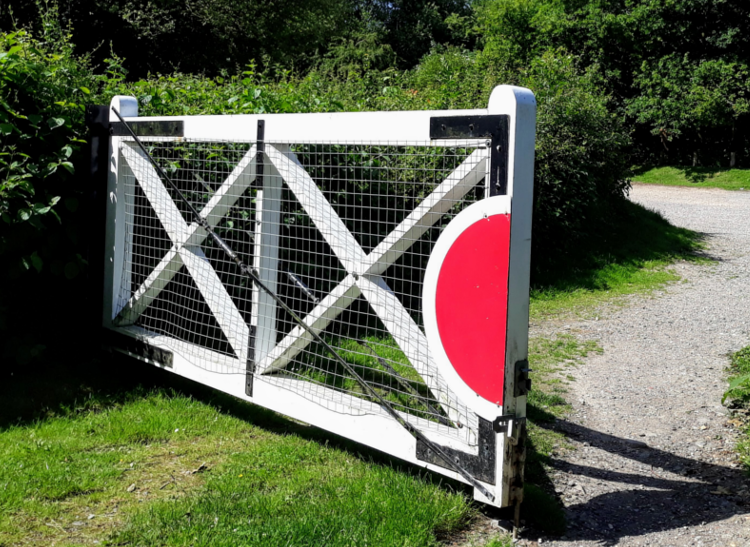 On the Downs Link trail, you'll head under numerous railway bridges and pass old railway platforms still in situ. Baynards Station and Station House has been fully restored after a period of decomposition since the last train ran through on 14th June 1965. Sadly walkers are unable to explore this station as it is now a private residence, but the platform can be seen from the trail.
The old station of West Grinstead has been turned into a lovely picnic area. Its platform, signal tower and an old railway carriage still remain, and it acts as an information centre most Sundays. You'll pass quite a few lingering relics as well, such as gradient posts, information boards on route, and at Bramley, a pair of lovingly restored level crossing gates.
Wildlife along the way
Since the trains were removed, the old embankments and cuttings have gradually established into one long green wildlife corridor. Even though the trail passes through or close by numerous small towns and villages, much of the time you do feel as though you are walking through woodland, and those woodland landscapes change as you walk along the trail. Toward its southern end, the Downs Link opens out, affording fine views of the South Downs as you pass through hedge-lined farmland. The tidal estuary follows, shadowing the River Adur to the coast at Shoreham by Sea.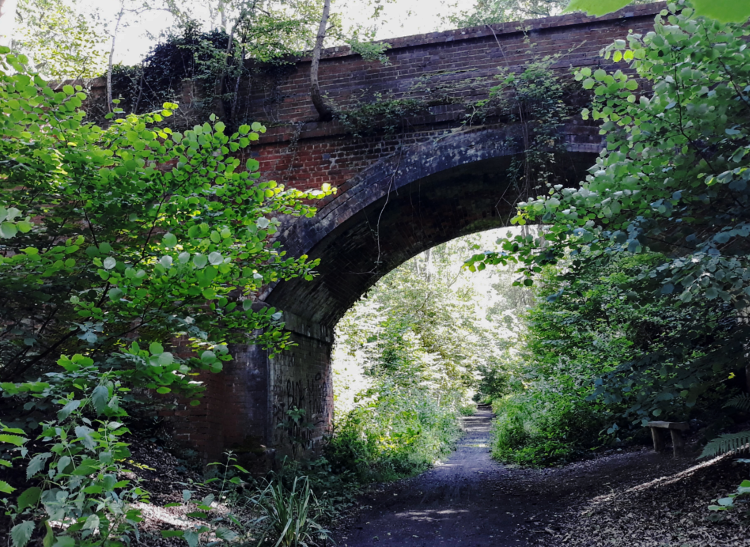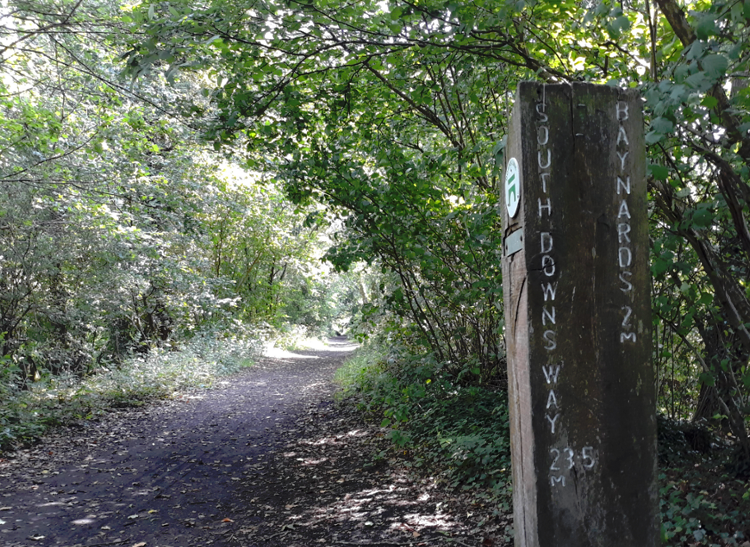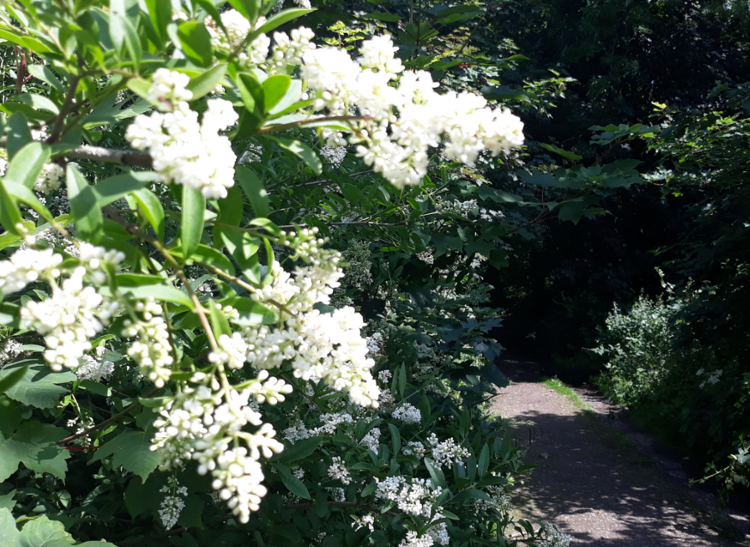 These environmentally important spaces provide wildlife enthusiasts with plenty of opportunity to spot flora and fauna along the way.
Bird watchers will enjoy an array of birds to look out for throughout the various seasons. If you're lucky, you'll hear or see green or great and lesser spotted woodpeckers, nightingales, yellowhammers, stonechats, skylarks or linnets. You may also glimpse kingfishers fishing from railway bridges as you pass by canals and streams.
As you near Shoreham, you'll find the tidal mud flats teaming with turnstones and oystercatchers. You may also spot human oystercatchers, winklers or musselers digging in the mud if the tide is out!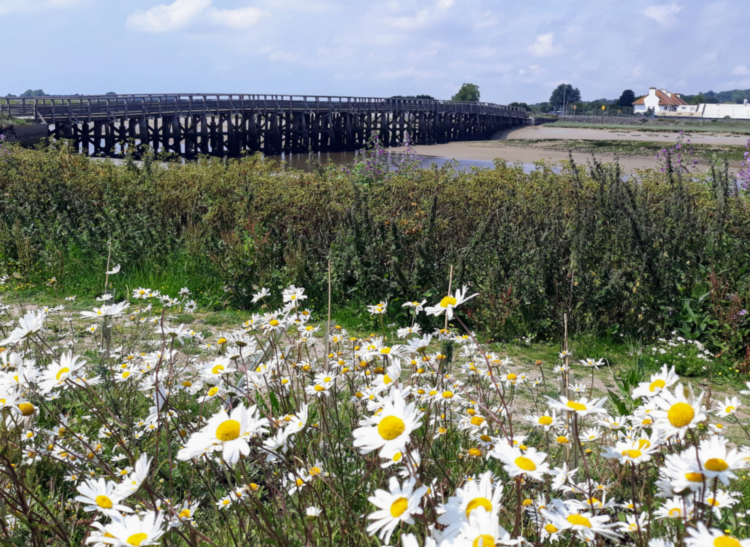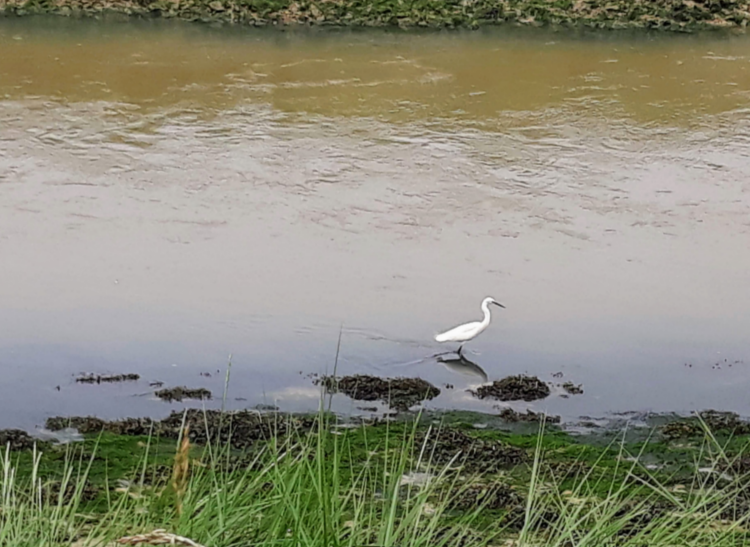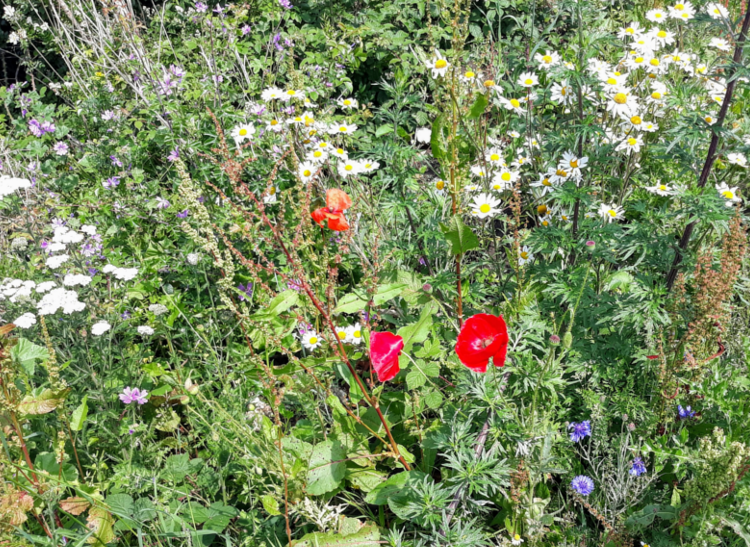 Wildflower enthusiasts will spot a variety of wild flowers on the banks and in the hedgerows, including common spotted orchid and pyramidal orchid, ox-eye daisy, cowslips and in spring bluebells in the woodlands. Butterflies can also be seen fluttering in the sunny, sheltered woodland glades.
If walking the trail close to dusk on a warm summer evening, you could even encounter glow worms, bats, owls or badgers.
Extras along the route
If you have time, it is also worth the short detours to visit some of the towns and villages along the Downs Link trail. Cranleigh professes to be the largest village in England and is well know for its independent shops, cafes and restaurants, not to mention a flourishing art scene and arts centre. If you're interested in old churches, Cranleigh's beautiful St Nicolas Church dates back to the 12th century.
The small village of Rudgwick, meanwhile, has a dinosaur named after it. Roaming the earth around 125 million years ago, Horshamosaurus rudgwickensis was a heavily armoured herbivore about four metres long. Rudgwick has a history of brick making and still has a brickworks in the village today, and the dinosaur fossil remains were discovered at Rudgwick Brickworks.
Southwater has a large country park covering 36 hectares, built on a reclaimed brickworks site. It has a visitor centre and café, large wildlife conservation area, outdoor activities and water sports. Especially as the park sits right on the trail, it is well worth spending an hour or two there.
Steyning, a Saxon town about one kilometre from the trail, is known as one of the prettiest Sussex towns, with its array of Tudor style half-timbered houses, independent shops and museum. Just past Steyning, you reach the remains of Bramber Castle, a Norman castle managed by English Heritage. It's free to have a wander around.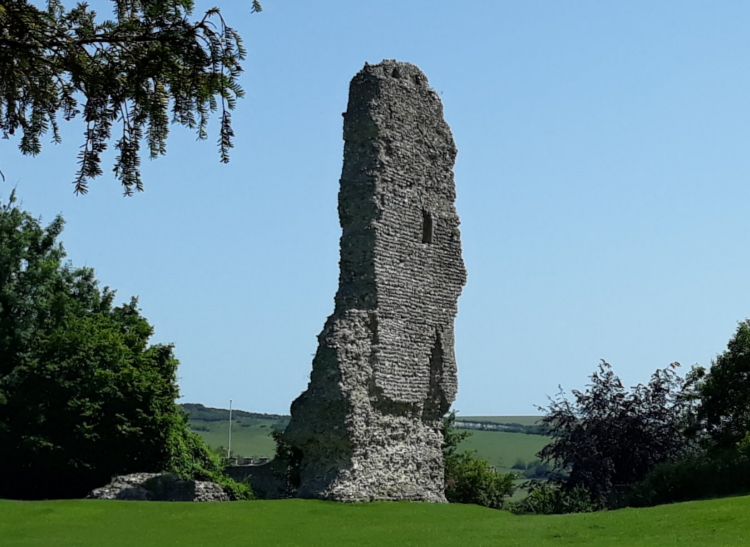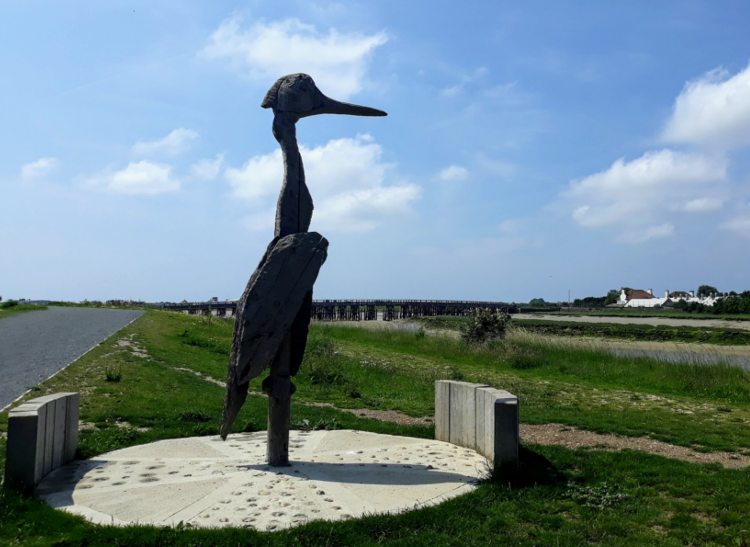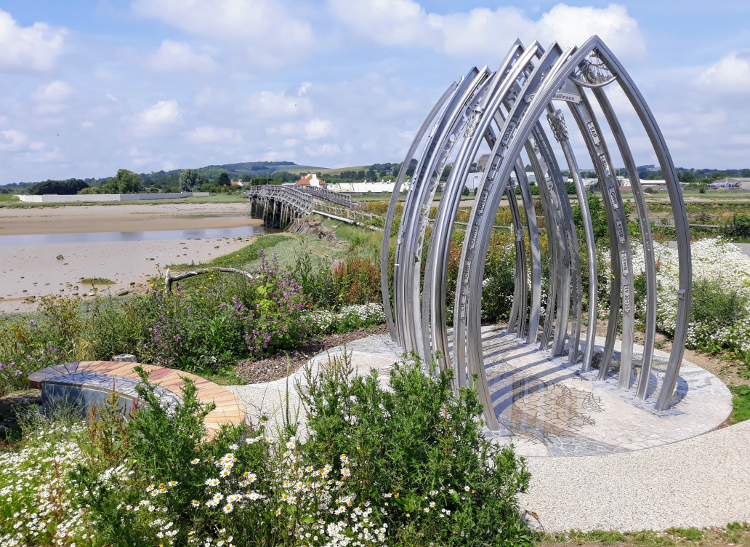 As you approach Shoreham, you'll pass some impressive sculptures and the Grade II listed old wooden toll bridge which was restored and reopened in 2008. On the opposite bank you'll see Shoreham Airport, the oldest airport in the UK. Its famous Art Deco airport building has appeared in Netflix's The Crown and the films Woman in Gold and The Da Vinci Code. Shoreham by Sea itself is a beautiful historic seaside town with an attractive harbour and shingle beach.
My Thoughts on the Downs Link trail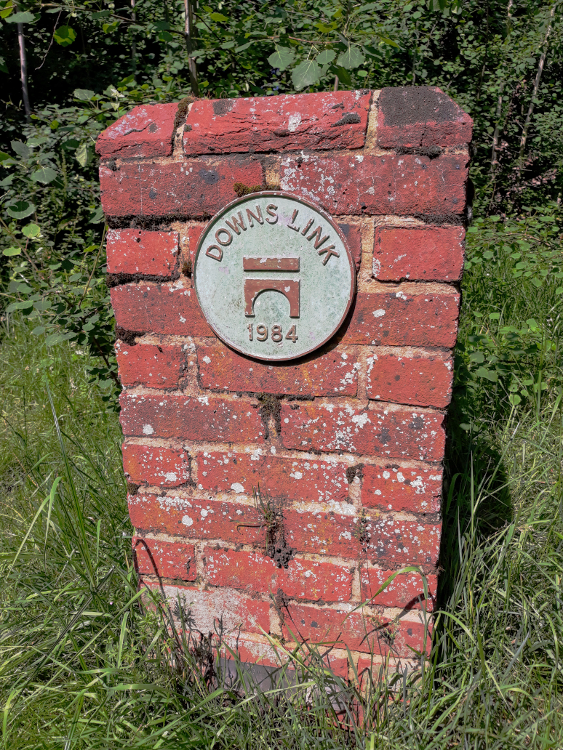 I'm not usually a fan of walking long distances along old railway lines, but this trail was a pleasant surprise. I felt more like I was walking through woodland for the majority of the route, albeit a long straight wood. The dappled sunshine and shade provided by all the glorious woodland was beautiful and very welcoming on the hot sunny days I walked the trail.
Although some may like to march along and bash this route out in a few days, the Downs Link rewards you when you take your time. Amble at a leisurely pace and enjoy the delights of its history, views, wildlife, towns, villages and the peace and tranquillity it offers along the way. There are plenty of benches positioned along its route to stop at to reflect and rest. The Downs Link trail has something for everyone and will suit walkers of all abilities.
Walk the Downs Link with Contours
We offer two options for this trail, both starting in Guildford.
Our main route follows the North Downs Way out of Guildford, climbing to the top of St Martha's Hill and the official start of the Downs Link Trail. It passes over the Surrey heathland of Blackheath, with its impressive War Memorial atop Rosemary Hill, before descending down towards Bramley.
We also offer an easier, less challenging option which follows the Wey South Path and River Wey Navigations for the first stage of the walk, avoiding the ascents onto St Martha's Hill and Blackheath.
Upon reaching Bramley, both route options are identical all the way to Shoreham By Sea.
Contours Holidays pride ourselves on our expert knowledge of the UK's trails. We regularly set out to check our routes and directions and to make improvements on the holidays we offer. You can find several write-ups of staff expeditions in our Trail Diaries.